SRAM groupsets explained and compared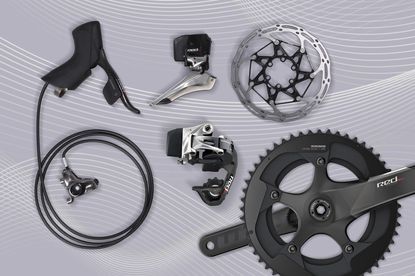 Illinois-based SRAM is the newest of the three main brands and offers the lightest commercially available groupset in SRAM Red, and the only wireless groupset in SRAM Red eTap.
Compare weights, RRPs and reviews:
Shimano groupset hierarchy
Apex is SRAM's entry level and roughly comparable to Tiagra. Next up the ladder is Rival, which was named to rival Shimano 105, and SRAM Force sits above Ultegra and below Dura-Ace.
The three lower models in the SRAM range are also available with just a single ring (1x) at the front, and every model in the range is also available with matching disc brakes.
Across the mechanical range, SRAM uses 'DoubeTap' - which means that the gear shifter sits behind the brake lever. On the left, a quick click of the lever takes you into a smaller chaingring, and a longer push moves you into a bigger ring - though obviously this doesn't apply on the 1x ranges. On the right, a short push takes you into a smaller cog (more resistance) on the cassette, and a long swipe takes you into a bigger cog (less resistance).
SRAM groupset hierarchy
You can trust Cycling Weekly. Our team of experts put in hard miles testing cycling tech and will always share honest, unbiased advice to help you choose. Find out more about how we test.
Click on the groupset titles for reviews of the systems that we've tested.
Links in the 'buy now' column will take you to retailer's sites. If you click on this then we may receive a small amount of money from the retailer if you purchase the item, this doesn't affect the amount you pay.
Swipe to scroll horizontally
| | | | | |
| --- | --- | --- | --- | --- |
| Row 0 - Cell 0 | What is it? | Weight* | RRP** | Buy it now |
| SRAM RED eTap HRD | Electronic, disc, 11 speed | 2361g | £2658 | £1791.99 |
| SRAM RED eTap | Electronic, rim, 11 speed | 1750g | £2472 | £1089 |
| SRAM RED 22 HRD | Mechanical, disc, 11 speed | 2119g | £2044 | £1503.50 |
| SRAM RED 22 | Mechanical, rim, 11 speed | 1741g | £1890 | £999.94 |
| SRAM Force 1 | Mechanical, disc, single chainring | 2466g | £1204 | £890 |
| SRAM Force HRD | Mechanical, disc, 11 speed | Unconfirmed | £1127 | £254.99(single, brake and shifter only) |
| SRAM Force 22 | Mechanical, rim, 11 speed | 2097g | £975 | £689.42 |
| SRAM Rival 1 | Mechanical, disc, single chainring | 2690g | £979 | £568 |
| SRAM Rival HRD | Mechanical, disc, 11 speed | Unconfirmed | £939 | £194 (single, brake and shifter only) |
| SRAM Rival 22 | Mechanical, rim, 11 speed | 2348g | £667 | £341.98 |
| SRAM Apex 1 | Mechanial, disc, single chainring | 2719g | £828 | £522.14 |
| SRAM Apex HRD | Mechanical, disc, 10 speed | Unconfirmed | Unconfirmed | £191.99 (single, brake and shifter only) |
| SRAM Apex | Mechanical, rim, 10 speed | 2419g | Unconfirmed | £314.94 |
* Weights will always be estimates, as they'll vary depending upon chainring size, crank length, cassettes used and some official weights do not include components such as cables and mineral oil/hoses for disc brakes.
** RRPs are based upon Shimano's official retail price of components added together. Retailers create their own RRPs, based upon the cost of individual components, so listed prices will vary.
SRAM Red
SRAM Red is available on its own (still boasting incredible performance), with hydraulic disc brakes, with e-Tap and of course with hydraulic disc brakes and eTap.
Being wireless, eTap is impressively light, and won itself a place in our Editor's Choice awards of 2017. It uses SRAM's own system 'AIREA' instead of ANT+ or Bluetooth.
To shift using eTap, you move into a smaller cog at the rear by pressing the paddle behind the right brake lever. You move into a larger cog by pressing the paddle behind the left lever. The front mech is operated by pressing both levers together.
As denoted by the '22', SRAM Red is 11 speed and the American based brand promises that the symptoms of cross-chaining are minimal so you really can use all 22.
SRAM Red groupsets are also on offer with a mid-cage 'WiFli' rear deraillieur, which makes the use of a 32-tooth cassette possible (without it your max is 28 tooth), and SRAM Red chainsets can also come available with a Quarq power meter built in.
SRAM Force
SRAM Force is available as SRAM Force 22 (11 speed), SRAM Force 1 (single chainring) and both options can come with rim, hydraulic rim or hydraulic disc brakes.
Like SRAM Red, Force is 11-speed, and when it grew into its extra gears it also inherited design features from its more costly sibling.Whilst a little heavier than Red, Force is usually considered on par with Shimano Ultegra.
The 1x version can accomodate cassettes up to 11-36, and comes with chainrings from 38 to 54 tooth. A Clutch 2 derailleur helps guard against chain slap - a technology which was previously considered an off-road domain but has become more popular on the road (and gravel) of late.
SRAM Rival
Like SRAM Force, you can get SRAM Rival in 22 configuration, 1x (as pictured above), and with hydraulic disc, hydraulic rim or mechanical rim brakes.
The major difference between this and other options above is that the cranks, levers and rear mechs move from being constructed from carbon fibre, to aluminium.
Also, when it comes to the hydraulic levers, they've not received the updates seen elsewhere in the range, so are a bit larger compared to the downsized hoods you'll see at the likes of SRAM Red HRD.
The 1x groupset comes with an X-Horizon rear derailleur, which includes a clutch mechanism to reduce chainslap.
SRAM Apex
The most notable different between SRAM Apex and the rest of the line up is that it's a 10-speed groupset, which means jumps between gears become a bit more noticeable.
Available chainsets are 53/39, 50/34 and 48/35 - it's notable that you still get a standard double (53/39) as Shimano fazes this out in its lower end offerings. You can still accomodate an 11-32 cassette thanks to the availability of the WiFLi rear derailleur and there's 1x in the line up, too.
Thank you for reading 20 articles this month* Join now for unlimited access
Enjoy your first month for just £1 / $1 / €1
*Read 5 free articles per month without a subscription
Join now for unlimited access
Try first month for just £1 / $1 / €1