Do you need a clutch rear derailleur?
Simon Smythe wonders whether road riders need to avoid chain slap in the same way mountain bikers do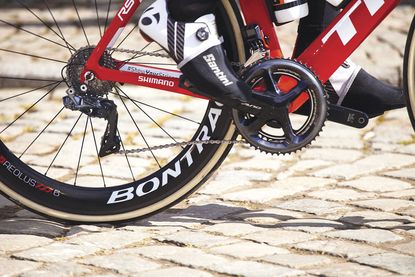 Get The Leadout Newsletter
The latest race content, interviews, features, reviews and expert buying guides, direct to your inbox!
Thank you for signing up to The Pick. You will receive a verification email shortly.
There was a problem. Please refresh the page and try again.
Shimano's road developers have traditionally borrowed from the company's mountain bike tech: as far back as 1989, the Japanese company took the internals of its Rapidfire shifting system and created the first STI — arguably the biggest game changer in road cycling of the last 50 years.
Now Shimano has just launched the Ultegra RX clutch derailleur, a roadgoing version of its Shadow Plus system, testing it earlier this year at the cobbled Classics with the Trek-Segafredo team, whose RX-equipped bikes appear in Shimano's PR photographs.
>>> Are single-ring chainsets the future?
The point of the clutch mechanism is to tension the chain to keep it in place when riding over rough and uneven ground, eliminating or at least decreasing 'chain slap' — when the chain lashes the chainstay, potentially causing damage — and the risk of the chain unshipping completely.
The RX derailleur has an on/off switch next to its upper pulley to activate the clutch or release it so that it works like a regular mech. The switch can't safely be operated in-ride.
Slightly primitive-looking chain catchers were cobbled Classics riders' only insurance against dropping the chain in the past, but now, with clutch derailleurs these shouldn't be necessary at all.
Originally, clutch mechanisms were brought into mountain bike rear derailleurs to help keep chains under control when single chainring '1x' systems gained popularity. SRAM, which now has 1x versions of all its road groupsets except Red, deploys the Type 2 clutch derailleur (which doesn't have an on/off switch) to work in conjunction with the single chainring and lack of front mech.
Although Shimano doesn't have a 1x road groupset — yet — the new RX opens up the possibility of a future foray as well as demonstrating the company's commitment to the expansion of the gravel and adventure style of riding.
So clearly for the 1x application as well as off-roading, a clutch rear mech is a useful thing to have, but does it have a place in everyday road riding on a bike with a double chainring set-up?
Despite the worsening state of UK roads, chain slap is a relatively rare occurrence. Certainly the
big hits that would cause it are also likely to cause a pinch flat unless you're running large-volume tyres.
Time triallists have long used single-chainring set-ups, attempting to streamline bikes by removing the front derailleur and other associated parts but this has led to some high-profile chain derailments, notably David Millar's in the 2003 Tour de France prologue.
A clutch rear derailleur ought to be the solution, but along with the extra tension of the chain comes extra drivetrain friction and the loss of a small but measurable amount of efficiency.
In last year's Tour de France Tony Martin used a SRAM-equipped 1x TT bike but rather than fitting a SRAM Force 1 clutch derailleur he used a prototype X-Sync chainring with wide-narrow teeth and a regular road derailleur.
Expert view: Ben Hillsdon, Shimano PR officer
"Riders have been pushing the limits of what a road bike is capable of for many years, evolving the sport from racing to encompass greater adventure. In recent years we've seen a broader definition of what a drop handlebar bike can look like; road wheels followed that by accommodating wider tyres. Now in a natural evolutionary step it's time for drivetrains to evolve too.
"In the 'on' position the chain-stabilising switch [on the Ultegra RX derailleur] gives more control over excessive chain movement and chain noise over rough surfaces or in more demanding riding applications.
Seeing or hearing your chain jumping around can be a distraction when you need to be concentrating on the road ahead, whether that's in a road race or just an adventurous ride off the beaten track.
"With road bikes now evolving to accommodate wider tyres, more road bike riders have the possibility to ride surfaces previously better suited to a cyclo-cross or adventure/gravel bike, so Ultegra RX provides riders with an additional option next to the wide range of riding styles our other road derailleurs also perform flawlessly in."
Our view
It seems as though the clutch rear derailleur is not the game changer that the STI was, but with riders increasingly heading off-road away from the traffic and using 1x gravel-style bikes to do it, we can definitely expect to see more of it.
For everyday road riding with a double-chainring set-up you can get by without one, but the beauty of the Shimano RX derailleur with its switch is that you have the choice.
Thank you for reading 20 articles this month* Join now for unlimited access
Enjoy your first month for just £1 / $1 / €1
*Read 5 free articles per month without a subscription
Join now for unlimited access
Try first month for just £1 / $1 / €1
Get The Leadout Newsletter
The latest race content, interviews, features, reviews and expert buying guides, direct to your inbox!
Simon Smythe is a hugely experienced cycling tech writer, who has been writing for Cycling Weekly since 2003. Until recently he was our senior tech writer. In his cycling career Simon has mostly focused on time trialling with a national medal, a few open wins and his club's 30-mile record in his palmares. These days he spends most of his time testing road bikes, or on a tandem doing the school run with his younger son.