Campagnolo groupsets explained and compared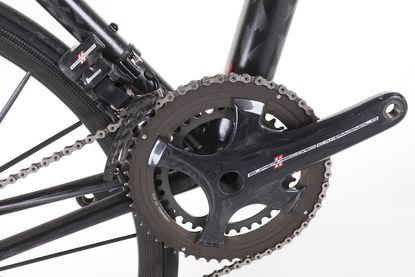 (Image credit: Cycling Studio)
Campagnolo, affectionately referred to as "Campag" or "Campy", is a company rich in cycling heritage. The Italian brand can boast of equipping the winning bikes of the 2014 Giro d'Italia and Tour de France.
Historically it is famous for inventing the rear derailleur and many other key innovations, such as quick release skewers.
Compare weights, RRPs and reviews:
Shimano groupset hierarchy
The entry-level groupset, Veloce starts higher than Shimano and sits above Sora and Tiagra. Potenza competes with Ultegra and SRAM Force, with Chorus sitting just below the Record components, while Super Record sits atop the Campagnolo hierarchy.
Campag offers three electronic groupsets, which are denoted by the term EPS (Electronic Power Shift). Super Record EPS is the most expensive commercially available groupset.
In May 2017, Campagnolo announced its new disc brake groupsets - with discs available across Chorus, Record and Super Record groupsets. It teamed up with Magura, the German brake and suspension brand, to develop the cylinder system and claimed the braking was 23-26% faster in the wet when compared with the competition.
Then in April 2018, Campagnolo broke new ground, launching with 12 speed versions of Record and Super Record.
Campagnolo's shifting system differs from the key competition - with a lever behind the brake on the 'Ergopower' shifters which moves the chain one way, and a thumb lever on the inside of the shifter which sends it the other way. The other magic trick is 'Ultrashift', which makes it possible to give the lever a longer push to smash through multiple gears on the cassette in one go.
The brand's systems are well known for their distinctive 'clunk' - something Campag says dedicated users value so much hat the electronic system was developed to provide the same degree of feedback.
Campagnolo groupset hierarchy
You can trust Cycling Weekly. Our team of experts put in hard miles testing cycling tech and will always share honest, unbiased advice to help you choose. Find out more about how we test.
Links in the 'buy now' column will take you to retailer's sites. If you click on this then we may receive a small amount of money from the retailer if you purchase the item, this doesn't affect the amount you pay.
Swipe to scroll horizontally
| | | | | |
| --- | --- | --- | --- | --- |
| Super Record H11 EPS | Electronic, disc, 11 speed | Unconfirmed | £3937 | £2725 |
| Super Record EPS | Electronic, rim, 11 speed | 2078g | £3712 | £2725 |
| Super Record H11 | Mechanical, disc, 11 speed | 2228g | £2878.60 | Row 2 - Cell 4 |
| Super Record | Mechanical, rim, 12 speed | 1940g | £2603.05 | £2615 |
| Record H11 EPS | Electronic, disc, 11 speed | Unconfirmed | £3627 | Row 4 - Cell 4 |
| Record EPS | Electronic, rim, 11 speed | 2178g | £3174.55 | £2779.99 |
| Reccord H11 | Mechanical, disc, 11 speed | 2260g | £2160.57 | £1740.70 |
| Record | Mechanical, rim, 12 speed | 2039g | £1750.06 | £1764.99 |
| Chorus EPS | Electronic, rim, 11 speed | 2308g | £2203 | £1348.99 |
| Chorus H11 | Mechanical, disc, 11 speed | 2613g | £2047.07 | £1654 |
| Chorus | Mechanical, disc, 11 speed | 2120g | £1330.65 | £989.49 |
| Potenza Disc | Mechanical, disc, 11 speed | Unconfirmed | £1387.50 | £1327.99 |
| Potenza | Mechanical, rim, 11 speed | 2412g | £818.76 | £599 |
| Centaur | Mechanical, rim, 11 speed | Unconfirmed | £588.12 | £399.95 |
| Veloce | Mechanical, disc, 10 speed | Unconfirmed | Unconfirmed | Components |
* Weights will always be estimates, as they'll vary depending upon chainring size, crank length, cassettes used and some official weights do not include components such as cables and mineral oil/hoses for disc brakes.
** RRPs are based upon Shimano's official retail price of components added together. Retailers create their own RRPs, based upon the cost of individual components, so listed prices will vary.
Campagnolo H11 Disc brake groupsets
Campagnolo was a little late to the party with disc brakes, arriving in spring/summer 2017 - but it promises improved performance compared to the competition, with braking that's 23-26 per cent faster in the wet with less force.
It's disc brake system is called 'H11' - and the shifters, chain set and brake calipers are the across H11 Record, Super Record and Chorus - differences presenting themselves in the chain, cassette and dérailleurs. The lower endPotenza groupset comes with an 'H10' disc brake groupset, which features aluminium shifters instead of carbon.
To create the system, Campag teamed up with German brake and suspension manufacturer Magura - who helped develop the cylinder and oil system. The brakeset features an 'Adjustment Modulation System' (AMS) which allows users to change the degree of bite, as well as a 'patented anti-vibration, noise-reduction solution' in the shape of a bonded layer on the back of each brake pad. The 22mm diameter pistons are made from phenolic resin, which the brand claims offers superior heat insulation and a magnetic spring has replaced a metal approach which is said to add to reaction time and consistency.
There are size specific calipers - you can run 160mm at front and rear and 160mm or 140mm at the rear. They're designed to fit any flat mount frameset and there's no need for spacers.
Campagnolo EPS
EPS versions are available at Campagnolo Super Record, Record and Chorus level. The system powers itself via a rechargeable battery which sits in the frame and the 2016 update included development of the Power Unit and Interface Unit, making them slimmer and increasing compatibility with more frames - including aero bikes.
The shifting pattern stays the same, but the front derailleur adjusts itself slightly if you're chaincrossing, to help facilitate a smoother change. Configuration is set up via the 'MyCampy' App which can transmit information wirelessly via Bluetooth (BLE) or ANT+.
Campagnolo Super Record
Campagnolo Super Record is available in EPS, EPS H11, mechanical H11 or plain old Super Record mechanical rim brake - and as of this year you can get the mechanical system with 12-speed, too.
The 12-speed system comes with new chainsets, front and rear derailleurs, rim and disc brakes as well as shifters - but it's compatible with existing wheels and frames. There are two cassette options - 11-29 and 11-32 - the reasoning being that racers don't need to stick to smaller gear ratios in order to minimise gaps between cogs with the 12-speed system.
Being top of the performance ladder, Super Record is loaded with carbon and titanium, allowing for a low overall weight. The crankset, for example, is carbon, with alloy chainrings and a titanium axle, the derailleurs are predominantly carbon with ceramic bearings used and the body of the shifter is constructed from composite.
Alongside the impressive performance of the H11 brakes, we've always found Campagnolo's direct mount rim brakes - available down to Chorus level - quick to react and effective.
The dérailleurs allow for full use of the cassette, in either chainring, without chainrub on the front mech, and the chainsets come in 53/39, 52/36 and 50/34 combos whilst cassettes can be anywhere from 11-23 to 11-29.
Campagnolo Record
The performance differences between Super Record and Record aren't huge - there's a little bit less carbon, which reflects in a slight weight increase - for example, the crankset weighs 651g as opposed to 603g at Super Record standard.
The shifters still have a composite body, as is the majority of the dérailleurs structure, though the ceramic bearings have disappeared from the rear and been replaced by bushings.
Campagnolo Chorus
Chrous comes in EPS and with H11 disc brakes, but not with 12-speed as the upper echelons offer.
The rear derailleur uses rubber pulleys as opposed to the ceramic bearings at Super Record level. The crankset has been beefed up to 683g (compared to 603g for Chorus), and there's similar increases across the group.
Campagnolo Potenza
Potenza is 'middle ground' for Campagnolo, but it's actually comparable to Shimano Ultegra, so it's certainly not entry level by any stretch of the imagination.
One notable difference is a longer inside lever, when compared with that found on the top end systems - this answers complaints that the thumb tab was hard to reach when in the drops. There's also a larger rear dérailleur, which can cater for cassettes up to 11-32.
Campagnolo Centaur
The closest comparison to Veloce is Shimano 105 - it comes in black or silver, though the latter is more expensive.
The dropped inner thumb paddle has been continued into this level, and the chainsets available are 50/34 and 52/36 - denoting that Campag doesn't consider this to be a race level product with a missing 53/39.
Campagnolo Veloce
The entry-level option from Campagnolo, Veloce is also available in silver or black, and it's still a 10-speed system with a lack of carbon use within the construction.
Thank you for reading 20 articles this month* Join now for unlimited access
Enjoy your first month for just £1 / $1 / €1
*Read 5 free articles per month without a subscription
Join now for unlimited access
Try first month for just £1 / $1 / €1