SRAM Force CX1 review
SRAM recently released its road 1-by groupset, the single ring setup designed for almost everything any cyclist could ever want. We take a look back at its off-road Force CX1 groupset, the product that started it all.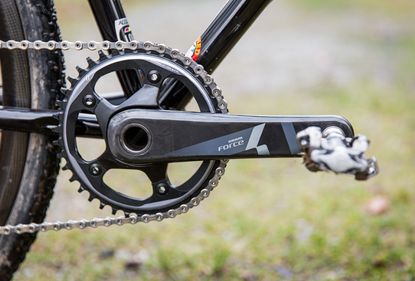 (Image credit: CCC)
With SRAM earlier this year launching the 1-by system, it seemed like a good time for us to revisit our CX1 groupset to see how it developed long term. The two new groupsets, Force 1 and Rival 1, incorporate most of the tech from CX1 (only the cyclocross sized chainrings retain the mud shedding tech), but spread the love to wider ratio cassettes, and many more chainring sizes to attract the attention of anyone from world tour travellers, to criterium and time trial racers.
Reasons to buy
+

Reliable

+

Light

+

Versatility
You can trust Cycling Weekly. Our team of experts put in hard miles testing cycling tech and will always share honest, unbiased advice to help you choose. Find out more about how we test.
Cyclocross racers have been bodging their bikes since the beginning of racing, and a popular mod has always been converting a standard 2 or 3 ring front chainset down to one, single ring. With an altered road crank, and a mountain bike chain catcher, people sought out simplicity with the aim to gain a weight and reliability advantage over their mud-churning rivals. Now though, there's no need to bodge it anymore.
>>> SRAM groupset hierarchy explained
What is it?
SRAM were the first manufacturer out there to create a specific group set with a crankset designed with just a single ring, but that was for mountain bikers. Now though, after some alterations and a lot of development, it's now no longer exclusive to flat bar bikers. SRAM's answer to single ring racing is an update to their Force groupset with Force CX1, designed specifically for, as the name implies, cyclocross bikes.
>>> SRAM Red AXS 12 speed groupset launched
CX1 is mostly aimed at Cyclocross racers, but realistically, since the bursting emergence of the 'gravel scene', it's a groupset that'll be perfect for anyone looking for simple and reliable off-road shifting.
>>> Buyer's guide to cyclocross bikes
How it works
The key piece of technology that has made the jump from single track to muddy fields is the rear derailleur clutch system. Anyone who has tried a single ring setup with their own parts might have found it a nightmare keeping the chain on the straight and narrow. With no front derailleur to keep the chain in check. Usually a chain guard or catcher has to come into play to help keep everything in check. The clutch rear mech has one simple task, keeping the chain taut, and it does a marvelous job of it.
It stops the chain from jumping off the specially designed 'X-Sync chainring by stopping any slackness in the chain, and it is good enough to totally forgo the use of a mountain bike style chain catcher. We've had this bike through and off some awful looking bumps and we rarely heard the chain slap, let alone lose contact all together. It really is pretty impressive, and considering its what the groupset was designed for, it shouldn't really be a surprise.
Having said that, it's still quite a thing to hear just how quiet it is when you're doing your worst to make some noise. Over at the chainset, SRAM has a couple of small ideas for keeping the chain true. Larger than usual teeth on the chainrings help to keep the chain secure, and some mud shedding capabilities - basically some recesses cut in to the profile of the teeth to help clear the mud out - help keep things moving reliably.
>>> Guide to riding cyclocross
Those are the key aspects that set this Force CX1 groupset apart from its road sibling. The brakes on our test rig were hydraulic disc, and of course, the shifters are hydraulic too. Suffice to say that this part of the setup worked perfectly well. We reviewed SRAM's hydro road shifters before, and this setup is more or less the same, although updated and tweeked.
Video - Buyer's guide to road bike groupsets
Does it work long-term?
Yes. Really, very well. So well in fact, that after a year of abuse, we've yet to experience any real issues despite countless races, international travel and three bike swaps. What with testing frame sets and installing the group set on to my own frames, CX1 has done the rounds, and it's been faultless with it.
Away from the Cyclocross specific stuff, the shifting of SRAM's double tap system in general is good and reliable, but one of the previous issues with SRAM's shifting system is highlighted when you take the whole thing off road. There's no nudging the rear derailleur in to gear, as you can with a Shimano groupset, so when you hit the shifter, it either goes in to gear, or it doesn't quite.
>>> How to get into cyclocross
It's an issue highlighted more quickly off road, what with all the mud getting in amongst the components and causing a fuss. It's a great groupset for instant shifting though, so long as you stay on top with regular rear mech adjustments.
Everything else here works just as well as it should. The hydraulic shifters are very comfortable, and it doesn't take long to get used to the larger than normal hoods. The brakes are infinitely manageable with just a single finger too, and a system like this should all but kill off the old guard who stand firm by their inferior canti-lever brakes, which by now survive on only one positive aspect, their light weight.
For more information head over SRAM.
Thank you for reading 20 articles this month* Join now for unlimited access
Enjoy your first month for just £1 / $1 / €1
*Read 5 free articles per month without a subscription
Join now for unlimited access
Try first month for just £1 / $1 / €1