How to get into cyclocross: British champion Ian Field shares his tips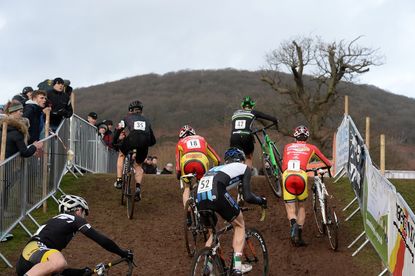 (Image credit: Andy Jones)
For the second year running The Cycle Show will host a cyclocross race during the show held at the NEC Birmingham. The race takes place on Saturday 26th September with a wide range of race categories available.
The route will start and finish in the main exhibition hall, giving competitors the chance to race in front of thousands of spectators.
Last year's winner and four-time British National Cyclocross Champion champion Ian Field shares his is top tips for the getting into cyclocross.
The accessibility of cyclocross is its biggest appeal. Anyone can have a go, and it provides a challenge for all entrants. Just get your bike and enter a race, it's so much fun and it doesn't matter if you've never raced before.
Terrain
"It's the terrain that provides the challenge in cyclocross, competitors will push you to race harder but mastering a course is the key to success. Races are in woods and fields on a variety of surfaces that all provide a safe environment free from traffic.
"Cyclocross circuits are usually between 6 and 10 minutes long per lap so you have the opportunity to cheer your family or friends on and many events have races for different categories and ages so all the family can have a go."
>>> On-bike camera footage from Sven Nys at the Milton Keynes cyclocross (video)
Races
"Races can be competitive, but there is always a wide range of abilities. You will soon find yourself settling in to a rhythm surrounded by similarly fit competitors.
"You won't get left behind and you will pick up the technique and pacing that's required to last the whole race. There are a few skills that when mastered will see you fly up the results' sheet."
Getting on/off the bike
"First up is getting on and off your bike. Sounds a bit strange if you've never tried it before but sometimes there are obstacles that are just a bit too hard to ride across and it's easier to dismount, pick up your bike and run over the sand pit or up the 45 degree bank.
"Race organisers usually add in an one unrideable section per lap so mastering this skill can make this easy to move up a few places per lap, or a place that you lose a few.
"Make sure you move up the cassette before dismounting to make pedalling easier when you remount. If you're wearing clip-in shoes, unclip the foot that you will swing over the bike in advance of the dismount to maximise efficiency.
>>> An inspirational letter from Helen Wyman to future cyclocross stars
Carrying the bike
"There's no set way to carry your bike when you're running, I've seen a few funny techniques over the years but I think resting the top tube on your shoulder with one hand holding the front wheel and downtube is the best way, partly because it stops the handlebar and wheel hitting you in the face.
"Consult YouTube for dismount/remount how to videos to see a few different techniques to help discover what works best for you."
Getting muddy
"If you enter a race, you're going to get muddy. Enjoy it, otherwise you won't have a good day. It's all part of the fun.
"The more serious racers will bring two or even three bikes to an event, they will swap out a bike after it gets clogged with mud. For beginners and intermediates one bike is perfect, multiple bikes and pit stops are a hassle only worth worrying about at elite level.
"Cyclocross is a different sport to road cycling, expect to change habits and techniques. Some road cycling techniques will work, others won't.
"Some mountain bikers will try to heroically lap the course on their bike with no dismounts, when they would save vital seconds and places if they quickly jumped off, ran over the sand pits and jumped back on."
>>> Cyclocross bikes: a buyer's guide
Tyre pressure
"The biggest error for roadies is to turn up with high tyre pressure, bumpy terrain is a nightmare on 100 PSI. Even though road cyclists will be used to the feeling of high pressure, anything over 25 is unnecessary, it might be faster on the flats, but a muddy corner will give you no grip and might cause a fall.
"The best way to approach cyclocross and to develop technique is to enter a race, take your bike and give it a go. Even by the end of your first race you will have learnt so much and enjoyed every second."
Taking place from 25-27th September, the Cycle Show is the UK's largest cycling exhibition with over 280 exhibitors spread over three days covering every aspect of the cycling industry. For more information about The Cycle Show and the cyclocross race, please visit: www.cycleshow.co.uk/Content/Cyclocross
Thank you for reading 20 articles this month* Join now for unlimited access
Enjoy your first month for just £1 / $1 / €1
*Read 5 free articles per month without a subscription
Join now for unlimited access
Try first month for just £1 / $1 / €1