Best cyclocross bikes 2023: a buyer's guide
Want the best cyclocross bike that's ready to race and can handle anything the course throws at it? Here's our pick of cyclocross bikes we've tested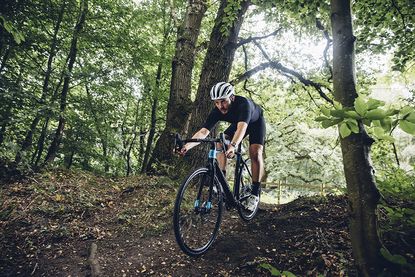 Get The Leadout Newsletter
The latest race content, interviews, features, reviews and expert buying guides, direct to your inbox!
Thank you for signing up to The Pick. You will receive a verification email shortly.
There was a problem. Please refresh the page and try again.
The best cyclocross bikes are specifically designed to help you tackle everything thrown at you in a cyclocross race - a sub hour event which takes place on a closed-off road circuit and can contain grass, tracks, sand and obstacles such as low barriers, steps and steep banks.
All riders complete laps of the same course, which means that they can be incredibly accessible for beginners, with the most competitive athletes simply completing more laps in the timeframe.
Previously a niche winter sport from Belgium, cyclocross racing has outgrown its historic reputation to become an exploit enjoyed all over the world. It's even shaken off the winter-only prerequisite, as there are summer leagues now, too.
The best cyclocross bikes
Image 1 of 2
Best for peak performance
Specifications
Groupset: SRAM Red AXS 12spd
Maximum clearance : 47mm x 700c / 2.1in x 650b
Weight: 6.9kg (size 52cm, measured)
Reasons to buy
+
Exceptionally lightweight fully built
+
Power meter as standard
+
Stable yet nimble geometry
+
Plenty of tyre clearance
Specialized's Crux has long been highly coveted as one of the best 'cross platforms going. The latest iteration iteration may have seen its range of application broadened, but that racing DNA very much still lives on.
The main change has been the increase in tyre clearance. Now going all the way up to 47mm in 700c or 2.1 inches in 650b, the gap left on either side of a 33mm CX tyre is truly capacious.
On the one hand, this means that even in the filthiest course, you'd be hard pressed to clog up the chainstays or fork legs. On the other, it opens the Crux for the UCI's new gravel racing format, extending its remit from beyond just muddy fields to the whole world of gravel.
As a race bike, it very much still has that killer instinct. Weighing in at under 6.9kg, it takes little effort to manhandle the bike around and on the steeper climbs that lack of heft really makes itself known.
Being quite so expensive, the question of value raises its head. Although just so fun to ride with its ridiculously low weight, the rough and tumble of a CX season mean that you'd have to be confident that your pockets aren't just deep enough for the initial purchase, but can also handle the upkeep.
SRAM Red cassette, chains, chainrings, brake pads and rotors don't come cheap. And that's just the consumables – vulnerable components such as the rear derailleur and shifters are even more pricey.
For most people, the cheaper models in the range would provide the best balance between performance and price.
Read more: Specialized S-Works Crux full review
Image 1 of 2
Best aluminium CX bike
Specifications
Groupset: SRAM Apex 11spd
Maximum clearance: 45mm x 700c
Weight: 9.7kg (size medium)
Reasons to buy
+
Great handling
+
High spec for its price
+
Not too heavy
+
Good value
+
Sensible tyre choice
Reasons to avoid
-
Might need to change chainring size for better range for racing
The alloy frame and full carbon fork of the Vitus Energie VR have been constructed predominantly with cyclocross racing in mind, but with a nod to customers wanting to also turn the bike in to more of a gravel/adventure ready machine too.
With an impressively low weight, for an aluminium frame, the Energie VR was easy to swing up onto a shoulder when scaling steep, grassy banks. Depending on the course and your own fitness level, you may want to swap out the chainring for a size better suited.
We found the gearing fine for the higher speeds and intensity that you get in a CX race, but for general riding and exploring outside the markings of a muddy course, the gearing was much steeper than you typically get on a gravel bike.
There is masses of clearance, so you'd be hard pressed to clog it up with 33mm tyres. Should you desire to take the Energie VR on some more adventurous terrain, there's clearance for up to 45mm in 700c or 50mm in 650b, so plenty of cushion for rockier and more comfort-oriented rides.
Want something flashier? Vitus also sells the Energie Evo with a carbon frame and higher spec components.
Read more: Vitus Energie VR full review
Best CX bike on a budget
Specifications
Groupset: SRAM Apex 11spd
Maximum clearance: Not given
Weight: 11kg
Reasons to buy
+
A cost-effective entry to cyclocross or mixed terrain riding
+
Good all-rounder for rougher commutes
+
Guard and rack mounts
Reasons to avoid
-
Heavy for race duties
-
External cables can get contaminated easily
There's now just one version of the Boardman CXR, the entry level CXR 8.9, which comes with an alloy frame and carbon forks and a SRAM Apex. That probably reflects the popularity of gravel bikes, which have taken over off-road drop bar duties for all but the dedicated racer.
That said, with cheaper bikes tending to sell in higher volumes, Boardman has opted to keep their single model as a more affordable option. This is great news for those just wanting to test the waters in CX racing, but it does level a reciprocal impact on the performance.
The powerful hydraulic brakes offer a good level of control going into hairpin corners and twisty descents. 1x gearing also simplifies the shifting and reduces the chance of mud clumps around the chainring.
However, the bike is a little heavy – even for aluminium – and that does put a bit of a damper on the acceleration and for steep banks and steps that require you to carry the bike. The 11–42 cassette is also a little broad for 'cross duties, an 11–36 will provide a few more single tooth jumps, which helps smooth the cadence changes on the flat and in sprints.
Read more: Boardman CXR 8.9 full review
Image 1 of 2
Best CX bike for rougher terrain
Specifications
Groupset: Shimano GRX 11spd
Maximum clearance: 38mm x 700c
Weight: 8.3kg
Reasons to buy
+
IsoSpeed decoupler works well to smooth bumps
+
Tubeless-ready wheels and tyres
Reasons to avoid
-
Rather edgy handling
-
Tyres not as grippy as some
Developed in conjunction with 'cross legends Sven Nys and Katie Compton, the Boone is Trek's flagship CX platform. Borrowing the IsoSpeed decoupler technology from other bikes in its range, the Boone combines a racey geometry with a bump smoothing ride.
As an out-and-out cyclocross bike, the clearance only goes as wide as 38mm 700c tyres. For the 33mm UCI limit, we didn't find any particular issues with mud build up – no worse than CX bikes that have the capacity to fit wider tyres.
But with its race oriented geometry, this isn't really a bike that you'll really want to be loading up for a gravel-based adventure – the razor sharp handling is a handful for anyone lacking in skill on even a cyclocross course.
Despite this, the Boone still utilises Shimano's GRX gravel groupset – and to great effect. The hydraulic braking is powerful and the shifting fast and accurate. The only downside is that to get any single tooth jumps in the progression of the cassette, you need to go down to an 11–32t, which is a bit narrow a range, even for CX.
Read more: Trek Boone full review
Best for nimble handling
Specifications
Groupset: Shimano GRX 11spd
Maximum clearance: Not given
Weight: 7.7kg
Reasons to buy
+
Very light
+
Responsive frameset
+
Single ring shifting simplifies mechanicals
+
Good braking
Reasons to avoid
-
Expensive for a cyclocross bike
-
No active compliance features in frame
-
Narrow rims
Scott offers a selection of gravel specific bikes, and then its 'CX RC race bike' - which is a top end, more aggressive model designed for power hours in muddy fields.
There's no denying the true race credentials with the CX RC; it's exceptionally light, hovering around the 7.7kg mark when we rode it with a SRAM Force set up, so no doubt the GRX version will come in even lighter.
It also handles exceptionally well, its responsive personality making any complex cross course much easier to manage. The downside however is that if you want to ride a pro bike, don't expect the luxury of compliance. Although Scott says it has built in a touch more plush than previous years, there's no denying the Addict CX RC is was built purely for speed.
Read more: Scott Addict CX RC full review
Best for 'cross specific tech
Reasons to buy
+
Excellent clearance
+
Stable handling off road
+
Compliance features built into frame
Reasons to avoid
-
Front mech cable routing will attract muck
-
Needs symmetrically dished rear wheel - not all aftermarket options are compatible
-
Low component spec for the price
Cannondale's cyclocross range is divided into three families: the alloy CAADX and the carbon SuperX, with the top spec SuperSix Evo CX recently joining the family.
All of the SuperX bikes are race spec and the bike has been ridden by Cannondale's sponsored pros. The CAADX bikes' aluminium frames and double rings make them more all-rounders which could equally be used as winter road bikes or commuters.
When we tested the SuperX, we enjoyed the stable off-road handling, mud clearance and compliance built into the frame. All the Cannondale SuperX bikes have now been spec'ed up, making them more expensive than the Shimano 105 version we tested, but the CAADX still has options for around the £1.2k price bracket.
Read more: Cannondale SuperX 1 full review
What is a cyclocross bike?
You can trust Cycling Weekly. Our team of experts put in hard miles testing cycling tech and will always share honest, unbiased advice to help you choose. Find out more about how we test.
What's different about cyclocross bike geometry?
A cyclocross bike is built a bit differently from a standard road bike - with tweaks made to create a machine that's more suited to off-road riding.
These include a slacker head angle, for better off-road handling, and a higher bottom bracket to avoid too many accidents involving rocks and roots.
The wheelbase will often be longer, creating greater stability, and the top tube (often flattened for ease of shouldering) is often a little shorter to provide a more upright riding position. The bars and saddle are usually closer to being level, allowing the rider to shift their weight around more easily to tackle obstacles and to control traction.
Of course, all of the above sits on a sliding scale – more aggressive race orientated cyclocross bikes will sacrifice some security for a more nimble ride quality, whilst the closer they get to the adventure road category, the greater the stability on offer.
How do cyclocross bikes handle the mud?
Mud is almost inevitable in cross races, and cyclocross bikes are built with plenty of space between the tyres and the frame so that the wheels keep turning even when it collects on the bike during the race. This is evident around the forks, the chain stays and the seat stays and there's also more space between the rear tyre and the seat tube and bottom bracket than on a road bike.
What frame material for cyclocross?
Aluminium (with a carbon fork) is a popular frame choice for lower end cyclocross bikes, thanks to its combination of low weight and robust properties, but more pricey options come with a carbon frame.
Used to be you wouldn't find bottle cage, mudguard or pannier rack mounts on a thoroughbred 'cross bike. That's changed though, with brands looking to make their framesets more adaptable and more able to handle both racing and more general gravel and off-road use.
What tyres for cyclocross?
To ensure grip in off-road conditions, a cyclocross bike will be fitted with wide tyres. The UCI, world cycling's governing body, uses a formula which usually limits tyre width to 33mm for competitions, but many cyclocross bikes are sold with 35mm tyres for extra grip and stability.
Tread patterns differ dependent on the conditions on the course. Hard or sandy conditions are usually tackled on file treaded tyres, as low rolling resistance is more important than grip. Once it starts to get wet or muddy, tyres with knobs come into their own, with the knob size and tread pattern increasing as the conditions become more sketchy to add more grip and mud-shedding capability.
Serious cyclocross racers will usually have a van full of wheels set up with different tyres, so they can choose the right ones for the conditions - along with tyre pressure, it's something of a cyclocross black art.
Many cross bikes come with clincher tyres, although professionals and more serious amateurs typically ride on treaded tubulars which can be run at lower pressures for more grip. If you don't want the expense and hassle of tubulars, most cyclocross bikes now come equipped with tubeless-ready clincher wheels and tyres, which have the advantages of tubulars but are easier to set up and provide puncture resistance too.
Tyre pressure is critical to off-road handling with pros often riding tyres at below 30psi. This is easier with tubular or tubeless clincher tyres, neither of which is susceptible to pinch flats. For a standard clincher set-up a pressure nearer 40psi provides a bit more protection from bottoming out the tyre on the rim, which can cause pinch flats.
What brakes on a cyclocross bike?
In 2013 the UCI permitted the use of disc brakes on cyclocross bikes used in competition for the first time, replacing the cantilever bikes that had ruled the cyclocross roost since time immemorial. Now almost all cross bikes are sold with discs. Lower end bikes will have mechanical disc brakes, although full-hydraulic systems are becoming more and more prevalent as component manufacturers offer more options.
Disc brakes provide quicker and more consistent braking and it is easier to modulate them to get the correct amount of stopping power than for cantilevers. They won't wreck your wheel rims either.
To handle the stresses on the wheels from disc brakes, like other disc brake bikes cyclocross bikes are almost always specced with thru axles. These are borrowed from mountain bikes and result in a more rigid wheel to frame connection than a quick release. Thru axles also help improve accuracy of disc placement in the brake calipers.
What gearing for a cyclocross bike?
Up until fairly recently, a typical cyclocross bike designed for competition would come with a 46/36t double chainset and a fairly wide range cassette.
However, many bikes now come with single ring groupsets from either Shimano's GRX range or SRAM. This dispenses with the second chainring in favour of a much wider spread of sprockets in the cassette, so that the number of gears drops from 22 to 11 but the available range remains similar. Latterly, 12-speed SRAM eTap AXS wireless groupsets have become an option on higher spec bikes.
The chainring on a single ring groupset has alternating wide and narrow teeth to mesh better with the wide and narrow links in the chain, helping to clear mud and prevent chain drop. The rear derailleur too has a unique design with a clutch to prevent chain slap over bumpy terrain and help keep the chain engaged - an important consideration on bikes which are regularly carried and dropped for a remount.
A single ring groupset can also be used with a chain guide to add even more protection against chain drop, which can make the difference between winning and losing a race.
What pedals and shoes for cyclocross?
Cyclocross bikes are usually set up with clipless mountain bike pedals, which have two sided engagement, making clipping in and out far easier than with road pedals. Clogging by mud is much less of an issue with these pedals too.
Shoes which take two bolt style cleats will also have grip to handle muddy conditions and sometimes let you screw in studs. Some shoes are standard mountain bike shoes but there is an increasing number of cyclocross and gravel specific shoes becoming available too.
Cyclocross bikes versus gravel
Cyclocross bikes have always been a bit of a niche market, at least outside Belgium. But with the huge increase in popularity of gravel riding many brands have abandoned their dedicated cyclocross offering in favour of a cyclocross build of their gravel bike frameset. We've explained the difference in this post on gravel vs cyclocross bike: what is the difference?
It's in many ways a natural fit. With gravel bikes adding even more tyre clearance than cyclocross bikes for tyres of 40mm width or more, slotting the skinnier 33mm tyres of cyclocross bikes into the frame gives even more scope to handle the mud build-up that's part-and-parcel of winter cyclocross courses.
Ideally, the geometry should be a bit different between a cyclocross bike and a gravel bike though - you want more edgy handling and a higher bottom bracket to cope with the obstacles thrown up by a cyclocross course.
Get The Leadout Newsletter
The latest race content, interviews, features, reviews and expert buying guides, direct to your inbox!