Best cyclocross bikes for 2021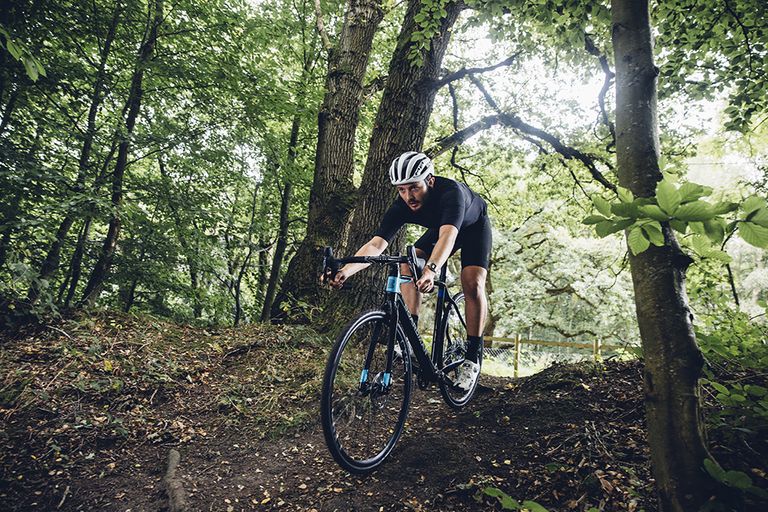 Cyclocross races are sub hour events which take place on closed-off road circuits - these can contain grass, tracks, sand and obstacles such as low barriers, steps and steep banks. The best cyclocross bikes are specifically designed to help you tackle these features.
>>> Cyclocross: what is it, what bike do I need and how do I train for racing?
Riders complete laps of the same course, which means that they can be incredibly accessible for beginners. The most competitive athletes can run rings around the slowest of athletes, completing several extra laps, and the two can still be seen on the same course.
>>> Best gravel and adventure road bikes
Previously a niche winter sport from Belgium, cyclocross racing has outgrown its historic reputation to become an exploit enjoyed all over the world. It's even shaken off the winter-only prerequisite, as there are summer leagues now, too.
The best cyclocross bikes 2020
Reasons to buy
+Price+Handling+Robustness+Tubeless
Reasons to avoid
-Not much!
If your looking to dabble in the muddle world of cyclocross, then the Inflite SLX 5.0 is ideal.
It shares exactly the same race geometry as Mathieu van der Poel's Inflite, but the aluminium frame delivers it at a much more affordable price of just under £1.5k.
Equipped with Sram Apex one-by 11 speed drivetrain and hydraulic disc brakes, the tubeless ready Schwalbe X-One's 33mm tyres were spot on for the cross races we dared venture to ride on the Inflite Al SLX 5.0.
Racing aside, however, with bottle mounts as standard, and generous clearance, the Inflite can just as easily be your all round off road companion.
Reasons to buy
+Handling+Spec+Weight+Price+Tyres
Reasons to avoid
-Might need to change chainring size
The alloy frame and full carbon fork has been constructed predominantly with cyclocross racing in mind, but with a nod to customers wanting to also turn the bike in to more of a gravel/ adventure ready machine too.
The bike comes with the single ring of the SRAM Rival 1 set up, and allows for enough clearance to take up to 45c tyres, or, should you desire to take the Vitus Energie VR on more adventurous terrain than the average cyclocross course, you've got the option of a 650b set up, and even bigger with 50c tyres.
With a price tag of less than £1200, it's off piste roaming capabilities, there's no wonder it made our Editor's Choice listing.
Reasons to buy
+Excellent clearance+Stable handling off road+Tubeless ready+Compliance features built into frame
Reasons to avoid
-Front mech cable routing will attract muck-Needs symmetrically dished rear wheel - not all aftermarket options are compatible-Low component spec for the price
Cannondale's cyclocross range is divided into two families: the CAADX and the SuperX.
All of the SuperX bikes are race spec and feature single chainrings and carbon frames, whilst the CAADX bikes use aluminium and double rings, making them more all-rounders which could be used as winter road bikes or commuters.
When we tested the SuperX, we enjoyed the stable off-road handling, mud clearance and compliance built into the frame. All the Cannondale SuperX bikes have been spec'ed up for 2020 making them more expensive than the Shimano 105 version we tested, but the CAADX still has options for around the £1.4k price bracket.
Reasons to buy
+A cost-effective entry to cyclocross or mixed terrain riding+Good all-rounder for rougher commutes+Guard and rack mounts
Reasons to avoid
-Heavy for race duties-External cables can get contaminated easily-Bar top levers make for heavy braking
There are several versions of the Boardman CRX, from the range topping CRX 9.4, which features a full carbon frameset and Shimano Ultegra Di2 groupset £3,200, to the entry level CRX 8.9, which comes with an alloy frame and carbon forks and a SRAM Apex groupset for £1000.
The CRX 9.0 sits slap bang in the middle of the range and is considered a proper cyclocross race machine with a single front chain ring and high modulus C10 carbon frame. Boardman has opted to use a SRAM Apex 1 groupset with hydraulic disc brakes, for £2000
TheCXR Elite Five wheels come fitted with ready to race 33mm Clement MXP tyres which should work well even when conditions become properly 'cross.
Reasons to buy
+IsoSpeed decoupler works well to smooth bumps+Tubeless-ready wheels and tyres
Reasons to avoid
-Rather edgy handling-Tyres not as grippy as some
Considered the gateway to Trek's carbon cyclocross range, the Boone 5 gives you race winning geometry with IsoSpeed decouplers to help smooth out the bumps to allow you to take the racing line.
Dressed in SRAM's 1x Rival groupset, along with much respected Bontrager alloy finishing kit, we found the bike an edgy ride that still provides enough compliance to press on through the rough stuff.
The range has now been narrowed down to two, with the Boone 7 getting SRAM Forece 1x and carbon finishing kit, but does cost £900 more than the Boone 5.
Reasons to buy
+Superb off-road handling+Tyres work well even at low pressures+Striking looks
Reasons to avoid
-Not cheap-Double ring set-up prone to dropped chains
Santa Cruz is best known for its mountain bikes, but it's brought some of that knowledge to drop bars in the shape of its cyclocross when it fused together it's mtb knowhow with cyclocross.
The Stigmata range has been slimlined to just one bike, but the boxy angular frame that we highly rated for it's agile and responsive handling remains, and theres a 650b wheel size to choose from too.
The carbon frame has a wide selection of finishes to choose from, with the SRAM Rival 1x the entry point to the Stigmata. A Shimano GRX version looses a pound in weight, a claimed 8.26kg Vs 8.73kg, but does cost you a thousand more at £4599. The top end version with SRAM Red AXS eTap, with a double chainring, does come in the lightest at a claimed 7.81kg, but will set you back £8999.
Reasons to buy
+Very light+Responsive frameset+Single ring shifting simplifies mechanicals+Good braking
Reasons to avoid
-Expensive for a cyclocross bike-No active compliance features in frame-Narrow rims
Scott offers a selection of gravel specific bikes, and then its 'CX RC race bike' - which is a top end, more aggressive model designed for power hours in muddy fields.
There's no denying the true race credentials with the CX Rc, it's exceptionally light, hovering around the 7.7kg mark when we rode it with a SRAM Force set up, so no doubt the GRX version will come in even lighter.
It also handles exceptionally well, its responsive personality making any complex cross course much easier to manage. The downside however is that if you want to ride a pro bike, don't expect the luxury of compliance, although Scott say they've built in a touch more plush than previous years, there's no denying the Addict CX RC is was built purely for speed.
What is a cyclocrossbike?
Geometry
A cyclocross bike is built a bit differently from a standard road bike - with tweaks made to create a machine that's more suited to off-road riding.
These include a slacker head angle, for better off-road handling, and a higher bottom bracket to avoid too many accidents involving rocks and roots.
The wheelbase will often be longer, creating greater stability, and the top tube (often flattened for ease of shouldering) is often a little shorter to provide a more upright riding position. The bars and saddle are usually closer to being level, allowingthe rider to shift their weight around more easily to tackle obstacles and to control traction.
Of course, all of the above sits on a sliding scale – more aggressive race orientated cyclocross bikes will sacrifice some security for a more nimble ride quality, whilst the closer they get to the adventure road category, the greater the stability on offer.
Mud clearance
Mud is almost inevitable in cross races, and cyclocross bikes are built with plenty of space between the tyres and the frame so that the wheels keep turning even when it collects on the bike during the race. This is evident around the forks, the chain stays and the seat stays and there's also more space between the rear tyre and the seat tube and bottom bracket than on a road bike.
Frame material
Aluminium (with a carbon fork) is a popular frame choice, thanks to its combination of low weight and robust properties, but some pricey options come with a carbon frame.
You're also unlikely to find bottle cage, mudguard or pannier rack mounts on a thoroughbred 'cross bike - if these are required it's a good idea to check out adventure road bikes or touring bikes.
Tyres
To ensure grip in off-road conditions, a cyclocross bike will be fitted with wide tyres. The UCI, world cycling's governing body, uses a formula which usually limits tyre width to 33mm for competitions, but many cyclocross bikes are sold with 35mm tyres for extra grip and stability.
Tread patterns differ dependent on the conditions on the course. Hard or sandy conditions are usually tackled on file treaded tyres, as low rolling resistance is more important than grip. Once it starts to get wet or muddy, tyres with knobs come into their own, with the knob size and tread pattern increasing as the conditions become more sketchy to add more grip and mud-shedding capability.
Many cross bikes come with clincher tyres, although professionals and more serious amateurs typically ride on treaded tubulars which can be run at lower pressures for more grip. Tubeless clincher tyres are also beginning to appear, which have theadvantages of tubulars but are easier to set up and provide puncture resistance too.
Tyre pressure is critical to off-road handling with pros often riding tyres at below 30psi. This is easier with tubular or tubeless clincher tyres, neither of which is susceptible to pinch flats. For a standard clincher set-up a pressure nearer 40psi provides a bit more protection from bottoming out the tyre on the rim, which can cause pinch flats.
Brakes on a cyclocross bike
In 2013 the UCI permitted the use of disc brakes on cyclocross bikes used in competition. Now the majority of cross bikes are sold with discs. Lower end bikes will have mechanical disc brakes, although full-hydraulic systems are becoming more and more prevalent as component manufacturers offer more options.
Previously, cyclocross bikes used cantilever rim brakes for their mud clearance. Many cyclocross pros still use them in competition and a few cyclocross bikes and frames are sold with cantilever brakes or with additional mounts for cantilevers as well as disc brakes.
Disc brakes provide quicker and more consistent braking and it is easier to modulate them to get the correct amount of stopping power than for cantilevers. To handle the stresses on the wheels from disc brakes, cyclocross bikes are increasingly being specified with thru axles. These are borrowed from mountain bikes and result in a more rigid wheel to frame connection than a quick release. They may be used at the front only or for both axles. Rear axle spacing is usually 135mm but bikes with 142mm axles are appearing too. Thru axles also help improve accuracy of disc placement in the brake calipers.
Gearing
Up until fairly recently, a typical cyclocross bike designed for competition would come with a 46/36t double chainset and a fairly wide range cassette.
However, from 2017 onwards launches have included a high percentage of bikes using SRAM's 1x (pronounced One-By) transmission. This dispenses with the second chainring in favour of a much wider spread of sprockets in the cassette, so that the number of gears drops from 22 to 11 but the available range remains similar.
Since then, Shimano have also launched GRX, it's 1x system. Designed to suit a wider audience and with it has provided a way of mixing and matching components, including full compatibility with existing road and mountain bike groupset parts.
The chainring has alternating wide and narrow teeth to mesh better with the wide and narrow links in the chain, helping to clear mud and prevent chain drop. The rear derailleur too has a unique design with a clutch to prevent chain slap.
Pedals and shoes
Cyclocross bikes are usually set up with clipless mountain bike pedals and riders use shoes which will take two bolt style cleats and which have grips and sometimes studs.
These may be mountain bike shoes but there are an increasing number of cyclocross-specific shoes becoming available too.