Cannondale CAADX Ultegra review
Cannondale's alloy cyclocross bike range shares its geometry with the carbon SuperX so should offer great handling like its carbon sibling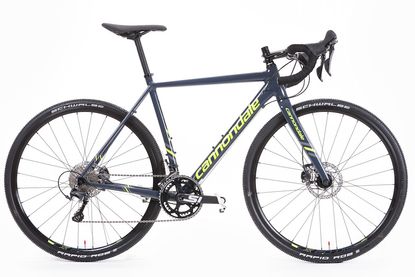 (Image credit: Cycling Studio)
The CAADX provides a good entry into the world of cyclocross, without breaking the bank. With Cannondale's race proven cyclocross geometry, it provides competent handling in tricky conditions. The Ultegra shifting and hydraulic braking provide good control too, although it would be nice to have internal cable routing to reduce the need for servicing. It's a bike that could be built on to provide modern features like tubeless running, although features like the external cabling and quick release wheels mean that you're likely to want to make a bike upgrade if you really catch the cyclocross bug.
Reasons to buy
+

Good off road agility

+

Flattened top tube for comfortable shouldering

+

Effective hydraulic braking

+

Versatile frame design

+
Reasons to avoid
-

Non-tubeless tyres

-

External gear cable routing

-

A bit on the heavy side for racing

-
You can trust Cycling Weekly. Our team of experts put in hard miles testing cycling tech and will always share honest, unbiased advice to help you choose. Find out more about how we test.
Cannondale makes two cyclocross bike ranges, the CAADX and the SuperX. The carbon SuperX is designed for cyclocross racing and for 2018 comes only with single ring groupsets.
The alloy CAADX is more of an all-rounder, with two ring Shimano groupsets and features like a removable bridge so that you can fit a rear mudguard if you're more interested in a ruggedised commuting bike or mixed terrain riding. Cannondale says it would make a great first cyclocross bike too, if you want to dip your toe in the water without too much of a commitment.
Buy now: CAADX at Hargrove Cycles for £879
Frame
The alloy frame borrows from the CAAD12 road bike, incorporating features such as Cannondale's SAVE micro-suspension system, in which the chainstays and seatstays are shaped to help absorb bumps. The fork has an alloy steerer coupled to carbon blades, which'll help keep the price down here but differs from the CAAD12's full carbon fork.
Cannondale has considered the needs of cyclocross racers, with a broad flattened underside to the top tube for more comfortable carrying. It's also included a couple of sets of bottle bosses, if you want to use the bike for more than just an hour's racing.
You get flat mount disc brakes and bolts for that removable mudguard bridge. The brake hoses run internally, but the shifter cables run bare down the underside of the down tube and under the bottom bracket shell. It's a potential source of contamination and degradation of shifting quality, particularly the front mech cable, which accumulates muck easily.
Unlike most disc brake frames, which have switched to thru-axles, the CAADX uses quick release wheels. But the fork dropouts are angled forward, to help keep the wheel in place over rough terrain.
Thru-axles should add some extra rigidity to the frame-wheel connection and also increase the accuracy of the disc rotor placement, so there's less chance of rubbing. In practice, I didn't find either of these a huge problem, but they're potential disbenefits of the CAADX design. This is something similarly found with the CAAD12 and SuperSix Evo disc.
Specification
The Ultegra spec is the top of the four bike CAADX range and benefits from hydraulic shifting. There are two 105 specs and a Tiagra bike below it, all of which use mechanical disc brakes.
Ultegra's hydraulic braking is effective and reliable. It's resistant to mud, due to the fully enclosed hose runs. The shifter levers are compact and comfortable too.
The Cannondale rims run on Formula quick release hubs. They're tubeless ready, allowing you to drop the pressure to improve grip on the cyclocross course, without the risk of pinch flats. But you'll need to swap out the Rapid Rob wired tyres if you want to make use of this.
The drivetrain is mainly Ultegra, although there's a Cannondale Si chainset, which has the classic cyclocross 46/36 ratios. The cassette is Shimano 105, with 11-32 ratios for plenty of lower range, although you can still spin out quite easily when riding on tarmac.
Cannondale has mined its own brand components, fitting C3 alloy bars, stem and seatpost. There's also a Cannondale Stage saddle, which is soft enough to provide some cushioning over bumpy ground, without being too yielding for effective pedalling.
Riding the CAADX
The CAADX shares its geometry with the carbon SuperX. It's a wise choice by Cannondale, as both the CAADX and the SuperX ride really well off road. Cannondale has relaxed the fork angle and increased its rake for off-road stability, while retaining the agility to deal with technical trails. This makes for a fun ride on sketchy surfaces and ability to negotiate obstacles at slower speeds, while still providing a lot of confidence when descending fast.
The chainstay length is the same as the SuperX too, which also helps handling. But you don't get the SuperX's asymmetric offset drivetrain, so clearance is less on the CAADX.
http://www.youtube.com/watch?v=NDTONIILjdg
Along with the front mech cable routing and unprotected under-bottom bracket runs, this means that there's more of a tendency to accumulate muck and debris. I didn't have any more shifting problems than I'd expect with enclosed runs, although the cables tend to collect leaves and mud under the bottom bracket. You need to be prepared for extra cleaning to keep everything working well.
>>> Cyclocross bike buyer's guide
At 10kg, the CAADX is a bit on the heavy side for racing and extended carrying, despite the shaped top tube. Depending on your carrying style, you may find that the cables get in the way when lifting the bike too.
Rapid Rob tyres are an all-round design. Their closely spaced central knobs mean that they roll fast enough on roads. They'll cope with muddy conditions with a firm base okay. But on typical wet and muddy UK winter bridlepaths, they slip around a lot and the tread is prone to clogging. Along with the inability to run tubeless, it's another reason to budget for a swap-out.
Value
Buy now: CAADX at Hargrove Cycles for £879
For a bike kitted out with a relatively pricey Ultegra hydraulic groupset, the CAADX is good value. But Cannondale has made some compromises elsewhere in the spec to achieve this. Although you can set up tubeless, you'll need to replace the budget tyres if you want the benefits of a tubeless set-up.
There are also sneaky swap-outs in the drivetrain, like the 105 cassette, although with the high wear on cyclocross consumables, a cheaper cassette isn't really likely to notice and you'll need to replace it quite quickly anyway.
Thank you for reading 20 articles this month* Join now for unlimited access
Enjoy your first month for just £1 / $1 / €1
*Read 5 free articles per month without a subscription
Join now for unlimited access
Try first month for just £1 / $1 / €1