BMC Crossmachine CX01 review
The BMC Crossmachine looks fantastic and has a great spec, but how does it shape up to the rigours of the cross course?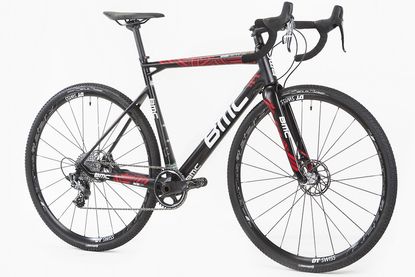 (Image credit: chris catchpole)
The Crossmachine is a very reliable and exquisite looking bike that both rode comfortably and raced well with very few issues. Despite feeling the absence of an extra chainring and a couple of minor gripes about the levers, my first ride on SRAM's Force One convinced me it was a great option for cross racing. I wouldn't personally make it my number one choice on a bike I planned to race all season and ride for fun, but a couple more broken mechs might change that view and it seems by far the best groupset for muddier conditions.
Reasons to buy
+

Robust build

+

Killer looks

+

Thoroughbred race spec

+
Reasons to avoid
-

No thru-axles

-

Cumbersome rear end

-
You can trust Cycling Weekly. Our team of experts put in hard miles testing cycling tech and will always share honest, unbiased advice to help you choose. Find out more about how we test.
With its oversize carbon frame, deluxe Swiss engineering and a groupset originally designed specifically for the discipline, the BMC Crossmachines is BMC's top-end cyclo-cross bike, pitched at racers who want the very best from its machine.
It looks great too with its smart red graphics, masterly shaped tubes and uncompromising finish. But for something you'll ultimately grind through the mud and abuse in the jet wash, does it live up to its £3.5k price tag?
Frame
Down tubes on dropped-barred bikes don't get much chunkier than that on the BMC Crossmachine, tapering slightly from almost the full width of the bottom bracket to what remains a decidedly robust looking head tube. Flexi, then, this 'premium carbon' frame is not, with the seat and top tubes also reinforced with bold shapings - including an extra strut at the juncture of the two.
While this makes for a very solid build, the frame offers some compliance in its slim lowered seat stays, craftily sculptured chainstays and cheeky little rake at the foot of the bladed fork – which again sprawls into a very robust build near the head tube.
This is BMC's ACE technology in action – a process they claim finds the optimum design through computer evaluation of thousands of different configurations of frame geometry, tube shape and carbon lay-up. Perhaps a side-effect, but the polygon profile of the tubes with their smooth angles adds to the immaculate finish of the frame.
Specification
SRAM's Force One is an evolution of its CX1 groupset, which was specifically designed for cyclo-cross but was so well received it was tweaked and rebranded for broader usage. At its heart is commitment to a single chain ring and the de-cluttering effect this has the drivetrain.
The range of gears offered by the 11-32 cassette largely proved adequate on the race circuit, but personally I missed the option you have with a double chainset to whack things up an octave when you crest a hill or escape a technical tangle of tape and want to get on with laying down some power. Of course, an approximately equivalent gear is still there but several clicks along the sprocket.
Just out riding the BMC Crossmachine, where hills might be steeper or more sustained than on a typical cross course, I did also find myself looking for gears lower than what are on offer in this set-up's range. When I had to dismount or really labour over a steep rise, it had me ruing the compromised size of a single chain ring. A tweak for my style of riding can sort this ultimately.
>>> Are single ring groupsets the future?
However in muddier conditions, doing away with double rings and a front mech makes for a lot less componentry to get clogged up. Yet, usually it's the rear mech that will fail first in such conditions.
>>> Six best cyclocross bikes 2017
I rode the BMC Crossmachine in races towards the back end of the cross season when conditions had turned mucky. Only once did the SRAM rear mech with its industrial sized jockey wheels present any issue, threatening not to change up as I was coming to the end of a particularly foul day around Fowlmead (it was resolved with a kick).
That was a considerably better performance than the Ultegra mech on which I was racing before. That jammed, ripped off the hanger and tangled itself in the rear wheel at the very first sign of the season's mud.
While that previous bike (the £2.5k Focus Mares) supported its hydraulic disc brakes with sturdy thru-axles, I was a little disappointed that the BMC only offers quick release. This meant the brakes could be a little noisier and not quite as free-running, although I never felt their stopping performance was compromised. Good for quick pit changes though, which again points to the bike's thoroughbred racing intentions.
>>> New BMC Teammachine: first ride (video)
Of SRAM's hydraulic levers, I like the extra position their little turret offers but was not so keen on the way my little finger could get trapped in the hollow behind the left brake lever (where a front mech changer might otherwise be). Nor did I enjoy the couple of incidences where, due to the lever's ergonomics, I accidentally changed up on bumpy ground when my knuckle bumped against the right hand gear paddle.
Ride
Due to the relatively long top tube lengths on its models, I sized down from my usual 56cm to 54cm (seat tube) on this BMC Crossmachine. The fit felt fine, but due to either the geometry or the weight distribution, it always felt a little back-heavy when manoeuvring over obstacles.
In all other aspects, the performance was top notch: easy to get up to speed, a dependable descender, happy climber and as good around tight/slippery/rooty corners as my own technical limitations permitted.
>>> Cycling Weekly Adventure Cross Series
The DT Swiss wheelset and Continental CycloXKing tyres proved a reliable, if somewhat unremarkable combination. Although built to accommodate up to 35mm width, I did think BMC could have offered a little more mud clearance around the forks and stays – there were racing instances where these clogged to capacity and required a quick clearout with a stick.
Thank you for reading 20 articles this month* Join now for unlimited access
Enjoy your first month for just £1 / $1 / €1
*Read 5 free articles per month without a subscription
Join now for unlimited access
Try first month for just £1 / $1 / €1