Shimano GRX 12-speed adds a gear but keeps the cables: 'The market wants mechanical', apparently
Latest generation includes one-by, two-by and entry-level components, plus a new gravel wheelset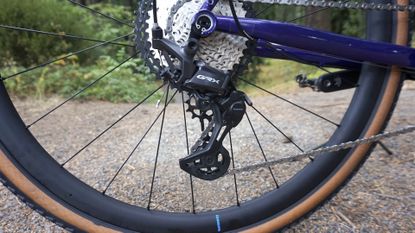 (Image credit: Anne-Marije Rook)
Get The Leadout Newsletter
The latest race content, interviews, features, reviews and expert buying guides, direct to your inbox!
Thank you for signing up to The Pick. You will receive a verification email shortly.
There was a problem. Please refresh the page and try again.
First spotted at Unbound Gravel at the start of June, Shimano today officially unveiled its latest generation of GRX components, consisting of three new 12-speed drivetrains, which, while adding an extra cog in the back, maintain its shift cables.
"We feel pretty strongly that about 75% of the gravel market is mechanical. That's what they're purchasing," said Shimano's Road Brand Manager, Nick Legan. "We love electronic groupsets. We helped pioneer them. We have some pretty amazing ones, but we wanted to focus on the bulk of the market first."
This stance comes at a time when Shimano's drivetrain competitor, SRAM, is going all-in on electronic. The American manufacturer released the Apex AXS groupset earlier this summer, which is a 12-speed drivetrain complete with electronic shifting and hydraulic braking for just $1300/£1,262. This competitively priced groupset is more than $200 cheaper than any of the 820 series groups listed below and less than $70 more expensive than the budget 610-series offering.
We do have to wonder if Shimano is catering for what it believes customers want, or for the price points it is able to meet - but of course, it's impossible to know for sure.
However, unlike SRAM's 1x-only approach, Shimano's new GRX lineup does provide a lot of options as it includes two 1x and one 2x build kits.
In an effort to serve the broadest spectrum of gravel riders, Shimano's new GRX lineup includes two 1x and one 2x options.
"We're all about options," said Legan. "There are very, very clear cases to be made for double. There are very, very clear arguments to be made for a single. So, instead of trying to win someone over or educate them about our thinking, we make both. And in this case, we make three different options."
Before diving into the nitty-gritty details, the bullet point takeaways of the new Shimano GRX lineup are as follows:
GRX is now available in both 11- and 12-speed
11-speed groupsets will continue to be offered and serviced
The new 12-speed components belong to three different drivetrains: two 1x setups and one 2x, two at the 820 level and one at the entry 610 level.
The smallest sprocket on the cassettes is now 10t, putting it in line with Shimano's MTB groupsets and diverging from the road lineup, where 11t remains the smallest sprocket.
The 1x drivetrain features an increased range. Many found the previous 11-42t cassette too limiting. The new 10-51t cassette should solve that. Cycling Weekly will soon be putting this to the test — stay tuned for a full review!
The new brake levers are designed around flare handlebars and feature an anti-slip grip; hoods feature a textured design for grip
Shimano GRX 820
In launching this new generation of gravel components, Shimano differentiates its offerings into three categories.
"Since gravel is all about personal expression and freedom to choose how and where to ride, Shimano GRX includes three unique 12-speed mechanical drivetrain personalities to cover the full spectrum of riders and rides," the Japanese brand states. These three options are
- 1x12 with a 10-45t cassette for gravel racing
- 1x12 with a 10-51t cassette for bikepacking and the hilliest of adventures
- 2x12 with an 11-34T or 11-36T cassette for tighter gear steps
For racing: 1x12 with a 10-45t cassette
Parts: FC-RX820-1 Crankset, RD-RX822-GS Rear Derailleur, CS-M8100-12 Cassette
Shimano calls this option "unbeatable" and is targeted at gravel racers. This option pairs a 40- or 42-tooth front chainring with a mid-range 10-45t cassette. This is an improvement on both ends of the cassette from its 11-speed predecessor, which was limited to 11-42t.
Specific to this gear ratio, the RD-RX822-GS rear derailleur features a medium cage. This drivetrain also includes a Hollowtech crank and makes use of the existing CS-M8100 mountain bike cassette, which does require a microspline freehub body. This freehub body is made of aluminum to shave off a few grams, allows for the addition of a 10t cog, and features many narrow splines intended to limit damage over time.
For the shifters, consumers can choose between a brake-only lever or a dropper post lever. The whole set with the brake-only level option weighs 2822 grams and retails for $1,542.93/£1,270.97. The dropper-post option adds both grams and dollars, weighing 2888.5 grams and retailing for $1,572.92/£1,310.97.
For adventuring: 1x12 with a 10-51t cassette
Parts: FC-RX820-1 Crankset, RD-RX822-SGS Rear Derailleur, CS-M8100-12 Cassette
For the hilliest or most adventurous routes, Shimano's "unstoppable" offering includes a 40t or 42t front chainring with a wide range, 10-51t cassette.
This offering features the same shifter option and crankset as the racing set but has its own rear derailleur, the RD-RX822-GSG long-cage rear derailleur, to accommodate the mountain bike cassette.
This drivetrain makes use of the existing CS-M8100 mountain bike cassette with a micro spline freehub body.
This set weighs 2899.5 grams and costs $1572.92 / £1,310.97 for the dropper-post lever option. The brake-only set weighs 2833.2 grams and costs $1542.92 / £1,270.97.
For tighter gear steps: Shimano GRX 820-level - 2x
Parts: FC-RX820-2 Crankset, RD-RX820 Rear Derailleur, FD-RX820 Front Derailleur, CS-R8100-12 and CS-HG710-12 Cassette
Shimano's so-classed "undroppable" offering is made for those who come from a road background and are most used to the tight gear steps and keeping a comfortable cadence on flats and climbs alike.
This is the only offering that makes use of Shimano's existing road cassettes, the 12-speed 11-34t and 11-36t offerings. In the front, the gravel-optimized crankset consists of a 48t big ring and 31t small ring.
Unlike the other sets, the 2x offering is the only one that interfaces with most wheelsets already on the market due to its use of the standard HG freehub body.
Both levers are used for gear-changing here, so there's no integrated dropper post lever option. The 2x set weighs 2961.5 grams and retails for $1584.91/£1,251.95.
Additional feature highlights of the 820 series:
In addition to a wider gear range, the new GRX 820 lineup also features updated brake/shift levers. The ergonomics have been redesigned to reduce pressure points and specifically suit flared handlebars, which are becoming standard on gravel bikes. The levers themselves feature a new, anti-slip coating, and the hoods, too, received a make-over with a textured design.
As mentioned above, all rear derailleurs feature a small lever to engage the SHADOW RD+ chain stabilizer, which keeps the chain tight and secure over bumpy terrain while also quieting the shifting.
The brake caliper feature 10% wider path clearance for an improved rotor path and less ding-ding-ding noise.
Shimano GRX 610
The budget offering: Shimano GRX 610 in 1x or 2x
Parts: FC-RX610-1 crankset or FC-RX610-2 crankset, ST-RX610-R/L – Hydraulic Disc Brake DUAL CONTROL Lever or BL-RX610-L – Hydraulic Disc Brake Only
Shimano's budget gravel offering has received the 12-speed upgrade as well, plus added trickle-down benefits from the original 800-series GRX components.
The 610 series is limited to new cranksets and shifters only. The rest makes use of the existing 12-speed cassettes and new 820 derailleurs.
The 1x crankset features an all-new 38t steel chainring or 40t composite option and pairs it with the existing 10-45t or 10-51t mountain bike cassettes. The 2x option features new gravel-optimized gearing, which pairs the 46/30 front chainrings with existing 11-34 and 11-36 road cassettes.
The textured hoods and anti-slip brake lever coating are present at this level as well.
The 610 options come with a pricetag of $1,165.92/ £1,019.92 for the 1x option and $1,233.91/£1,049.91 for the 2x.
RX880 Carbon Gravel Wheels
Shimano also used this launch to update its gravel wheelset. While still designed to withstand the abuse of gravel riding, the new RX880 wheels have lost 64 grams from its predecessor and feature the same direct engagement hub as seen on the latest Dura-Ace wheels for easy conversion between micro spline and HG L2 freehub bodies.
The wheels feature a shallow, 32mm rim height and a minimal design — matte black with a single small blue logo. The hooked rims are, of course, tubeless-compatible with a 25mm inner rim width suitable for tires between 32mm and 50mm wide.
The wheelset has a claimed weight of 1394g when equipped with a micro spline freehub body and 1397g for the HGL2 hub. Note: These wheels are not standard HG compatible. Retail prices are: $1549.99 for the set or £719.99 per wheel.
12-speed GRX - First Impressions
Powerful braking, smooth shifting and a wide gear range to suit modern day gravel riders — at first glance, I can't fault the new GRX groupset in any way. But the hard stance on remaining mechanical while its competitor is able to offer electronic shifting in a similar price and weight class, does raise some questions.
Is Shimano being outperformed in its offerings? Is SRAM's pricing simply too competitive for its competitors? Or, is the Shimano's mechanical worth the price? We're going to find out! Stay tuned for a long term review of the new GRX and a comparison to SRAM's latest offerings.
Thank you for reading 20 articles this month* Join now for unlimited access
Enjoy your first month for just £1 / $1 / €1
*Read 5 free articles per month without a subscription
Join now for unlimited access
Try first month for just £1 / $1 / €1
Get The Leadout Newsletter
The latest race content, interviews, features, reviews and expert buying guides, direct to your inbox!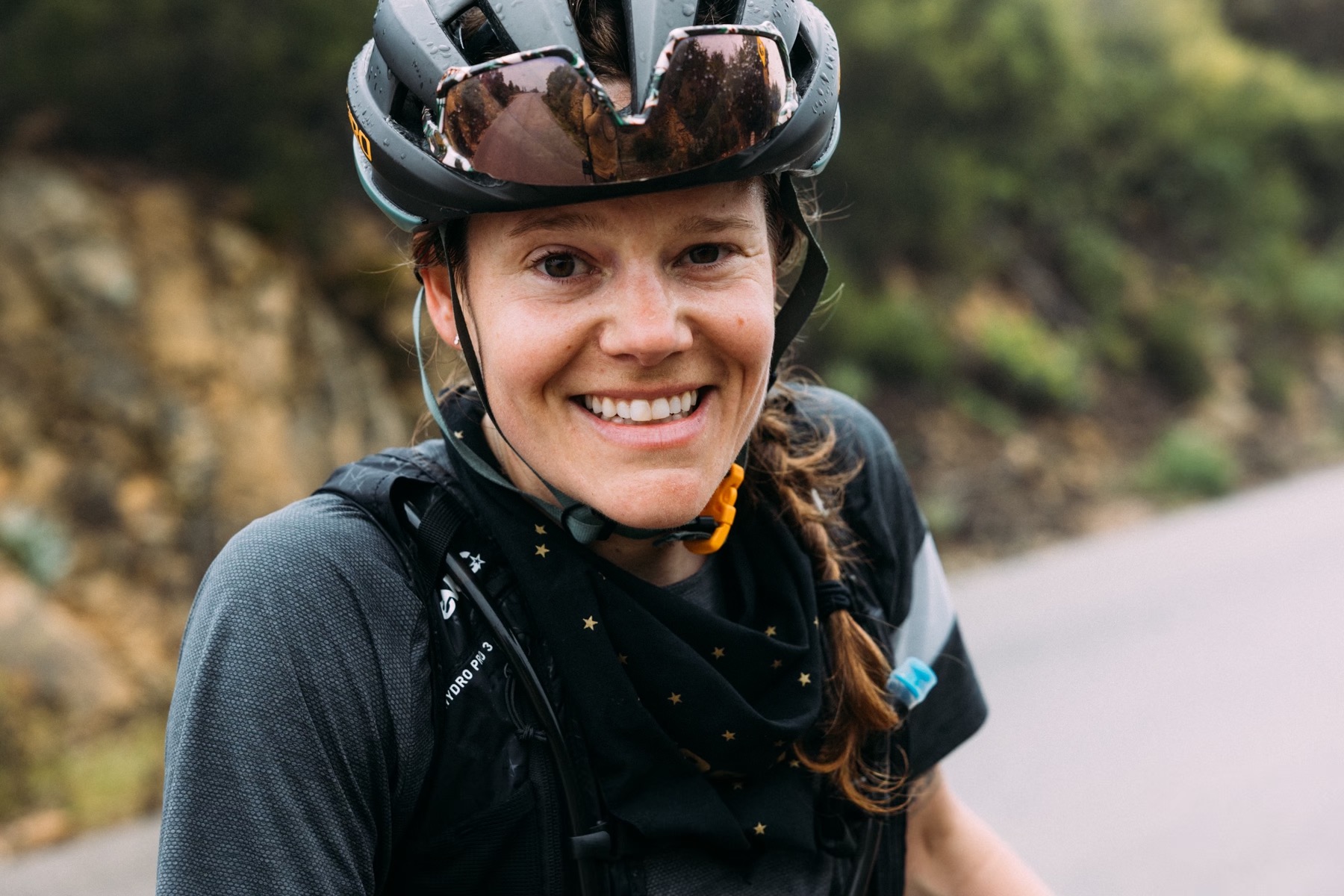 Cycling Weekly's North American Editor, Anne-Marije Rook is old school. She holds a degree in journalism and started out as a newspaper reporter — in print! She can even be seen bringing a pen and notepad to the press conference.
Originally from The Netherlands, she grew up a bike commuter and didn't find bike racing until her early twenties when living in Seattle, Washington. Strengthened by the many miles spent darting around Seattle's hilly streets on a steel single speed, Rook's progression in the sport was a quick one. As she competed at the elite level, her journalism career followed, and soon she became a full-time cycling journalist. She's now been a cycling journalist for 11 years.