Shimano Claris groupset review
Your complete guide to the Shimano Claris groupset, including its features, strengths and weaknesses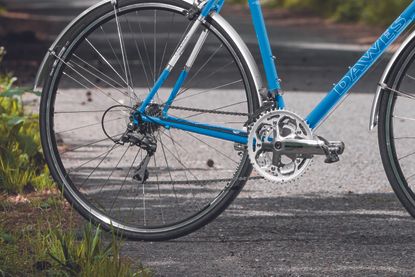 (Image credit: chris catchpole)
Shimano Claris is the lowest rung on Shimano's road bike groupset ladder, but still manages to offer decent, reliable shifting in an 8-speed package. If you've got the extra 50 quid that would get you an upgrade to Sora (or indeed the extra 100 quid to upgrade to Tiagra) then the extra gears probably make it worth it, but if not then Claris will still provide good performance for cyclists new to the sport.
Reasons to buy
+

Long cage rear derailleur

+

Reliable rear shifting

+

Intuitive dual control shifting

+

Good range of gear options

+

Excellent value
Reasons to avoid
-

Front shifting takes a bit of effort

-

8-speed means big jumps between sprockets

-

Spongy brake pads
You can trust Cycling Weekly. Our team of experts put in hard miles testing cycling tech and will always share honest, unbiased advice to help you choose. Find out more about how we test.
The Shimano Claris groupset is one of the lower-priced gearing options in the brand's hierarchy, and you'll often find new road bikes around the £500 mark come with drivetrain components from this range.
There are lower priced options in the Shimano family, including Shimano Tourney - but this system is not often seen on built bikes.
The main reason for choosing Shimano Claris over Tourney is the shifter design. While Tourney uses a thumb lever on the inside of the hood to shift up and a second lever just behind the brake lever to shift down, Claris uses the same Shimano Dual Control integrated brake and gear lever system that is used on the higher rungs of the Shimano groupset tree, including Ultegra and Dura-Ace.
Watch: buyer's guide to road bike groupsets
This means that the brake lever also becomes a shift lever. When you want to shift up a gear at the back you push the lever behind the right brake lever inwards, and when you want to shift down a gear you push both levers inwards. It is the other way round to shift the front derailleuer, so you push both levers inwards to move into the big ring, and just the one lever to move into the small ring.
The other big difference compared to Tourney is the fact that Shimano Claris comes as a complete groupset, comprising of brake levers, brake callipers, chainset, cassette, and front and rear derailleurs. In contrast Tourney only covers the shifting, and doesn't come with its own brakes.
Shimano Claris put to the test
In use, Shimano Claris is a surprisingly adept performer. As you would expect considering the price, gear changes aren't quite as smooth and refined as Shimano's 'posher' options, but once set-up correctly, it all works very impressively.
>>> Best cheap road bikes: ridden and rated
The rear shifting is probably the highlight. Particularly when moving down the cassette into harder gears, the shifting is precise and relatively sharp, and even works fairly well when performing under load (i.e. when you are tackling a steep climb or sprinting against your mates). This is all the more impressive when you consider what the rear derailleur is up against.
Because Shimano Claris is an eight-speed system (i.e. there are eight sprockets on the cassette) there are always going to be bigger jumps between gears, compared to the nine-speed Shimano Sora, 10-speed Shimano Tiagra, and 11-speed 105, Ultegra, and Dura-Ace groupsets. This potential problem is compounded by the fact that Claris comes as standard with a medium cage derailleur, which means that you can fit a 32-tooth rear sprocket, spreading the gear range wider.
>>> Buyer's guide to road bike groupsets (video)
That means that the jump between sprockets is always by at least two teeth (so you never move from a 15-tooth sprocket into a 14-tooth sprocket, for example) and is sometimes as big as four teeth. All that puts considerable strain on the rear derailleur, which makes the generally smooth shifting all the more impressive.
It's also worth going back to that 32-tooth rear sprocket and medium cage rear derailleur. This is a vital feature for an entry-level groupset, and the 32 sprocket combined with a 34-tooth small chainring (or even 30-tooth if you're using a triple chainset) will provide more than an easy enough gear to help the newest riders up the steepest climbs.
Compared to the rear derailleur, the Shimano Claris front derailleur isn't quite as good, but still performs reasonably well.
Shifting from the big ring to the small ring is nice and easy, with the lever basically just releasing the gear cable to let the chain shift down a chainring. However, going the other way is a bit more of an effort. The front derailleur pull-arm is significantly shorter than those on Shimano's pricier groupsets, meaning that there is not as much leverage to move the cage. This means that moving from the small ring to the big ring requires a strong and sustained prod of the shifters, something that is not always easy if your hands are cold and you're tired at the end of a long ride. Those with weaker fingers might struggle.
>>> Six reasons why mechanical groupsets are better than electronic
Even if the shifting doesn't come about as easily as you'd like, it is at least nice and precise, and I never had any problems with the chain dropping off the chainrings, even when riding on rougher terrain without a chain guard.
A small point, but one worth saying, is that the Claris chainset uses Shimano's Octalink bottom bracket system, which is a little more refined than the old-fashioned square-taper bottom brackets you may find on other entry-level bikes. That chainset is also astonishingly pretty considering its place in the Shimano hierarchy.
>>> Is it the end for the 34t chainring?
Shimano Claris chainsets are available in three different setups. There are a couple of two-ring chainset options, 50/34t and 46/34t (both of which will work with the same front derailluer, meaning that you could buy the latter before switching the big chainring when you get stronger), and also a 50/39/30t triple chainset, which could be a good option for touring bikes although is also a fiver more expensive (£74.99 compared to £69.99).
The final components to talk about are the Shimano Claris brakes. Aesthetically at least these are very similar to the Shimano 105 calipers of old, back when the Japanese company's third tier groupset was 10-speed before moving up to 11-speed a couple of years ago.
And the performance isn't too far off this either with decent power and modulation. However, power under heavy braking could be a bit better (something that can be a bit alarming if you're a bike tester used to Shimano's 11-speed groupsets). Thankfully fitting a decent set of after-market brake pads from the likes of Swissstop or Kool Stop (which shouldn't set you back more than a tenner) improves this no end.
Finally, there's no getting away from the fact that the lower down Shimano's order you go, the heavier the groupset becomes. However, in action we doubt any rider would notice any weight difference between this and, say, Shimano Sora or Tiagra, especially when you consider that Claris is mostly going to be attached to bikes that hit the scales the wrong side of 10kg.
Shimano Claris vs Sora
Shimano Sora, the next step up in the Shimano hierarchy, has just received a makeover that will aesthetically bring it more in line with the rest of Shimano's road groupsets. However, this isn't available to buy just yet, so for the time being we'll have to compare Claris with the current Sora model.
Looking at the RRPs of the two groupsets, Sora is £50 more expensive (give or take a few quid depending on individual component choices). This extra outlay gives you a bit better performance across the board, particularly with the front derailleur.
The biggest difference, however, is that Shimano Sora is nine-speed rather than the eight-speed offered by Claris, meaning that you have an extra gear to call on, reducing the jumps between cassette sprockets. This means slightly sharper rear derailleur shifting, and if you think you might fancy dipping your toe into a bit of racing further down the line, then Sora is much the better option.
Of course, whether you end up riding Shimano Claris or Sora depends a lot on what bike the groupset is attached to. Around the £500 mark there are plenty of bikes with both groupsets, and in general you often have to choose between having a bike from a fashionable brand with Claris, or one with a less well-recognised name with Sora.
Our pick of the best bikes with Shimano Claris
Verenti Technique
Score: 8
Price: £399.99
Astonishingly, Wiggle in-house brand Verenti has managed to create a sub-£400 bike that is attractive, an absolute blast to ride, and even comes with a carbon fork to stop the ride being too harsh.
Aside from the Claris groupset, the bike comes with unbranded wheels which stand up well the battering of British roads and a comfortable 4ZA saddle. The main issue is that there is no space for a bottle cage on the seat tube - potentially an issue on longer rides.
Read our full review of the Verenti Technique here
Merlin Performance PR7
Score: 9
Price: £349.99
Creating a complete road bike for 350 quid is no mean feat, but Merlin has managed it with PR7, an aluminium framed bike with a full Shimano Claris groupset and a carbon bladed fork
At 10.6kg its no lightweight, but that's actually not too bad for a bike of this price point, and it also comes with all the eyelets you need to fit mudguards and pannier rack if you want to use this for your daily commute all year round.
Lapierre Audacio 200
Score: 8
Price: £679.99
The price is a bit steep for a Claris-equipped road bike (although big discounts are available online), but Lapierre has made up for that with the excellent Audacio frame, which is really comfortable and does a great job absorbing bumps and vibrations.
Wheels are often under-specced at this price-point, but the CFX rims matched with Claris hubs and topped with Michelin Dynamic Sport tyres do a great job even at speed.
Read our full review of the Lapierre Audacio 200 here
Buy now from Chain Reaction Cycles
Merida Ride 90
Score: 8
Price: £599.99
For a bike of this price to come in below 10kg is impressive, and the Merida Ride 90 is surprisingly adept when you take to the hills, with the 32t sprocket being a nice touch when the road really ramps up.
This is a nice and comfy bike too, with the seatstays dropped further down the down tube to improve the compliance of the rear end. The FSA chainset is a nice upgrade on the standard Claris option too.
Read our full review of the Merida Ride 90 here
More Shimano groupset reviews
Shimano Sora
Score: 8
Price: from £403.91 (RRP)
Shimano Sora shares many similarities with Claris, but for your extra 50 quid you get a ninth sprocket at the back, meaning smaller jumps between sprockets helping you to keep your rhythm and cadence even as the road rolls up and down.
Although the current Sora groupset functions really well, you might want to wait until the new version arrives on road bikes later this year, which might not see a huge jump in terms of performance, but certainly looks a lot better than the current model.
Read our full review of Shimano Sora here
Buy now: Shimano Sora at Ribble Cycles from £187.95
Shimano Tiagra
Score: 9
Price: from £448.91 (RRP)
It used to be said that Shimano 105 was the lowest groupset in the Shimano hierarchy that was acceptable for "serious" road riders, but with the update that Shimano Tiagra received last year, it is now very much a serious road groupset.
Although it is still 10-speed, Tiagra now has the very similar aesthetics as 105 with very sharp shifting and a rear derailleur that can cope with anything up to a 34t sprocket.
Read our full review of Shimano Tiagra here
Buy now: Shimano Tiagra groupset at Chain Reaction Cycles from £249.99
Shimano 105
Score: 10
Price: from £517.91 (RRP)
The only real problem with the old Shimano 105 was that the front shifting wasn't as easy as it could be. However, now that Shimano has fixed this, the performance is excellent across the board.
In fact, we'd go as far as saying that the performance isn't a million miles off mechanical Dura-Ace, with excellent front and rear shifting and braking, and the only penalty being the extra weight.
Read our full review of Shimano 105 here
Thank you for reading 20 articles this month* Join now for unlimited access
Enjoy your first month for just £1 / $1 / €1
*Read 5 free articles per month without a subscription
Join now for unlimited access
Try first month for just £1 / $1 / €1