Fresh look for new Shimano Sora as well as internal cables
Shimano Sora is one of the most widely used groupsets, being popular with sports/fitness cyclists and commuters alike. For 2017 Shimano Sora is getting a face lift, with internal cables and a four arm crank. Here's what you need to know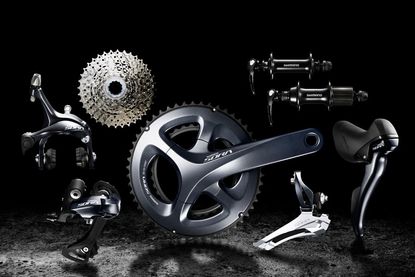 Japanese groupset goliath, Shimano has just updated its massively popular Sora groupset. The new Shimano Sora has the designation 'R3000' and has lots of key differences from the previous 'Shimano Sora 3500.' The first big news is that Shimano Sora is staying nine-speed for the time being.
Shimano describes Sora as being pitched towards sports/fitness cyclists and commuters and has prioritised 'durability and affordability' in the new iteration. We are used to seeing higher spec technologies trickle down into lower tier groupsets and that has happened again here.
>>> Shimano Sora Groupset Review
The new shifters, levers, brakes and rear derailleurs take on the sleek two-tone black-grey gloss finish that resembles those found on Shimano's upper tier groupsets. The overall look is significantly more sophisticated than the previous Sora.
The chainset now has a sleek and lighter weight 4-arm double (50-34T) or triple (50-39-30T) design that looks very similar to that first unveiled with Dura-Ace 9000.
>>> Review of Shimano Ultegra Di2 (video)
Internal Cables
One of the biggest selling points is the new shifters. They remain 9-speed, but now feature neat and clean internal cable routing, with no cables popping out the sides like on the old version. Aesthetically this will make any bike equipped with the new groupset look tidier.
Video - Buyer's guide to road bike groupsets
Commuting options
Shimano Sora R3000 will also be available with commuting and flat bar specific versions. For this, components include 5-arm 2x9 (50-34T) or 3x9 cranksets with trouser-protecting chain guards (50-39-30T), Rapidfire Plus gear shifters and brake levers with Optislick cables.
Improved brakes
One of our gripes with the old Shimano Sora, was the brakes. Shimano has addressed this with a claimed "20% increase in rim brake performance over its previous incarnation." This is in part down to the new dual-pivot BR-R3000 calipers with quick release cable levers. Again, an example of trickle down, with dual pivot calipers seen on the higher tier groupsets.
Meanwhile disc brake technology continues to trickle down through the road bike market with flat-mount Sora grade mechanical disc brake calipers.
A big range of gears
The compact 50-34T or 50-39-30T cranksets can now be combined with a large range 11-34T cassette, an accommodating rear derailleur and a long arm front derailleur. Previously Shimano Sora was 12-32, so this adds significant versatility, potentially making both going up and downhill more fun.
The new Shimano Sora R3000 is expected to hit the market from April onwards. For more information, head over to Shimano.
Thank you for reading 10 articles this month* Join now for unlimited access
Enjoy your first month for just £1 / $1 / €1
*Read 5 free articles per month without a subscription
Join now for unlimited access
Try first month for just £1 / $1 / €1
Oliver Bridgewood - no, Doctor Oliver Bridgewood - is a PhD Chemist who discovered a love of cycling. He enjoys racing time trials, hill climbs, road races and criteriums. During his time at Cycling Weekly, he worked predominantly within the tech team, also utilising his science background to produce insightful fitness articles, before moving to an entirely video-focused role heading up the Cycling Weekly YouTube channel, where his feature-length documentary 'Project 49' was his crowning glory.