16 inch Woom 3 bike review - everything a new pedaller needs
An aluminium bike designed with kids' riding needs very much in mind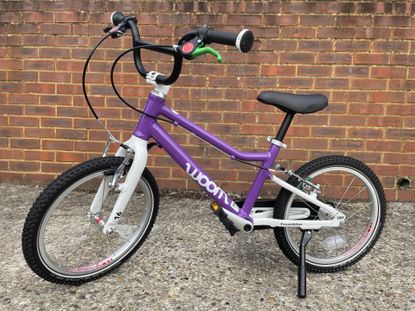 (Image credit: Future)
Woom has done a great job of adding little details to the '3' that add up to a bike that kids love to ride. Each detail seems obvious, and is relatively simple, but taken all together sees the bike lives up to the phrase of the whole being greater than the sum of its parts. Nice design, a lightweight frame and good components make for a bike that kids love riding. It's adjustable and simple to maintain. $449 / £419 is however a fair bit of money to part with for a bike that may only be ridden within a two year time frame.
Reasons to buy
+

Easy to put together and adjust

+

Good quality components

+

Excellent attention to detail
Reasons to avoid
-

Smoother tires might be better for most riding

-

Expensive for a kids bike
You can trust Cycling Weekly. Our team of experts put in hard miles testing cycling tech and will always share honest, unbiased advice to help you choose. Find out more about how we test.
Get The Leadout Newsletter
The latest race content, interviews, features, reviews and expert buying guides, direct to your inbox!
Thank you for signing up to The Pick. You will receive a verification email shortly.
There was a problem. Please refresh the page and try again.
When buying a child's bike it's easy to forget that you're not just buying a bike in miniature for a slightly smaller human, you're buying a bike for a rider with completely different needs. There are lots of factors to consider when choosing the best kids' bike for your child and no matter how experienced you are as a rider there are bound to be some things you haven't thought of.
It's not until you really watch children ride that you realize how different their needs are and how important it is to cater for them. An annoyance or slight inconvenience for an adult could easily turn into an experience that puts a child off riding their bike. And while many would forget that moment a few days later and jump back on, there's always a danger that that moment sticks in their mind and stops them from riding.
The $449 / £419 Woom 3 is designed for children aged 4 - 6 years with an inside leg measurement of 47 - 54cm so likely a first or second pedal bike. It has plenty of clever little details that will help avoid those ride ruining moments as although you can never eliminate them entirely, you can minimize them. Do that, and a child can actually learn to ride a bike in minutes, rather than days.
And if you're reading this as someone who can't ride a bike, but want your kids to learn, then don't worry, you've been thought of too, with stickers for attaching the pedals correctly and minimum setting up to do once out of the box.
Woom 3: construction
The first thing I noticed pulling the Woom out of its box was how it looked like a neatly put together bike with good components. The aluminium frame looks well made with clean welds and its lowered top tube (see the kink in the tube near where it joins the seat tube) means standover height is appropriate for a wider age range. Aluminium also helps keeps the weight down to 5.5kg.
As well as weight, manufacturers need to keep costs down as kids grow out of bikes relatively quickly. All too often those cost saving measures can result in poor quality components. But h ere we have hubs that roll nicely, V brakes that pull and release smoothly, and bolts that don't look or feel like cheap, soft metal. That's partly where the $449 / £419 price tag comes from. Over £100 more than an Isla bike Cnoc with 16 inch wheels.
The Woom 3 is almost ready to ride straight out of the box. Pedals need adding - the cranks and pedals have stickers to match right and left and have arrows show you which way the thread turns - and there's an hex key to setup the handlebars.
There are instructions for anyone who hasn't done this before, but if you're not comfortable doing this then do take it to a friendly local bike shop.
You shouldn't need a shop assistant to help with the saddle height as it's easily adjusted with a standard quick release lever to loosen and then tighten the clamp. 15cm of movement in the seat pin and there is a clearly marked white 'stop' line at it's maximum extension to avoid raising the saddle too high.
All setting up can easily be done on a flat surface thanks to the kickstand. I've not seen a kickstand on a kids bike before, and initially thought it was an unnecessary bit of extra weight, but my daughter used it almost every time she got off and left her bike rather than letting it fall to the ground. I can't guarantee all children will do this.
Staying at the bottom of the bike, the chain is completely enclosed in a guard meaning no oily marks on ankles, or legs scraped on chainring teeth during a tumble. Looking under the cover (removed by taking out one little screw at the back) there's a nice KMC chain that had clearly been protected from rain, spray and a hose pipe as there wasn't a glimmer of rust visible after several months of use. So good protection for the chain too.
The cranks measure 9.5cm (from the center of the bottom bracket axle to the center of the pedal bolt), and seemed about right for a six year old, going on seven. Any longer and they'd be too long for a four-year-old riding with the saddle lowered right down, but by the time a child is getting a bit big for this bike they start looking a bit on the short side.
The pedals offer a good size contact area on which to push. Measuring 9cm front to back that's almost 50% of the sole on a size 10 pair of trainers. Width was equal to the sole of these trainers.
Working our way up the seat stays from the chain we come to a set of V-brakes with green pads. These match with the left hand green brake lever on the handlebars, an easy visual clue when coaching my daughter to squeeze 'that one first when you want to slow down'.
Those levers are designed for small hands and have a stop screw that can be tightened to wind the lever in and make the reach shorter. Not too hard to squeeze, with a quick spring-back off the rim as soon as they're released.
Staying on the handlebars the soft rubber grips are nice and narrow but crucially include a wider section at the far end to help prevent hands from slipping off the ends of the bars. They're bolted on too, so won't ever slide off. Any adjustment in reach comes from rotating the bars forwards. Loosen the two hex key bolts and gently roll the bars forward.
This gives a bit more reach and lowers them down a little accommodating growing arms. Just be sure to rotate the brake levers back up (with a single hex key bolt) or else they'll end up in an uncomfortable position underneath the handlebars.
Perhaps the best detail is also the simplest. A rubber ring sits around a bolt at the back of the fork crown and is attached via a short cord to the underside of the downtube. This means the front wheel can't flip all the way left or right and throw a rider over the bars.
The rubber ring stretches gradually, allowing enough movement for the rider to freely steer without resistance, but stopping the bars snapping left or right should an inexperienced rider hit a small obstacle with their front wheel.
Woom 3: the ride
Riding wise, there was never a complaint (unless hunger set in!) and my daughter was always keen to ride it. She preferred the smoother tarmac surfaces, but this bike saw her ride on some rougher trails and grass for the first time. She and the bike coped with both admirably, marking a genuine development in her riding.
This is partly down to the bigger wheels that roll better over the bumps, but perhaps also down to some of the little details that add up and make this bike easier to ride. Her front wheel never went out of control, either thanks to her control or the little rubber ring behind the forks.
Thank you for reading 20 articles this month* Join now for unlimited access
Enjoy your first month for just £1 / $1 / €1
*Read 5 free articles per month without a subscription
Join now for unlimited access
Try first month for just £1 / $1 / €1