How your child can learn to ride a bike in 45-minutes
How to learn to ride a bike explained by children's bike expert and industry pioneer Isla Rowntree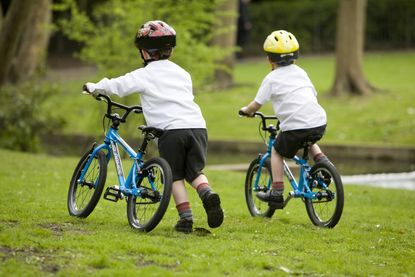 (Image credit: chris catchpole (not free))
Get The Leadout Newsletter
The latest race content, interviews, features, reviews and expert buying guides, direct to your inbox!
Thank you for signing up to The Pick. You will receive a verification email shortly.
There was a problem. Please refresh the page and try again.
Helping your child to learn to ride a bike is a rite of passage as they grow. But what's the best way to go about it? Advice on best practice has changed since most of us learned, with training wheels or stabilisers out and balance bikes now generally preferred, with the best kids' bikes with pedals coming later. You can read our piece on the pros and cons of each for more.
We've asked Isla Rowntree, founder of children's bike company Islabikes and former British national championships medal holder for her advice and to take us through the steps from total beginner to cycle expert. There's a Q&A on kids' bikes with Rowntree at the bottom of the page.
In the video below, Isla shows us everything we need to know to get a child started on their first bike.
How to learn to ride a bike: step by step with Isla Rowntree
1. How long will it take your child to learn to cycle?
45 minutes, roughly. This number can vary from child to child - it's dependent on prior coordination development, Rowntree states.
"It's important that you wait until that point [when the child has developed coordination] rather than forcing it because then it can become stressful," she explained.
2. At what age should your child learn to ride a bike?
Four to six years old. Again, the age for every child can differ as they must be ready to learn, but Rowntree says that if you wait any later it may become more difficult for them.
"If you don't get them cycling pre-six then they seem to become more cautious about it," she told us. "There's a window when it's easier to learn and I'd say that's typically between four and six years old," she added.
Children learn by copying others so it's a good idea to do some riding in front of them so they can understand what they are about to do.
3. How should your child start to learn to cycle?
Without pedals. Getting your child's coordination developed on a bike should begin with them learning about the feeling and balance of a bike. Removing pedals and lowering the saddle slightly will allow the child to push themselves along learning how to balance and turn on a bike.
It's key to keep the saddle at a height that allows your child to just about touch the floor. If it's too low, they will rely too heavily on their feet as stabilisers.
4. Where should you teach your child to ride a bike?
Preferably somewhere that is quiet and has a tarmac surface. Try to avoid anywhere that has hills, no matter how slight. After all you don't want your little one picking up too much speed too soon and getting scared or finding keeping moving too hard if they have to push up hill.
A word of warning from Rowntree though. "It's tempting to choose grass as many feel it would aid a soft landing but that can make learning quite difficult, because they will have to push quite hard on a small bike," she explained.
5. How should you supervise your child's learning?
Hold onto the child's torso or under their armpits as they ride.
"It's important not to hold onto the handlebars. You will see parents trying to support them and make them feel more secure but you end up fighting with them and that makes it more difficult," Rowntree explained.
By holding onto the child and not the handlebar, they will learn how the bike reacts when leaning and you can accelerate that by gently moving their torso from side to side as they ride.
6. What next?
Get them riding, but don't leave their side. After they begin to ride it's tempting to let them go off on their own but it's key to stay by their side until they are confident enough stopping. If they crash or fall because you are not there to help in the early stages it could scare them off a bike for good.
Once they are confident and happy riding their bike on their own it is a good idea to introduce pedals, if you haven't already. Following the same simple steps will get them adjusted to pedalling in no time.
Teaching your child to ride a bike, a summary:
The best age for your child to learn to ride a bike is between four and six years old
It should take 45 minutes
Start with getting them to balance i.e. don't focus on pedalling just yet
Pick somewhere open and flat to start with, preferably not grass as it can make it harder to push
Set the correct saddle height
Don't hold onto the handlebar, let the bike move freely
Hold onto the child from behind, not the bike
A big thing to remember is starting them off early and without pedals to help build their confidence before they take on pedalling. If you leave it too late the child will become hesitant and more fearful so it pays to begin when they are young.
Islabikes and the future of younger riders
Cycling Weekly: How did the idea for Islabikes come about?
Isla Rowntree: I've been in the cycling industry all my life, I started working in a bike shop when I was still at school, and I've always been a passionate cyclist and involved in design. The trigger for me came when my sister started having children and so did a lot of friends and, as the cycling expert in our circle, they'd all come and ask me to recommend a suitable bike for their children. And that drew my attention to what bikes were like for small children.
At the time, and we're going back over nine years now, I was really disappointed with what I found and couldn't recommend anything wholeheartedly to them. The bikes were very heavy, in many cases heavier than my own bike, and these were bikes for four year olds! But they were also really ergonomically poor – the brakes on them were out of reach, the springs were so tight even I could pull them on easily.
CW: Did you enjoy the testing process?
IR: When you're passionate about something you're an evangelist for it. I wanted my nearest and dearest, and all children, to grow up having a great experience of cycling in the hope that some of them would want to continue cycling into adulthood and that was the trigger for setting up Islabikes. I felt I could do better than what was out there and children might enjoy cycling more.
The testing process was a lot of fun. I used family friends and little relatives and that was very informative and it's an exciting time when you start a new business, it's a big leap of faith.
CW: How much has the range developed over the years?
IR: The range structure hasn't changed a huge deal over the years, I have reviewed it at various points during the life of the business and actually the range structure that I came up with at the start was pretty good.
But what we have done throughout is have a policy of continuous improvements and so every time I've seen an opportunity to improve a detail on a model, or introduce something new, or tweak the sizing, we've done that straight away for the next available production.
So we haven't had big annual product launches like you have with a lot of adult brands but we have had continuous improvement. And in particular I have invested the company profits back into making better product and tooling to open moulds for new parts that I've designed. If you look at the earliest bikes and the current models, they are quite different but it's been lots of small steps to get to where they are now.
Thank you for reading 20 articles this month* Join now for unlimited access
Enjoy your first month for just £1 / $1 / €1
*Read 5 free articles per month without a subscription
Join now for unlimited access
Try first month for just £1 / $1 / €1
Get The Leadout Newsletter
The latest race content, interviews, features, reviews and expert buying guides, direct to your inbox!