Best budget cycling helmets 2022 ridden and rated
The best budget cycling helmets are safe and often include many similar features to pricier versions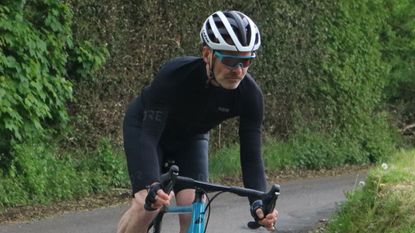 (Image credit: Future)
The best budget cycling helmets often give you features trickled down from more expensive lids, but at a much lower price.
While a premium lid might be lighter, more aero, slightly better finished and include more complex shaping, often features like straps and the adjustable rear cradle will be exactly the same in a budget cycling helmet. All helmets will have passed the applicable safety standards in the country where they're sold too, so even a budget cycling helmet will add protection if you do have a crash.
Additional safety features like MIPS are also increasingly finding their way into budget cycling helmets. Again, they're a feature of many high priced helmets that are trickling down helmet makers' ranges.
Often the main differences between an expensive helmet and one of the best budget cycling helmets are the number of vents and weight, as more complex and lightweight shapes requires more expensive manufacturing.
If you're after something a little pricier than what's suggested here, our guide to the best road bike helmets (opens in new tab) covers all price points and offers more detailed buying advice. If you're specifically after head protection for a little one, check out our guide to the best kids' bike helmets (opens in new tab).
Next is our pick of the best budget cycling helmets and below that a buyer's guide to helmet features and what to look for in a cycling helmet.
Best budget cycling helmets for road riders: our picks
Why you can trust Cycling Weekly Our expert reviewers spend hours testing and comparing products and services so you can choose the best for you. Find out more about how we test.
Best budget bike helmet with MIPS
Specifications
Weight: 235g (size M)
Vents: 19
MIPS: Yes
Reasons to buy
+
Good head hugging fit
+
Excellent protection from MIPS
+
Plenty of vents
+
Lots of colour options
With 19 vents, the Bell Formula MIPS has the shape and comfortable fit of Bell's pricier lids, along with the same secure retention system and a fit that surrounds the head well. There are two options for the Bell Formula, with and without a MIPS liner, with the latter designed to dissipate rotational forces in a crash. There is a small price difference between the versions, but as both still hit the best budget bike helmet price range, we would highly recommend getting the MIPS version. We weighed the non-MIPS medium size helmet at 235g, which makes the Bell Formula around the mid-weight for a lower-priced helmet.
You can read our full review of the Bell Formula helmet (opens in new tab) for more detail.
Best Kask helmet on a budget
Specifications
Weight: 239g (Size M)
Vents: 17
MIPS: No
Reasons to buy
+
Well vented
+
Comfortable
+
Not too heavy
Reasons to avoid
-
No MIPS option
-
Slippage in the rear cradle's vertical adjustment
Version 3 of the Kask Mojito inherits the comfort, ventilation and low price of its predecessors. We rated its airflow, deep sides and comfortable imitation leather chin strap, but although the rear cradle is easy to adjust it can slip vertically.
More and more helmets, even at lower prices, now incorporate MIPS, but the Kask Mojito 3 does not have the sliding plane tech incorporated. Instead, Kask has designed and tested the helmet to meet its own rotational impact protection standards. The helmet also comes with large reflective patches at the rear to up your visibility in low light conditions.
You get 16 colour options with some very bright.
Best budget bike helmet for performance
Specifications
Weight: 260g (claimed)
Vents: 22
MIPS: No
Reasons to buy
+
Competitive weight for price point
+
Fit is surrounding, not perched
+
Cool and well vented
Reasons to avoid
-
Retention system not as refined as others
The brand's high-end helmets grace the heads of a cluster of pro teams, and it's clear that the more expensive models have heavily influenced the Lazer Blade + cycling helmet (opens in new tab).
Its top notch ventilation and feathery weight make this a great budget bike helmet for anyone looking for performance focused head protection. 22 vents provide impressive ventilation and the design is such that its full head hugging shape cradles the head well.
In our experience Lazer's Rollsys retention system isn't quite as redefined as others on the market, such as the Specialized Echelon II MIPS, and of course there is no MIPS either. But with the ability to add an Aeroshell to close off the vents, for either boosted aerodynamics or to keep the weather out, it's going to appeal to a lot of riders.
Best budget road bike helmet for exceptional value
Specifications
Weight: 300g (claimed)
Vents: 21
MIPS: Yes
Reasons to buy
+
Great safety features
+
Exceptionally low priced
+
Crossover styling for multiple riding styles
Reasons to avoid
-
Basic looks are the compromise
Impressively you get the highly desirable MIPS in the Smith Optics Signal (opens in new tab) which makes this an exceptional budget bike helmet.
The helmet also gains many other high-end features seen in much more expensive models in the Smith range, including the same Vaporfit retention system.
It's a chunkier looking helmet when compared to something like the Abus Viantor. That does mean that the Smiths Signal MIPS would work for urban, gravel and mountain bike cyclists too, but for pure roadies, this might be off-putting.
Best budget bike helmet for ventilation
Specifications
Weight: 290g (claimed)
Vents: 18
MIPS: No
Reasons to buy
+
Exemplary level of air flow
+
High levels of comfort
+
Looks smarter than its price
+
Wide range of colour options
Reasons to avoid
-
Lack of MIPS might put some people off
Sleek looks and quality finish make the Abus Viantor bike helmet (opens in new tab)a stand out lid among lower-priced options. The outer shell wraps around the bottom edge of the polystyrene core too, making the Viantor less prone to gouging and wear and tear.
On test we found the large vents provided a great deal of through air, making it a great option for anyone who is after head protection for hot days on the bike.
There's no magic MIPS here, but there is an internal roll cage, which increases the strength of the helmet, without adding mass and making the Abus a comfortable fit even on a long ride.
The other noteworthy mention is that it's great to see so many colour choices on offer, which is something that can often be missed off the list even on the best budget bike helmets.
Best budget bike helmet for safety features
Specifications
Weight: 334g (size M - claimed)
Vents: 31
MIPS: Yes
Reasons to buy
+
Really comfortable fit when riding
+
Stylish looks turns heads
+
Quality features that you'd expect from a more expensive model
+
MIPS as standard
Reasons to avoid
-
Heavier than some of the other budget helmets on the market.
With a whopping 31 vents and inner air channels, there's no shortage of cooling in the Specialized Echelon II (opens in new tab), even with the MIPS liner which provides for added crash protection. Comfort is good for a range of head shapes and there's the Headset SL retention system, which has six height positions and a micro-adjust dial.
You can also fit Specialized's optional extra ANGi crash detection system to the Echelon II, which uses your smartphone to track your ride and alert your designated contacts in the event of an accident.
It does weigh more than some of the best budget cycling helmets on offer, such as the Bell Formular MIPS, but when on it's a really comfortable fit and the weight penalty is hardly noticeable.
Best budget cycling helmet for extra safety gadgets
Specifications
Weight: 278g
Vents: 24
MIPS: No
Reasons to buy
+
Impressively lightweight considering all the features
+
Automatic SOS detection and activation system
+
High visibility in low light levels
+
Hands free phone connectivity
Reasons to avoid
-
One size (55cm-61cm)
-
Big demand on phone battery
-
Uses phone internet access so can incur costs/signal limitations.
Offering something different from the majority of bike helmets, the Livall BH60SE (opens in new tab)has an array of additional features, such as built-in remote controlled LED lights, Bluetooth speakers and a windproof microphone. The fun side of these is the ability to listen to music, answer a call without taking your hands off the bars or losing perifocal sound as when using headphones. The safety side is that should the helmet detect an incident, it will automatically send an SOS to your ICE contact, giving them a precise location.
With 24 vents, it's cool, aero and lightweight. The downside is that the Livall is one size fits all, so if you're at either extreme of the size range, fit might be an issue, plus all that functionality quickly drains your phone's battery.
Best lightweight budget road bike helmet
Specifications
Weight: 204g
Vents: 10
MIPS: No
Reasons to buy
+
Great value
+
Lightweight
+
Breathable
Reasons to avoid
-
Sizing is on the small side
-
No MIPS or similar additional safety technology
HJC has been making motorcycle helmets for many years and applied its expertise in making a super safe and extra lightweight model which is certainly one of the best budget bike helmets on the market.
The HJC Atara (opens in new tab)balances aerodynamics and ventilation at a price point, with eight inlet and two exhaust vents. It's not on a par with the likes of the Lazer Blade + helmet, but they are large and so still provide good airflow.
The HJC Atara is the lightest budget bike helmet that we've come across, at just over 200g for a size small, although this doesn't include MIPS. We also found the recommended head size ranges didn't correspond to the actual fit, so would recommend trying before you buy.
Best budget bike helmet for low price
Specifications
Weight: 278g
Vents: 8
MIPS: No
Reasons to buy
+
Good fit thanks to two adjustable straps
+
Really low priced
Reasons to avoid
-
Bulky shape
-
Vertical retention system very sticky
Another option from the German brand, the entry-level Abus Macator helmet comes with a removable visor and a head-hugging shape. Its fit, retention system and small number of extra-large vents give the Abus Macator features well above the sticker price. It's on the heavy side at 278g for a size small helmet, but still lighter than the Specialized Echelon II MIPS road bike helmet.
The three sizes and six colours on offer mean that there are plenty of options to choose from making this exceptionally low priced head protection one of the best budget bike helmets with a large range. It is a little bulky in the looks department, not that dissimilar to the Smith Optics Signal MIPS helmet, but for the price tag, most cyclists would happily accept this compromise.
Best budget bike helmet for affordable MIPS
Specifications
Weight: Not disclosed
Vents: 16
MIPS: Yes
Reasons to buy
+
Comfort is high
+
Quality retention system
Reasons to avoid
-
Sizing (we recommend sizing up)
-
Glasses port
Another great MIPS offering for anyone with a tight budget to stick to is this MET Vinci MIPS bike helmet (opens in new tab). Taking design cues from the high-end Trenta, this lower priced version comes with 16 vents and internal channelling to help to create good air circulation, keeping you cool on warm days on the bike.
For extra road presence, you can buy a rear light that fits into the dial adjuster and the helmet comes with MIPS for extra crash protection. The glasses ports weren't as stable as other helmets on the market, and, much like the HJC Atara bike helmet, look out for sizing, as you may need to size up to get a good fit.
But if you do get the right size, you'll find it really comfortable thanks to the great retention system, which is a highlight of one of the best budget bike helmet options.
Best budget cycling helmets: your questions answered
Here's a quick guide for key features that mark out the best budget road bike helmets. There's more detail on helmet features and our recommendations across the price range in our guide to the best road bike helmets (opens in new tab), so take a look there too.
How do I get the right fit for a cycling helmet?
Fit is the most tricky part of any helmet. Everyone's head is a different shape, so fitting it into an object with fixed dimensions is always going to be tricky.
There's some adjustment in all helmets for head circumference and height, while padding and hair help to cushion any tight spots. But no helmet will fit everyone perfectly, so try before you buy is the best advice to ensure comfort.
Look out for areas that might put pressure on your scalp - that might feel okay in a shop, but get uncomfortable after several hours of riding. Also make sure that the helmet sits securely and doesn't wobble about front to back or side to side.
How do I keep my head as cool as possible?
Air circulation is important for riding comfort, particularly on a hot day. More vents tend to be better for cooling, although internal channelling helps to push air over the head too. The modern trend to aero helmets works the other way though, as airflow over the helmet shell is usually better with a smoother profile, reducing drag. This piece looks at the aero benefits of an aero helmet.
So it's worth considering how important aerodynamics and fast riding are for you. If you're just after the best cooling airflow, more or larger vents are better, whereas if you want to go faster, you might want to look for a more enclosed design. The pros often swap between more and less vented helmets for mountain and flat stages and some helmets let you open or close vents to suit the ride conditions.
What is MIPS and do I need it?
Short for Multi-directional Impact Protection System, MIPS was developed by a Swedish company. It provides a smooth inner layer that's loosely connected to the helmet's shell and slides between the helmet and the head in the event of a crash.
Helmets with MIPS consistently come towards the top of independent helmet impact tests, but the technology adds to the price of your helmet and ups weight by around 10 to 15 grams relative to an equivalent non-MIPS helmet. Read more about MIPS helmets here.
How is cycling helmet size adjusted?
A helmet will come with adjustment to tighten it around the circumference of your head for a secure fit, called a retention system or fit system. That's usually achieved via a dial adjuster at the rear of the helmet's inner cradle, but Lazer puts its adjuster on top of the helmet shell.
You can also adjust the cradle up and down by sliding it in and out of the rear of the helmet, so that it sits below the back of your skull. Some systems work better than others and we've noted any issues we found while testing in the reviews of each helmet.
Straps too are adjustable for fit under the chin. Many helmets allow you to alter the position of where the two side straps meet under your ears too, although some don't. Ideally, straps should meet just below the ear for a secure fit. Most close with a plastic snap catch.
How much do budget cycling helmets weigh?
Helmet weight varies greatly, with some helmets much weightier than others. That's not usually so noticeable once you're riding, but you might find a lighter helmet more comfortable.
It's something that is of concern to a pro, but probably not so important to leisure riders. MIPS will add a few grams to helmet weight too and cheaper helmets in general tend to be heavier than their more expensive peers, although there are exceptions.
What should I do with my bike helmet if I crash?
Don't continue to use your helmet if it's been involved in a ding or even if it's been dropped, as it might have been weakened and not protect you effectively.
Many helmet makers offer a crash replacement program, which lets you buy a new helmet at a reduced price if you're involved in an accident. Terms vary by manufacturer, but it's a bonus service worth looking for.