Tech Question: Is MIPS the safest helmet impact technology available?
We lift the lid on the safety testing protocol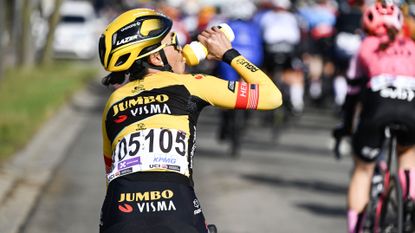 (Image credit: Getty Images)
Look inside your helmet and you'll probably see a 'CE' sticker. This means it has passed the European EN 1078 standard and complies with a series of test conditions.
However, the European standard doesn't include a specific rotational impact test. To address, or exploit this - depending, on your point of view - over the last decade we've seen the emergence of add-on protection technologies designed to reduce the risk of brain injury caused by sudden rotation in a collision.
The dominant technology is the slip liner-based anti-rotation system from Swedish company MIPS (Multi- directional Impact Protection System) which has been increasingly adopted by many of the biggest helmet brands. MIPS estimates that its total market is 550 million helmets annually (across all sports and safety).
Some brands have developed proprietary rival technologies, such as Bontrager's WaveCel and Lazer's KinetiCore – both of which are designed to absorb direct and rotational impacts via in-built crumple zones, but which of course are limited to those brands only.
Earlier this year Kask launched the new Elemento, used by Ineos Grenadiers, which doesn't use MIPS or any 'ingredient' enhancement technology but instead has been developed using the Italian brand's own anti-rotation testing via a protocol called WG11 - which is separate to the Working Group 11 (WG11) protocol, mentioned later.
All of the above helmets have passed the basic international safety standards and have the 'CE' sticker inside, but does one offer more protection than the others? MIPS is the biggest player, but is it the best?
External cycling helmet testing
To help those looking to buy the best cycling helmet for their needs make a more informed choice – and so that they don't have to trawl through all the marketing – Virginia Tech in the USA has an up-to-date list of helmets it has impact-tested with its own independent protocol in its own lab. To get a five-star rating from Virginia Tech is something all helmet brands like to shout about. There are 120 five-star rated helmets in its list of 206 road helmets at the time of writing.
At number one is the Giro Aries Spherical, which features Giro's Spherical MIPS system. The top 40 is dominated by MIPS, the Bontrager Specter with WaveCel only figuring at number 34, Kask's new Elemento at 66 and Lazer's Strada KinetiCore at 113 – though it's important to note that all are five-star rated.
Why do the MIPS helmets perform so much better in Virginia Tech's independent tests? Can we conclude therefore that they're the best, or the 'safest' helmet on the market?
Virginia Tech's Dr Barry Miller explains: "All the helmets we test for a star rating go through the same test procedures. We're not looking to investigate why a helmet performs the way it does – padding material, density, thickness, rotational tech, helmet geometry, helmet dimensions, etc – as we are evaluating the entire helmet per the given impact conditions."
Miller continues: "For MIPS and other rotational technologies, there are no real-world studies that show these technologies work. Their collective effectiveness in a lab setting may be a reflection of how a given helmet is tested: type of test rigs differ, angles of impact, energy of impact, headform [the crash test dummy head] used, surrogate neck used, use of friction on impact surface."
Miller admits that the Virginia Tech test protocol, which involves dropping a headform with no surrogate neck onto a 45-degree anvil with 80 grit sandpaper, does impart a significant rotation to the headform and helmet and is therefore likely to favour helmets with technologies that reduce rotational head kinematics.
"We do not see these same results when using other test rigs with surrogate necks," he says.
Indeed, Virgina Tech's testing facility does have new competition - in the shape of the work coming out of HEAD Lab, an interdisciplinary research lab whose work is funded by the Road Safety Trust. In an exclusive interview with Cycling Weekly, HEAD Lab claimed its testing - which is based on the W11 Protocol for testing, created by the European Committee for Standardization - is far more representative of real-world collisions, as a result of the data and technology they have to hand.
This is a point that Kask's head of product Luca Viano is keen to pick up on. WG11 is a test protocol rather than a technology. "There were a few distortions in communication where it seemed as though a helmet that did not have a specific anti-rotational technology was not a safe helmet," he says.
"So we felt like we had to go public with what we do, which is a test based on what has become the first standard in the world to require a rotational impact test: the EC 22.06 for motorcycle helmets. Today there's no better offering in terms of tests and labs. We wanted to use a lab that was itself certified [the Newton lab in Milan] so that every time there will be absolute certainty of the result in the same lab."
Do I really have to wear a helmet?
Although the Highway Code recommends cyclists wear one that "confirms to current regulations", a helmet is not a legal requirement on UK roads. However, for BC or even UCI- sanctioned races or sportives, a helmet is mandatory. The same goes for time trials run under CTT rules and regs: "All competitors must wear a properly affixed helmet which must be of hard/ softshell construction. Helmets should conform to a recognised safety standard."
So is Kask saying helmets manufactured to WG11 specifications are superior to MIPS and other technologies?
"We don't use the results of competitor testing for marketing. The goal was not to show where we are compared to competitors but to show that we are at a very high level. If you take a very good helmet and you test it with or without MIPS, it's still a good helmet. A helmet is a combination of many things."
That said, Viano is happy to state that a helmet engineered from scratch to dissipate a rotational load is generally superior to one that features add-on technology.
"We learnt a lot [after starting to use the WG11 protocol] and started developing materials and constructions that can become a technology in their own right. These not only improve rotational impact performance but also enhance the other elements such as weight, ventilation and aerodynamics. Koroyd, MIPS, WaveCel etc... if the helmet is engineered well enough from the beginning, adding an ingredient at the end becomes largely irrelevant."
The Kask Elemento was developed for the Ineos Grenadiers WorldTour team, and that in itself presents a set of highly challenging conditions for a helmet.
Viano explains: "We have huge, huge pressure from our athletes, in particular from Ineos Grenadiers, to always improve performance in ventilation, heat dissipation, aerodynamics and weight – and we can never forget this. If we go to Ineos and say 'we have a helmet that is 20% safer than the previous version but it's heavier and not as aerodynamic' it's going to be really hard to convince them to use it."
According to Viano, this is why the Elemento is 'only' number 66 in Virginia Tech's list (though it still scores a five-star rating).
"Virginia Tech's test is very sensitive to mass. The heavier the helmet, the better the result will be. If you take a few helmets from the most popular brands, they are rated five star and might be higher up the list than ours, but you will see very commonly about 50g heavier and I'm pretty sure aerodynamically they don't perform so well. We could have done better with Virginia Tech if the helmet was heavier, chunkier, less ventilated."
It's true Virginia Tech's list includes all types of cycling helmet and not just models designed for road racing, but to fact check Viano's claim, the Giro Aries Spherical, which holds the number one spot on Virginia Tech's list, has a claimed weight of 275g, which is only 15g heavier than the Kask Elemento, while the Sweet Protection Falconer Vi MIPS in second place weighs a claimed 285g – 25g more.
Although Virginia Tech's top 40 is dominated by MIPS helmets, Dr Barry Miller agrees with Viano that choosing a good helmet ought to be the priority over choosing one with an added technology. But what exactly is a good helmet? "These added technologies may help for a given fall scenario but a good helmet is any in our top 40 as they all attenuate impact energy pretty well; the MIPS component may help the score a little for certain scenarios but the overall helmet (padding structure/liner) does a good job attenuating that impact energy."
He concludes: "If it happens to have MIPS that's great, but I wouldn't worry if it doesn't. If the price difference between a MIPS and non-MIPS model is insignificant I'd choose the MIPS version for those impact scenarios where it might help."
We say...
It's complicated. MIPS helmets perform well in Virginia Tech's testing, but the lab itself points out that there are no real-world studies to prove that add-on technologies such as MIPS work. And there's no international standard for rotational impact absorption. However, we'd be happy with any of the 120 helmets to which Virginia Tech has awarded a five-star rating.
Thank you for reading 20 articles this month* Join now for unlimited access
Enjoy your first month for just £1 / $1 / €1
*Read 5 free articles per month without a subscription
Join now for unlimited access
Try first month for just £1 / $1 / €1