Boardman SLR 8.6 review - great value but the frame outclasses the components
An affordable and dependable workhorse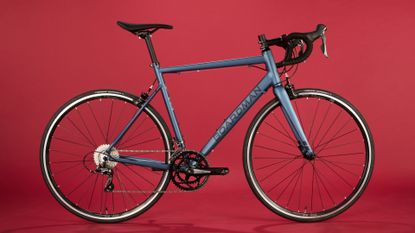 (Image credit: Future)
The Boardman SLR 8.6 is an excellent aluminium model which performs admirably against some of the carbon competition out there. The lack of disc brakes is noticeable on steep downhills but on the other hand, this means the SLR 8.6 is remarkably lightweight - on a par with carbon disc brake bikes six times the price! However there is a wide mix of components; some which are great, others which are less so. Then there's the value which is great compared to the bigger bike brands, but isn't quite as strong as other well established budget bike builds.
Reasons to buy
+

Mudguard mounts

+

Claris front mech shifts brilliantly - on par with 105 or Ultegra

+

Weight only noticeable on steeper pitches

+

Frame feels plenty stiff

+

Saddle surprisingly comfortable

+

External cables mean easy maintenance in winter

+

Welds are near invisible
Reasons to avoid
-

Claris rear mech is not close to a sharp as 105 or up

-

Large gear jumps with an 11-32 8 speed cassette

-

Ride a little uncompromising on rough roads

-

Wheels are not the stiffest

-

Brakes are slow to grab on steep descents
You can trust Cycling Weekly. Our team of experts put in hard miles testing cycling tech and will always share honest, unbiased advice to help you choose. Find out more about how we test.
We've been highly impressed by some of Boardman's offerings in the past, delivering some of the best bikes we've tested around the £1,000 price point. But just what can the British brand do at the £650 mark? We put the SLR 8.6 to the test to find out how it comes to the best cheap road bikes.
Boardman SLR 8.6: construction
The Boardman SLR 8.6 is made of Triple Butted 6061 X7 Aluminium with very well hidden welds, looking almost like a carbon frame. The fork is a C7 carbon model to help keep the weight down and soak up some of the road buzz. Total weight for the bike is claimed to be around 10kg for a size medium.
A size large (58cm) is ideally built for riders between 181-189cm, with an inseam 82-89cm. It comes supplied with a 110mm stem, 42cm bars (12cm drop, 75mm reach), 145mm wide saddle, and 172.5mm cranks. Normally bars and cranks would be wider and longer (respectively) for this size, but Boardman has taken heed of bike fitters recommendations that narrower bars and shorter cranks tend to improve both a rider's aerodynamics and the ergonomics.
Frame measurements and geometry come in at: Stack 589mm, reach 390mm, seat tube 555mm, top tube 570mm, head tube 180mm, head angle 73 degrees, seat angle 73 degrees, fork offset 45mm, chainstay 415mm, BB drop 68mm. All this combines to make a bike which is actually surprisingly aggressive for the price point. It's still more relaxed than out-and-out race bikes - which are typically much more expensive - but compared to other models around this price point, the SLR 8.6 bucks the trend of more relaxed geometry and slower handling.
Coming now to the groupset, here we have Shimano's Claris eight speed offering with a double 50/34 chainring up front. The cassette is an 11-32t so has a wide range of gears available, but with some sizable jumps due to it only having eight speeds. Braking is handled with Tektro's R315 long-arm front and rear brakes, while the chain is a KMC Z8.
The wheels are Boardman's own SLR Tubeless Ready 28 spoked wheelset with Formula hubs front and rear (RB-31 and RB-30, respectively). They are shod with Vittoria Zaffiro 25mm tyres which are set up as clinchers.
Boardman SLR 8.6: the ride
Starting with the aesthetics, the SLR 8.6 has really succeeded in this regard! The matte metallic blue is very easy on the eyes and the welds are very well hidden - to the extent that it could even be mistaken for carbon on first glance. The dropped seatstays also help with keeping it up to date and modern looking.
It was very easy to set up as well. Now, I'm not too picky when it comes to measurements of the bike other than the saddle height and setback - but even so, it was nice that the components of the SLR 8.6 were much closer to what I normally chose to run than a typical size large bike.
Normally a bike such as this would come with 44cm bars but the SLR 8.6 comes with 42cm (my bars are usually 40cm). It's a similar story with the crank length, with size large models typically coming with 175mm cranks whereas the SLR has 172.5mm (again, on my own bikes I go a little shorter at 170mm).
Getting yourself more aero has a much greater effect on your aerodynamics and (by extension) speed than any upgrade to your components, as it's your body which is responsible for the overwhelming majority of drag. Narrower bars typically put you in a more streamlined position and are one of the most cost effective ways of going faster. Regarding crank length, shorter cranks make it easier to hold a low and aerodynamic position because your legs don't rise as high into your chest. So it's good to see Boardman paying attention to the latest thinking, rather than simply sticking with tradition.
I made no changes to the bike and its components other than the addition of Wahoo Powrlink Pedals for power readings, a Wahoo Elemnt Bolt V2 computer and mount, an Elite bottle cage, and a Scicon saddle bag. Tyres were pumped up to 80psi front and 90psi rear.
Straight away out of the house and on the flats, I noticed that the frame, when seated, actually feels pretty similar in stiffness to many carbon frames I've ridden. Sometimes cheaper aluminium frames can be quite flexy, but this one seems to have been built a bit more stoutly. Although that said, when out of the saddle and doing harder sprint efforts, I did notice some flex.
Another point of difference between this and higher end carbon frames is the vibration dampening. The carbon forks help with this a bit, but the aluminium frame, bars, seatpost, saddle and stem don't do much to alleviate road buzz. On anything other than smooth main roads, the vibrations from the road were quite noticeable.
Then again, bikes with that kind of quality carbon frame are significantly more expensive, so that's not to criticise the SLR 8.6 as such, but rather to highlight the differences you get at various price points.
The geometry of the frame was pretty good - not as snappy as a typical race bike, but more so than most bikes around this price point. The inclusion of mudguard mounts is also greatly appreciated for riding through the winter, however this does limit the tyre clearance to 25mm, which doesn't do anything to help with the increased road buzz.
In terms of weight, the frame doesn't seem to be bad all things considered. 10kg for a complete bike nowadays is not bad. Admittedly, most bikes hitting that weight have disc brakes and lower end electronic gearing, but that also shoots their price up to the thousands - plural! The only times I really noticed the weight of this bike (compared to my more stripped down carbon frame) was on inclines above 10% when seated, and about 5% when I was trying to accelerate up them. For steady in-the-saddle riding it wasn't overly noticeable.
In terms of the components used, they are on the budget end of the spectrum, which is to be expected given the £650 price tag. The Shimano Claris groupset is a groupset of two halves, from my experience with it. The front shifting is as good as any mechanical groupset I've used. Even the 9100 Dura Ace front mech isn't discernibly smoother or faster than Claris for the front shifting, and as long as maintained, it's comparable to Di2 or other electronic shifting.
However the rear mech is a bit of a let-down. I found the shifts less affirmative and more spongy than on higher end mechanical (and electronic) groupsets. Groupset performance is a bit of a sliding scale, getting incrementally better as you go up the ladder. But I think that, generally speaking, you get the biggest gains in shifting at the Tiagra (10-speed) level. But if you're not bothered by slightly less snappy shifting, you'll get on fine with Claris.
Additionally, the 11-32 cassette offers a huge range of gearing, and on the 15% inclines to my house the 34/32 gear combo was used often enough to be appreciated. However, the jumps between the gears are awkward on rolling terrain, where often you cannot get into a gear which fits the cadence that you want to maintain. There are big jumps from sprocket to sprocket, also for longer downhills the 50/11 big gear required quite a lot of spinning.
The brakes are the one area of this bike which I would say is not great. The initial bite is quite slow, and you really need to grab an absolute handful of the brake levers to slow down on steep descents. Even in the dry I was really missing disc brakes - or even Ultegra 8000 rim brakes.
The rest of the components performed really well and didn't feel 'budget'. The bars and stem are comfortable enough, with the bar drop being perhaps just a little too curved for my fairly large hands to sit comfortably. The cranks and chainrings felt stiff enough. The Vittoria Zaffiro 25mm tyres rolled nicely, although it lacked the grip of more top end tyres.
The wheels were decent, too, although they were lacking in lateral stiffness. When doing harder efforts, I found they would rub on the brake pads. The real highlight, though, was the saddle. I'm traditionally fussy when it comes to saddles, and I have religiously stuck with a Specialized Romin saddle for around 10 years. But the Boardman saddle is well padded, supportive, and doesn't cause perennial pressure. Even with alloy rails and the cheap price, I found I wasn't at any point missing my Romin too much, although more extreme duration or multi-day may change that opinion.
Honestly, this is the bike I would happily buy to use throughout the winter months, given that the value of it probably makes it cheaper than replacing half the components on higher end carbon frames. The option to fit full mudguards is also an area which will help improve the longevity of the bike and its components.
If you're after a little more performance, you would probably be better off going for the model up, rather than buying this one and upgrading the components over time. The SLR 8.9 has a carbon frameset as opposed to the SLR 8.6's aluminium version and the shifting is 11-speed versus eight. Wheels, tyres and finishing kit can be swapped out easily, but you're better off going with the frame and groupset you want from the start, as upgrading those is more difficult and expensive.
Boardman SLR 8.6: value and conclusion
At £650, the Boardman seems to be very good value, it's cheaper than the Trek Domane AL 2 (£850) or the Specialized Allez Elite (£1500!). However, looking into the competition at this level the Boardman is actually not the best value.
The Vitus Razor Claris comes with the same groupset, similar brakes, same tires but in 28mm, comparable weight, but no mudguard mounts and is limited on the cassette to an 11-28. However all this comes in at £479.99! So, the SLR 8.6 is a great value option, but there are alternatives which are cheaper .
The Boardman SLR 8.6 is a very decent aluminium bike. From looks alone, it doesn't look out of place among carbon frames with the hidden welds and dropped seatstays. The components used vary in quality with the front mech and saddle being stand out performers to me, while the brakes and rear mech left something to be desired.
Value wise it undercuts the big brand offerings from Specialized and Trek, however Vitus and Triban offer better value for money. For a winter bike (thanks to mudguard mounts) that is solid enough to use all year round, it's a very decent bike. There are just a few small changes I would make to get it perfect for me but overall it's a very enjoyable and capable bike.
Thank you for reading 20 articles this month* Join now for unlimited access
Enjoy your first month for just £1 / $1 / €1
*Read 5 free articles per month without a subscription
Join now for unlimited access
Try first month for just £1 / $1 / €1