Fizik Vento Stabilita Carbon review - the Arch Support 2.0 system takes things up a notch
Effective though the arch support is, it's still worth considering whether this is the USP you really need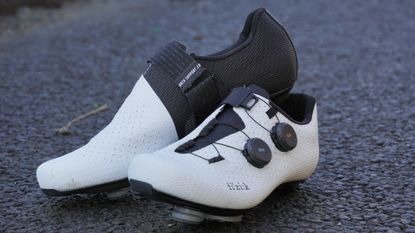 (Image credit: Future)
Whereas some performance shoes take the line of ultimate weight savings, the Vento Stabilita Carbon - while still light - has a leaning towards robustness, which makes this is model you can expect to last significantly more than a season. The Arch Support 2.0 system does provide a noticeable amount of support but, as a person without any problems in that area, I didn't reap any tangible benefits from it. But unique selling points aside, the Vento Stabilita Carbon still performed excellently in its primary function as a race shoe.
Reasons to buy
+

Very stiff

+

Durable upper

+

Good ventilation

+

Arch support
Reasons to avoid
-

Not a 'super light' model

-

Very expensive
You can trust Cycling Weekly. Our team of experts put in hard miles testing cycling tech and will always share honest, unbiased advice to help you choose. Find out more about how we test.
The Vento Stabilita Carbon sits at the very top of Fizik's shoe hierarchy, surpassing the Vento Infinito Carbon 2 and edging out the Transiro Infinito R1 Knit triathlon shoe.
As such, it's pitted against the very best cycling shoes on the market, and with such strong competition the bar is set pretty high. But the Vento Stabilita - as its name hints towards - has its own unique selling point, equipped as it is with Fizik's latest iteration of its arch support system.
Is this enough to distinguish it in such a crowded field? We put a pair to the test to find out…
Fizik Vento Stabilita Carbon: construction
Before we get into how they felt to ride, let's first run through the basics of the shoe and then have a look at that 'Dynamic Arch Support 2.0' system.
Like pretty much all shoes at this price point, the Vento Stabilita Carbon utilizes a carbon outsole which - again, like most flagship shoes - is claimed to be the stiffest in the entire range, achieving a rating of '10' on Fizik's own stiffness index.
There is an air intake at the front for some ventilation inflow, and although there isn't an exhaust vent at the back as such, the mesh material around the arch is a pretty open weave and very breathable itself.
Across Fizik's range, the cleat bolt holes have been shifted backwards towards the heel slightly, to allow for a further setback position which is a current trend. The benefits are supposed to include a decrease in the recruitment of the calf muscles (which in turn is supposed to reduce fatigue) and aerodynamic gains from being able to lower your saddle height.
But if you prefer having your cleats set further forward, there should still be enough adjustment to get them where you want. Personally, I prefer having my cleats really quite set forwards, right underneath the balls of my feet, and I still didn't reach the end of the adjustment space.
At the heel and toe of the shoes there are rubber inserts for added grip and protection of the carbon sole, but these aren't particularly large and aren't particularly tacky.
The upper is a polyurethane-laminated material and feels robust as well as having many perforations for increased air flow. It's not as well ventilated as some models which utilize much more mesh, but then it is much easier to wipe down and clean - so it's horses for courses.
The retention system is handled by two Boa Li2 dials, which are low profile and allow for both tightening and loosening in millimeter increments.
Fizik Vento Stabilita Carbon: the ride
In the hand, the Vento Stabilita Carbon shoes feel light, but not super light. And their weight of 270g in a size 43.5 EU bears this out. But weight-weenism isn't the purpose of these shoes, with the material of the upper feeling - and having proved to be - a lot more durable than ultra-lightweight models which use a lot of mesh.
On my first ride, I was initially sceptical of just how stiff these shoes could be, considering the quite slim - and offset - shape of the middle portion of the carbon outsole. But after a few gauging sprints, I couldn't detect any difference in stiffness between these and the Specialized S-Works Ares shoes, which are my benchmark for shoe stiffness.
That said, I weigh around 68 kg and my peak power is around 1,200 watts - so heavier and more powerful riders might have a different experience.
In terms of the ventilation, I found the balance to be spot on for UK riding. Naturally, they're a bit chilly for winter riding, but it's nice to have a little bit of protection from the spring chills - and they're still plenty cool enough to avoid overheating when riding indoors. Those in hotter and drier climates might benefit from an airier model, though.
Regarding the width and shape, the Vento Stabiliata Carbon feel moderately wide. If you have particularly narrow feet, you probably won't get on with them, and if your feet are particularly wide, there are at least other models in Fizik's range which will suit you better.
For me, I found that the toe box had quite a lot of volume to it. So, although I was pinched slightly on the sides of my feet, I didn't actually feel as 'locked in' as with other models which are lower volume. As with saddles, this is pure personal preference - what works perfectly for one person might not be so great for another.
But let's come to the Arch Support 2.0 system, which is the main selling point of these shoes. You can really tell the difference, with a feeling that your arch is being 'cupped' that you don't get on most other shoes. I don't have a particular problem with collapsing arches and I didn't feel I got much benefit from the feeling - nothing materially changed in my cycling performance or sensation.
But there definitely is something going on there with the foot support and it could help those who struggle with their arches. That said, insoles would also be another avenue to explore - and there is the option there to go fully custom, which isn't the case with these shoes.
Fizik Vento Stabilita Carbon: value and conclusion
In all, as USPs go, there are others I would consider first. Bont's Vaypor+ ($499.00) has heat-moldable uppers for a more custom fit, as well as the option for four-bolt drilling if you're running Speedplay pedals - a combination which is quite compelling. The Specialized Ares ($425.00 / £375.00) have a unique placement of the upper boa dial - which works better for those with more prominent ankle tendons - plus Specialized offers custom footbeds. And then there's Lake's CX 332 ($449.99 / £375.00), which comes in three different width options and also has the option for four-bolt drilling.
Then again, the Fizik Vento Stabilita Carbon's ($399.99 / £374.99) sole was fantastically stiff, the upper durable and breathable and the fit well suited to those with moderately wide and high volume feet. If insoles fail you, the Arch Support 2.0 system would well be worth a go.
They are a great pair of shoes - as are most models at this price point. The main points of differentiation tend to be very specific USPs, so just make sure you are getting the features you want most.
Thank you for reading 20 articles this month* Join now for unlimited access
Enjoy your first month for just £1 / $1 / €1
*Read 5 free articles per month without a subscription
Join now for unlimited access
Try first month for just £1 / $1 / €1