The best winter road bikes reviewed
A winter road bike should get you through the worst of winter in a bit more comfort and with less chance of mechanicals We explain what to look for in a winter road bike and highlight some key models on the market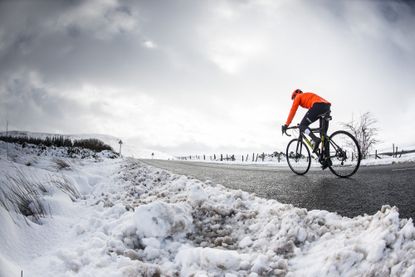 (Image credit: Andrew McCandlish)
Get The Leadout Newsletter
The latest race content, interviews, features, reviews and expert buying guides, direct to your inbox!
Thank you for signing up to The Pick. You will receive a verification email shortly.
There was a problem. Please refresh the page and try again.
The idea of having a 'winter road bike' may seem like a luxury to some, but for anyone who has moved into second bike terrain it's a sensible choice which allows you to keep your best bike pristine, ready for the rides where you want an injection of speed.
A dedicated winter road bike is likely to be more robust too, with cheaper components which are likely to wear better and will be less expensive to replace when they do succumb to the inevitable damp and dirt. You're likely to be able to fit mudguards too, which will up your comfort level no end.
What is a winter road bike?
You can trust Cycling Weekly. Our team of experts put in hard miles testing cycling tech and will always share honest, unbiased advice to help you choose. Find out more about how we test.
You may question why you need a winter road bike, but take the plunge and it will swiftly become your best and faithful friend. You'll go through more adventures together than any of your other bikes as your winter bike gets you through the most demanding season of the year, equipped to cope with rain and snow, as well as general road detritus, including the corrosive powers of salt grit scattered on the roads to counter ice.
Key features will include winter tyres, designed to provide grip and comfort and possibly wider than your summer tyres, disc brakes which cope well with wet conditions and bike mudguards/ fenders.
The professional road cycling calendar sees the racing season kick off in spring, finishing around September. Traditionally if you follow a cycling training plan, the winter months are used for building up endurance via long, slow 'base miles'. This means spending a lot of time in the saddle, so winter bikes often have a more relaxed geometry - typically seen on sportive or endurance bikes.
The bike gears may be tweaked and consist of a smaller, compact chainset and a wide-ratio cassette suited to ample climbing and high mileage demands of winter riding, letting you spin a lower gear to reduce the risk of slipping a wheel on wet roads.
Winter vs gravel vs endurance bike?
With their wide tyres, disc brakes and more stable and relaxed geometry, adventure and gravel bikes, are becoming an increasingly popular choice of winter bike.
Designed to allow riders to choose between tarmac and off-road sections, gravel/adventure bikes will generally be more extreme, and the bottom bracket will often be higher too, to allow for less chance of pedal strike when riding over rocks and roots.
Endurance bikes are specifically road-going, but offer a more relaxed geometry and generally wider tyres than you'd see on a traditional race bike, to offer stability over a range of terrain.
If you think of a sliding scale, race bikes would be at one end (closely neighboured by endurance bikes) and adventure bikes would be at the opposite end, with winter bikes sitting somewhere in the middle.
While an adventure bike or gravel bike will certainly cope well with winter riding, and give you the option to head off the beaten track, it can lack the nimble ride feel of a bike built just for the road. Endurance bikes usually have that in spades, but may not come with mudguard and rack mounts and prices usually exceed your desired "winter hack" spend.
Gravel bikes tend to have low gearing too, to help you negotiate steep terrain and obstacles off road, often with limited grip. That means that if you're riding faster on tarmac it's easy to spin out. A winter road bike is more likely to have a compact chainset with 50/34 chainrings. Coupled with a wide ratio cassette you'll have a bit more top end speed, but still be able to spin up hills on damp roads.
Below, we've listed winter ready road bikes. If you're still after a do-all option, then check out our dedicated best gravel bikes buyers guide. Similarly, if you're after something with a relaxed geometry that's still light and fast, take a look at our best endurance bikes guide.
The best winter bikes
Specifications
Groupset: N/A
Weight: 1400g (51cm frameset)
Reasons to buy
+
Versatility for different terrains and specs
+
Capable off-road
+
Rolls well on road
A common approach to the winter bike conundrum is to buy a relatively inexpensive frame, and build it up with assorted components lifted from your existing collection (or purchased second hand from club mates/ selling sites). The Kinesis RTD comes as a frameset only and is ideal for those keen to build their own.
On test we loved the versatility of the RTD, finding it happy to roll off road, but without sacrificing its road going capabilities. The geometry is shorter and higher, for a more relaxed riding position as you eat up the miles.
The distance ready frame was inspired by the events such as the Transcontinental, which Kinesis is a long term supporter of. It's comfortable, disc brake ready, with clearance for tyres up to 34c or 30c with room for mudguards/ fenders and internal cable routing to keep the weather at bay. With a 1,400g frame weight, it's not the lightest option out there though.
Specifications
Groupset: Shimano 105
Weight: 9.72kg / 21.43lb (size L without mudguards)
Reasons to buy
+
Smart looks
+
Can spec as you want
+
Robust frame and components
+
Good handling
Reasons to avoid
-
Handlebar shape leads to a long reach
Ribble's CGR platform comes with clearances and road bike geometry to all suit 'Cross, Gravel and Road riding throughout the winter. Although this model is aluminium and Shimano 105, steel, titanium and carbon versions are available, likewise for groupsets with both Shimano Sora and Ultegra also options and a range of different wheels available. You can spec the bike as you want using Ribble's Bike Builder on line.
One nice spec choice for winter riding is a threaded bottom bracket, which should make for easy maintenance and help keep creaks and squeaks away.
On test we found that the slim seat stays adsorb a lot of vibrations, as does the carbon fork. Although not designed as a race bike, the CGR still offered an impressive turn of speed, although adding the mudguards/ fenders would hinder this somewhat.
We also found it played well when shown a section of singletrack, so there's plenty of scope for less traditional winter riding, although the stock wheelset is a bit heavy, leading to a less lively ride than you could expect from the frameset.
One recommendation we would certainly make is to change the handlebars, as the stock ones have far too much reach for our liking, but other than that it's a cracking full winter option.
Specifications
Groupset: Shimano 105 shifting, TRP brakes
Weight: 10.4kg / 22.92lbs (claimed)
Reasons to buy
+
Good value spec
+
Wide, tubeless-ready tyres
+
Rack and mudguard mounts
Reasons to avoid
-
A bit more expensive than previously
The Triban RC 520 spec is impressive for the price. For £849.99/ $1,199, you'll get Decathlon's house brand aluminium frame kitted out with Shimano 105 shifting and TRP Hy/Rd cable actuated hydraulic disc brakes.
The frame is still designed to offer a comfortable ride, and the fork comes with carbon blades to drop the weight and dampen road buzz. There are mounts for mudguards/ fenders and a pannier rack and it comes with 28mm tubeless ready tyres to help reduce the chance of punctures. You can squeeze in tyres up to 36mm wide for even more grip and comfort.
Decathlon quotes a bike weight of 10.4kg, which isn't too bad for a bike at this price equipped with disc brakes.
If you want to spend a bit less, there's a Shimano Sora equipped model, which keeps disc brakes, albeit the mechanical variety, for £599.99 and there's a flat bar hybrid option as well. We've also reviewed the rim brake Triban 520.
Specifications
Groupset: Shimano Tiagra
Weight: 9kg/ 19.84lbs (Shimano 105 size 54)
Reasons to buy
+
Great handling
+
Long ride comfort
Reasons to avoid
-
Heavy wheels
-
Mechanical disc brakes rather than hydraulics
The Cannondale Synapse is a bike designed for the rider who wants to still feel nimble in winter, whilst enjoying the all-day comfort of a relaxed geometry, the secure stopping of disc brakes, albeit mechanical ones, and wide 30c tyres.
The range is quite wide, starting at around £1,000, and includes both carbon and alloy frame options. All bikes in the current range are equipped with disc brakes.
We really enjoyed the Cannondale Synapse 105, which does come with a carbon frame, higher spec and higher price tag. The Sora model uses an aluminium frame and carbon fork, but you should still get the ride spirit.
The frame geometry is a bit higher than Cannondale's racier SuperSix, but still not as upright as many endurance bikes, so the Synapse feels that bit faster than some alternatives, letting you press on that bit more. The wheels are on the beefy side though and we enjoyed our rides more following a swap-out.
There are also gender specific models available, with the women's version coming with narrower handlebars and women's saddle.
Cube Nuroad Race FE road bike
Specifications
Groupset: Shimano GXR
Weight: 11kg/ 24/25lbs (claimed)
Reasons to buy
+
Specced for wide gear range
+
Versatile for on- and off-road use
+
Winter ready out of the box
Reasons to avoid
-
Newer version has mechanical disc brakes rather than hydraulic
We're big fans of Cube bikes, finding them to offer great value for money and hard to fault. The Nuroad range of bikes got an overhaul for 2021, which still offers great value for money but if you can get the older one, you'll get exceptional value as it came with hydraulic disc brakes.
Winter ready straight out the box, the Cube Nuroad Race FE comes with an aluminium frame and carbon fork. Interestingly Cube has equipped the bike with the gravel/ cyclocross Shimano GRX groupset, which means a smaller chainring than most bikes, but with a bigger spread in the cassette. Gear ratios go down well below 1:1, ideal for cruising the climbs, although the low top gear means you may spin out on faster tarmac sections.
With 40mm tyres, mudguards and a rack, the Nuroad Race FE is all ready for winter duties both on and off road and it even comes with front and rear lights, so you won't get caught out by the early winter dusk.
Ridley Fenix SLA Disc road bike
Specifications
Groupset: Shimano Tiagra
Weight: TBC
Reasons to buy
+
Shimano Tiagra drivetrain
+
Mudguard/fender and rack mounts
+
Compact groupset for plenty of range
We've really rated the Ridley Fenix models that we've seen over the years, including the older model Ridley Fenix SL10 which we've reviewed. Knowing the brand and with its Belgian heritage, we would expect a great ride from this aluminium frame and carbon fork pairing.
The Shimano Tiagra drive train may only have ten gears, but the compact 46/36 chainring and 11/32 cassette will offer more than enough winter gear options for both up, down and on the flat riding. Ridley has a configurator on line, which lets you change the spec to suit your needs and budget.
With mounting points ready for mudguards and pannier racks, it's down to you to winterise to your choice of spec. The only downer is the mechanical disc brakes, but that's easily upgraded to hydraulic should you so wish.
Vitus Zenium Road bike
Specifications
Groupset: Shimano Tiagra
Weight: TBC
Reasons to buy
+
Carbon frameset
+
Cross over summer bike
We have always found the Wiggle/ Chain Reaction Cycles house brand to offer solid performing bikes and at just over £1,000 for a carbon frameset, the Zenium is great value too. When we tested the Zenium CR cyclocross specced model we gave it an 8/10 score, and rarely has the brand ever dipped below that rating.
The Vitus Zenium road bike comes with reliable Shimano Tiagra gearing and disc brakes, although at this price point they are cable pull Tektro Spyre. There aren't mudguard or rack mounts as standard, but the more relaxed geometry lends itself to long winter rides as does the compact chainset. You even get smart-looking 28mm tan sidewall tyres - there's scope to up the tyre width to 32mm if you want, although that would limit your ability to fit mudguards.
This does also mean that a pair of clip on guards can also clip off as soon as the sun comes out, making this a great year round rouleur.
Specifications
Groupset: NA, our build Shimano Ultegra
Weight: 7.8kg/17.19lbs (full bike)
Reasons to buy
+
Made to measure frameset
+
Handbuilt in Italy
+
Great ride quality
Reasons to avoid
-
Rim brake only
-
External cabling
At his bike shop in Walthamstow, Diego Lombardi offers a unique experience. He flies WorldTour bike fitter Giuseppe Giannecchini, a bike fitting expert who featured in our 'Is your bike set-up too aggressive?' feature, into London once a month, where customers can be fitted up for a custom machine - which is hand built at a near unbeatable price.
Frames are available in steel, carbon or aluminium - but for winter we opted for aluminium and were not disappointed. It's quite a retro spec though, with external cable routing and rim brakes, so expect a bit more fettling to keep your winter bike running smoothly than with more modern options.
We thought the ride was excellent, however, and concluded in our review that "there can't be a more cost-effective way to get a made-to-measure Italian frame."
Isen All Season
Reasons to buy
+
High ride quality
+
Amazing paint job
If you're after a real keeper, get in touch with Isen and have them build you up a customised steel machine.
The 'All Season' is exactly that - a bike you can ride in comfort all year. And since each bike is a one-off, you can spec it however you like.
Described as a bike for anything from a 'gruelling Audax' to a 'bike packing escapade', we tested it when riding on and off-road along the North Downs Way.
This machine boasts dynamo and internal cable routing, 12mm bolt thru ready fork, and can be built around 650b wheels for smaller riders or those who want really wide tyres. There are mounts for racks and mudguards, too.
There are some great touches of style, like the ISEN asymmetric seatstay bridge, hand formed ISEN solid brass headbadge and you can get it painted in one of five great 'sikcandyfadez' paint jobs.
What should you expect in the best winter bike?
A winter bike is any bike which you feel comfortable riding during the months between October and March. Some riders are also known to remove the mudguards/ fenders and take their winter bike on training camps to avoid transport damage to their best race bike.
It's quite common for riders purchasing a new bike to retire their old bike to 'winter bike' duties. Going down this route, you just need to do the best you can to transform the old chassis into a wet weather mile muncher - fitting new tyres and mudguards, for example.
One disadvantage of this approach is that, depending on the age of the bike you're relegating to winter duties, you may end up without the benefits of more modern features like disc brakes, wide tyre clearance and internal cable routing.
So if you've got the luxury of buying a dedicated winter bike, you can be a bit more specific and spec it better for the rigours of winter conditions.
Tyres
The best winter tyres for road cycling will be wider, allowing you to run them at a lower pressure. This allows for a larger contact patch with the ground, offering greater grip and on uneven roads better rolling resistance as they depress over bumps instead of skittling along the surface.
You can find tyres like the Schwalbe G-One Speed with a light tread for extra grip, without slowing you down. Look for a tubeless-ready option too, as the ability of the sealant to seal smaller holes will drastically reduce the likelihood of ending up standing beside a wet road with cold hands trying to fix a flat. Many wheelsets now come with tubeless-compatible rims by default.
This better grip and ability to run lower pressures (without increasing the risk of punctures) becomes even more important over winter where roads are often wet and more slippery. As a result, a winter bike needs capacity to manage at least 28mm tyres. Some come with clearance for tyres over 30mm.
The tyres themselves need to be designed to deflect sharp objects, and many of the best winter bikes now come complete with tubeless ready tyres or high quality puncture proof belt, and a compound which is sticky and grippy. Take a look at this post for more details on how to choose road bike tyres.
Disc brakes are especially helpful on winter bikes.
Disc brakes do not rely upon the wheel rim or provide adequate braking. This means that braking speed is not affected by rims becoming wet, and braking can be reliable in all conditions.
It also means that debris does not get swept up from the road, and stuck in the interface between the brake pad and rim - causing premature rim wear. Finally, disc brakes mean that it's easier to run carbon rims that still allow for quick braking in any condition, and the rims can be lighter as they don't need to cater for braking forces.
Mechanical disc brakes are the cheaper variety, whilst hydraulic disc brakes are more expensive, offer better modulation and out-and-out stopping performance and are more reliable.
Hydraulic disc brakes don't really require any more maintenance, but it might be worth watching our videos on Shimano disc brake bleeding or SRAM disc brake bleeding to see how to do it properly. In reality this only needs doing at most once a year, or if you feel the braking has become 'spongy'.
Mudguards/fender and luggage
Not all road cyclists like to use mudguards - but doing so prevents grit and dirt from being thrown up from the road and into the drivetrain, increasing its longevity and lowering maintenance needs. You'll keep cleaner and drier too.
Mudguards can often save the face of the person behind you from the splatter so they're advised (and indeed enforced) on many group rides.
Dedicated winter bikes will often come with eyelets for mudguards, and enough clearance to cater for them - or even with mudguards fitted. The latter greatly reduces the risk of discovering that your new mudguards save your bum from getting wet, but rub on the tyres with every revolution.
You can fit mudguards to a bike without eyelets, but this can be a bit hit and miss effectiveness wise.
Some winter bikes also come with pannier rack mounts, in case you fancy shooting off on some sort of all-day epic or want to use them for commuting or shopping duties.
Geometry
The geometry of a winter bike often mirrors that of a sportive or endurance bike.
Expect to find a taller head tube, and shorter reach. This will put you in a more upright position. The wheelbase will likely be longer in relation to the top tube when compared with a race bike, and the head angle slacker - closer to 70 than 73 degrees.
This provides a greater degree of stability - something many riders like when tackling wet and potentially icy conditions. It's also important if you're planning to tackle any off road riding over winter.
However - not all riders will want a massive geometry change between summer and winter bikes. If you're planning on racing in summer, it's understandable that you want to train in a similar position - so bear this in mind and don't buy a bike that differs drastically to your race bike if this is an issue for you.
Of course, your own body dimensions remain the same - so saddle height and fore/aft position should not change between your bikes - big changes here can result in injuries.
Thank you for reading 20 articles this month* Join now for unlimited access
Enjoy your first month for just £1 / $1 / €1
*Read 5 free articles per month without a subscription
Join now for unlimited access
Try first month for just £1 / $1 / €1