Triban RC500 flat bar - reliable, comfortable and with a few surprises up its sleeve
B'twin's previous Triban flat bar bikes have been winning accolades at Cycling Weekly HQ for years, can the overhauled Triban RC500 flat bar do the same?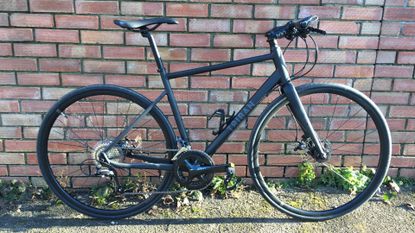 (Image credit: Luke Friend)
The RC500 threw up a few surprises and most of them were positive. In general the bike rides lighter than it's 10kg+ weight would suggest. In fact, once up to speed it rolled along nicely as well as being sprightly enough when dealing with city traffic. But the weight is there and it means it's not great when it has to go uphill. Where it does excel is comfort. It promotes an upright riding position that works for a hybrid such as this, and the combination of frame material and design alongside the wheels, made for a bike that dealt well with the rough and the smooth - this was largely unexpected given the generic wheels and tires. Of course at the price point there are a few concessions - cheap mechanical disc brakes, rock hard grips and those aforementioned wheels that are pretty weighty. But, aside from the grips, its all usable and means that you could happily get a few miles under your belt before you needed to make some upgrades. But once you do, you have a frameset that's worthy of the additional expenditure.
Reasons to buy
+

Well-designed frameset with plenty of mounts

+

Ride quality (it's fast and comfortable)

+

Spec list is mostly solid (wheels, tires, drive chain)
Reasons to avoid
-

Cable actuated brakes rather than hydro

-

Uncomfortable grips
You can trust Cycling Weekly. Our team of experts put in hard miles testing cycling tech and will always share honest, unbiased advice to help you choose. Find out more about how we test.
B'twin's previous flat bar bikes offered a no-nonsense approach to bike design that was as bomb proof as they were good value. Now, the French brand - re-branded in recent years as Triban - has re-worked the aluminium frame, and updated its design.
The result is a sporty looking machine that appear designed for both leisure rides and weekday commutes, just as many of the best hybrid bikes are.
Triban RC500 Flat bar - the construction
Decathlon offers the Triban RC500 with both flat and drop bars, and this decision tells us plenty about the bike in question.
Ostensibly what we have is an entry-level endurance road bike fitted with flat bars. The frame is made from 6061 T6 aluminium and is paired with carbon forks and an alloy steerer. It features QR dropouts and boasts mounting points for mudguards (fenders) and a rear rack. This is a major plus, elevating the bike's versatility to that of a true hybrid, at home on the daily commute or a short tour rather than only having a singular purpose.
Perhaps with this in mind, the RC500 is built to deliver comfort as well as speed, with geometry that's well-suited to those new to cycling as well as anyone who prefers to sit a little more upright on the bike. There's not a geometry sheet available but you've got a generous stack height and plenty of stability too thanks to longer chainstays and overall wheelbase.
Triban has incorporated a couple of tried-and-tested design elements to deliver comfort, namely dropped rear seat stays and a sloping top tube. There's also plenty of tire clearance too, allowing for tires as wide as 36mm. However, the bike comes equipped with 28mm Triban Resist+ tyres fitted to tubeless-ready Triban wheels. These look pretty rudimentary but that's often the case on a bike in this price range.
The ProMax mechanical disc brakes are pretty basic too, although they are fitted with compressionless housing, which should improve the braking. Again, it's a component choice that's made with budget in mind rather than improved performance. That can't be said of the transmission, though.
Shifting comes courtesy of Shimano Sora components, with a compact double chainset matched to a 9-speed 11-32 cassette. And while it's not a pricey option it's one that can be trusted to work reliably while at the same time being durable, too.
It all adds up to a bike that's not exactly light, 10.7kg for my medium. That said the wheelset alone weighs close to 2.5kg so there are clearly opportunities here to reduce the RC500's overall weight should you be inclined to do so.
Triban RC500 flat bar - the ride
It doesn't take long to realise that the Triban 500 is a well designed bike. The sensible geometry makes it instantly comfortable, promoting an upright riding position that's suited to its broad range of uses. On busy streets it makes it easy to navigate your surroundings. On longer journeys it allows you to settle in and enjoy the ride. Granted it's not aerodynamically efficient but that's not important here - and the Triban doesn't exactly feel sluggish either.
The comfort gained from the riding position, which can be tweaked somewhat thanks to the inclusion of a +/- 7 degree stem and plenty of headset spacers, is matched by the compliance of the frame.
You wouldn't ordinarily associate aluminium, even half-decent 6061 tubing used here, with delivering a plush ride. But reviewing bikes made from all sorts of materials has made me realize that we fixate too much on what we believe are a material's inherent properties, rather than appreciating that how they are used has just as much impact on how the bike will ride.
As mentioned, Triban has used both dropped rear seat stays and a sloping top tube, which means there's plenty of exposed seat post, to build in some rear end compliance. And it really works. Even with the 28mm tires and on some pretty ropey road surfaces it absorbed much of the chatter. Rolling along at speed this became less so but I'd still describe it as a comfortable ride.
The alumimium frame is matched with a carbon fork. This probably has a dampening effect too, adding to the bike's overall forgiving nature, but I wouldn't say it was perceptible. The choice of material does help shave a few grams off the bike's weight though and helped to make the front end feel pretty sprightly - the bike was a blast to ride in traffic due to a responsiveness that belied its overall weight.
However, the Triban 500 felt at its best when it was rolling along an open road. The aforementioned comfort, coupled with 700c wheels, fast-rolling tires and a compact road chainset meant that it accelerated quickly and then could hold the speed. I took in an 'out and back' shared access path that's popular with runners and leisure cyclists and it felt right at home.
On climbs it did become a bit of a deadweight however and I was reminded that, at this price point, something has to give. However, the gears help to negate this somewhat.
As expected the Shimano Sora components delivered faultless performance. The bar end shifters require a reassuringly firm push, so you know when you've shifted a gear, but the trim facility means there's no rubbing even when the chainline is less than optimal. It's not a complete Shimano groupset, with the cassette manufactured by Microshift, but it didn't cause any issues.
As for the gear range, the compact Sora chainset with its 50/34t chainrings matched to the 9-speed 11-32t cassette seems about right for a bike that might be required to get you to work as well as be used for a family cycling holiday or a regular weekend ride. If you plan on using the rear rack mounts and end up carrying a full load, either touring or commuting to work, you may wish for something a little lower that the 34-32t combination but for most users the gearing should suffice.
While the dependable Sora didn't surprise me, there were a couple of components that did. Firstly, the tires were better than expected. While you may wish to fit some 30 or 32s for improved comfort, a more aggressive tread pattern for better grip, or some bulletproof rubber for a daily commute, the Triban Resist model that comes as standard is perfectly capable.
Stock tires, matched with stock wheels, can often lead to a wooden ride feel but not here. Without any testing to prove it, the tires did feel like they had a pretty low rolling resistance. Equally, they didn't feel too rigid or lifeless. I haven't ridden the bike enough to attest to their long term durability or puncture resistance but they do feature a 1mm anti-puncture band and I've had no issues during my time with the bike.
The wheels also deserve a mention. They're nothing to get remotely excited about but equally they rolled along nicely, with enough stiffness to aid acceleration rather than hinder it. They're tubeless ready too, although the tires aren't, which seems like a missed opportunity perhaps. Having not had to deal with a puncture I can't comment on how tricky the tire and rim combination is.
I was pleasantly surprised by the Pro Max disc brakes, too. Cheaper mechanical disc brakes, of which these are, can be unreliable at best and a down right nuisance at their worst. While the Pro Max lack the sophistication of hydraulic brakes, and can't match the overall stopping power either, they functioned adequately and didn't knock my confidence when it came to braking. If I owned a Triban RC500 I'd still swap them out but wouldn't necessarily feel the need to do this immediately.
The list of dislikes is far shorter, and none of them are even close to being dealbreakers. The grips are pretty awful; too hard, too small and pretty uncomfortable after a few miles of riding. The pedals would also need to go, but this is to be expected.
I'd also swap out the saddle but this is only to fit one that I'm used to rather than because the stock one isn't up to par. I'd be inclined to replace the tires with something a little wider too, but again this is more of a personal preference rather than a knock on the tires. If you're using the bike for fast fitness rides on smooth surfaces then the 28mm width is likely a good fit.
Triban RC500 Flat Bar - Value
The Triban RC500 retails at £649.99. The Boardman HYB 8.6 is a similarly specc'd hybrid but costs £50 less. Given that the Boardman also benefits from hydraulic disc brakes and the Triban starts to seem a little overpriced , at least in comparison to the excellent HYB 8.6.
Thank you for reading 20 articles this month* Join now for unlimited access
Enjoy your first month for just £1 / $1 / €1
*Read 5 free articles per month without a subscription
Join now for unlimited access
Try first month for just £1 / $1 / €1