Decathlon bikes range: guide to Triban and Van Rysel bikes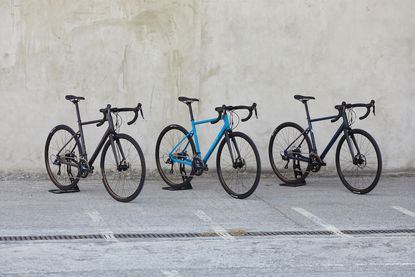 Get The Leadout Newsletter
The latest race content, interviews, features, reviews and expert buying guides, direct to your inbox!
Thank you for signing up to The Pick. You will receive a verification email shortly.
There was a problem. Please refresh the page and try again.
Sports retailer Decathlon are known for their relatively priced but quality range of products, and their own bike brands Triban and Van Rysel appease the reputation that the French brand have acquired.
In 2017, Decathlon revealed it was planning to drop the B'twin name from its Triban road bikes. It has since implemented the overhaul of its Triban range, as well as launching two new models. The range will now just be known as Triban, as opposed to B'twin Triban.
On paper, it might seem inconsequential, but it's a big deal for the company, with B'twin almost being a household name. Decathlon say, however, that such a move was necessary because of the sheer number of bikes it now produces. The ranges have been split into Triban and Van Rysel bikes.
>>>The best cheap road bikes: beginner road bikes and commute machines reviewed
The Triban bikes fit under the 'cycle tourism' category and suit beginners through to advanced riders, whereas the Van Rysel Ultra range is for those who have a performance element to their riding.
The bigger benefit of the name change, the brand says, was the creative freedom it offered to redesign the Triban bikes that have been the brand's bread and butter bikes for a very long time.
Ranging from flat bar, go anywhere models through to superbly comfortable aluminium frame racing bikes, they flew off the shelves. They all also come with a lifetime warranty.
>>> Aluminium road bikes: five of the best reviewed
Useful links for road bike shoppers…
Swipe to scroll horizontally
| | |
| --- | --- |
| Brands/topics | Model overviews and reviews |
| BMC bikes | BMC bike reviews |
| Boardman | Boardman bike reviews |
| Cannondale | Bike reviews,SuperSix Evo,CAAD12,Synapse |
| Canyon bikes | Canyon bike reviews |
| Carrera bikes | Carerra bike reviews |
| Cervelo bikes | Cervelo bike reviews |
| Cube bikes | Cube bike reviews |
| Focus bikes | Focus bike reviews |
| Genesis bikes | Genesis bike reviews |
| Giant bikes | Giant bike reviews,Giant Defy,Giant Propel,Giant TCR |
| Pinarello | Pinarello bike reviews |
| Raleigh bikes | Raleigh bike reviews |
| Ribble bikes | Ribble bike reviews |
| Scott bikes | Scott bike reviews |
| Specialized | Bike reviews,Allez,Tarmac,Diverge |
| Trek bikes | Bike reviews,Domane,Emonda,Madone |
| Price points | Bikes under £500,under £1000,under £1500,under £2000 |
| Road bike styles | Aero road bikes,Endurance road bikes,Women's road bikes,Commuting bikes,Touring bikes,Singlespeed bikes,Track bikes,Time trial bikes |
| Other bike styles | Adventure and gravel bikes,Cyclocross bikes,Electric bikes,Hybrid bikes |
With each product is a 'Buy Now' or 'Best Deal' link. If you click on this then we may receive a small amount of money from the retailer when you purchase the item. This doesn't affect the amount you pay.
Decathlon: Triban bikes range
You can trust Cycling Weekly. Our team of experts put in hard miles testing cycling tech and will always share honest, unbiased advice to help you choose. Find out more about how we test.
Decathlon's cheapest road bike, the RC100 is designed to really ease you into the world of cycling on a road bike. Designed for comfort, the RC100 is based around a 6061 aluminium frame with a shorter top tube and longer head tube, taking the strain away from the neck and back, areas that usually take a real beating when starting out on the road.
You don't get the usual range of gears you find on most road bikes as the RC100 only has a single chainring with a seven-speed Shimano cassette.
>>> Can you buy a decent road bike for £300?
It has Decathlon's own brand wheels with 32mm tyres to add more comfort again. You can also easily add mudguards with eyelets on the rear rack, making it a great commuter.
Triban RC120 and RC120 Disc
Another bike based around comfort, the Triban RC120 is a more sophisticated version of the RC100 and is Decathlon's best seller. It has an aluminium frame but paired with lightweight carbon forks. Microshift's eight-speed shifter on a 11x34 cassette and Shimano Tourney 50/34 double chainring provides the gearing.
This is the bike you will probably see commuters riding around cities and towns on. The frame, handlebars, saddle and tyres are all designed for comfort, just with a couple of extra luxuries compared to the RC100.
The RC120 Disc, as you may have guessed, is basically the same bike, but with disc brakes. It also has Triban Tubeless ready wheels in comparison to the standard RC120 that has Triban 700 wheels. Crossed steel spoked to add strength and is a tad more expensive. Both bikes come with a bell and front and rear lights for necessary visibility when riding through towns and cities.
Triban RC500 and RC500 Disc
The trend with all these Triban bikes is that comfort and versatility are the primary focus. Advertised as both Triban's and Decathlon's most comfortable bike, the RC500 models are the best steeds to really get going as a regular road rider.
This bike is designed to do everything: general road riding, adventuring, touring - you name it and it can do it. This bike has enough clearance for 36mm tyres for even greater comfort on rougher ground but generally it comes with 28mm tyres.
Kitted out with Decathlon's new Triban Evo carbon/aluminium forks, the bike is designed to carry a front mounted pannier rack of up to 9kg, ergonomic aluminium handlebar for better grip and comfort with a range of sizes for the bars and stem. It's a good bike for bikepacking, but too much overloading could damage or break it.
The RC500 rim brake option comes only with flat handlebars, whereas the disc model comes with either flat or drop handlebars, giving the choice between a more upright or aggressive riding position. The bike is also fitted with a Shimano Sora drivetrain, a nine-speed derailleur and a Sora crankset in 50/34.
The aluminium frame bike, with a dropped seat stay, 27.2mm seat posts and compact geometry mirror Decathlon's desire for a comfort orientated bike. TheRC520 is made for the road, adventuring and touring, but with added performance.
Comfort is a key factor, but the RC520 doesn't compensate on speed. Equipped witha Shimano 105 groupset- albeit without the dedicated chainset or brakes - the RC520 uses TRP's Hy/Rd hybrid callipers, which are a mixture of cable and hydraulic stoppers.
Tubeless ready and spec'd with a brand new Triban wheelset, those with an eye to commuting will also be pleased to read that the frame comes with holes for mounting guards and pannier racks.Also new is the Triban Ergofit saddle, a new hammock designed saddle that the brand says should be comfortable on long days in the saddle.This model is also available with flat bars, making it more of a touring/commuter bike.
Triban Easy Women's road bike
Developed by a design team completely based around women's bikes, the Women's Easy is a cheap, comfort-oriented easy to ride, single chainring bike. Perfect for beginners to the road scene.
With higher steering socket and shorter top tube, the bike has a more upright position which will ease the rider into the more aero road riding position.
On the braking side of things, Decathlon have fitted the Triban with a double braking system. The normal brakes are Microshift's SB-R480S Classic brake levers which have been specially adapted for smaller hands. TheTektro RL 576 Cyclocross brake levers are on the tops of the handlebars for those more used to riding on the tops, in a more mountain bike style.
Full Microshift drivetrain with an 11/34 cassette and single 40 tooth chainwheel means that there is no trouble with switching between cogs on this bike.To top it all off, a special women's comfort saddle specially developed by Decathlon comes with the bike for the perfect set-up for you.
Triban Regular Women's road bike
This bike is the, believe it or not, upgrade of the Easy. The Regular has a bit more focus on the speed side as well as comfort, and with a Shimano Sora 2x9 speed drivetrain it has more sophisticated gearing than the Easy.
The aluminium frame is paired with the carbon forks and put together makes a comfortable set-up. Like before, the geometry of the frame sets you into a more upright riding position, rather than the lower, speedy, slightly uncomfortable aero position. While the Shimano Sora R3000 compact groupset of 50/34 means that really, this is a great bike for the hills.
This bike is fitted with B'Twin aero wheels too, which is a bit of a confusing mix of the upright position and comfort along with the speed and aerodynamic side, but if you're not really thinking about all that then it is a great bike for you.
Decathlon: Van Rysel bikes range
Van Rysel Ultra 105 RCR AF road bike
Do you see the change in the style of bike? Not only does the Van Rysel hold a completely different name to the Triban, but it is a very different beast.
Branded as a performance endurance bike, the Ultra 105 RCR AF is a versatile bike that based around being much more aero than any Triban on offer.It has an aluminium frame, with internal cabling for a smart finish. Although it is a fairly basic looking bike, the smart colour and sloped frame makes it look a bit more racey.
With Shimano's brand new 105 drivetrain with a 11-speed rear derailleur and compact chainset, this bike is great for riding in the hills but won't hold you back on the flat.It is definitely a lot of bike for the money.
Van Rysel EDR AF Ultegra road bike
The EDR AF range - both the Shimano 105 and Ultegra models - are designed to gobble up the miles with relative ease and in comfort.The full aluminium frame with a carbon and aluminium blend in the forks, this isn't a bike made to be light but a bike made to ride and ride and, well, keep on riding.
It comes with either a full Shimano 105 or Ultegradrivetrain, cassette and brakes, meaning it has excellent quality tech for the price you pay.
Slotting in nicely between the aluminium and carbon base Van Rysels, the EDR AF Ultegra definitely looks different to the norm in the Decathlon road bike range.While the looks are a little different, it is a smart looking machine and is definitely worth considering.
Reasons to buy
+
Ride feel
+
Value
+
Great looking
+
Shimano 105
+
Geometry
+
Comfort
+
Weight
Reasons to avoid
-
No disc-brake option
-
No high-end option
Van Rysel bikes from this model up are now on full carbon frames and forks, and this bike brings you into the carbon realm at an affordable price.
This is the most advanced frame Decathlon make, perfect for the climbs but is strong enough to tackle the challenges of cobbles. Van Rysel really aim to be all terrain bikes.
It is fitted with New Yksion 25mm tyres for added comfort, as well as Van Rysel's Sport Ergo Chromo saddle.With a complete Shimano 105 groupset you are getting good quality, reliable shifting and braking, on a durable and racey carbon frame.
Van Rysel Ultra CF Ultegra road bike
Taking another step up, the CF Ultegra is a high-performance, racing bike with all of Shimano Ultegra trimmings.Higher specced compared to the ones that preceded it, theCF Ultegra looks very smart, too.
This, like all of Decathlon's Van Rysel's, is said to be the perfect climbing machine but is strong enough to tackle to toughest classic. While you could probably get a stronger bike for both, this will definitely do a great job.
Its Mavic Cosmic Carbon wheels are lightweight and aerodynamic thanks to its profiled spokes and elliptical walls. These are wrapped in Yksion Pro tyres which provide suitable grip without compromising on performance.
Van Rysel Ultra CF Ultegra Di2 road bike
The price noticeably ramps up for this model and spec because of the addition of electric gearing and an upgrade on every little detail.
The Ultegra Di2 is Shimano's cheapest electric gearing but you're still getting instant and swift changing, with a tap of a finger moving the Di2 cha11-speed 52/36 Shimano Ultegra R8050 Di2 drivetrain and R8000 cassette.Along with the huge gearing upgrade, you also get Cosmic Pro carbon SL UST wheels which is a marked improvement on any bike below on the price grid.
Where handlebars are aluminium on cheaper bikes, here they are full carbon.You get Van Rysel's custom made Fisik Antares R3 saddle too; even that is a slight upgrade on the previous model.
Van Rysel Ultra RCR CF Dura-Ace road bike
Extremely similar to the Ultegra Di2, the Dura-Ace is the highest possible spec you can get on the mechanical side of Shimano's gearing selection.
The bike components are basically exactly the same, the differences are that, obviously, isn't electric gears but it is Dura-Ace, which is a superbly high quality mechanical set-up. Along with that, you get one below the top of the range Fizik saddle with the Antares R1.
It is up with the usual compact 52/36 Dura-Ace 9100 chainset with 9100 cassette and groupset.This is one of the top grade models you can buy from Van Rysel and is well worth a consideration. This bike epitomises value for money.
Van Rysel Ultra RCR CF Dura-Ace Di2 road bike
The top of the range bike available in the Decathlon road bike range, the Ultra RCR CF is all singing all dancing. With Shimano's top of the range electric gearing system, the Dura-Ace Di2 is delivered with impeccable accuracy.
An Ultra Evo Dynamic carbon frame and form is paired withDeda Alanera aero handlebars, and just looking at the bike it looks like it belongs in a higher price category.
Why is it so cheap? Good question. If you look at all the pricing, Shimano's Dura-Ace Di2 alone is around £2000, the Cosmic Pro carbon SL UST wheels are around £1500, the handlebars are around £400, £80 for the Fizik Antares R3 saddle... It seems to be a theme of this guide when we say that you get a lot for your money, but you really do.If you're looking at bikes around this price, you won't find a model from another brand with this kit on it for the same price.
Van Rysel Ultra RCR AF Tiagra Women's road bike
The Ultra RCR AF women's road bike isan excellent entry level road bike for the female market and is a great way of introducing you to a more race like position if that's the line you're wanting to go down.
Its geometry has been adapted to suit women and comes complete with a specially designed women's saddle for ultimate comfort when riding.This is the only bike in the entire Van Rysel road bike range that has the well-performing Shimano Tiagra; it has a 10-speed drivetrain with a 50/34 bottom bracket.
The UCI-approved frame is fully aluminium with a carbon aluminium mix for the forks. The handlebars are compact, perfect for the average woman compared to the usually quite wide bars on men's bikes.
Van Rysel Ultra RCR CF 105 Women's road bike
When we reviewed this bike we were amazed at how much bike you get for the price.Yes, you do only get Shimano 105 and not the Ultegra that are on some of Van Rysel's other models, but it is a woman focused bike and with it being the brand new 105 system, it has some of the Dura-Ace hand-me-downs, so you can't really complain too much.
The shape of the frame looks slick and fast, just what you want from a fully carbon bike. Meanwhile, thehandlebars are compact to adapt to the slimmer body shape of the average woman.Aero 700 2024 B'Twin wheels and Hutchinson Fusion 5 perf tyres add to the aero racy look and feel of the bike, while the B'Twin women's sport saddle is fitted for comfort as you eat up the miles.
Unfortunately, this is the highest spec women's bike on offer by Decathlon, but the high-end men's Van Rysel's are available in sizes suited to women and also all the components can be fitted around you if you wanted to.
Van Rysel Gravel EDR Offroad GRX 1X
For versatility on roads to the rougher trails, Van Rysel's gold painted gravel bike offering promises a fun and reliable ride.It has a fully carbon frame and fork, with geometry for easy accelerations and internal cable routing for protection against muddy conditions.
With a full Shimano GRX groupset, designed specifically for gravel grinding, it has reliable shifting and the single chainring drive train means it's simple and precise.
Hydraulic disc brakes will ensure powerful braking on all surfaces and 38mm tubeless ready Hutchinson Black Mamba tyres are designed for maximum efficacy on dry, rolling trails. However these tyres should be swapped out if riding in wet conditions.At an affordable price and with quality components, this is a great gateway bike for getting stuck into some off-road riding.
Both the Triban and Van Rysel bikes sell out often online, so you may need to go in-store to get the top models.
Thank you for reading 20 articles this month* Join now for unlimited access
Enjoy your first month for just £1 / $1 / €1
*Read 5 free articles per month without a subscription
Join now for unlimited access
Try first month for just £1 / $1 / €1