Do you really need mudguards?
A seasonal favourite question that always polarises opinions. Dress your bike for winter, or suck up the muck, asks James Bracey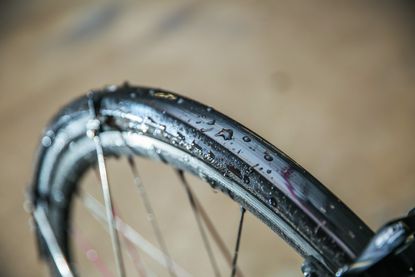 (Image credit: ccc)
As thoughts turn to winter riding it's inevitable that discussion with your fellow riders will focus on the more practical aspects of riding at this time of year. Questions such as how do I keep warm on the bike, do I fit puncture resistant tyres and the ultimate — 'do I need to fit mudguards?' will be asked.
It is a rare rider who prefers the look of mudguards over the uncluttered aesthetic of a summer race bike, and many also find their association with the less 'cool' aspects of cycling such as touring and Audax riding an immediate turn-off.
>>> Best mudguards for winter cycling
However, these superficial shortcomings are not hard to overlook when you consider what a difference mudguards can make to your winter riding. On wet roads, instead of enduring a constant muddy spray from your tyres, mudguards keep you — and the bike — largely dry.
>>> Six moans and truths about winter cycling
Even when riding through the rain, you'll only get half as wet because you're not being showered from below as well as above. What's more, your expensive clothing stays clean(er).
Get your bike ready for winter
As the cycling population of Britain continues to increase, more and more people are discovering the benefits of riding with clubs and groups.
>>> Group riding: How to use hand signals (video)
Many clubs encourage riders to fit mudguards for winter club runs, and if you happen to be the only rider without them on a wet day you may find yourself ushered to the back where your naked tyres can do the least damage — or at least create the least discomfort.
>>> Winter bikes: do you really need one?
Even the pros are getting in on the act, looking at the number of 'Ass-saver' style mudguards fitted during the bigger early season races such as Milan-San Remo to ensure a little 'comfort' during these brutal epics.
A new direction in bike design
Back when 23mm tyres were king, few road frames were designed with sufficient clearances for guards.
>>> Are wider tyres really faster?
In many cases the only decent mudguards that would fit your frame were 'temporary' styles such as the ubiquitous Race Blade by SKS (a great design but not a lot of protection and fell off lots) or the Crud Products Road Racer (more protection but fiddly to fit and prone to breaking).
>>> Winter road bike tyres: a buyer's guide
However, with wider tyres now the norm, and disc brakes growing in popularity, so frame and fork clearances have evolved to meet this demand and utilise the freedom disc brakes give to frame design. The upshot of this means more room to fit mudguards, thus creating the ultimate 'one bike for all seasons'.
Dress right for the colder months
>>> Pro rider tips for winter cycling
Bowman Cycles is a progressive brand that has worked hard to create a range of bikes that have effectively blended practicality with a clean and pretty aesthetic, as founder and designer Neil Webb explains: "By finding ways of either hiding bolt holes, integrating them into frame parts or having custom made, well designed and pretty, removable mounts — we use 3D printing — you can keep the look people seem to want, but also add mudguards when the mercury drops and the sky caves in with never ending precipitation."
What mudguards will fit?
Now obviously not every bike will fit a full set of bolt-on mudguards but that doesn't mean you can't get some really good 'temporary' guard sets that offer great levels of protection such as SKS's Raceblade Long or Portland Design Works' Full Metal Fenders.
>>> Top tips to recharge your body and mind this winter
If your frame has the clearances but no mudguard eyelets you can even buy adapters such as those produced by Axiom to allow you to run 'proper' guards.
If you are lucky enough to own a bike with clearances and mudguards fittings then take your pick of the myriad of good looking guard sets available. Your friends will thank you.
Our take
Unless you are a professional rider paid to suffer or a typical Belgian bred to be impervious to the rain and cold, using mudguards just makes sense. With so many styles now able to fit the majority of new bikes there are no excuses left for not using them.
No one likes being wet and miserable when out, including your riding partners, so you'll avoid having to ride solo all winter due to not being invited on any group rides.
The only question is not do you need mudguards, rather which ones to use?
Do you need them? The experts have their say
Yes: Neil Webb, Founder, Bowman Cycles
People are finally seeing the sense in protecting themselves and their bikes from the rain once the temperatures drop. As more people are coming into the sport it means more year-round cyclists, so it's a self-fulfilling prophecy when it comes to the need for mudguards.
I tend to use full mudguards with extra long, ground-skimming flaps to keep my feet and the faces of those on my wheel as clean and dry as possible.
No: Tom Baylis, One Pro Cycling rider
Maybe it sounds like I'm moaning a bit, but I honestly have a pure hatred for the things. Besides the fact they look terrible, they always break, and rub on the tyres; I'm not certain they even stop the deluge of spray smacking the rider's face behind you.
Anyway, I've moved out to Girona now, so hopefully I won't need them anymore!
Thank you for reading 20 articles this month* Join now for unlimited access
Enjoy your first month for just £1 / $1 / €1
*Read 5 free articles per month without a subscription
Join now for unlimited access
Try first month for just £1 / $1 / €1