10 ways to spruce up your route planning and refresh your library of 'go to' rides
Struggling for inspiration? Bored of the same old roads? Chances are there's more variety out there waiting to be tapped than you think…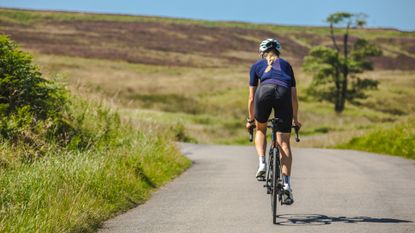 (Image credit: Future)
Get The Leadout Newsletter
The latest race content, interviews, features, reviews and expert buying guides, direct to your inbox!
Thank you for signing up to The Pick. You will receive a verification email shortly.
There was a problem. Please refresh the page and try again.
It's very easy to fall into the habit of using the same old routes every time you head out for a ride. Generally, that's fine: it's nice to ride familiar roads which you know well - there's no worries about getting lost or suddenly finding yourself facing a 20 per cent ramp that you weren't expecting.
That said, discovering new places and keeping your riding fresh has its own joys - the rush of anticipation and the feeling of satisfaction when you find a great new route to add to your riding repertoire.
The great thing is that it's becoming ever easier to plot and find great new routes, thanks to the increasing number of useful features on the best cycling apps. We share how apps can help you find new places to ride - as well as some other hacks.
How to find new places for bike rides
1. Explore your local area using Google street view
Although nothing beats actually riding a road to get a feel for what it's really like, the next best thing is definitely the assiduous route planner's favourite: Google Street View.
You can take a virtual trip down roads by clicking on the on-screen arrows. As a way of 'seeing' what a route is like before you try it, it's fantastic. It can really help you gauge how narrow or wide the road is, and if it has a pretty view.
In the top left hand side of the screen, Google tells you the date that the Street View image was taken - if it was recently snapped, this could also give you an indication of the road surface quality, which could help you avoid pot-hole ridden roads.
Bear in mind that the photos do have a way of hiding how steep hills really are, though…
2. Take a look at local riders' routes on Strava
Ride logging and social fitness sharing website Strava is a fantastic place to see the routes that local riders in your area are taking.
You can get a good idea of which riders are regulars in your neighbourhood by taking a look at the leaderboards of local Strava segments. Click on the rider names and see how they got to and from that segment.
Chances are if someone is a dedicated enough cyclist to work their way up into the top 10, they'll likely also have a good idea of all the best roads in the area too.
3. Use Strava's heatmap
If you are struggling to work out which roads are most likely to be 'bike-friendly', then Strava's heatmaps are a useful place to look.
The global heatmap shows the most popular roads, based on rides users have uploaded onto the platform. The darker the line, the more it has been ridden. The idea is that if a road is a good option for cycling, riders in the local area are more likely to have ridden that road multiple times, making the line darker.
Bear in mind that in urban areas the routes taken by daily commuters often show up the brightest. Sometimes this is because of excellent cycling infrastructure, but other times it's simply a result of it being the fastest route from A to B - and the roads aren't necessarily enjoyable to ride.
Using the heatmaps in conjunction with Street View and getting an idea of the loops people have been doing from the Strava Segment leaderboards are handy ways to cross-check.
4. Check out komoot's Trail View feature
If you're into gravel riding, this tip is definitely one for you. The Trail View feature on komoot's route planner is really useful for discovering and scouting out new off-road routes before setting off.
While it can be really fun exploring new places out in the wilderness, overly long hike-a-bike sections can put a downer on a ride. Not only can cycling shoes be uncomfortable to walk in over longer stretches, hike-a-bike sections can significantly add time onto your ride, shattering any post-ride plans you have.
As komoot sums up: "Clear information about the condition and composition of the trail will help […] gravel cyclists to avoid paths with rocks - increasing the likelihood of Type 1 fun all-round."
With komoot's Trail View feature, you will see photos of the trail taken by other komoot users who have been on that trail already. These photos are indicated by a green dot on the komoot's route planner map.
5. Follow recommended routes by Strava
Strava can now do all the hard (although arguably fun) route planning work for you, with its ready-made route suggestions that are based on what's popular in your local area. You'll find these under the 'Map' button on the bottom navigation bar of the Strava app.
Strava defaults to using your current location as a starting point for these routes, but you can click on the search bar to adjust where the suggested ride begins.
There's quite a lot of scope for finding a route that suits what you're looking for. Strava lets you adjust your distance preference (with options from 2km to 160km), elevation preference (any, flat or hilly) and surface type (any, paved or dirt).
Essentially, this is a great option if you're looking for a new route but don't have time to plot one out.
6. Join a local rider on a ride
If you usually go out riding on your own, why not try meeting up with a local rider who could show you some routes? If you know one or two local riders of a similar ability why not join them for a ride?
Chances are they will know of routes and lanes that you don't - and equally, you could suggest new routes to them, too!
7. Join a cycling club
Taking things a step on from the last tip, there's no better pool of knowledge about your local routes than your nearest cycling club.
Collectively, the club members will have ridden every lane, road and byway in a large radius. Most clubs have one or two group rides every week, and with groups of varying ability and a variety of distances to ride.
As well as finding new places to ride, you'll also hook up with a group of like-minded people and it is great fun riding along in a group.
8. Ride a sportive or gravel event
Rather than sticking to your local roads, you could travel further afield and explore an entirely new area.
One of the easiest ways to do this is to take part in a sportive or gravel race. There are now literally hundreds of these chip-timed mass-participation events around: it's easy to find one in an area you're interested in, and on a date that suits you.
The routes are way marked, meaning that you don't have to worry about which way to turn. You'll also have food and drink provided en route at the feed stations and there will be mechanical back-up if you need it.
If you have other plans on the day of the event, you could always follow the route another day (without all the support of course).
9. Follow your local Pioneer on komoot
Route planning app komoot has a community-based system to help you find the rider who has created the best and most informative routes in your local area. Expect beautiful photos and insightful tips to accompany the routes from these experts.
Essentially, the riders with the most 'upvotes' in your region are spotlighted by komoot as a 'Pioneer' - there's only one Pioneer per region. Upvotes are given by other komoot users based on the photos and tips that the rider has shared with their routes.
You can find and follow your local Pioneer following this link here.
10. Take an unfamiliar side road
Or… you could put the tech to one side and go off the beaten track to discover fantastic new roads to ride. It may seem the most obvious thing to say, but why not turn down a side road you have never ridden along before, instead of ploughing on with your regular route?
Chances are, the roads and lanes you typically ride on are peppered with lanes branching off them. Some are clearly signposted with regard to their destination, and some aren't.
Go on, take a risk and take a turn to explore what's down it.
The worst that can happen is that you'll have to turn back at some point - but nothing ventured, nothing gained. Although you can look at maps and study aerial photos online, you can never truly tell what somewhere is like until you've travelled down it on two wheels.

If you're looking for some specific route-planning advice, here you can find tips on how to plan a bike route for your commute to work. And if you're heading off-road, we also have guidance on how to plan new gravel routes over here.
Thank you for reading 20 articles this month* Join now for unlimited access
Enjoy your first month for just £1 / $1 / €1
*Read 5 free articles per month without a subscription
Join now for unlimited access
Try first month for just £1 / $1 / €1
Get The Leadout Newsletter
The latest race content, interviews, features, reviews and expert buying guides, direct to your inbox!