Gravel races near you: a guide to the 2023 gravel season
Looking to get graveling? We've got you covered with events around the globe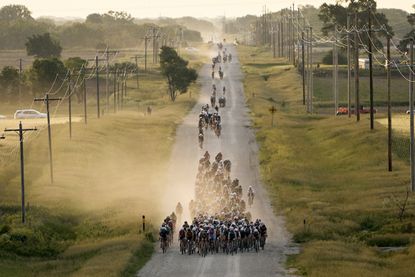 (Image credit: Life Time)
Gravel cycling races, also known as gravel grinders, have gained huge popularity in recent years as more and more cyclists seek out new challenges and experiences on the roads less traveled.
These races typically take place on unpaved roads, offering a unique and adventurous twist on traditional road racing. Gravel cycling races can vary in length, terrain and difficulty, with some events covering hundreds of miles over rugged terrain. Whether you're a seasoned cyclist looking for a new challenge or a beginner looking to try something new, gravel cycling races offer a thrilling and rewarding experience. In this guide, you'll find gravel cycling races far and near — so grab your bike, some snacks, and let's hit the gravel!
Top US Gravel Events
UNBOUND Gravel
Registration: Opens annually on December 1 for the XL, early January for the other distances, including the flagship 200-mile event.
Event date: June 2-4
Location: Emporia, Kansas
Unbound Gravel, formerly known as the Dirty Kanza, is a mass-start event that takes place in the Tallgrass Prairie and Flint Hills around Emporia, Kansas, in the middle of the United States. With five race distances on offer and thousands of attendees, Unbound has become the world's marquee gravel event.
The famous 200-mile course is a true test of endurance, self-sufficiency and equipment. In addition to needing to fuel oneself for 11+ hours of riding, the sharp flint rocks are notorious for slicing tires and dashing podium aspirations.
Due to high demand, the event organizers are unable to accommodate everyone who wishes to participate in Garmin UNBOUND Gravel. Therefore, a random selection process determines who will be allowed to participate in the 2023 event. When registration opens, you're entered into a lottery. Those selected to participate in Unbound will be notified at the end of January.
SBT GRVL
Registration: Open
Event Date: August 20, 2023
Location: Steamboat Springs, Colorado
Coming up on its fourth year, SBT GRVL has quickly established itself as one the largest and most prestigious cycling events in the world with some 3,000 registered riders from 24 countries and all 50 U.S. states competing across four routes.
The premier event is the 142-mile "Black" course, with approximately 9,200 feet of climbing on the famous Colorado "champagne gravel."
For the toughest of competitors there's also the 'Leadboat' double whammy, in which riders tackle the infamous Leadville 100 mountain bike race and the 142-mile SBT GRVL race in one weekend.
Like Unbound, the demand for SBT GRVL is greater than the organizers and small mountain town can handle, and this a random selection process is in place for all wishing to enter the event.
The Belgian Waffle Ride
BWR Arizona: Registration Event date: March 4-5 Location: Scottsdale, AZ
BWR California: Registration Event date: April 14-16 Location: San Marcos, CA
BWR Canada: Registration Event date: May 26-28 Location: Vancouver Island, BC
BWR N. Carolina: Registration Event date: June 9-10 Location: Asheville, NC
The Belgian Waffle Ride a.k.a "the unroad race" is now entering its 11th season, and is more popular than ever before. It's also making its first trip out of the country, with an all-new event offering in Canada.
When Michael Marckx created the original Belgian Waffle Ride in 2011 in San Diego, California, he never aimed for it to be a gravel race. As the years went on, Marckx and his participants embraced increasingly technical and off-road terrain. Today, BWR is a series consisting of 4-6 events and is fiercely contested by pro road and gravel racers alike.
There are several race distances on offer, but all promise plenty of "suffering over sinuous, bone grinding roads fraught with arduous climbs, mud, chocking dust, leg-numbing sleet or heat and winds."
The Mid-South
Registration: Not yet open for next year
Event Date: March 2024
Location: Stillwater, Oklahoma
Mid South, formerly known as Land Run, Is getting ready for its 11th edition, and is by many considered to be the gravel season opener.
Thousands of racers make the trek to the remote location of Stillwater, Oklahoma, to contest the infamous red clay roads in either the 50-mile or 100-mile race.
While the racing within the peloton is fierce, perhaps the biggest competition, however, comes from the weather and the consequent road conditions. Every year, the race is defined by the state of Oklahoma's red dirt. If dry, the red roads are hard packed and fast. If wet, the clay turns to thick, soul-sucking mud that's barely rideable and is known to destroy many a drivetrain.
The gravel races is held in in conjunction with an ultra trail running events and those with energy to burn can sign up to do "the double": a 50K running race followed by a 100-mile gravel bike race the following day.
Rebecca's Private Idaho (RPI)
Registration: Open
Event Date: August 30 - September 3, 2023
Location: Ketchum, Idaho
Rebecca's Private Idaho is the brainchild of celebrated endurance racer Rebecca Rusch. Nicknamed "The Queen of Pain", Rusch a professional athlete, entrepreneur, filmmaker, author, philanthropist and firefighter. She's got seven world champion mountain bike titles to her name along with a long list of national and world titles in whitewater rafting, adventure racing, orienteering and cross-country skiing.
Yet, despite being a racer at heart, Rusch's main reason behind launching her Rebecca's Private Idaho gravel event in 2013 is showcasing her chosen home in central Idaho many, many miles of scenic, unpaved roads.
A challenging event, RPI is a race for some, a ride for others and a great party for everyone. It's well-recognized as one of the world's largest and most popular gravel cycling races.
The event consists of a four-day Gravel stage race and several one-day gravel grinders ranging between 18 and 100 miles.
Barry Roubaix
Registration: Open
Event Date: April 15, 2023
Location: Barry County, Hastings, MI
The Barry Roubaix is one of the oldest gravel races in America and was started long before the gravel name had even taken hold.
"There's a lot of hypotheticals out there as far as what really started 'gravel' racing in the area," Scott TenCate, Barry Roubaix Co-Race Director, told Cycling Weekly.
"But here in Michigan we have very cold winters and coming into the spring, a lot of the mountain bikers couldn't ride the local trails, because we had the freeze thaw that was going on. And so they were finding alternatives to being able to ride single track and from the stories that I've heard, it kind of started to migrate towards 'Let's ride some dirt, gravel, seasonal roads'...that kind of stuff."
Nowadays, the Barry Roubaix is among the biggest gravel races in the world with 4,000 cyclists traversing the rolling Michigan terrain every year.
The Barry Roubaix offers four course options ranging between 18 and 100 miles, $40,000 in awards cash and prizes and a big afterparty for all.
Crusher in the Tushar
Registration: Waitlist, except for Women who Crush
Event Date: July 8, 2023
Location: Beaver, Utah
Crusher in the Tushar bills itself as "the toughest 69.9 miles on the planet". It's a 60/40 split of gravel and tarmac, and is featured on the Lifetime Grand Prix. The appeal of the race is its remoteness. The race is held in the often overlooked Fishlake National Forest outside of Beaver, Utah. See several peaks over 12,000 and stunning backcountry in the Tushar mountain range.
The race happens in early July, giving you a chance to escape some of the summer heat with alpine miles. Registration filled up within 4 days, but 100 additional spots were recently added for Women who Crush.
Vermont Overland
Registration: Open for Women
Event Date: August 26th, 2023
Location: West Windsor, Vermont
Vermont is quickly becoming one of the premiere spots for gravel in the US. If you want to see what all the fuss is about, the Vermont Overland is a good introduction.
The Vermont Overland is a 55 mile road over what Vermonters know as "Class 4" gravel roads. These roads are unmaintained, wild roads that are often barely roads at all. The event is held to support local food pantries, but it's no easy race with 7,000' of climbing throughout the course.
The Overland organization that holds the event is rapidly expanding, with a new run this year, and an upcoming backcountry ski race. Registration begins January 1st for this August race. 18 and under can register for free.
Big Sugar
Registration: Open
Event Date: October 21, 2023
Location: Bentonville, Arkansas
Big Sugar is a LifeTime grand prix event held in Bentonville Arkansas. The area has been making a name for itself in the cycling world the last few years, and only looks to expand.
The gravel race covers 100 and 50 miles, and the adjoining MTB race (Little Sugar) covers 3 distances up to 100k.
The event is hailed as the gravel season closer, taking place in October. See "the remote and rugged highlands of the Ozark Mountains in Northwest Arkansas and Southern Missouri."
Registration begins March, so if you miss some of the other big races, this is a good one to try for.
Gravel Locos
Hico
Registration: Opened September 4th
Event Date: May 20, 2023
Location: Hico, Texas
Pueblo
Registration: Opened January 21st
Event Date: September 20th, 2023
Location: Pueblo, Colorado
Gravel Locos puts on two events, one in small town Hico, Texas, and one in mountain bike destination Pueblo, Colorado.
The event traverses scenic (and hilly) North Texas or mountainous southwest vistas. It's more under the radar than some of the other events, but attracts world class talent every year. This year you can expect to touch elbows with the likes of Laurens ten Dam, Nicholas Roche, Niki Terpstra, Alex Howes, Ted King, Ivar Slik and many more.
If you want to be in the "loco" category, the 150 mile race is for you. There's also a 30, 60, and 100 mile race for those a little less loco. The Hico event advertises routes from "the heart of the heartland". The races are to sponsor local volunteer fire departments, so it's a great cause and a fun reason to travel.
Top UK Gravel Events
The Dirty Reiver
Registration: Open
Event Date: April 21-23, 2023
Location: Kielder Forest, UK
UK's answer to American gravel racing comes in the form of the Dirty Reiver. Now in its 9th year, the Dirty Reiver is the biggest gravel event in the UK and held in the Kielder and Wark Forest on the border of England and Scotland.
Big forests, lots of hills and endless k's of unpaved trails make the perfect location for a gravel event, which takes its participants to new vistas and areas of the wooded region year after year.
The mass-start event offers challenges of three lengths, 65km, 130km or 200km —all held exclusively off-pavement.
Dirt Dash
Dorset Dirt Dash
Registration: On Site Registration
Event Date: May 27-28, 2023
Location: Swanage, UK
Dunoon Dirt Dash:
Registration: On Site Registration
Event Date: September 23-24, 2023
Location: Dunoon, UK
The Dorset Dirt Dash was one of the first gravel events in the UK, and the Dirt Dash series has been expanding to include other areas of the UK such as the Dunoon Dirt Dash.
The Dorset event has the mind-blowing beauty of the Jurassic Coast, and takes you all around the scenic Isle of Purbeck. The Dunoon edition, launched in 2019, takes you around the Cowan peninsula near Glasgow.
There are currently two options for each event, a 100km race and a 5050 race that splits the 100km route into a two-day self-supported bikepacking event. The event places itself not as a race so much as a community gathering, and the communal attitude and shared suffering makes for a memorable experience.
Galway Gravel Grinder
Registration: Open
Event Date: August 26, 2023
Location: Moycullen, Co. Galway, Ireland
The West coast of Ireland is famed for cycling holidays for the Wild Atlantic Way. Experience the center of that route with the Galway Gravel grinder.
A nod to the Galway Classic road race, the Galway Gravel Grinder features multiple road surfaces, including the "boreens" or cow roads only found in Ireland.
The beer is good, the people are friendly, and the gravel is excellent. Ride in 3 different route lengths, 65km (the Craic), 100km, and 125km.
RAIDERS GRAVEL
Registration: November 22, 2022
Event Date: August 31-September 3rd, 2023
Location: Galloway Forest Park, UK
The Raiders Gravel is a 4-day, 3-stage gravel ride through the Galloway Forest Park in Scotland. It's a beautiful setting, with grueling climbs and sweeping vistas.
The event is put on in a unique UNESCO biosphere, passing the wild lochs and glades of South-West Scotland.
The routes haven't been unveiled yet, but will be between 65 and 85 km, and significant climbing. The race can be rode as a team of two or solo.
Lake District Gravel Epic
Registration: Open
Event Date: July 15, 2023
Location: Coniston, UK
What would a list of UK gravel rides be without the Lake District? The rugged mountains, stunning national park, and recreation opportunities throughout make it a perfect place to have a gravel grinder.
This event crosses fine former fire roads. You can run thinner tires than many of the chunkier races we have listed.
There are a few shorter, chunky sections, but the brave can underbike those. This race has 3 lengths, all a little irregular. 93km, 73km, and 59k are your distances of choice.
Lakelander Gravel Grinder
Registration: February 15, 2023- October 1, 2023
Event Date: October 7, 2023
Location: Belcoo, Co. Fermanagh, UK
Explore Northern Ireland over two distances: the Little Dog (50km) and Big Dog (100km).
The Lakelander will take you over remote lands, a few Game of Thrones locations, and some tough climbs.
The gravel roads are wild and unmaintained, covered by more cows than people. County Fermanagh is off the beaten path for most people visiting Northern Ireland, so this is a great way to see a part of the country you otherwise wouldn't.
There's a lot of fun travel gravel grinders, and this is an easier one with scenic views.
Top Gravel Events in Mainland Europe
Nature is Bike
Registration: March 1, 2023
Event Date: June 16-18, 2023
Location: Angers, France
The Nature is Bike event is a weekend long event that seeks to meld an appreciation of nature with a love of gravel cycling. There's entertainment, food, a gravel and bikepacking expo and more, just outside of Paris.
The event has a long 310 km epic as well as shorter rides. The distances are 200 km, 100 km, and 40 km if you don't want to ride the full epic. You'll get to cross the historic beaches of Normandy and go all the way to the scenic Loire valley.
GRAVEL RALLYE SERIES
Rhine Valley Registration: January 25, 2022
Event Date: October 14-15 2023
Location: Kaiserstuhl, Germany
Black Forest Registration: March 1, 2023
Event Date: July 22-23, 2023
Location: Baden-Wurttemberg, Germany
These two German events will let you tour two of the most iconic landscapes in Germany. The Rhine valley and the fairytale Black Forest are your two options for the Gravel Rallye series.
The ride is 80% off-road, and you can have fine German wine or beer after you finish. The races go from 65 km all the way to 160 km. Enjoy the scenic German countryside- the Rhine Valley starts at a winery, and the Black Forest at a health spa, so there's no shortage of pre and post-race activities.
Badlands
Registration: Waitlist
Event Date: September 3, 2023
Location: Andalusia, Spain
The Badlands ultracycling event is rapidly gaining fame in the gravel world. It bills itself as "the wildest bikepacking off road challenge in Europe" and with 16,000 km of climbing, it's hard to argue.
The 8,000 km multi-day event challenges even the best racers, and if you're looking for a scenic challenge in Spain, you can't do much better than this.
The Traka
Registration: December 1, 2022
Event Date: April 29-30, 2023
Location: Girona, Spain
Girona, Spain, long known as the home-away-from-home for WorldTour pros from around the world is also becoming a bit of a gravel paradise. And the Traka is a premier event.
It has 4 distances, 360 km, 200 km, 100 km, and 50 km. Mix the old scenic architecture of Girona with the beautiful hillsides, and you get an event as classic as The Traka Girona. The race is part of the Gravel Earth series, with other races ranging as far as East Africa.
Octopus Gravel
Registration: November 24, 2022
Event Date: July 1, 2023
Location: Andermatt, Switzerland
One-hundred-fifty-five kilometers in the Swiss Alps. Octopus Gravel is the meeting point for gravel enthusiasts and mountain lovers. There are 7 different dead-end gravel routes that all meet back at Andermatt. These are the 7 legs of the race (where the 8th leg went, we don't know.). There are 3 timed climbs, and a great area for camping.
Top Gravel Events in Scandinavia
FNLD GRVL
Registration: Opened Nov. 15
Event date: June 10, 2023
Location: Lahti, Finland

In August, we had the chance to go explore some of Finland's gravel offerings with none other than Formula 1 star Valtteri Bottas, and now you can too!
Bottas, Amy Charity and the team behind SBT GRVL today announced that the much-anticipated (and equally vowel-less) FNLD GRVL event will make its debut on June 10, 2023 and registration is open!
The inaugural FNLD GRVL will be held in and around Lahti on the edge of Finnish Lake Region, just an hour's drive north from Helsinki. The region is defined by more than 55,000 lakes that dot a forest-covered plateau and also houses the highest point of Southern Finland, Tiirismaa, which tops out at just 223 meters (732 feet), meaning that breathing comes easily and hard efforts can be sustained.
The Rift
Registration: Wait List
Event Date: July 22, 2023
Location: Hvolsvollur, Iceland
The Rift is part of the 2023 Gravel Earth Series. A 200 km off road challenge, this race takes you through the dark lava fields in the highlands of Iceland, traversing the continental rift between North America and Eurasia. The rift grows an inch every year, and the evidence of this growth can be seen in the vast lava fields that create a surreal and otherworldly landscape.
Iceland presents an opportunity to push yourself to new limits, to explore a truly unique landscape, and to experience the thrill of adventure in one of the most beautiful places on earth.
The Bright Midnight
Registration: November 8, 2022
Event Date: July 9, 2023
Location: Tolga, Norway
The Bright Midnight is an exciting bikepacking event that takes riders on a journey through some of the most beautiful and rugged landscapes of Norway. The event starts and finishes in the charming little mountain city of Tolga, where riders set off on a thrilling adventure that showcases the best of Norway's natural beauty.
The route of The Bright Midnight takes riders through highlands, endless gravel roads, and winding mountains, connecting the summer farms that dot the landscape. The scenery is truly breathtaking, with stunning vistas and majestic peaks that stretch as far as the eye can see. Gear up for a thousand kilometer journey, supported by only what you can carry!
Gravel Grit 'N Grind
Registration: Open now, License Needed
Event Date: August 18-20, 2023
Location: Halmstad, Sweden
Gravel, Grit 'n Grind is an event that you don't want to miss. This three-day stage race, part of the 2022 Trek UCI Gravel World Series, is a chance to experience the beauty of Swedish cycling in a completely new way.
The event offers a variety of races to choose from, including a 23km time trial on Friday, a long gravel race of either 124 km or 92 km on Saturday, and a shorter gravel race of 80 km on Sunday. The second day will also function as the Swedish Gravel Championship if you're a Swedish Citizen. Whether you're a seasoned gravel racer or a newcomer to the sport, there is something for everyone at Gravel, Grit 'n Grind.
In addition to the races, Gravel, Grit 'n Grind also offers a chance to connect with pro cyclists, and enjoy the local culture and cuisine. Whether you participate in a single race, two stages, or the full three-day stage race, you will leave with unforgettable memories and a new appreciation for the beauty of cycling on gravel roads.
Top Gravel Events in Asia
Grinduro Japan
Registration: January 30, 2023
Event Date: October 7-9, 2023
Location: Hakuba, Japan
The Grinduro series is coming to Japan this year!
Started in Quincy, California, in 2015, Grinduro is one of the most unique racing formats one will can do on a (gravel) bike.
In short, Grinduro takes its format from the enduro racing of the mountain world. In this racing format, the race is made up of several timed downhill sectors. The transfer and uphill section in between the stages do not count towards your time.
And so, Grinduro is one long loop of pavement and dirt, where finishing times aren't based on overall loop time, but on four timed segments.
While the racing can be taken serious by some, an equally big part of the Grinduro experience takes place off the bike. Camping, live-music, food and a bike festival are all part of the weekend — a formula that caught on globally.
There's live music, camping, food vendors, and art shoes. It's in the beautiful Hakuba alpine village. The race is 100 km and there's also a shorter 40 km "Grindurito".
Silk Road Mountain Race
Registration: December 16, 2022
Event Date: August 12th to August 26th, 2023
Location: Kyrgyzsta
The Silk Road Mountain Race is a "fixed route, unsupported, single-stage cycling race through the mountains of Kyrgyzstan. The clock does not stop and there are no prizes" according to the website. It has little paved roads and follows old soviet roads in deep disrepair. It's only a single stage race, and crosses 1880 km. It is akin to the Great Divide Mountain Race, but crosses Kyrgyzstan east-west, tracing the historical route of the Silk Road famously crossed by Marco Polo.
Korea Epic Ride
Registration: March 1, 2023
Event Date: June 18, 2023
Location: Chuncheon, Gangwon-do, Korea
The Korea Epic Ride goes 623 km across the mountains and coasts of South Korea. It crosses paved roads as well as unpaved forest roads. It is a self-supported bikepacking ride that shows off the wilds of Korea. If you want a gravel only ride, there's also a 57 km gravel fondo. Many of the races or events in Asia are longer, more epic, and it's easier to find self supported bikepacking races than straightforward gravel races.
Top Australian Gravel Events
Giro Della Donna
Registration: Early Bird Open
Event Date: November 24-26, 2023
Location: Warburton, Victoria, Australia
This festival of road and gravel cycling is based in the picturesque Yarra Valley town of Warburton, just 90 minutes east of Melbourne, Australia.
It kicks off with the Serata Coppi, an opening night dinner event that sets the tone for the weekend. On Saturday, there's the Gravel Giro and the Piccolo Giro family ride, offering a variety of routes and distances to suit riders of all levels and interests.
The centerpiece of the weekend is the Giro della Donna 125 km gran fondo on Sunday, a challenging and scenic road ride that takes you through the stunning Yarra Valley and the surrounding mountains. Along the way, you will encounter challenging climbs, thrilling descents, and breathtaking scenery that will leave you with unforgettable memories. The event was originally set for April 1st, but was postponed due to road damage until November 24-26.
The Dirty Pig and Whistle