New Loox Varo Backpack Pannier review - detachable shoulder straps will work for some, but there are more elegant solutions
A decent two-in-one pannier and backpack but dual purpose comes with plenty of compromises; it's not remarkable at being either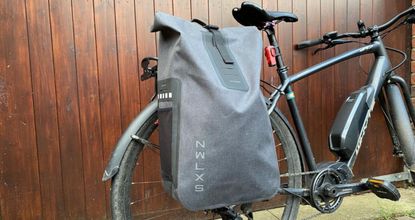 (Image credit: Emma Silversides)
The New Loox Varo Backpack is really well-made with a capacity to satiate most commuters, plus a well designed tablet/laptop sleeve. Attachment to the rack is secure, though rather fiddly. As a backpack, it's comfy and convenient. If you're a fair weather commuter, this should serve you well. If you venture out in all weathers, you'd better stow the shoulder straps away while riding and carry a cloth to wipe down the rear of the pannier before you sling it on your back... There are bound to be compromises when something is trying to be two different things - the Varo is a decent pannier and rucksack but it's not outstanding as either.
Reasons to buy
+

Generous capacity

+

Well-made

+

Comfy backpack

+

Internal detachable neoprene sleeve
Reasons to avoid
-

May intefer with rear mech

-

Attachment to rack is fiddly

-

Backpack compromised in damp conditions
You can trust Cycling Weekly. Our team of experts put in hard miles testing cycling tech and will always share honest, unbiased advice to help you choose. Find out more about how we test.
New Loox wasn't a brand familiar to me prior to this test. However, the company has actually been around since 1948, admittedly just a small family affair specialising in leather bike baggage in its infancy. Maybe the Burger family were to the Dutch as Brooks were to the English.
Companies expand, though, and manufacturing is outsourced. Unsurprisingly, New Loox baggage isn't made in Holland anymore. But the brand still claims to offer the high quality and impeccable customer service that was originally associated with the company.
Browsing New Loox's website, it's clear they are doing everything they can to meet the varied demands of cyclists; they have no less than 17 collections featuring 117 different pieces of luggage. I was keen to see if the New Loox Varo Backpack did all the things it claimed, both on and off the bike - and how it compared to the best commuter backpacks for cycling and the best bike panniers.
New Loox Varo: construction
The main body is a waterproof 420D polyester with welded seams, a roll-top closure and single, central buckle. Hooks mounted on a Racktime rail system attach to pannier rails with a spring mounted lever and lower Velcro strap holding it in place. New Loox claims it fits tubes with diameters measuring between 10 and 16mm (using supplied adaptors).
Image 1 of 2
The 29 x 50 x 15cm bag offers a 22 litre capacity and weighs 1.3kg. Inside, there's a detachable neoprene sleeve designed for a tablet/laptop, plus a small zip pocket on the sleeve and a key hook.
Image 1 of 2
Padded adjustable shoulder straps, together with chest and waist straps, can be used to carry the pannier as a rucksack when it's removed from the bike. A large cushioned flap folds down to cover the hooks, providing protection for the upper back. All straps are fully detachable.
Externally there are two elasticated side pockets and reflective detailing. It's possible to attach a light to the front or sides of the bag thanks to the dedicated mounting slips.
The ride
Mounting the rack is simple and adjustment is tool-free. Two hooks sit snugly on the rack's rail and slide into the required position. A central locking clasp then holds the pannier on the rail. Since I've only been testing for six weeks, I can't really say if this tool-free system will stand the test of time.
The hooks sit reassuringly snug on the rail but this could go either way; they could become loose resulting in play, or grit and grim could work its way and hinder movement. Regular cleaning and occasional movement here may avoid the latter.
A long Velcro strap sits on the lower section of the pannier to hold it against the rack. It's placed considerately to fit most styles of rack (I've used it on every one I own). That said, it's not as user friendly as an arm; getting a snug closure is fiddly, especially if you have a fender / mudguard mounted.
Even so, it falls in-line with the panniers' second function as a rucksack; no one wants a plastic arm digging into their lower back. Again, I've got personal reservations about the long term performance of a strip of Velcro here; in time, dirt and grime could affect grip.
In the six weeks of testing, I've had no reason to question or fault the attachment set-up in terms of performance. The pannier has been primarily used on my e-bike for commuting and it's remained securely in place without rattling or excess movement, the back side is rigid and hasn't sagged towards the wheel.
Despite being secure, the pannier is far from 'niggle-free' when mounted; there are several things that aren't ideal, though some can be overcome...
Depending upon your bike's geometry and rack positioning, the pannier has the potential to interfere with rear mech cabling. It touched the cable on mine but didn't affect shifting. Mounting on the non-drive side will get around this issue.
New Loox's Railtime system requires you to press the central clasp to release the pannier from the rack and simultaneously lift it - it's a two handed job. In addition to this, reaching between the wheel and pannier to undo the Velcro strap is a faff, particularly with cold hands and fender / mudguard stays.
If you opt to leave the shoulder straps on the pannier while it's mounted, they need to be secured around the front side to prevent them flailing about. With plenty of spare strap, you'll want to be cutting them down or doubling them back on themselves too.
Leaving them attached makes things quick and easy for bike-walk transitions. On the downside, it means they're exposed to dust, dirt and the elements, rain being the worst case scenario. Their waffle like construction means they act like a sponge when sprayed with water.
The roll-top closure works as it should but, in my opinion, there needs to be a couple of extra inches the top edge, or additional lateral clasps. As it is, only two rolls are possible, and that's a struggle when the pannier is full. This leaves the edges a little exposed making water ingress a possibility. I'd say the single closure strap makes things convenient in terms of access but works against water-tight properties.
Indeed, New Loox only claim an IP3 rating despite also claiming the Varo to be 'made from 100% waterproof nylon'. IP3 means it can 'withstand water sprays up to 60º from vertical', so the potential of ingress at the opening during heavy rain is realistic. I've had it out in the rain without issues, I've also taken in the shower and directed the shower head straight at the roll-top for 5 minutes... it withstood this too.
The Varo Backpack has heaps of space inside. For me, it's length is particularly appealing; it accommodates a rather large laptop case that no other pannier I've tested can handle. The stiff plastic insert protects contents from vibrations and the neoprene sleeve is further protection should you chose to use that. It fits my 15" laptop perfectly. Being able to pull the sleeve out of the pannier when you pop into a shop or cafe is really handy, avoiding taking the pannier off completely.
Even with a laptop in situ, there's plenty of place for more gear: clothing, food, spare lights, etc. If it's not fully loaded, the pannier holds it shape well; the fabric doesn't sag or flap about. The rigid plastic back and base insert help with this. The latter isn't removeable but will fold up.
Exterior pockets are handy, though top edge lacks elasticity, so they're not overly secure. I tended to stuff gloves and lights into them while faffing about near the bike, or in transit from bike to destination. Depth here is a bonus.
Loops for extra lights, plus a small amount of reflective detailing, make the exterior look sleek and add functionality. Bolder reflective patches wouldn't go amiss in my opinion.
As a backpack, the Varo is refreshingly comfortable; the padding at the rear does a great job of cushioning your back. Wandering around with it for anything between 20 minutes and an hour was absolutely fine. The straps are well-padded and shaped considerately with an adjustable chest strap. I never really felt the need to use the waist strap. That said, it's worth having it stowed away in the pannier though; it's great for securing shoulder straps when the pannier is on the bike.
Image 1 of 2
Value and conclusion
A well-made pannier and rucksack for £100.00 isn't extortionate. Craft Cadence's $108.99 / £89.99 Metro Backpack Pannier is a good comparison that potentially gets around the 'straps-exposed-to-elements issue', providing the zip is water tight.
Ortlieb has a more expensive offering with its £140.00 Vario PS Pannier Backpack which Cycling Weekly's Tech Features Editor Stefan Abram used for his two-week urban and gravel adventure from Budapest to the mountains of Slovakia.
There aren't a huge number of manufacturer's offering dual-function luggage, perhaps for the reason that there are inevitable compromises so demand isn't actually that big.
In the past, I've popped a quality, comfy rucksack into a pannier and simply pulled it out at my destination... this means, despite potential capacity compromises, there are no compromises on performance of either.
The Varo Backpack doesn't come without niggles, admittedly some are surmountable. It's certainly well-made and does a decent job of being both a pannier and a rucksack, just not an outstanding job of either.
Specs
Material: Waterproof Nylon
Capacity: 22 litres
Colours: Black, Grey
Weight: 1,33 kg
Dimension: 29 x 50 x 15 cm
Fixer: Racktime rail system
Thank you for reading 20 articles this month* Join now for unlimited access
Enjoy your first month for just £1 / $1 / €1
*Read 5 free articles per month without a subscription
Join now for unlimited access
Try first month for just £1 / $1 / €1