Bombproof, all-metal and made in the USA: 1UP USA's Super Duty Double hitch rack reviewed
'I would trust this rack with my most beloved bikes on even the bumpiest terrain. My car's shocks will give out before this rack would.'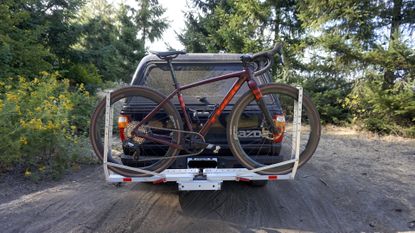 (Image credit: Anne-Marije Rook)
1UP's reputation and almost cult-like following is deserved. The 2-Inch Super Duty Double hitch rack stands out for its ease of loading, robust construction and durability. This rack will likely last you until your final riding days, and its modular design will allow the rack to adapt with you as your needs change. It's only the rack's cumbersome tilt-release that's holding it back.
Reasons to buy
+

Durable, metal construction

+

Easy bike loading and off-loading

+

Easy installation

+

Collapsible for storage

+

Carrying capacity of up to 225 lbs

+

Rattle-free, even off-road
Reasons to avoid
-

The tilt lever is hard to reach

-

Tilt mechanism is a tad cumbersome
You can trust Cycling Weekly. Our team of experts put in hard miles testing cycling tech and will always share honest, unbiased advice to help you choose. Find out more about how we test.
With its gleaming aluminum construction and minimalist design, the 1UP USA hitch racks are easily the most recognizable and unique bike rack systems in any trailhead parking lot.
Founded in 2000 in Wisconsin, 1UP USA has been growing a steady following of bike enthusiasts seeking the burliest of hitch racks. Its products are well-regarded for their innovative design, sturdy construction and ability to securely transport bikes of all sizes without frame contact.
Designed and manufactured in the Midwest, 1UP says it has one aim: to make transporting your bike and gear easy. It strives to do so by combining "superior materials and craftsmanship with a keen understanding for what you need to get your bike and gear to your next adventure."
And what we need, it appears, is a product that's sturdy and durable above all else. 1UP's racks are, indeed, unlike its competitors. For one, there's barely any plastic in sight. There's an aluminum base, stainless steel hardware, anodized finishes to prevent rust and corrosion; every part is bolted on and replaceable.
Durable construction aside, the genius of the 1UP racks lies in their simplicity. The tray system relies on two spring-loaded arms and a ratcheting mechanism to secure the bike's wheels in place instead of the frame. No straps, no frame clamps, no hassle. 1UP claims it has the fastest hitch-mounting and bike-loading rack on the market.
I had the privilege of using the 1UP USA 2-inch Super Duty Double hitch rack for the past months to put the claims to the test.
The 1UP Super Duty Double Hitch Rack - spec's
Fits 2" receiver
Fixed 2-bike system with option to add more
Total carrying capacity of up to 225 lbs (50-75 lbs per bike spot)
E-bike compatible
Fits wheels 16" – 29", up to 3.1" wide (spacer kit available for fat bikes)
Accommodates bikes with a wheelbase up to 54"
Compatible with a variety of accessories
Rated for pavement, gravel, and off-road
Hitch bar has built-in anti-wobble mechanism
A tilt and folding mechanism for a smaller footprint
All rack parts are anodized, except a powder coat finish on the trays (in black and silver options)
Rack Weight: 47lbs
Cost: $680
Installing the hitch rack:
As mentioned, the 1UP rack is super sturdy and made of quality metal components. As a result, it sports a very industrial look, which I find rather attractive.
Unboxing the rack, I was pleasantly surprised that despite its metal construction, it's only mildly heavy at 47 lbs. Light enough for a one-person installation.
First-time use of the rack requires minimal assembly. The trays ship in their folded-up and locked state. This gives the rack a smaller footprint for storage should you want or need to take it off your car. To unfold the trays, one turns the blue levers, folds the trays down into their extended position and turns the levers back into the locked position. Everything moves a little stiffly, but this is on purpose, as it's meant to prevent any play or wobbling in the system.
The rack was designed around a 2-inch hitch receiver, but 1UP does offer a variety of adapters on its website to accommodate a variety of receivers. Once the trays are unfolded, you insert the hitch bar into the receiver. This is when you'll likely notice a fair bit of play in the system and again, that's by design. The hitch bar has a built-in anti-wobble mechanism called the "corner expander ball." Using the supplied hollow Allen wrench, this little steel ball will expand (or retract) to secure the hitch bar in place. This mechanism promises to eliminate all play within the hitch receiver and offers flexibility in receiver length and rack position.
And that's it. The rack is ready to use.
The rack does come with a keyed hitch lock, which locks the rack to your car's hitches by passing through the hitch pin holes.
Loading and unloading bikes:
1UP's patented design secures a bike's wheels onto the rack rather than the frame.
The bike's wheels rest on the trays and are then secured by a spring-loaded arm with an adjustable ratcheting mechanism. The arm surrounds the wheel and clamps down on the tire.
The system will receive bikes and tires of a variety of sizes without the need to make any adjustments. The bike(s) can also be loaded facing in either direction. You open up the arms to receive the bike and push the arms back down onto the bike's tires until the bike feels secure and the ratchet is clicked in place. It truly is that easy, and nothing touches the frame.
To unload the bikes, the process is similar. You open the red ratchet lever and then pull back the arms to free the wheels.
The tilt mechanism:
When your rack is not in use, the arms can be pushed flat with the tray, and the tilt mechanism will position the rack up and parallel to the back of the car. The rack can also tilt down for access to your car's trunk or tailgate.
While the loading and unloading of bikes on the 1UP rack couldn't be more user-friendly, the tilt mechanism is, in my opinion, its biggest flaw. Accessing the tilt release handle, which is located underneath the rack, is quite cumbersome. To release this bar that locks the rack into its desired position takes two hands and some awkward maneuvering. Given the release's location on the back of the rack, this becomes especially tricky when you've lowered a loaded rack into its lowest position to access the truck.
1UP does sell an aftermarket EZ Pull system that positions a tilt-release handle at the exterior of the rack, which I haven't tried but do wish had been a standard issue on all racks.
The rack in use:
The 2" Super Duty Double is hands down the most rigid and sturdy bike rack I've seen, allowing you to keep your eyes firmly on the road instead of making frequent rearview mirror glances to check on your precious bikes. From chip-seal to gravel roads and access trails, the rack only moved in rhythm with my truck's shocks — no movement of its own, no wobbling, no swaying. Months on, there's still as much play in the system as it had on day one, which is none.
I can see why this rack is such a favorite among mountain bikers. I would trust this rack with my most beloved bikes on even the bumpiest terrain. I'd bet that my truck's shocks would give out before the rack would.
Safety & security:
Unlike most bike racks at this $600-$700 price point, the 2" Super Duty Double does not have an integrated bike lock of any kind. 1UP does sell several aftermarket options, including cable locks, a chain lock and a wheel lock.
No one is going to make off with the rack itself, however, given the hitch lock and the need of a special hollow Allen wrench to unlock the expander ball.
Modular System:
The 2" Super Duty Double is built on 1UP's clever modular system, which allows for a variety of add-ons to customize the rack to your needs. These add-ons include extra bike-carrying trays, a cargo box, lights and loading ramps. I like this feature a lot because, given the rack's durable construction, you're unlikely ever to need another one. These add-ons allow the rack to accommodate your needs as they may change over time.
Value & conclusion:
The silver 2" Super Duty Double as reviewed here retails for $680, which, while an investment, puts it in line with the popular offerings from Kuat, Yakima and RockyMounts. And it's quite a bit less expensive than the latest from Thule.
1UP's reputation and the almost cult-like following is deserved. The 1UP rack stands out for its ease of loading, robust construction and durability. This rack will likely last you until your final riding days, and its modular design will allow the rack to adapt with you as your needs change.
Its rigidity inspires confidence when it comes to transporting bikes on rough terrain, and its ability to accommodate a variety of bikes and a substantial weight capacity make it a versatile and reliable companion for cyclists seeking a dependable transport solution.
It's only the rack's cumbersome tilt-release that is holding it back.
Thank you for reading 20 articles this month* Join now for unlimited access
Enjoy your first month for just £1 / $1 / €1
*Read 5 free articles per month without a subscription
Join now for unlimited access
Try first month for just £1 / $1 / €1