Best electric folding bikes 2023
Here's our pick of the best electric folding bikes, whether you're commuting or just trying to save space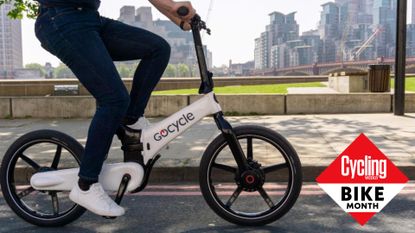 (Image credit: GoCycle)
This year Black Friday is running from November 24th - 27th. We've rounded up all the best Black Friday bike deals - spanning fully built bikes, components and tech - in our main hub page. You're guaranteed to find a bargain.
The best electric folding bikes will take you from A to B with ease but also pack up small for transport or storage.
The growth in popularity of electric folding bikes probably hasn't escaped your notice. After all, our towns and cities are the ideal playground for a commuter-focussed product that combines the attributes of the best folding bikes - notably portability - with those of the best electric bikes, namely making your journey faster and less physically taxing.
The best electric folding bikes are ideally suited for carrying on trains and buses as well as folding up small enough to make storage both at work and a home a breeze. Likewise their manageable size also makes them a good choice for taking on holiday.
Like any commuter bike, there are plenty of options when it comes to electric folding bikes. Which is right for you will depend on your individual needs. How far do you plan on riding? Is your route into work flat or does it take in a few hills? And, as with any considered purchase, how much do you wish to spend?
We'll dive into some of these details later, in the guide at the bottom of this page, as well providing some general information on e-bikes. But before that let's look at our picks of some of the best electric folding bikes on the market.
Best electric folding bikes
You can trust Cycling Weekly. Our team of experts put in hard miles testing cycling tech and will always share honest, unbiased advice to help you choose. Find out more about how we test.
Best for minimal maintenance
Specifications
Frame: 6061 T6 alloy front frame, carbon fibre mid-frame and injection moulded magnesium Cleandrive™
Motor: Gocycle proprietary front hub motor, G4drive 500 watt US / 250 watt UK/EU
Battery: Lithium ion: 10.4Ah, 36V, approx 375 Wh
Range: Up to 50 miles, depending on pedal input
Charging time: 3 hours
Weight: From 17.6kg / 38.8lbs
Reasons to buy
+
Smooth, instant power assistance
+
Comfortable
+
Responsive ride
+
Improved folding over previous models
+
Timeless design
Reasons to avoid
-
Expensive
-
I didn't get close to claimed range
-
Not a lightweight carry
With the option to add many accessories - such as fenders (mudguards), a front and rear pannier rack, integrated lights, lock holster and a travel case - the G4i is a solid choice for a commuter.
The clever folding design means that you can push it on its wheels rather than needing to carrying it, or you can fully fold it into a compact package. There's built-in rear suspension, concealed cabling and a fully enclosed drivetrain.
Owners can charge their phone (or other small devices) from the bike's battery when not in use, through a discreetly integrated USB port on the handlebars. That said, we didn't find that the integrated phone mount quite matched the quality of the rest of the bike itself. The same goes for the LED display, which we found to be rather basic - although the information it provides is useful.
With a completely enclosed drivetrain, it makes sense for year-round commuting and should stay pretty low-maintenance . The G4i utilizes a Shimano Nexus 3 speed internally geared hub.
With 2.35" wide tyres and 1" of elastomer suspension, the Gocycle G4i is one of the more comfortable small wheelers. And should you puncture one of those 20" tyres, the single-sided wheel attachment means that you don't even have to remove the wheel.
The 500W (250W in the UK/EU) G4 electric motor and 375Wh Lithium-ion battery is claimed to provide a range of up to 80km (50mi), but the most we managed to get out of it was just 44km (27mi). To be fair, that was in one of the more 'assisted' modes and I always had the daytime running lights on - plus the city of Bath is well known for its brutally steep hills.
The bike is available from 17.6kg / 38.8lbs. However, as the weight is centred low on the frame, this at least makes the ride more stable. The folding mechanism has been improved since previous versions and can be quickly collapsed into a small package - Gocycle says this can be done in as little as ten seconds; we found it was closer to 20.
Read more: Gocycle G4i electric folding bike full review
2. Brompton Electric C Line
Best electric folding bike for foldability
Specifications
Frame: Main frame: steel, rear frame: alloy
Motor: 250W Brushless DC
Battery: 300Wh 36V with LED display
Range: 20-45 miles
Charging time: 4 hours
Weight: 14.5kg
Reasons to buy
+
Relatively lightweight
+
Classic Brompton 3-part folding action
+
Built-in lights
+
Handlebar bag
Reasons to avoid
-
Little more expensive than the standard lightweight models from Brompton
-
Need to carry the battery bag separately from the folded bike
This London based brand has been going for over 45-years and has applied its expertise in manufacturing folding bikes to produce this electric version.
With six hub based gears, mudguards and built-in lights, the Electric C Line hits many of the points of a good commuter. The handlebar-mounted bag which holds the battery has extra capacity for carrying other items, and there is even a 5V 1.5A USB port you can use for charging your devices directly from the bike's battery.
The 250W motor and 300Wh battery give a respectable maximum range of 40 miles and take four hours to charge from empty, although a faster charger can be bought separately.
With 16" wheels and weighing 14.5kg / 32lbs, this is a compelling option for maximum portability. It benefits from Brompton's tried-and-tested 3-part fold, which results in a compact folded size of 645mm (H) x 565mm (W) x 270mm (D) (25.3'' x 23'' x 10.6'').
Read more: Brompton Electric C Line electric folding bike - first ride review
Best electric folding bike for 'hauling' cargo
Specifications
Frame: 6061-AL, patented design, Tern sliding dropouts
Motor: 250w Bosch Active Line Plus (Gen 3)
Battery: Bosch Cargo Line 400Wh
Range: 'Up to' 195km (121 miles)
Weight: 33.58 kg (74 lb)
Reasons to buy
+
Rides like a regular bike
+
Powerful motor for hilliest of terrains
+
Versatility of rear carry frame and front cargo space
+
Fold-down handlebars and quick release seatpost for storage options
Reasons to avoid
-
Heavy - over 30kg
-
A bit cumbersome when folded
A more unconventional offering from Tern, this bike favours other aspects than minimising volume. If you often find yourself needing to transport large loads by bike, then this electric folding cargo model should have plenty of appeal.
The rack can handle 100kg / 220lbs, while the frame can take a gross weight of 200kg / 440lbs. The battery is beefed up to match, coming with 400Wh as standard and delivering - 'up to' - 195km (121 miles) of range
This ruggedness means the bike weighs in at a hefty 33kg / 74lbs. So while this certainly isn't a bike for lugging on and off the train, for example, it does make sense for anyone needing to carry plenty of cargo.
By folding only at the handlebars, it does collapse to a similar height to other folding bikes, however the Tern remains considerably longer. But due to its cargo bike credentials and burly build it's unlikely to be a choice for those overly concerned with space.
Read more: Tern GSD S10 full review
4. Blix Vika+ Flex
Best electric folding bike for comfort
Specifications
Frame: Aluminium
Motor: 500w rear hub, geared
Battery: 614wh
Range: 45 miles
Charging time: 6 hours
Weight: N/A
Reasons to buy
+
2.4" tyres should deliver a cushy ride
+
Large battery delivers good range
+
Comes with built-in rear rack, fenders and lights
+
Frame mounts for additional racks
Reasons to avoid
-
Battery take a long time to fully charge
Rolling on 20in wheels and wide 2.4" tyres, the Blix Vika+ Flex has a quality folding mechanism at the downtube and stem, which origamis the bike down plenty small enough to fit under your desk - the folded size of the bike measures 36x21x28.5 inches.
The Californian brand claims the 614Wh battery and the 500-watt rear hub-based motor will give you 45 miles of range and charge in six hours from empty. There's also a handy throttle that can be used at any assist level. All of these are legal in the US where the Vika+ Flex is currently sold.
It's worth noting here that in the UK, e-bikes are classed and treated as normal pedal bikes providing that: the maximum power output is under 250w, it will only be propelled when pedalling (no throttle) and the motor cuts out over 15.5mph. Otherwise it must either be type approved or registered and taxed.
The Vika+ has a 7-speed Shimano Acera drivetrain, disc brakes, a rear rack, integrated front and rear lights and fenders (mudguards). Blix also produces a range of accessories, such as additional racks, baskets and bags, which can be attached to the frame's 'smart mounting points'.
Other noteworthy features include a bar mounted display that doubles as a USB charger and a power auto cut-off function that cuts power when the brakes are engaged to avoid unwanted forward motion when braking.
5. Raleigh Evo
Best value electric folding bike
Specifications
Frame: Alloy Frame AL6061
Motor: TranzX F15 36v 250w Brushless
Battery: TranzX 250wh 36V 6.8Ah
Range: 31 miles
Charging time: N/A
Weight: 20kg
Reasons to buy
+
Built-in front and rear lights
+
Commuter-friendly - comes with mudguards and rack
+
Walk-assist feature when pushing along pavements
Raleigh's offering balances cost and performance, aiming for a middle ground in both.
The 8-speed derailleur gears mean maintenance is easier, but more frequent. Coming with a rack, mudguards (fenders), kickstand and integrated lights, it is a versatile bike that's well set up for the daily commute - there's even a handy walk assist feature that helps you push the bike along, which Raleigh says is designed for navigating busy pavements and sidewalks. The wheels are 20" and shod with 2" tyres.
The maximum range comes to around 31 miles due to the smaller 250Wh battery. However, if you thought that would translate into a significant weight saving, you would be wrong, with the whole bike coming in at 20kg / 44lbs.
That said, considering the Evo folds in just two places, the space it takes up is impressively small, making this an electric folding bike you could comfortably stash by your work desk or in the back of your car.
6. Hummingbird Gen 2.0
Best electric folding bike for low weight
Specifications
Frame: Carbon fiber
Motor: 250 W integrated electric rear hub motor
Battery: 158Wh
Range: 31 miles max
Charging time: 3 hours
Weight: 10.3kg / 22.7 pounds
Reasons to buy
+
Exceptional light for a folding e-bike
+
Motor-assist can be used using Bitride app
+
Regenerating braking systems charges battery while bike is in use
+
Active electric lock system
Reasons to avoid
-
Expensive - almost £5k
-
Battery is less powerful than many folding e-bikes
-
Mudguards need to bought separately
UK brand Hummingbird is known for producing some of the lightest folding bikes around. So it's no surprise that its foray into electric folding bikes has produced the same results - in fact it claims that at just 10.3kg it is the world's lightest folding e-bike.
It's an astonishing figure, making the Hummingbird half the weight of some of the other bikes in this list. To achieve this it uses the brand's patented carbon frame as well as carbon bars and seatpost. You've also got mechanical rim brakes here, which will again help to keep the weight down.
The bike does lack some of the commuter-friendly options of the best electric folding bikes. There are no racks, front or rear, and the only mudguards available are clip-on and will need to be purchased separately.
As for the motor and battery, it's a clever all-in-one design delivered in a lightweight package, weighing just 3.5kg combined. The Italian made rear hub 250w motor/battery should be good for around 30 miles on a full charge and includes regenerative braking to recharge the battery when you're going downhill.
Hummingbird says that the Gen 2.0 motor has 50% more torque while it also has a Bluetooth 5.1 remote control to change power modes and activate the sprint assist to power up hills. The Bitride smartphone app also allows you to benefit from an active electronic locking system - which is certainly needed given the bike's hefty price tag.
Anatomy of an electric folding bike—what you should be aware of
Weight
As a bike with the core purpose of portability, weight is a major factor to consider. Although an e-folding bike will never be as light as a bike without a motor and battery strapped to the frame, some are significantly heavier than others. Being able to comfortably carry the bike plays an important part in how many folding bikes are used.
The size of the battery and motor have a large effect on the overall weight of an e-bike. Although a more powerful motor will give more 'oomph' and a bigger battery will increase the range, these aspects need to be balanced against the intended use of the bike. Typically a folding e-bike will have a smaller battery and less range than a non-folding electric bike.
Read more: Electric bike batteries: everything you need to know
Read more: Electric bike motors: everything you need to know
If you are taking the bike on public transportation, these will likely be sacrificed in favour of a lighter build. Whereas, if you want a bike that just takes up a little less space than a full-sized one, there is no need to hold back.
For commuters, it's worth remembering you can bring a cable to charge the bike while you're at work. This way it's possible to go for a smaller and lighter battery, whilst keeping an acceptable total range.
It is worth testing out the bike in person, to gain a clearer understanding of what weight and power is the correct balance for you.
Wheel size
As with conventional folding bikes, wheel size is a trade-off between speed and comfort against compact size. Most range between 16" and 24", however extremes such as 10" and 26" are possible. Which wheel size you go for will be a personal choice depending on what your priorities are.
Degree of folding
Some electric folding bikes can tuck themselves away to an impressively small volume, with Brompton among the leaders in this department.
Read more: Brompton bikes: a guide to the London founded folding bike brand
However, the more folding points a bike has, the longer it will take to pack away and the fiddlier it is to do so. A bike with fewer folding points will be faster and easier, although not as compact. Every bike will sit somewhere along this spectrum of pros and cons, and there is no right answer on how compact to go—the choice depends on your circumstances.
Again, it is very much worth testing the bike in person to get a feel for what size and how easily the bike folds. That said, collapsing the bike will become second nature over time.
Commuting practicalities
Although some electric folding bikes are bought to simply be flexible and convenient bikes for storing and transporting to pleasant cycling locations, many will see use in the rush hour. As such, there are certain points that make a bike more practical for commuting. For example, mudguards, pannier racks and built-in lights all become important considerations.
Read more: Seven things to look for in a bike for commuting
Do you have to pedal an electric folding bike?
The short answer is yes, e-bikes work through pedal assistance; there is no throttle (unless you're in the US where this can feature on some models). The e-bike will deliver power proportional to how much you are putting in yourself.
However this is only up to a point. In the UK, e-bikes are limited to providing pedal assistance up to 25 kph (15.5 mph); above that speed you will be propelling the e-bike under your own steam.
In the US, it's a bit more complicated, as the laws vary from state to state. The Bicycle Product Suppliers Association has sought to clear up the murky legislation with a three-class system — each limited to 750-watt motors.
Class 1: the motor is strictly pedal assist and is limited to 20mph
Class 2: can provide assistance whether or not the rider is pedalling, and is limited to 20mph
Class 3: the motor provides pedal assist, is limited to 28mph, and must be equipped with a speedometer.
Our friends over at People for Bikes have complied a complete guide that breaks down the rules state by state.
How far do the best electric folding bikes go?
To aid comparisons between bikes, it is helpful to note that batteries are measured in Watt Hours (Wh). The greater this value, the further you will be able to travel on a single charge (all other things being equal).
As a general guide a folding e-bike's battery capacity will be between 250Wh-400Wh. This should equate to a riding range of anywhere between 25 and 75 miles of run time when fully charged.
It's worth remembering however that the more assistance the bike provides, the more power it will draw from the battery. To help conserve battery life it makes sense to only use the higher levels of assistance when you most need them, such as going uphill.
Like any battery, an e-bike battery won't last forever. Typically you should expect to get around 800 charge cycles from a high-quality electric bike lithium-ion battery before it will need replacing.
With Black Friday coming up on November 24th and running until the 27th, all the major retailers are already starting their discounts. On the tech side of things, we've rounded up the best Black Friday Wahoo deals over here and the best Garmin deals over here.
More generally, we have specific hub pages for power meter deals and bike computer deals. With the nights drawing in, we've also picked out the best bike light deals as well
Beyond that, we've got a hub on the best Black Friday cycle clothing deals, deep winter glove deals and our top picks from Adidas' Black Friday bike kit deals.
And with Christmas coming up, we absolutely have a page on the best kids' bikes deals - from balance bikes to fully equipped gears.
Get The Leadout Newsletter
The latest race content, interviews, features, reviews and expert buying guides, direct to your inbox!