Brompton Electric bike: first ride of the speedy folding machine
Britain's best loved, best selling bike just went Electric. There will be many of you reading this that have never ridden an e-bike before (and perhaps not a Brompton), so let me tell you this from the start – you're missing out...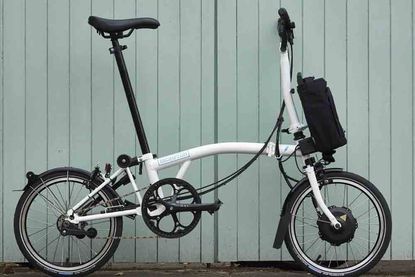 On sale now for three months the Brompton Electric is four years in the making. You see a Brompton isn't like any other bike and when the brand decided to go electric it very quickly realised it was going to have to design and build its own system virtually from scratch.
>>> Best electric folding bikes
Most e-bikes have a crank drive motor coupled with a big battery pack that attaches, or is built in to, an oversized downtube. With the limitation on space when folding a Brompton this more common approach wasn't an option.
>>> Best folding bikes reviewed
>>> Best electric bikes reviewed
Of course Brompton could have built a new bike, but the machine is a design classic and thankfully the London based company that builds everything in house remained true to its roots.
The solution was a motor in the front hub and an external battery pack clipped to a mount attached to the headtube. The problem when Brompton started work on the e-bike in 2014 was that the system it needed didn't exist.
The other dilemma for Brompton was weight. Its USP is transportability. The bike is designed for city life; to be folded up, picked up and taken on and off trains, carried up and down stairs and hidden under desks rather than locked up outside.
This, as much as the bike's look, could not be compromised.
Starting from scratch, Brompton had to find someone to work with. Bosch, Yamaha and Shimano are the big players in the e-bike market, making most of the systems currently in use. None of which where any good for Brompton. The Swytch system is a handy after-sale add on (and can be built on to a Brompton for £400) but Brompton needed its own.
Having secured £200,000 in SMART funding from the government's Technology Strategy Board (now Innovate UK) Brompton built a team of engineering expertise in-house, and teamed up with Williams of F1 fame following a conversation between Brompton's CEO Will Butler-Adams and Patrick Head, then Engineering Director of Williams. If you can build the fastest cars in the world, a little bike motor would be easy, right? Wrong.
What surprised me is just how complex this bit of machinery is. Couple this complexity with the size and weight limitations and you begin to understand why the project has taken as long as it has.
It's not just an on / off motor. It has to work with your legs, knowing what they're doing, how hard they're doing it and therefore when to kick in and help, and how much. It's got to feel like a bike in how it rides – and how do you tell a motor to do that?
Four major system components (controller, motor, battery and pedal sensor) are constantly measuring a variety of factors - rider torque, crank position, wheel speed, motor speed, motor temperature as well as the batteries functionality and the lights. The main circuit board sits below the connection between battery and bike on the headtube.
All this means the system knows what you're trying to do so it can help you to the right amount (torque and power) and at the right time.
It's testament to the amount of work that has gone in to the bike and system that it's only now that Brompton feel confident to do a full launch. In addition to the usual stress tests done by machine in the factory, 25 test bikes were run for a year, while 15 bikes were given to a cross section of Brompton customers to test in real life situations.
>>>> Top tips for commuting to work via bike
The first demo bikes hit the stores in October 2017 before the first consumers got their hands on them in June this year - they carry an RRP of £2,595.
Unfortunately they're currently not available for sale outside the UK. As Brompton gradually train up UK dealers it's understandably cautious about selling to a customer abroad without a dealer in place to support them with updates, or servicing. World domination (75 per cent of Brompton's output goes abroad) will have to wait.
Brompton Electric – the kit
The bike is almost identical to a standard Brompton, and with a quick glance it's hard to spot any differences. It comes off of a separate production line in the factory but this is more about monitoring and output than anything else.
The Bottom bracket shell is a little different due to the torque -measuring cable coming out of it and the stem is beefed up little. But essentially it's a Brompton. It folds in the exact same four-step way, and rides like any other.
It still comes in either two or six speed but is currently only available in black and white. Over time customers will be able to chose the colours they want for the electric bikes (painting also done in house) as you can with the standard bike.
The Samsung made lithium ion battery has 30 cells and weighs in at 1.9kg. It sits in a plastic frame, which itself sits in a bag that clips on to the mount attached to the headtube. It drops quickly in to place as the two parts find each other easily every time. Unclipping it is simple with a single push button to the side of the handle releasing it. The bag comes with a shoulder strap so you can carry that over one shoulder and the bike in the other hand.
The floating connection between battery and mount is a clever touch, meaning it doesn't get disconnected when it hits bumps.
The 300Wh battery has three power modes that can be cycled through as you ride with buttons on top of the battery. It also powers a front and rear light which have a handy auto setting, flicking the lights on when it's dark enough. Charge time with the standard two-amp charger is 80 per cent in 3 - 3.5 hours and 100 per cent in 4 - 5 hours. With the four-amp fast charger (an additional £115) it's 80 per cent in 1.5 - 2 hours and 100 per cent in 2.5 - 3 hours.
Run time is almost impossible to pin down as that depends on how it's used, who it's used by and over what terrain, but having been tested through the hot summer, and a cold winter, the range is confidently stated at between 20 to 45 miles.
Brompton Electric - First ride impressions
Brompton took Cycling Weekly out for a brief ride from its base in Greenford over to Ealing Broadway. Cutting through busy roads, down suburban streets, along cycle ways and through a few parks.
Before we hit the road there was the obligatory mess-about-in-the-carpark to get used to the feel of the bike. This took seconds.
The pick up, which kicks in at a very low speed (this is a commuting bike after all so has to help a rider as they deal with lots of starting and stopping) is surprisingly strong on full power. But it's smooth, and helps you quickly get up to a good speed without feeling like you're out of control.
It's easy to get up to the motor's maximum speed of 25kph and when it drops out it does so without a sudden surge so you decelerate smoothly. It assists you while trying to hold that speed which means in most built up areas you'll be riding comfortably at the same speed as the traffic around you. And when you do back off the pedals at any speed the motor does too - again smoothly and without surges.
Throughout the ride I tried to get the motor to kick in or back off when I didn't want it too, and 'surprise' it in to reacting too suddenly. I tried short, stuttering pedal strokes, quick accelerations, riding with the brakes on and exaggerated stopping and starting.
At no time did a trick it. It always responded how I felt a bike should respond. Even turning tight circles whilst kicking at the pedals, mimicking weaving through traffic didn't result in any unwanted surges. I once got the front wheel to briefly skid as I accelerated out of a tight turn, but the system is designed to recognize this and back off, which it did. Told you it was clever.
On the only slight hill we used, I feathered the pedals to see if I could make the ride jerky by tricking the motor to kick in and drop out. While I could feel small jerks it was almost imperceptible and to feel them I had to ride in a completely unnatural way.
A lot of this was me messing around. But I had good reason. When commuting it's not uncommon to weave in and out of traffic, make sudden, unpredictable changes of speed or direction or ride in a way unlike you would on a nice Sunday blast out in the lanes. The last thing you want is for the motor to kick in as you squeeze through a gap and send you flying forwards when you wanted to turn instead.
There's lots of clever things going in the system, some of which you need to be an electrical engineer to understand in detail. But one example of a measurement that keeps you safe when riding through tight spaces is the pedal revolution. The system divides it in to 36 segments. The crank has to travel through five consecutive segments before the motor will kick in. Just under a quarter of a pedal stroke. It's formulas like this that have been worked out over the testing period and allowed the ride to be refined in to something that feels very natural.
The bike's best function is undoubtedly accelerating. It was perfect when pulling away from junctions. A cyclist is at their most vulnerable when pulling away from a standing start. It's when they're unstable and surrounded by traffic and often at close quarters. The Brompton pulled away beautifully both in a straight line and when turning in to a road. It has you up to speed, smoothly and safely in no time.
Not only is this safer, it's also easier. Accelerations from a standing start are what tire your muscles (it's why the standing start for a team pursuit is such an oft repeated training drill), so by helping you out you'll get to your destination feeling a lot fresher. Something that will make cycling to work a lot more appealing to non-cyclists.
Brompton Electric – Verdict
If you like Bromptons already, you'll love this bike, it's great fun to ride. Before riding this version I thought a standard Brompton was the perfect accompaniment for travelling in to and around a busy city. The electric version just raised the bar. The assisted power helps you get around without breaking in to a sweat, improves your safety and remains comfortably transportable.
Although word of warning; having to carry the bike and the battery will limit what else you can carry.
E-bikes have the potential to get more people on bikes, making it more accessible as both a leisure activity and as a mode of transport, wherever someone lives. As more and more people around the world live in cities this might be the bike that helps accelerate further change in transport planning in cities that are still struggling with unsustainable levels of traffic.
Where it surely has the most potential is in cities with hills. Non-cyclists often spurn cycling as a mode of transport due to the effort involved, not wanting to get to their destination sweaty and out of breath. E-bikes, and this bike especially, could break down that barrier.
This bike rides well, with nippy handling for tight spaces and a comfortable upright position that keeps your head looking forward, rather than downwards. But if truth be told, this is so much more than a bike. This is a transport solution. This is a way to get people out of cars and free up polluted, gridlocked roads. This is a way to get more people moving quickly, safely and efficiently through our cities. This bike could change the world.
Thank you for reading 20 articles this month* Join now for unlimited access
Enjoy your first month for just £1 / $1 / €1
*Read 5 free articles per month without a subscription
Join now for unlimited access
Try first month for just £1 / $1 / €1