Gocycle G4i review - stylish folding e-bike offers practicality and fun at a price
An electrified urban explorer with designer looks and a designer price tag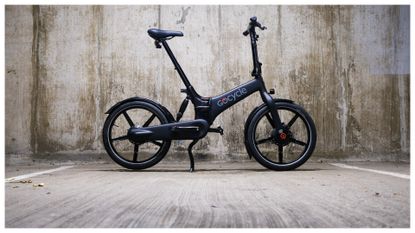 (Image credit: Rob Spedding)
The Gocycle G4i is something of a design classic - a good looking, innovative and highly effective folding e-bike. It's fun to ride and, if you have the money, is an excellent urban runabout. We found we had to plug it in more than we expected though.
Reasons to buy
+

Smooth, instant power assistance

+

Comfortable

+

Bags of fun

+

Responsive ride

+

Improved folding over previous models

+

Timeless design
Reasons to avoid
-

Expensive

-

I didn't get close to claimed range

-

LED display is rather basic

-

Can only shift with battery power

-

Not a lightweight carry

-

Phone mount doesn't match bike's quality
You can trust Cycling Weekly. Our team of experts put in hard miles testing cycling tech and will always share honest, unbiased advice to help you choose. Find out more about how we test.
I have to admit, the Gocycle G4i makes me realise how old I am. Not because I believe that the best electric bikes are purely preserve of the more mature rider (which I definitely am), but because I remember the first ever Gocycle.
Back in 2009 I was only a couple of years into my cycling journalism life, with a luscious head of still brown(ish) hair, when former motorsport designer Richard Thorpe - he'd worked for legendary Formula One manufacturer McLaren - pitched up with the original Gocycle.
At the time e-bikes were, on the whole, ugly heavy things with cumbersome batteries and the aesthetic appeal of a rusting shopping trolley. The Gocycle G1 was different - a sparkling white magnesium monocoque frame vaguely reminiscent of the record breaking bikes of British cycling legends Chris Boardman and Graeme Obree, single-sided fully-concealed drive chain and forks, a discreet hub motor, hidden battery and, heaven forfend, disc brakes on the five-spoke magnesium wheels!
It didn't fold - although it could be deconstructed for storage - and you had to press and hold a red button on the bars to deliver the assistance but it was a breath of fresh air. So much so that it was crowned best electric bike at the giant Eurobike trade show later that year.
Fast forward 14-years Richard still heads up Gocycle, my hair is thinner and grey and the Gocycle still looks - in my opinion - great. In fact, at first glance the Gocycle G4i on test here looks almost identical to that G1. And, to be fair, the basics haven't changed but four generations in the Gocycle has evolved and is fighting out with some of the best electric folding bikes on the market.
Gocycle G4i: Construction
As noted above, the first Gocycle G1 boasted a full magnesium monocoque frame. As the Gocycle has evolved, so has the construction. The G4i is a tale of three materials - aluminium, carbon-fibre and, yes, magnesium.
The front section of the frame, which houses the removable battery, is aluminium. So is the telescopic seatpost, as well as the main parts of the folding-and-height-adjustable handlebars. The mid-frame is carbon fibre and connected to the front end by a titanium pin at the folding point. And connected to the back of the mid-frame is the magnesium 'Cleandrive' drive train.
The Cleandrive consists of both the fully-enclosed chain drive and a Shimano Nexus 3-speed sequential gearbox. By wrapping all of the mechanical gubbins within the magnesium casing Gocycle reckons this will reduce maintenance and, of course, no oily muck from the drive on your work slacks.
The Cleandrive is, essentially, a swing arm and it's attached to the mid-frame by an elastomer suspension arm that offers one-inch of travel. If you jump on quickly there's noticeable give at the rear.
Power is delivered through the G4drive motor in the front hub which is encased in the single-sided carbon fibre fork. In the UK and Europe this is limited to 250 watts, while in the US you get double that.
The motor is designed to provide more low down torque to help with acceleration and hill climbing. It also features traction control to stop the powered front wheel from scrabbling for grip when you start pedalling, especially on sketchy surfaces or steep inclines.
One of the G4i's most intriguing features is the predictive electronic shifting, which I'll discuss when I come onto the ride characteristics. This, though, is linked to torque sensors connecting the motor and the bottom bracket.
The 20-inch five spoke magnesium wheels are shod with chunky Gocycle branded Vredestein tires. These are 2.35" wide and infused with silica for extra puncture protection. If you're unfortunate enough to pop them, the single right-sided fork and drive construction means that you can remove them without having to take off the wheels. Proprietary hydraulic disc brakes complete the 'look'.
The G4i and the flagship G4i+ (which has carbon, rather than mag, wheels) sees their aluminium bars encased in a chunky 'dashboard' which houses a daylight running (DRL) light and simple LEDs. These are said to be racecar inspired and signal battery levels, speed, gear selection and DRL status. But more on these later.
Of course, the Gocycle G4i is a folder, so you have locking pins at the join of the front and mid-frame and at the base of the long handlebar stem. All in all, the G4i is a very tidy package.
Gocycle G4i: The ride
The tidy packaging of the Gocycle extends to its ride characteristics. Although a folding bike, which usually means a compromise in wheelbase length and resulting twitchiness, the G4i comes in at 106.5cm. That's a centimeter longer than a Brompton - one of the, if not the, best folding bikes out there and on a par with the best hybrid bikes.
I've ridden quite a few folders over the years - Brompton, Tern, Bike Friday, Mezzo - and small wheeled machines from Moulton and the Gocycle's ride is among the best. It's nicely planted and stable and doesn't exhibit the front end twitchiness of some folders.
The head angle - the angle of the steering tube - is around 70 degrees which is more relaxed than a typical road bike and and other folders. This makes for predictable steering. That's not to say it isn't responsive - the small wheels mean that the G4i is perfectly at home darting around the potholes on my local roads.
Only one frame size is available, but the seatpost is telescopic and can can be adjusted - using the supplied allen key stowed under the saddle - for riders between 5ft and 6ft 5ins. I'm six feet tall and found it easy to get a comfortable position akin to what I like on a non-folding flatbar. A compact seatpost is also available. You can also make smaller adjustments to the G4i's handlebar height.
The fat tires, mag wheels and elastomer in the rear suspension make for a smooth ride. Of course, those 20-inch wheels do have there limitations when it comes to shock absorption and rough surfaces, especially bigger holes, aren't ironed out as they are on bigger-wheeled bikes.
The Gocycle/Vredestein rubber rolls smoothly and despite the lack of off-road nobbles handled light gravelly tow paths well. I didn't suffer any punctures, so can or can't vouch for their toughness. You decide!
One of the USPs of the Gocycle G4i is its predictive shifting. This means that as you slow down to a stop the gears automatically drops you down to the first of its three speeds so that you don't have to push off in the hardest third gear.
Likewise, as your pedal cadence increases on longer descents the Gocycle shifts up. If you're feeling really lazy spinning like mad, then freewheeling, also shifts you up through the gear. It's actually quicker to simply twist the right hand bar grip to shift when heading up to speed.
The power assistance feels natural - there's no huge kick or lurching acceleration - and the traction control does a good job of preventing the front wheel from spinning. The motor is also exceptionally quiet.
GocycleConnect App
As is the case with many electric bikes, an app is the means by which you set up and customise the Gocycle. You use the GocycleConnect - available for both Apple and Android phones - to register your new bike and the process starts with easy to follow set-up safety check videos.
Once you've paired the bike with the app you can select the mode you wish to use when riding. You get a choice of five modes each offering different power delivery settings. I tended to stick the G4i into City+ mode which delivers power as soon as you started pedalling, for quick traffic light getaways, and provides maximum assist when the torque sensor registers 400 Watts.
Eco mode won't kick until 200 Watts is hit and only delivers full assistance at 600 Watts, while City+ starts at 100 Watts and offers full assistance at 250. Custom mode allows you to select when you want assistance to start and when you'd like full power, while On Demand offers you nothing unless you twist the left-side handlebar downwards motorbike throttle style.
GocycleConnect also provides you with a dashboard that displays your live riding stats - speed, distance travelled, remaining battery life, etc. The bespoke design of the bike's handlebars means that you can't use a standard phone mount. Instead, you get some strong elastic bands for what feels like a somewhat crude method of fitment for a premium product.
As a result I didn't use my phone while riding, instead relying on the dashboard LEDS for info. These are kind of fun if you're of a certain age and remember K.I.T.T from Knightrider or the Cylons from the original Battlestar Galactica.
The left hand red LED dots indicate the power assistance level as you pedal, and then the battery level as you're free wheeling. Also on the left side of the dash are four blue LEDs that tell you which daylight running light mode you're using. The main strip of red LEDs on the right is your speed, while three, also red, dots indicate the gear you're in.
Gocycle G4i range
Gocycle quotes the range of the G4i as up to 80km (50-miles). I never got close to that, with the maximum I managed on one charge was 44km (27 miles). I was using City+ mode (see below) in a hilly city which delivered power as soon as I started pedalling and offered up full assistance early at 250 Watts, and I always had the daylight running light (and optional extra front and rear light) on. Using one of the more parsimonious modes will no doubt take you further between top ups.
The lithium-ion battery can either be charged by plugging directly into the frame or by removing the battery and charging separately.
In the interests of research, I did run the juice down on the G4i and it's not something I'd recommend. The Gocycle drops into Power Saving mode once battery levels hit 10% and below and from then on you'll only be able to draw on 30% of the maximum power output.
Once the power goes completely, you can't change gear and you end up riding a bike with quite a large amount of resistance. Even when seemingly depleted, though, I did find that I could twist the left throttle grip and get a slight power boost.
Folding the Gocycle G4i
The Gocycle G4i is, of course, a folding bike. And the fold is pleasingly simple and quick. Press the red aluminium button on the mid-frame to unlock, and do the same at the base of the top-tube. Fold the bars downwards and then fold the frame inwards. It's a sub-20 second job.
To stop the bike flopping about there's an elastic strap that you pull from the mid-frame and clip to the folded bars. At first, it's a bit of a workout but you soon get the hang of it. The right sided pedal is a quick-release model and is stowable on the frame.
Once folded the G4i measures around 615mm high, 880mm long and 390mm wide. By comparison a folded Brompton comes in at 585mm x 565mm x 270mm. So, it isn't Brompton compact. It's heavier too - 17.6kg (38.8 lbs) versus 12kg or so for a standard Brompton.
That said, the G4i will fit in the boot of a small hatchback - if that's your hybrid commute vehicle of choice - and while it isn't as compact as other folding bikes on the the market, it is compact enough for use on (not crowded) public transport. You can leave the saddle in and use that to help wheel it along, and then remove and stow.
Gocycle G4i: value and conclusion
There's no getting away from it, the Gocycle G4i is a premium-priced product - it's $5,499 / £4,499. The mechanical G4 is $3,499 or £3,399, while opting for the carbon-wheeled G4i+ will cost you you'll be paying £5,999.
Electric Bromptons start at $3,850 / £2,995/and, of course, electric folders can be found for less than $1,000 / £1,000. And you can, of course, find full sized electric hybrids and mountain bikes, or e-bike conversion kits from the likes of Swytch or Cytronex for less.
It is worth noting, though, that Gocycle has a partnership with Cyclescheme, the tax-free cycle-to-work scheme provider. If you buy your Gocycle G4i using this you stand to make a saving of at least £1600.
However, if budget isn't an issue for you then a Gocycle is a stylish, fun to ride and practical urban runabout. I enjoyed the G4i's clever predictive electronic shifting system but I'm not totally convinced that I actually need it, so I'd inclined to opt for the lower priced mechanical G4.
Gocycle G4i: specs
Shifting: Gocycle electronic Predictive Shifting
Frame: 6061 T6 alloy front frame, carbon-fiber mid-frame, injection moulded magnesium Cleandrive unit
Wheels: Five spoke magnesium, with center hub mount
Motor: Gocycle front hub motor. G4drive 500 watt US/ 250 watt UK/EU
Battery: Removable lithium ion 10.4ah, 36v, approx 375 Wh
Weight: From 17.6kg (38.8lbs)
Claimed range: Up to 80km (50mi)
Thank you for reading 20 articles this month* Join now for unlimited access
Enjoy your first month for just £1 / $1 / €1
*Read 5 free articles per month without a subscription
Join now for unlimited access
Try first month for just £1 / $1 / €1