Brompton bike range: a guide to the London founded folding bike brand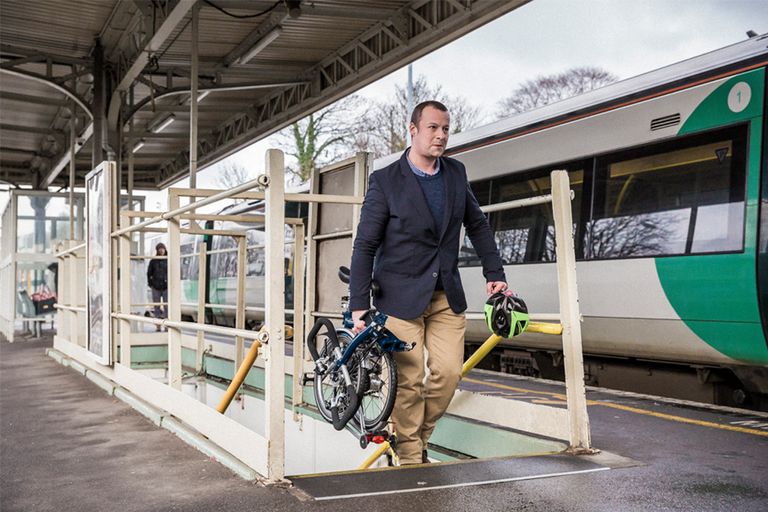 The Brompton bike range began life in the South Kensington flat of Andrew Ritchie, in 1975. The iconic folding bike brand continues to take its home in the capital city, having invested two million pounds in a move to its new home in Greenford.
The decision to maintain a base in London was motivated in part by a desire to maintain the expertise of the brazers - each who have been trained over a period of eighteen months to hand join the components of a Brompton frame to be strong and resilient for the city environment.
The chassis runs on 16" wheels and is constructed from steel, fused together with brass in most cases. In more recent years, Brompton introduced the 'superlight' version which features a titanium rear frame and front fork, and other lightweight components to make this range up to 1kg lighter than the all-steel Brompton.
Guides for bike shoppers
| | |
| --- | --- |
| Brands/topics | Model overviews and reviews |
| BMC bikes | BMC bike reviews |
| Boardman | Boardman bike reviews |
| Cannondale | Bike reviews,SuperSix Evo,CAAD12,Synapse |
| Canyon bikes | Canyon bike reviews |
| Carrera bikes | Carerra bike reviews |
| Cervelo bikes | Cervelo bike reviews |
| Cube bikes | Cube bike reviews |
| Focus bikes | Focus bike reviews |
| Genesis bikes | Genesis bike reviews |
| Giant bikes | Giant bike reviews,Giant Defy,Giant Propel,Giant TCR |
| Pinarello | Pinarello bike reviews |
| Raleigh bikes | Raleigh bike reviews |
| Ribble bikes | Ribble bike reviews |
| Scott bikes | Scott bike reviews |
| Specialized | Bike reviews,Allez,Tarmac,Diverge |
| Trek bikes | Bike reviews,Domane,Emonda,Madone |
| Price points | Bikes under £500,under £1000,under £1500,under £2000 |
| Road bike styles | Aero road bikes,Endurance road bikes,Women's road bikes,Commuting bikes,Touring bikes,Singlespeed bikes,Track bikes,Time trial bikes |
| Other bike styles | Adventure and gravel bikes,Cyclocross bikes,Electric bikes,Hybrid bikes |
How to fold a Brompton bike
When folded, the chain and gears sit in the centre so that they don't interact negatively with your clothes. The pedals tuck neatly away and the handlebars can stay in the raised position allowing the two small rear wheels to turn the bike into something a lot like a wheelie suitcase.
So how do you fold it?
The seatpost must be in the 'up' position
Flip the back wheel in with your foot
Undo the middle joint, and concertina the front wheel in (ensure the pedals are not on the way)
Push the seatpost down into the 'locked' position
Undo the handlebar joint and fold them down unless you're going to leave them to roll the bike behind you
To unfold the bike, follow the instructions backwards (5 to 1)
Building a Brompton bike
Frames are built up via the 'bike builder' to suit the rider's needs, and there's a number of choices and selections you can make along the way.
The model name is determined by the choices made - for example a 'Brompton M6L' will have an M shaped handlebar, six gears and would feature mudguards but no rack.
Brompton bikes handlebar types
Brompton bikes can be built up with one of four different handlebar configurations, designed to suit different riding styles.
M type Brompton handlebars
The classic Brompton handlebar style, pictured above, is pretty much a middle ground that will suit most riders. Shorter riders will find this offers a relaxed, upright position, while taller riders will have slightly more bent elbows, giving a sporty position.
Htype Brompton handlebars
A more upright option, which raises the rider up for more comfortable rides. Shorter riders will find this style of handlebar is similar to a traditional Dutch bike feel, while this will give a neutral riding position for taller individuals.
Stype Brompton handlebars
A flat bar, like that found on a hybrid bike, for those who want to feel fast. It is a sportier style that will give riders a lower riding position.
Brompton bike gear choices
The number of gears that you need depends upon the terrain you intend to tackle. Gears add weight, so if your entire journey is going to be flat as a pancake, there's little point paying the penalty of heft whilst if you live in a valley you'll want to be able to spin.
Brompton allows you to choose from a singlespeed, two gears, three or the maximum of six. The six speed option is a considerable 920g heavier than the singlespeed, so only worth picking if there's some challenging hills to tackle on the ride.
Brompton bike luggage options
The final part of the equation (aside from colour) will be the luggage configuration.
'Version E' will feature no mudguards, rack or pump, making this the lightest and cheapest option.
'Version L' has mudguards and no rack, so best for riders happy to venture out in all weathers but without much to carry
'Version R' has mudguards and a die-cast aluminium rack with shock cords that can manage loads up to 10kg.
Brompton bike colour options
As well as selecting your handlebar, luggage and gearing preferences, you can also choose the colour scheme for your Brompton.
The new factory in Greenford has allowed the brand to bring painting in-house, and options include: Racing Green, Tempest Blue, House Red and Black.
See the whole range at Brompton here
Brompton bike special editions
Brompton is constantly releasing new models to spruce up the range - including the rather exciting electric bike version. Here's a look at some of the more recent additions...
Brompton's very own electric motor is powered by a rechargeable battery, that can be removed to ensure the Brompton is compact as ever. It provides three levels of pedal assist that will give you an extra push when you need it.
>>> Read: Electric bikes and UK law
It is ideal for riders who have climbs on their commuter route which prove to be particularly troublesome or if it's important for you to arrive at your destination, relaxed and sweat-free.
Brompton say the battery has a range of 20-45 miles (30-70km), so it can also be used on the longest of commutes.
The electric boost does not have to be always used but can be reassuring having the choice of a little extra oomph if needs be.
Reasons to buy
+Superlight frame makes for fast, agile ride +Ease of fold and carrying +Compact folding size+Range of options to suit different sizes and riding styles
Brompton's Superlight range is made for speed by making it easier to jump on and off public transport and rush up flights of stairs with a lighter package that remains compact.
It is up to 0.74g lighter than an all-steel Brompton, with standard components replaced for a titanium front fork, real frame and mudguard stays, as well as a lightweight wheelset and headset.
If you are a typical all legs, no arms cyclist, the Brompton Superlight options promises to take the edge off which will make a nasty commute with lots of changes a lot easier and more pleasant.
Reasons to buy
+Relatively lightweight+Folding action+Ride
Reasons to avoid
-Little more expensive than the standard lightweight models from Brompton
The Black Edition bikes are made in small batches a couple of times a year, in a new and exciting range of colours.
Currently there are options available in Black, Rocket Red, Turkish Green and Black Lacquer - and the bikes come with black components rather than the usual silver and a gloss finish.
Different lighting systems are on offer: reflectors only, battery lights or dynamo lights
The Black Edition bike also has a Superlight option for those wanting to save as much weight as possible while looking stylish. the Brompton range at Halfords
Cycling Weekly's Tech Editor Michelle Arthurs-Brennan is a traditional journalist by trade, having begun her career working for a local newspaper before spending a few years at Evans Cycles, then combining the two with a career in cycling journalism.
When not typing or testing, Michelle is a road racer who also enjoys track riding and the occasional time trial, though dabbles in off-road riding too (either on a mountain bike, or a 'gravel bike'). She is passionate about supporting grassroots women's racing and founded the women's road race team 1904rt.
Favourite bikes include a custom carbon Werking road bike as well as the Specialized Tarmac SL6.
Height: 166cm
Weight: 56kg