Brompton: the perfect commuting machine?
Steve Shrubsall spends a week getting to grips with a Brompton folding bicycle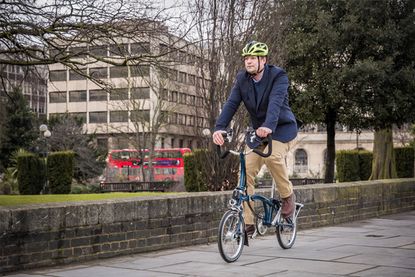 Winter came and went in a whirlwind of credit card payments and highly calorific seasonal sustenance. And when the dust had finally settled, a plump and poverty-stricken soul emerged from the darkness, fishing the lint from his pockets with forlorn dismay. Broke and obese. Not the most favourable combination. The situation must and shall be amended. A recovery plan was quickly conceived and I promptly went about putting it into play.
>> Read more: The best folding bikes: a buyer's guide
First on the agenda was to contact Brompton — the British folding bicycle company. With the use of one of its bikes, I would be able to board rush-hour trains without incurring the wrath of studious train guards and irritable passengers — as is usually the case with a standard set of wheels. Next — with a view to stretching my all-but-absent leg muscles — I would pinpoint a station within a five-to 10-mile radius of my house. From there, I would travel across country to suburban London. This would yield a substantial saving: at least half the price of my regular route into the city and back out again to suburbia.
With everything finally in place, 'Project Commute' could now begin. Here is my account of a week with a folding bike…
Monday
Monday. It doesn't typically get the greatest press, does it? The Bangles wished it was Sunday, New Order called it blue, Fats Domino declared it a mess, and everyone else generally thinks it's a ruddy nuisance. What's evidently required is a means of starting the working week with a bit of exercise, on a folding bicycle — a Brompton P6R in Tempest Blue with Shimano front dynamo hub, maybe — perchance to blow away the cobwebs accumulated over the weekend.
>>> Not just London: Five big UK cycling projects outside the capital
I unfolded mine; Barbara, I shall call her. She shimmered, pert and expectant in the early morning sun. I sagged under the weight of cheeseburgers and beer. Barbara and I were something of a mismatch, it seemed. I reasoned it wise to opt for a truncated route today — a mile or so to the nearest train station as opposed to the lengthy hurtle I'd initially planned. I wouldn't save any money or develop much fitness this way, but it'd allow Barbara and I the chance to get acquainted and ascertain any load-bearing boundaries — it would indeed be far from chivalrous to reduce poor old Babs to a selection of smelted parts on our maiden outing.
Happily, though, we met the station without hindrance and boarded the South West service bound for the Big Smoke. Ensconcing Barbara in a space just behind the guard's cabin, I took a seat and indulged in a little audiobook action. This was surely the only way to travel.
We alighted in fair weather and I piloted Barbara towards the office, negotiating the chaos of suburban London en route. Babs, I'm happy to report, behaved impeccably. But tomorrow, and the commute proper, could well be a different story.
Tuesday
"Daddy!" my youngest daughter sang, uncharacteristically chipper for the early hour, "you have an enormous tummy!" Although I was obviously delighted with her burgeoning linguistic flair, I couldn't help but muse that she'd just earned herself a week-long television ban. Enormous indeed! It was evident, though, that Barbara and I had serious work to do, and some 20 minutes after having been psychologically damaged by an infant, we found ourselves hightailing towards a train station some five miles down the road, willing the enormity of the tummy to mitigate a fraction. Such a scathing appraisal would be hard to forget.
>>> Cycling to work: Don't give up!
The route comprised a rather busy B-road, and although the terrain was largely flat and undemanding, I was still afforded the opportunity to give each of Barbara's six gears a pretty comprehensive workout. The lowest was able to accommodate moderately precipitous ramps, and once we'd mastered the highest, Babs mutated into a snarling beast of a bicycle; we sped through the rush-hour traffic like Marco Pantani in his pomp — sort of.
Upon arriving at the station, I was immediately accosted by a well-to-do middle-aged woman who went on to unload a sustained volley of woe in the direction of my face: "I don't really know if I should be getting on this train," she said. "Because the agency haven't called me yet", she said. "This may very well be a wasted journey," she continued, "but I wouldn't want to be late." She said a lot.
I went into nod-and-smile mode, busied myself with Babs, and the train soon pulled up to the platform. With Barbara neatly nestled in the suitcase hold, a glorious rural rail journey ensued and soon enough I was again bisecting the inner-city bedlam in the direction of the office and a sweet cup of PG Tips. The commute had been a roaring success.
Brompton bicycles
It was something of a no-brainer to contact Brompton when I decided to undertake my commuting experiment. I was invited to Brompton Junction in Covent Garden, where sales rep Ruth and a folding-cycle-savvy assistant discussed the length and terrain of my proposed commute. After also factoring in my size, we were able to decide upon the optimum spec. We opted for a P-Type bar which offers an elevated riding position and myriad handholds.
Although my route to the train station was flat in the main, it did include occasional undulations and one pretty keen climb. We therefore chose the widest variety of gearing — a six-speed hub — which allowed for a relatively easy and efficient spin. Equipped with dynamos, mudguards, integrated hand pump and rear luggage rack, the Brompton, hand-built in Britain, is the definitive commuter. www.brompton.com
Wednesday
Drawing the curtain to this morning, I noted with not a little distaste that the weather had taken a typically British turn — it was, of course, raining. The waterproofs would have to be called into play. Decked out in hi-viz attire, I departed my residence bearing an uncanny resemblance to a chap out for a spot of motorway maintenance. Yet I felt safe and, thanks to Babs's boasting both front and rear dynamos, nicely supplementing my own set of lights, I was probably visible from Scunthorpe. After an unremarkable ride, bar the occasional puddle dousing, I folded Barbara up — something now becoming second nature after a few early hiccups — and hustled aboard the train.
>>> Cycle to work scheme continues to grow in popularity
Now within the cosy confines of a First Great Western carriage, the rain beating out a soothing pattern on the glass, I went about newspaper shuffling, window gazing, book reading, and other assorted clichéd commuting behaviour. Again, Barbara was secreted in a luggage space. These holds tend to reside at the end of each car and in her folded glory, Babs would sit in the shadow of airport-bound suitcases, showcasing her versatility.
The train continued — ploughing a furrow through the sumptuous contours of the Surrey Hills and eventually depositing Barbara and I into the heaving metropolis. A subsequent sortie featuring heavy showers and intermittent expletives ensued, yet good old Babs didn't bat an eyelid, simply shrugging off the adverse weather conditions in that stoic manner I was becoming endeared to.
Another successful commute, then, culminating in a nice warm office with a mug of coffee. Perfect!
Thursday
Today a pleasant outward journey was totally overshadowed by a most untoward turn of events that transpired on the return leg. I was travelling on my final train of the day, a First Great Western vessel that toiled a steady tack back through the Surrey Hills. My carriage was empty save for a troupe of raucous teenage types heading into town where one could only assume an evening of acute scallywaggery would eventuate.
>>> Cycle to work to beat train fare rises, urges British Cycling
Scallywaggery — I remembered it fondly. Although those halcyon days had been long since consigned to the past, I allowed my mind to wander, reminiscing on erstwhile antics: shouting, swearing, pressing traffic light buttons when I had absolutely no intention of crossing the road...
My regression session was concluded, however, by the monotonal twang of an automated announcement informing one and all that the next stop would be my mine. I grabbed Barbara, who conveniently doubles as a footrest on occasion, and hastened from the train. As it pulled away, though, to my sheer disdain, I saw that I was at the wrong station. The blasted locomotive had spat me out some 10 miles from my house. How incredibly rude. I made a mental note to pen a robust letter to the folk at First Great Western concerning the manners of their automated staff.
Again, Barbara's dynamos saved the day. They lit the way down dark country lanes, and alerted any traffic to our presence — owing to the combination of fury at having been callously dumped by the train, and Barbara's smooth action, we arrived home lickety split. I opened the fridge, liberated a brace of Kronenberg 1664 and made a beeline for the sofa. Eastenders had already finished. I'd have to stay up until 10.30 to watch the repeat on BBC3. First Great Western would be hearing about this.
Friday
There was an unseasonal nip in the air this early spring morning which was substantiated by sporadic sleet showers throughout the afternoon. This didn't bode well for the evening commute. Plummeting temperatures and sleet are usually paired with icy roads and paths. Babs and I generally don't care much for ice. It tends to make us fall over and hurt ourselves. Riding home today had officially been cancelled. But how would we proceed? I couldn't very well abandon Barbara and leave her alone in the office all weekend. Besides, this was our last day together, and only one solitary journey separated us from a completed mission...
Insider info had led me to believe that my brother had eschewed his usual cycle commute (to the same office) in favour of using the car today — this had potential.
"Do you mind if I bundle Babs up and sling her in your boot?" I queried.
He looked poised to dial 999, "What?"
I explained my quandary and a few hours later Barbara was stashed in the back of the vehicle with space enough for another three of her ilk.
The pedal-free trip home made for a nice change of pace: it was warm, and it was quick, and Magic FM supplied the soundtrack — almost perfect. But there was a but, a big but, regarding this method of travel. My week's commute had seen me clock up the best part of 50 miles on the bike. And as a by-product of this comes fitness, comes reduced monetary outlay, and comes a clarity of mind that only exercise can offer.
We arrived home and I bade Barbara au revoir, but this was certainly not adieu.
The fellowship of the folding bicycle
Name: Charlie Mellor
Age: 43
Job: Freelance writer
Lives: Westcliff-on-sea, Essex
"I've had my racing-green Brompton for more than 10 years and it's my transport lifeline. I've never owned a car — something I'm quite proud of — so if I need to get anywhere, it's the Brompton or nothing.
"My normal commute takes me into London on the c2c line, which is pretty crowded during morning rush-hour. This is where the Brompton comes into its own. It would be impossible to alight with a full-size bike.
"The next bonus is savings, both time and money: no taxi fares, no Tube trip at the other end (unless absolutely necessary).
"One regular commute involves three bike-train-bike transitions. Train and Tube fares add up to £21.40 a day. If I bought a train ticket including Tube travel, that would be £24.90.
Not much of a daily saving, but it adds up. Plus I'm able to eat what I like; riding the five miles a day is enough to keep me trim."
Name: Tom Morris
Age: 34
Job: Graphic designer
Lives: Bristol
"I have owned a Brompton for around eight years. I originally bought one because I didn't want to buy (and subsequently lose) a full-size bike that I'd have to lock outside my place of work. I had the ability to bring it into my office and store it under my desk and of course it was also handy for the odd train journey to see a client.
"At one point I didn't have a car so it was also great for 'combi journeys' ie: cycle to a train station, get the train somewhere, then get a lift to my destination from the station with my bike in a car boot. It has allowed me to be very flexible — 'enabling' is probably the word that best sums it up! The downside has been that I've treated it as a full-size bike and it hasn't suffered as well — it doesn't like being thrown off kerbs and I've spent a couple of hundred pounds a year on services and puncture repairs."
Thank you for reading 10 articles this month* Join now for unlimited access
Enjoy your first month for just £1 / $1 / €1
*Read 5 free articles per month without a subscription
Join now for unlimited access
Try first month for just £1 / $1 / €1