Cycling to work: Don't give up in winter!
It may be cold, dark and probably wet outside, but continuing to commute by bike to work during winter has a host of health benefits - so don't give in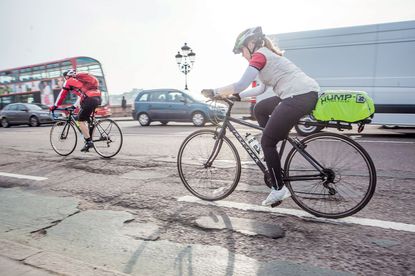 As the weather takes a turn for the worse and the nights start to draw in closer, the thought of riding to and from work during winter becomes ever less appealing.
It's understandable though. After a hard day, the thought of pedalling home through harsh weather conditions doesn't exactly fill the body with excitement and enthusiasm. However, it's important you keep at it, as regular riding over the winter will not only maintain your fitness levels, but also help build momentum for when the sportive or racing season starts again in spring.
>>> Best hybrid bikes reviewed
Riding to and from work during autumn and winter can be tough, but with the right clothing, bike modifications, lights and willpower, it's easily achievable. For the good of our heart, health and wellbeing, more people should be turning to two wheels, whatever the weather.
In fact, commuting to work by bike each day can do more, especially to one's waistline. According to a study published online in the British Medical Journal, active commuting is linked to lower body weight and body fat composition.
The researchers from the London School of Hygiene and Tropical Medicine and UCL investigated the relationship between active commuting and two known markers for obesity — body mass index (BMI) and body fat percentage.
After analysing more than 7,500 men and women, their results showed that men who actively commuted had BMI scores around one point lower than those who used public transport, equating to a difference in weight of almost half a stone for the average man.
Women who actively commuted had BMI scores around 0.7 points lower than those who used public transport, equating to a difference in weight of 5.5lb for the average woman.
Results for percentage body fat were similar in size and difference.
Researchers were keen to stress that no firm conclusions can be drawn from the study regarding cause and effect, but they highlight that active commuting such as cycling "should be considered as part of strategies to reduce the burden of obesity and related health conditions".
Thank you for reading 10 articles this month* Join now for unlimited access
Enjoy your first month for just £1 / $1 / €1
*Read 5 free articles per month without a subscription
Join now for unlimited access
Try first month for just £1 / $1 / €1