Best gravel bike wheels 2023: options for your gravel or adventure bike
The best gravel bike wheels will handle the rough stuff comfortably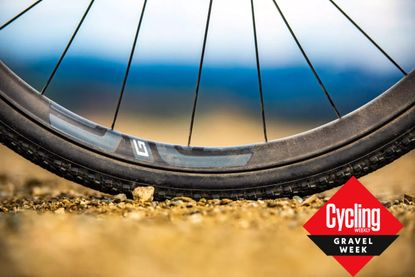 (Image credit: Future)
Finding the best gravel bike wheels used to mean choosing from a rather narrow selection of suitable cyclocross, touring or cross country mountain bike wheels.

Fortunately the popularity of all things gravel has forced the industry to sit up and listen. The result is a plethora of gravel-specific wheels created to meet the demands of today's rider.
Do you need wheels for smooth gravel or do you find you spend more time hurling your gravel bike down chunky fire roads and singletrack? Perhaps you're planning on entering a gravel race and need something fast and light? Or maybe you're off on a multi-day bikepacking trip and require wheels that are close to bombproof?
Regardless of your requirements, almost all gravel wheelsets will be disc brake specific, tubeless-ready, and spin around thru-axles. The internal rim diameter will be somewhere between the best road bike wheels and MTB wheels, typically in the range of 20-25mm, to accommodate wider gravel tires, which now come in a dizzying array of sizes and tread patterns.
Sizing, spoke count and materials will be where the real choices come in, with 650b wheels gaining popularity among riders seeking greater volume tires for comfort and for tackling more technical trails.
Gravel racers and bikepackers will have different demands in terms of wheel weight and durability too, but we'll touch on that a bit later. Last but by no means least, how much you have to spend plays a crucial role in determining which gravel bike wheels are best to suit you and your budget.
Choosing the best gravel bike wheels for you
Below is our pick of the best gravel wheels. Read on lower down the page for more details on what to look for when shopping for the perfect wheels to help you get the most out of your gravel bike.
Image 1 of 3
Best for rough terrain
Specifications
Wheel size: 700c and 650b
Rim material: Carbon (hookless)
Rim internal: 27mm
Spokes: CX sprint, 28
Weight: 1,620g
Tubeless ready: Yes
Reasons to buy
+
Confidence-inspiring control
+
Bombproof
Reasons to avoid
-
Single-use focus
-
Heavy compared to competition
Zipp 101 XPLR gravel wheels are best suited to riders who spend the majority of their time tackling rough and technical trails. They aren't the lightest set of wheels by any means - 1,620g - nor do they offer many aero benefits. However, they provide bags of control, which is far more useful when you're navigating rocks and tree roots than a few grams saved in weight.
When reviewing the 101 XPLR wheels we found they excelled in this kind of gnarly terrain. The intentional flex in the rims is aimed at providing control and grip in the corners - and it does just that. Zipp achieves this in part by using a single wall construction. It's also the reason that they weight north of 1,600 grams (in the 700c size) as the single-wall approach required the use of a thicker material.
Combine this flex with an internal rim width of 27mm and you have a gravel wheel that's far more attuned to riding rough tracks than many of its competitors (many of which are really all-road' wheels). This makes the 101 XPLR somewhat niche - but also a good match if you want wheels that inspire confidence over tough, techy terrain.
2. Roval Terra CLX
Best lightweight option
Specifications
Wheel size: 700c
Rim material: Carbon fiber
Rim internal: 25mm
Spokes: 21/24
Weight (pair): 1,296g
Tubeless ready: Yes
Reasons to buy
+
Super light - 1,296g claimed
+
Versatile - handles tyre widths from 28-47mm
+
Lifetime warranty
The obvious selling point of the Roval Terra CLX wheels is their weight. Tipping the scales just 48 grams heavier than Roval's ultralight climbing wheels, the Alpinist CLX, this gravel hoops are as feathery as they come. If you're keen to significantly reduce the weight of your gravel bike then these clinchers, at under 1,300g a pair, will certainly do that.
We haven't yet reviewed the Roval Terra CLX but if you're concerned at the durability of carbon gravel wheel they have been tested to pass Roval's Mountain Rim standard. This hopefully should mean that, unlike some carbon hoops, they aren't too flexy, which can really comprises performance when cornering or riding technical terrain.
Said to work with tyres ranging from 28-47mm, the rim's 25mm internal rim width, and a hooked bead to ensure performance with the widest cross-section of tyres. If you're looking for a wheelset that can be swapped between bikes or you like to change your tyres often to match the terrain, then the versatility of the Roval wheels is a big plus.
While the hub shell may say Roval, on the inside are DT Swiss' new EXP internals for easy maintenance. Better still, Roval backs them by two-year no-fault crash replacement policy and a lifetime warranty.
The downside to the Roval Terra CLX hoops is their price. At over £2000 / US$2500 they are among the more expensive on the market.
Best quality alloy option
Specifications
Wheel size: 700c or 650b
Rim material: alloy
Rim internal: 24 mm
Spokes: 24
Tubeless ready: Yes, tape and valves included
Reasons to buy
+
Very robust
+
Easy to service
+
Wide internal rim width suits high volume gravel tyres
+
650b and 700c option
Reasons to avoid
-
Not the lightest at over 1,700 grams
The DT Swiss GR 1600 sits in the middle of the Swiss brand's aluminium gravel range and are offered in both 700c and 650b sizes. On review we found the 650b wheels to accelerate well - not as zippy as carbon offerings but still better than many alloy wheels we've ridden.
They delivered plenty of lateral stiffness too, with no discernible flexing under the pressure of a steep climb. As for durability, we tested them over 200 miles of flint packed bridleway. This is an unforgiving surface but we experienced no issues at all - even after taking. a few square edged hits.
The GR 1600s aren't the lightest of gravel wheels, but given the choice of material (aluminium) and the relative low cost (£495) they make for a decent upgrade on many stock wheelsets.
If this price tag is still above your budget, then the GR 1800s retails at just under £350 / $495 with the choice of both wheel sizes. You'll have to compromise a little on weight for this price though, with the front and rear wheels together weighing in at 1,895 g.
Best off/on road option
Specifications
Wheel size: 700c only
Rim material: Carbon
Rim internal: 23mm
Spokes: 24
Weight (pair): 1544g (with tape)
Tubeless ready: Yes
Reasons to buy
+
Compliant but quick to get rolling
+
Easy to set up tubeless
+
Good value - RRP under £1000
Reasons to avoid
-
Hookless rim limits tyre options
The 303 S are one of Zipp's most unique wheelsets, in that they are not designed for the sole purpose of road racing. Instead, these wheels are meant for bashing down rough unpaved roads.
With a 23mm internal rim width and hookless profile, the 303 S are intended for wide tires at low pressures — in fact, the stated max pressure is 72.2psi!
Being a wheel with Zipp written on the rim, it should not come as a surprise that they are aero optimized, in this case, designed to be speediest with 28mm tires. That said you can use these wheels with much wider rubber, making them a good choice if you're after a set that can be used across disciplines.
On review we found them to be both compliant and fast. They got up to speed quickly while delivering a comfortable ride. Some of this came courtesy of that generous internal rim width - our 28mm tyres actually measured in at over 30mm.
The price point is also worthy of a mention. At under £1000 / US$1300 they are surprisingly 'cheap' for a set of Zipp wheels. It's 303 Firecrest wheels for example have an RRP of £1,600 / US$1,900. This does mean they weigh 100 grams or so more but at just over 1,500 grams for the pair they certainly aren't heavy.
In fact, the only real downside to the Zipp 303 s wheels is the hookless rim. While it makes setting the wheels up a breeze (there's a good chance you'll only need a regular track pump to seat your chosen tyres) it does limit your choices somewhat.
Best for the environment
Specifications
Wheel size: 700c only
Rim material: FusionFiber Carbon
Rim internal: 23mm
Spokes: 24
Weight (pair): 1530g (with tape and valves)
Tubeless ready: Yes
Reasons to buy
+
Unique, recyclable carbon fibre
+
Quality Chris King hubs aren't too noisy
+
High end ride feel
Reasons to avoid
-
A little narrow by current standards
Chris King components are something of a legend and the brand's gravel bike wheels use "FusionFiber", a mix of carbon with a nylon matrix rather than the more usual resin. This is claimed to use fewer raw materials and result in a less brittle rim that rides better and is less likely to crack. Plus the rims are fully recyclable at end of life.
The hookless rim is 24mm deep and 23mm wide internally. It's laced to Chris King R45D hubs, which aren't as noisy as some Chris King freehubs.
We were impressed by the ride quality of the Chris King GRD23 R45D wheels. They absorb hits and track well, although we felt that they rode no better than any other high end gravel wheel and we'd have liked to see a slightly wider rim, but they're set apart by their US construction and eco credentials.
Read our full Chris King GRD23 R45D wheelset review.
Best for robustness
Specifications
Wheel size: 700c only
Rim material: Carbon
Rim internal: 26mm
Spokes: 24
Weight (pair): 1591g
Tubeless ready: Yes
Reasons to buy
+
Quality, wide rims
+
Robust build
+
US made
HED was a pioneer in wider wheels for road bikes, so it's a natural fit for gravel wheels, with the Emporia wheelset offering a 26mm internal width, 30mm deep hookless carbon rim.
They're laced with J-bend Sapim spokes, that are potentially more compliant than straight-pull, to HED's own hubs with a 4 pawl ratchet with 13.3 degrees of engagement.
The wheels stood up to plenty of abuse on frozen ground and the ride quality was on a par with the competition, although the HED wheels are expensive, the Pro build, using the same rim even more so.
Read our full HED Emporia GC3 Performance wheelset review.
7. Hope 20Five RS4
Best for customisation options
Specifications
Wheel size: 700c only
Rim material: Alloy
Rim internal: 20mm
Spokes: 24 or 32
Weight (pair): 1,640g
Tubeless ready: Yes, valves and tape supplied
Reasons to buy
+
Easy to service hub
+
Choice of spoke count - 24 or 32
+
Choice of six hub colours
Reasons to avoid
-
Heavier than some competitors' wheels
-
Internal rim width might not suit 40mm+ rubber
Lancashire UK-based Hope offers greatly customizable wheelsets, and their popular 20Five wheels are available in either 24 spoke straight-pull or 32 spoke J-Bend configurations. These aluminum 700c alloy rims are best for tires between 25-40mm wide, and the whole wheelset weighs in from 1,640 g.
This choice of spoke count will be music to the ears of riders who are planning on tackling gravel routes under load. The 32 spoke count is better suited to such a bikepacking trip as is the use of j-bend spokes, which are easier to find replacements for should you be heading off the beaten path.
By today's standards the 20mm internal rim width isn't that wide, and if you're planning on running tyres that exceed 40mm in width, you might want to look for wheels with a wider internal measurement.
Besides being a strong and dependable wheelset at a great price, you also get to choose from six different hub colors, including black, red, orange, blue, silver and purple.
If you've got more cash to spend and fancy a lighter carbon wheelset, check out their new RD40 RS4 wheelsets at £1,250 / $1580 weighing 1,495 g.
8. Reynolds ATR Carbon Disc
Best for aerodynamics
Specifications
Wheel size: 700c or 650b
Rim material: Carbon fiber
Rim internal: 23mm
Spokes: 24
Weight (pair): 1,615g (650b), 1,685g (700c)
Tubeless ready: Yes
Reasons to buy
+
Offered in both 700c and 650b sizes
+
Brass nipples adds to durability and ease of repair
+
Carbon layup is same as brand's MTB rims
+
Lifetime warranty
Reasons to avoid
-
There are lighter carbon gravel wheels out there
With 23mm internal width and 32mm external, the Reynolds ATR are a set of carbon gravel wheels that should work well with a range of tyre widths. They're clinchers too, which expands the tyre choice further still.
Reynolds borrowed the carbon layup from its MR5 MTB rims. Although we've yet to test the wheels this should make for a wheel with plenty of durability. Equally the wheel's 40mm rim depth appears to hit a good balance between aerodynamics and stiffness.
The wheels use Reynolds Allroad center lock disc hubs, which see 10-degrees between engagements at the rear. Spoke count is 24 front and rear. Reynolds has decided to use brass nipples, which adds a bit of weight but is a choice better suited to gravel riding where wet and mucky trails could lead to the corrosion of alloy nipples over time. The wheels also benefit from the brand'a lifetime warranty.
However, for a set of carbon gravel hoops the ATRs aren't the lightest. Both sizes - 650b and 700c - exceed 1,600 grams for the pair. When you compare this to a super light set such Roval's Terra CLX, which tip the scales at just under 1,300 grams, it's a significant difference. In fact 1,600g + is more akin to alloy gravel wheelsets, such as Shimano's GRX offerings.
That said, weight isn't everything. If you ride on gnarly trails or do a fair bit of bikepacking, both durability and serviceability are probably of greater importance - both of which appear to be among the ATR's strong points.
9. Shimano GRX wheelset
Best for affordability
Specifications
Wheel size: 700c or 650b
Rim material: Alloy
Rim internal: 21.6mm
Spokes: 24
Weight (pair): 1657g (650b), 1720g (700c)
Tubeless ready: Yes, ready taped and valves supplied
Reasons to buy
+
Uses Shimano MTB tech to improve riding in muddy conditions
+
Offered in two sizes - 700c and 650b
+
Affordable - under £500
Reasons to avoid
-
Will find lighter wheels out there
Shimano laid down its commitment to the growing gravel discipline in 2019 by launching the world's first dedicated gravel groupset, the GRX. Alongside the off-road friendly gearing, powerful braking and ergonomic hoods, Shimano also released two wheelsets in the range specifically for this use too.
The GRX wheels come in either 700c or 650b sizes, weighing in at 1,657 g and 1,720 g respectively. Compared to most carbon gravel wheels this is heavy. However, the aluminium rims make for a far more affordable wheels - and as discussed with regards to the Reynolds ATR wheels, low weight isn't always a primary concern when it comes to certain areas of gravel riding.
Said rims feature 21.6 mm internal rim diameters, which is little on the narrow side compared to other wheels discussed in this guide. That said it should still make them compatible with most gravel tyres.
Elsewhere these center-lock disc wheels come tubeless ready in the box, already taped and supplied with tubeless valves.
Interesting the GRX wheels take a nod from Shimano's MTB wheel line up, featuring an asymmetric rim profile to aid with mud-shedding in mucky conditions.
10. ENVE G23 Clincher 700c wheelset
Best high end gravel option
Specifications
Wheel size: 700c, also available in 650b (G27)
Rim material: Carbon fiber
Rim internal: 23mm (G23 700c) or 27mm (G27 650b)
Spokes: 24