What is the best tire size and tread pattern for gravel bikes?
We take you through how to (quickly!) determine which gravel tires will suit you best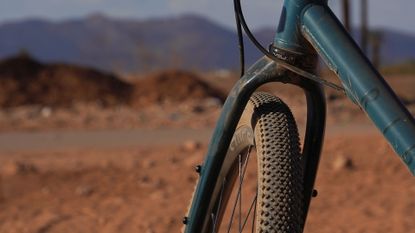 (Image credit: Stefan Abram)
Get The Leadout Newsletter
The latest race content, interviews, features, reviews and expert buying guides, direct to your inbox!
Thank you for signing up to The Pick. You will receive a verification email shortly.
There was a problem. Please refresh the page and try again.
Choosing the right tire for your gravel bike isn't exactly a straightforward task.
Unlike selecting one of the best road bike tires, where width options are limited and tread patterns are much alike, gravel tires run the full gamut in both width and tread choices. This is in response to the diversity of terrain that gravel encompasses.
Gravel can be gravel, but even then it can be loose or tightly-packed, flinty and sharp, or smaller and smoother like grains of sand. But it can also be woodland trails, with exposed roots and plenty of mud, or mountainous singletrack, strewn with larger rocks. And between these examples lie paths and tracks of varying combinations. And of course there's the asphalt or tarmac sections that are required to link your route together.
All of which means that finding a gravel bike tire size and tread pattern to match your riding conditions is vital if you're going to get the most from your gravel bike. To help you determine what the best tire size and tread is for your gravel bike, we'll examine the various widths on offer as well as looking at the variety of tread patterns, examining which terrain they best suit. But first, let's start with this question...
What's the ratio of road to off-road on your typical gravel ride?
This will certainly factor into your tire choice and can impact width as well as tread pattern. Unless you're lucky enough to live a stones throw from endless gravel trails you're likely to have to ride on the road during a gravel ride at some point.
If this only amounts to a mile or two then you're unlikely to feel the need to make a compromise, instead basing your tire choice solely on the gravel portions of your route. However, if you find yourself riding a significant amount of road inbetween your off-road sectors, then choosing a tire that finds a middle ground might be wise, especially if you want to get to those gravel portions without feeling like you've been riding through treacle.
What's the best gravel bike tire size?
The best gravel bike tires typically range between 35mm and 50mm, and can encroach into mountain bike territory too, where tires are measured in inches rather than millimeters.
But what's the best gravel bike tire size? As a general rule of thumb, the wider the tire the greater the benefits for gravel use. A wider tire can be run at a lower pressure, which adds up to greater comfort and grip. Wider tires also means higher-volume, with more air between you and the ground, which can improve puncture protection.
But there are some potential drawbacks to running wide tires. First up, your choice is governed by your frame clearance. You may want to have your bike wheels resembling those of a monster truck but if your frame only has clearance for 35mm tires then it's simply not possible.
Wider tires are also heavier. How much of a concern this is will depend on your riding. If you're focusing on gravel racing then you might wish to sacrifice a bit of comfort for a lighter set-up, though I'd argue that the less fatigued you are towards the end of a race the faster you're likely to be. If you're bikepacking or riding for fun then comfort is likely to be of far more importance than a few extra grams.
The same is true for aerodynamics. For the vast majority of gravel riders saving a few watts isn't part of the equation. However if you're looking to be competitive at gravel races you may be looking to reduce drag where you can, and narrower tires, fitted to the right rims, will do this to some degree.
So is there a sweet spot for your gravel riding? As a general guide, if you're spending a lot of the time on road, or you're racing on tightly packed gravel, then 35 to 37mm are likely to be a good fit. At the other end of the spectrum, if you ride rugged trails, encounter plenty of mud and spend little time rolling on tarmac, then 47 to 50mm is a good fit.
In the middle of these two extremes sits the 40 or 42mm gravel tire. It's the all-rounder of the bunch and allows you to ride a wide range of differing surfaces without having to swap out your tires. Granted, it won't be the fastest rolling tire available nor will it deliver the greatest traction but it should perform well across the board.
What's the best gravel bike tire tread pattern?
This is where things start to get really interesting. Tread pattern is intrinsically linked to terrain in a way that width isn't. You could ride a narrower tire with the right tread, for example, and still have plenty of fun. Get the tread wrong however and your ride is likely to be uncomfortable at best, if not downright dicey at times.
Before we delve into the varying tread patterns available, it's also worth evaluating your riding style. If you like to cruise along then you're likely to be able to get away with a mellower tread pattern even if the terrain seems best suited to something more aggressive. Likewise, if you're hammering along at speed then a tire's attributes, and weakness, are likely to be accentuated.
All-road
It may be that your gravel bike is actually your road bike, too. There are a number of high-volume slick tires on the market that deliver bags of comfort but also a lower rolling resistance too.
These can be a great choice if you find yourself using dedicated bike paths too, many of which feature a tarmac or asphalt surface. A wide slick is also a good match for all-day road rides where a comfortable ride is the priority.
Examples of wide slick tires include the WTB Exposure, that has a smooth centreline and comes in a 36mm width and the Panaracer GravelKing Semi Slick, which is available in a number of widths including 38 and 43mm.
Best for: Riders who rack up plenty of road miles
Best width: 35-40mm
Hardpacked grit and 'mellow' gravel
If you ride routes that feature compacted gravel trails, light grit and road sections too, then you'll want a tread pattern that delivers enough grip without slowing you down.
Some tire brands seek to achieve this blend by using the same smooth centreline you get on a slick tire but with the addition of tread on the shoulders. Here your choice largely revolves around the size and shape of that tread.
Schwalbe's G-One RS, for example, is its lowest rolling resistance tire and aimed at gravel racers. It achieves this with a semi-slick pattern that features plenty of 'slick' and just a small amount of traction in the form of shoulder knobs. Similarly, the WTB Byway, which again features a slick centre but uses an additional diamond tread as well as larger side knobs for confident cornering. Ultradynamico's Cava uses central arrows, surrounded by small diamonds, for a similarly fast-rolling but pretty grippy effect.
Best for: Gravel racers or anyone with a need for speed
Best width: 35-42mm
Dry and dusty
A differing approach used to create a fast-rolling tire with reliable traction is to use a round, low-profile knobs that cover the entire surface. This is a choice favoured by Schwalbe's G-One Speed and G-One Allround as well as American Classic's Aggregate. It's a tread pattern that's well suited to dry and dusty trail conditions.
Schwalbe has recently introduced a twist on this approach, with the G-One R. This gravel race tire features what the German brand calls a "boomerang profile'. This translates to a tread pattern that combines low-profile central lugs with angled shoulder lugs to attain the low rolling resistance/high impact protection/cornering grip cocktail that the light terrain gravel tire seeks to achieve.
Best for: Desert rats and racers
Best width: 40-42mm
The all-rounder - road, hardpack and dirt
Many of the tires mentioned above will work as a reliable all-rounder if your on and off-road ratio sits heavily in favour of the former or your trails are of the mellow variety. However, if you split your time between tarmac and gravel but both surfaces can be, at times, pretty rugged - think broken roads littered with cracks and potholes and gravel surfaces littered with rocks and prone to mud - then you'll need a true all-rounder.
Here the tread pattern will be a little more aggressive but will still remain tightly spaced. The idea here is that on rougher trails the knobs will conform to the terrain and provide a decent level of traction, while on smoother surfaces the limited spacing will help to reduce rolling resistance as the knobs are less likely to bite. A good example of this tread pattern is WTB's Venture, heralded as solid all-rounder and offered in 40, 47 and 50mm versions.
Best for: Riders who want to 'fit and forget'
Best width: 40-47mm
Looser gravel and larger rocks
When the trails get a little more extreme, you'll ideally want your tire tread pattern to be more aggressive. Here, rolling resistance is less of an issue while traction and puncture resistance becomes the priority.
At this end of the spectrum you'll see gravel bike tires starting to look a lot more like their mountain bike equivalent - the knobs are larger, both in the height and width, and tend to be spaced out to help grip on loose terrain.
Like all gravel bike tires, there are varying degrees here, and you are able to find a tire to match your riding conditions. For example, the WTB Resolute is designed to be an off-road all-rounder, delivered in a 42mm width, and with a tread pattern that can handle a variety of gravel. The Schwalbe G-One Bite serves up an open tread design on the outer portion of the tire, while the central blocks are moved closer together to reduce drag.
Best for: Off-grid bikepackers and those who like get radical
Best width: 42-50mm
Mud
Much of the same applies when the trail conditions start to get sloppy. You'll again want a tread pattern with generous knobs but the spacing here is even more important - generous gaps prevent the tire getting clogged up, which impacts its efficiency.
There are different approaches to patterns to achieve performance in the mud - Panaracer blends square shoulder knobs with a central rectangle pattern on its GravelKing EXT, while the WTB Sendero uses amply spaced tall knobs on the shoulder but draws them closer together on the tire's centreline to aid rolling resistance. As for Schwalbe's G-One Ultrabite, which is aimed at muddy conditions, the blocks resembled a chain link, and run vertically on the shoulder and horizontally down the centreline.
Best for: Mountain goats and riders who don't let rain stop play
Best width: 47-50mm
All the gravel tires referenced here are designed to run tubeless. Doing so allows them to operate at lower pressures, which aids both comfort and grip.
Thank you for reading 20 articles this month* Join now for unlimited access
Enjoy your first month for just £1 / $1 / €1
*Read 5 free articles per month without a subscription
Join now for unlimited access
Try first month for just £1 / $1 / €1
Get The Leadout Newsletter
The latest race content, interviews, features, reviews and expert buying guides, direct to your inbox!
Luke Friend has worked as a writer, editor and copywriter for twenty five years. Across books, magazines and websites, he's covered a broad range of topics for a range of clients including Major League Baseball, the National Trust and the NHS. He has an MA in Professional Writing from Falmouth University and is a qualified bicycle mechanic. He has been a cycling enthusiast from an early age, partly due to watching the Tour de France on TV. He's a keen follower of bike racing to this day as well as a regular road and gravel rider.