Chris King's GRD23 R45D premium carbon gravel wheelset reviewed: Is the price tag worth it?
Chris King GRD23 R45D carbon gravel wheels offer a smooth ride, are build to last but come with an eye-watering price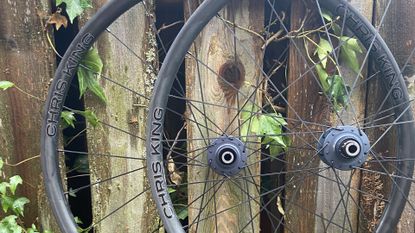 (Image credit: Tyler Boucher)
This is a premium gravel wheelset backed by a best-in-class warranty that rides exactly the way it should: it's comfortable, built to last, and tracks well. That said, these wheels are on the heavy side compared to their competition, and the price is eye-wateringly high.
Reasons to buy
+

Very high build quality

+

Lifetime warranty

+

Great compliance

+

No rider weight limit

+

Recyclable
Reasons to avoid
-

Not particularly light

-

Very expensive

-

Limited aerodynamic benefit
When he launched his eponymous company, Chris King was the sole employee manufacturing one-off headsets and outfitting them with salvaged bearings. Today, the company employs many skilled craftspeople who make a vast array of different brightly colored hubs, headsets, bottom brackets and now: carbon fiber rims.
Chris King GRD23 R45D: construction
Long a proponent of sustainable manufacturing, Chris King takes a similar approach in constructing its new rims. The GRD23 wheels use thermoplastics developed by CSS Composites to bind the carbon layers together instead of the much more common resin construction. Called "FusionFiber", this manufacturing technique makes for a less brittle rim which is better able to absorb impact and can also theoretically be melted down and used again, allowing broken rims to be recycled instead of thrown away.
I asked Chris King how the process differs from standard carbon construction of the best gravel bike wheels, and learned there's more to it than just swapping out a single component:
"The Fusion Fiber manufacturing process requires a fraction of the energy, a fraction of the time, involves no toxic compounds, and produces no waste as any off-cuts or byproduct material is used along with recycled material. Traditional carbon fiber is pre-impregnated with resin, and it must be held at sub-zero temperatures to maintain the integrity of the material and produces a lot of excess material that ends up in the landfill. Fusion fiber isn't chilled before lay-up and has an infinite shelf-life. The lay-up and cure process takes much less time versus the common carbon fiber rim. The bonding agent in Fusion Fiber is non-toxic and doesn't require high heat or chemical treatment, so it can be shredded and remolded, and repurposed."
The rims are hookless and measure 24 mm deep, 23 mm wide internally and 29 mm externally, which is on the narrow end for a modern gravel wheelset. They share the same shape with Revel's RW23, also constructed with FusionFiber thermoplastic technology, but with a layup that is unique to Chris King. The goal for these wheels, according to Chris King, is to "embrace the contradictions inherent in wheel design and strike a balance between the stiffness necessary for the wheel to track accurately and plushness that keeps the rider smooth and steady in the saddle."
They have been designed to meet the latest ETRTO guidelines, and can accommodate gravel bike tires anywhere from 28-50 mm.
Rims are laced to Chris King's R45D Centerlock hubs with 24 spokes, front and rear using Sapim CX-Ray bladed spokes and external alloy nipples. Hubs have 8 degrees of engagement.
As for the warranty, here's what is described on Chris King's website:
"In the unlikely event they get damaged because you're just too gnarly, contact your local Chris King Dealer or email info at chrisking.com. We'll send an RA number and shipping label to send us back the wheel.
"Once we receive it, we will rebuild your wheel with a brand new, box fresh rim and give your hub a proper once over to make sure it is in tip top shape (free of charge, of course).
"We ship your wheel back to you so you can get back to having fun on your bike and ship the broken rim off to be recycled."
It's good to see a manufacturer stand behind its product with such conviction.
The Ride
My test wheelset arrived directly from Chris King in Portland, Oregon. This was the most carefully packed wheelset I've ever unboxed: the front and rear wheels arrived nestled snugly (smaller boxes help keep shipping costs down) but without making contact anywhere. Accompanying the wheels was a handwritten card noting the build specs by the person who built the wheels. It makes sense that a wheel company would be good at shipping wheels but you'd be surprised by how often that's not the case.
I set them up with Chris King's included valves (which are very well-designed in their own right, with a valve tool tidily incorporated into the cap) and mounted them on my cyclocross bike. For testing purposes, I chose a knobby, 38mm tire —a good all-around gravel width comfortably in the middle of the recommended range that isn't so gargantuan that it completely isolates the sensations from the rim.
Setup was typical for the current generation of hookless tubeless rims—the tires took a little bit of convincing to get over the edge of the rim but promptly snapped into place once inflated.
My first ride on the GRD23 wheels was one of my regular testing routes: a 45 minute cruise to a network of rooty, flowy singletrack trails. The freehub on the R45 hubs is relatively quiet—they have "The Buzz," but I found it to be more sedate than other CK hubs. Riding a 'cross bike on technical trails allows for very thorough testing: you can load the wheels into corners to get a sense of their lateral rigidity and riding over repeated bumps and roots let's you feel how they track and absorb impact.
It's hard to isolate the source of comfort and compliance on a bicycle when there are so many factors at play, but if a wheelset is too stiff, even lowering tire pressure doesn't eliminate jarring hits on bumpy terrain. More compliant wheels tend to disappear underneath you—not soft but fluid.
Especially as a lighter rider, I find that overly stiff wheels are hard to keep on the ground. Smaller bumps are absorbed by the tires without issue, but riding over roots or potholes causes the wheels to bounce out of control more readily.
The ride quality on these GRD23s is good—they absorb hits well and track straight in bumpy terrain. Knowing how resilient they are inspires confidence —inadvertently hitting a feature that bottoms out a tire can easily dent an aluminum rim, but it would take a very hard hit to damage a well-made carbon one.
Chris King hubs might be many things: shiny, reliable, smooth but light isn't one of them. I would say the GRD23 wheelset rides lighter than its stated weight—I have a propensity for getting airborne on my 'cross bike (not, strictly speaking its intended purpose) and the wheels felt particularly floaty whenever I was off the ground. But the fact remains that these rims are designed to last, not shave weight.
On the bike, there isn't much to differentiate the GRD23 from most other high-end wheelsets. They ride very well, and despite my thrashings off-road, show no ill-effects. Given Chris King's track record with other parts and the stated warranty, I would expect these to last a long time.
Value
In terms of value, it's hard to see past the price. There are a number of very well-regarded carbon wheelsets in the $1,500–2,000 range, so a product needs to be exceptionally good to command a price beyond that.
A competitor would be Industry Nine's Ultralite 250 Carbon CX wheels, which are made in North America, have a slightly wider rim, cost $2300 and weigh only 1320 grams. They also have a very good warranty.
Enve's made in USA G23, which has a similar rim profile, though with a slightly wider external width, retails for $2,500 with Enve's alloy hubs or $3,000 with the Chris King R45. They are also lighter at 1316 grams.
Revel's RW23 rim (which uses an identical mold to the GRD23) laced to Industry Nine Torch hubs retails for $2,200 and also has a very good warranty.
Conclusion
On the bike, the GRD23 wheelset does everything it's supposed to. What sets these wheels apart isn't performance, it's the fact that they're made in the USA by a certified B Corp and can be recycled, and that they have an excellent warranty from a company known for making high-quality, long lasting products. For some, these things might be worth the asking price, for others, similar performance can be bought for less.
The value might be best realized for riders who tend to be very hard on equipment. I don't know many people who frequently break carbon rims, but I'm sure they're out there.
I would have liked to see Chris King go with a little bit wider profile—a 25 mm internal width would be in keeping with current tire width trends better than 23 mm, but on the bike this makes little difference. While they're expensive, it's clear that they're a well made product that will last a long time.
Specs
Build options: Shimano HG or SRAM XDR; SS or Ceramic bearings
Weight: 1468 grams (listed), 1530 grams (actual, with rim tape and valves)
Price: $2,915
Thank you for reading 10 articles this month* Join now for unlimited access
Enjoy your first month for just £1 / $1 / €1
*Read 5 free articles per month without a subscription
Join now for unlimited access
Try first month for just £1 / $1 / €1
Tyler Boucher is a former (and occasionally still) bike racer across several disciplines. These days, he spends most of his time in the saddle piloting his children around in a cargo bike. His writing has appeared in magazines published in Europe, the UK and North America. He lives in Seattle, Washington.