Gallery: top bike builders showcase at the first in-person Chris King Open House since the Covid years
Handmade bike builders Moots, Speedvagen, No. 22, Breadwinner and others showed off their custom and some yet-to-be-released goods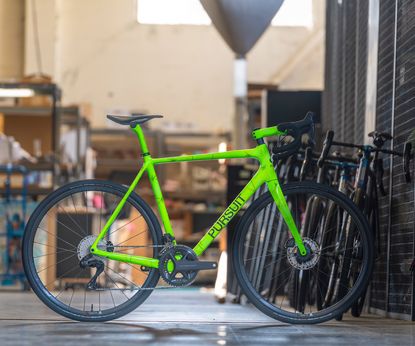 (Image credit: Billy "Souphorse" Sinkford)
The seventh annual Chris King Open House event took place in Portland, Oregon, this past weekend and we were on site to see the goods.
This was the first IRL gathering since the Covid pandemic started, and some builders went all out in showcasing their crafts — all of which were made specifically for this show featuring the latest color release by Chris King, simply called "Midnight."
From unique builds to adventure-ready racks and gorgeous paint jobs and matching car wraps, 15 of America's top fabricators and one from Spain were present to show off their custom creations.
In addition to the bike builders, other exhibitors included Simworks, Cervelo, Santa Cruz Bicycles, SRAM, Robert Axle Project/Old Man MTN, Super-Pacific and Biciclista Clothing.
Nearing their 50th anniversary, Chris King Precision Components is a domestic performance bicycle component manufacturer based in Portland, OR. They're well-respected around the globe for their high quality, bombproof and blingy headsets, hubs and bottom brackets.
Matte Midnight
Each year, Chris King uses the bike builder showcase to release components in a new, limited-run color. This year's color, a dark blueish grey is simply called "Matte Midnight" and was defined by the component maker as "a study in subtle sophistication." As part of the color release, Dynaplug makes a limited edition Racer Pro tool in that year's limited color, available exclusively through King.
Drool-worthy Bikes:
Alliance - Hailey, Idaho
Image 1 of 3
Benson Polytechnic High School is a technical public high school in Portland, Oregon, where, in addition to a standard high school curriculum, students are given a special emphasis in a technical area.
Students self-select into an area of specialization for the final two years, which include everything from communications technology to various medical fields, automative technology and manufacturing.
Those specializing in manufacturing and fabrication make a steel bicycle frame as their senior project. From dimensions and geometry to welding and painting, the student will make their very own, completely custom bicycle before graduation.
The bike shown here was inspired by an All-City Mr. Pink and featured some pretty impressively smooth welding.
Image 1 of 4
This is a prototype of the yet-to-be-released All Road bike from Breadwinner.
Breadwinner is the collab of award-winning bicycle builders Ira Ryan and Tony Pereira, who meld their styles and approaches in every Breadwinner bicycle. Each bike is custom made using Columbus steel, time-honored construction techniques and finely tuned geometry.
The All Road will sit in their line-up between the Lolo road bike and current B-Road.
Chumba from Austin, Texas
Image 1 of 4
Austin-based bike manufacturer Chumba has roots in downhill mountain biking but today makes Made in the USA titanium steeds for mountain biking, gravel grinding, bikepacking, cyclocross, touring and everything in between.
Beautifully hand crafted, built to last and race-proven, their frames have set numerous ultra-race records on the Tour Divide (among others).
Doppo | Sim Works from Portland, Oregon
Image 1 of 4
Sim Works, a distributor of craft bicycle goods has started producing "capable bikes" under the Doppo name.
The three models are a modern tourer (displayed here), a versatile trail bike and a bike-packing companion.
Inspired by solo journeys, these bikes are made to serve as your durable and functional companion.
English from Eugene, Oregon
Image 1 of 3
Custom stainless steel bikes with English flair. Bob English is a Brit with a Masters in mechanical engineering from Cambridge University who somehow ended up in Eugene, Oregon.
At the show, English showcased a 'forever bike' made for a customer who needed a bike to withstand wet weather and the rough British roads. As such, this road frame has room to fit wider tires and fenders.
Horse from Brooklyn, New York
Image 1 of 5
Coming from Brooklyn, New York, it may seem surprising that Horse Cycles would showcase a mountain bike, but with the Catskill Mountains just a three-hour drive away, this is exactly the kind of bike one would want to have in their stable for a weekend away.
The steel Hell Cat hardtail is an All Mountain ripper with 27.5 x 2.8 tires, a 66º head tube angle compatible with suspension forks as big as 150mm.
Moots from Steamboat Springs, Colorado
Image 1 of 2
Pssst. Moots is launching a new road bike on November 15, a prototype of which was on display at the show. Details to come.
Mosaic from Boulder, Colorado
Image 1 of 5
This pink steed is a Mosaic MT-2, a modern titanium hardtail made for marathon racing and bikepacking adventures alike.
The frame is built around a 120mm suspension fork, 29x2.6 tires and a size-specific straight gauge titanium tubeset.
The MT-2 is part of Mosaic's new Batch Build program, which means this steed could be yours in as little as 2 to 4 weeks time.
No.22 from Johnstown, New York
Image 1 of 3
The Drifter is No.22's most versatile bike, and comes with the tagline: "Pavement optional. Adventure mandatory". It features a tire clearance of up to 700 x 45mm or 650B x 50mm, disc brakes with standard thru-axles and any-road capable geometry.
The New York Ti manufacturer used the Chris King show to debut its fully integrated front end featuring an internally routed Ti cockpit, a bespoke headset and headtube and a 3D printed sintered titanium stem. Paired with a new finishing schemes and Chris King's midnight tone bottom bracket and hubs, this bike was among the most goggled at.
Pursuit from Bozeman, Montana
Image 1 of 4
By far the loudest colorway on display, this handcrafted carbon steed sure turns heads. Carl Strong and his Pursuit Cycles team set out to make the antithesis of a generic, assembly-line carbon bike, including the paint job, which are bright and loud.
The bright green colorway on the Pure Road machine was accented with the midnight tone of the new CHris King components including a Chris King wheelset, bottom bracket and headset.
Retrotec from Napa, California
Image 1 of 5
There's more than great wines coming out of Napa. Curtis Inglis has been making custom steel bikes since 1993 and is known for his curvy tubed steeds.
On display was a custom Retrotec Twin Funduro. Featuring a 140mm suspension fork and 27.5 wheels, this all-mountain bike was designed to get rowdy.
Rizzo from Madrid, Spain
Image 1 of 2
Making the longest trek of all to showcase his craft, Rubén Durán is a self-taught Madrid-based bike builder. Durán builds only one bike at a time with comlpetely custom sizing, specs and colors, helping your dream bike become a reality.
With clearance for a 29×2.3 tire, his gravel machine is one made for the roughest of roads. Continuing the adventure theme, the bike features plenty of eyelets for mounting gear and a bombproof INGRID mechanical drivetrain and Chris King components.
Sage from Beaverton, Oregon
Image 1 of 3
Sage gave their Storm King an intergalactic paintjob to match the Midnight toned components. A small Chris King bee even made it onto the top tube.
This titanium drop-bar adventure bike is designed for exploration, with plenty of bosses, a dropper ppost and hefty tire clearance to fit a 700x50mm or 650×2.4 tire.
With a more comfortable geometry, the Storm King is suitable for multi-day bikepacking yet nimble enough to be a contender at Grinduro or