Icons of cycling: Chris King headset
A component that's become a symbol of quality and durability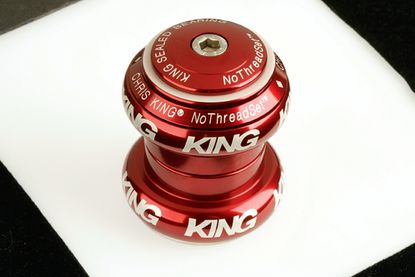 This is one component that does what it says on the tin — or rather does what is laser etched on the outsides of its anodised bearing cups: it is the king of headsets. A Chris King headset is the ultimate piece of bike jewellery. A premium product with a price tag to match, it not only looks beautiful but works beautifully too — and is guaranteed to do so for 10 years to come.
>>> Icons of cycling: Sean Kelly's cobble-busting Vitus 979
A bike with a Chris King headset stands out. It commands respect. Chris King, despite his name, was not born into cycling's ruling class. A Californian from Santa Barbara, he worked as a machinist in a medical tool factory and spent his spare time hanging out with bike hippies.
>>> Should you slam your stem: yes or no?
It was an inauspicious start, but his day job gave the young King access to surgical-grade ball bearings that were manufactured to finer tolerances and made from harder materials than any in cycling. Recognising the limitations of even the finest Italian headsets — they were too soft and wore out quickly — King started making his own.
>>> Icons of cycling: the first Shimano STI gear shift system
This was the mid-1970s and the fledgling mountain bike scene of southern California was the perfect proving ground for King's equipment. Word got out about the super-quality headsets that could last decades rather than days. So in 1976 Chris King went into business.
Dress right, keep riding
Excellence with ethics
Even though Chris King's ball bearings were harder than everyone else's, his business practices were based on the much fluffier ideals and ethics of the hippy scene he had come from: manufacturing processes had to be sustainable and waste must be recycled.
>>> Icons of cycling: Campagnolo Super Record derailleur
Forty years on, Chris King is guided by the same ethics. The company has moved up the coast to Portland, Oregon, but every part of the Chris King headset is still made in house, by hand, by local US workers. Even the raw bar stock is American, whether steel, aluminium or titanium. That's what makes Chris King headsets expensive.
The results are in
"Running a factory in the United States, using only United States labour and material sourced from the United States… we don't make a lot of money on this stuff," King has said. He does it this way because he believes keeping work and sources close keeps the economy circulating in his community and reduces environmental damage.
>>> Six things no one ever told you about Shimano Di2
Chris King still sports his trademark Californian moustache. By his desk he has an ornament featuring one of his original 1970s headsets, a gleaming black NoThreadSet used by Lance Armstrong in the Tour, and a little chuck of tarmac from the Camino Cielo in Santa Barbara, where it all began.
Thank you for reading 20 articles this month* Join now for unlimited access
Enjoy your first month for just £1 / $1 / €1
*Read 5 free articles per month without a subscription
Join now for unlimited access
Try first month for just £1 / $1 / €1