Icons of cycling: Campagnolo Super Record derailleur
Bike tech has never looked as classy as the Super Record when it first launched more than 40 years ago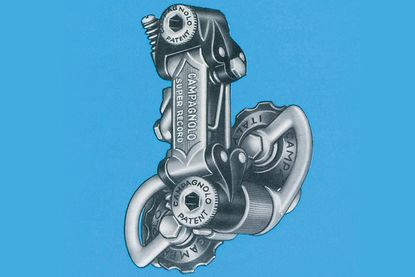 It has been compared to a Breitling watch, and indeed if James Bond had used a bicycle to pursue his evil adversaries, there's no doubt Q would have equipped it with a Campagnolo Super Record rear derailleur. And we hope Q would have impressed upon the insouciant secret agent that it was under no circumstances to be returned scuffed, let alone crushed or bullet-riddled.
Although the Campagnolo Super Record did not double up as a Geiger counter, it certainly did radiate class. It was said to be made from materials more exotic than had ever before been seen in cycling.
>>> Icons of cycling: the first Shimano STI gear shift system
After all, when it was launched in 1973 man had first set foot on the moon just four years earlier, so it was reasonable to expect that NASA's technological innovations would be trickling down to Campagnolo running gear by now. The Super Record derailleur was so expensive, and at 181 grams so super-light, that this certainly seemed feasible.
>>> Icons of cycling: Campagnolo Tool Case
It was in fact made from aluminium (albeit with titanium bolts) like its predecessor, the Nuovo Record — the first aluminium derailleur — with black anodised pivots, but the elegance and style it exuded were priceless. A revised version with the new 'script' logo, smoother, more modern styling and a reworked pulley cage arrived in 1978 to similar acclaim.
The ultimate expression
Tullio Campagnolo had launched the quick-release lever in 1930, having struggled to undo wing nuts with frozen fingers on top of a mountain three years earlier. His first derailleur, which arrived 10 years later, was literally an extension of his QRs.
The Campagnolo Cambio Corsa used two rods and levers mounted on the right seatstay: one to move the chain between sprockets and the other to release the wheel so it could move backwards or forwards in the notched dropouts to take up chain slack. Gino Bartali famously — and some might say astonishingly — used the system to win the Tour de France in 1948.
>>> Who is the greatest Grand Tour rider ever?
Campagnolo launched its first deformable-parallelogram derailleur, the Gran Sport, in 1950 — in response to French company Simplex's new parallelogram system — and the Italian company dominated racing with this and its successor the Nuovo Record until the arrival of the Super Record 23 years later.
>>> Icons of cycling: Look's revolutionary clipless pedals
The 1973 Super Record, made of 'rocket' aluminium with titanium bolts instead of the chrome-plated brass of the Gran Sport, was the ultimate expression of that classic original design. It, and the accompanying Super Record groupset, was superseded in 1984 by the radical but arguably much less pretty C-Record — though a final version was produced until 1987.
Thank you for reading 10 articles this month* Join now for unlimited access
Enjoy your first month for just £1 / $1 / €1
*Read 5 free articles per month without a subscription
Join now for unlimited access
Try first month for just £1 / $1 / €1
Simon Smythe is a hugely experienced cycling tech writer, who has been writing for Cycling Weekly since 2003. Until recently he was our senior tech writer. In his cycling career Simon has mostly focused on time trialling with a national medal, a few open wins and his club's 30-mile record in his palmares. These days he spends most of his time testing road bikes, or on a tandem doing the school run with his younger son.