Icons of cycling: Sean Kelly's cobble-busting Vitus 979
Take one Irishman, add a wholly Gallic bike and the result is Classics gold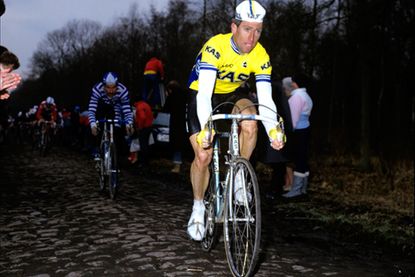 It was thoroughly French, especially in its classic 'tout Mavic' specification, but the Vitus 979 will be forever associated with Irishman Sean Kelly, who rode this jewel of a bike to its most famous victories.
Unless you know the story, Kelly and the Vitus 979 may seem an odd couple. 'King' Kelly, perhaps the last true all-rounder who ticked off one-day cobbled Classics just as easily as stage races, was a no-nonsense, old-school hardman from rural County Waterford. The Vitus 979 was as slender, sophisticated and downright Gallic as the Gitanes cigarette between Brigitte Bardot's lips.
Kelly was spotted by, and spent most of his pro career racing for, the legendary directeur sportif Jean de Gribaldy. The Frenchman famously came to Kelly's parents' farm to sign him up.
Ride the cobbles with King Kelly
De Gribaldy was ahead of his time in his training methods and approach to nutrition so it follows that he didn't hesitate to have his team compete on the most radical bike of the mid-1980s.
>>> Sean Kelly on riding the cobbles: 'You have to be crazy to win here' (video)
Crucially, although he was different in his approach to cycling, cycling was not a game for de Gribaldy. "We play football, tennis, hockey, but we do not play at cycling," he said. In other words, he had complete faith that the 979, whose lightweight anodised aluminium tubes were glued into aluminium lugs rather than welded together (TIG welding for aluminium had yet to be developed), would not fall apart during the most demanding races, such as Paris-Roubaix, which Kelly won twice.
>>> Icons of cycling: Colnago C40
Assuming the glued tubes held together, would the frame be stiff enough for a rider with Kelly's strength — not just a GC contender but also a formidable sprinter who won the green jersey at the Tour de France four times? The answer was a resounding 'oui'.
The soft aluminium Duralinox fork actually suited the punishing parcours of Paris-Roubaix and the whippiness of the main triangle may have even complemented Kelly's smooth pedalling style: he won races on the Vitus 979 right up until his second and final Milan-San Remo victory in 1992.
The interference fit of the tubes into the lugs, which were bonded in place using a dry heat-activated epoxy, was an aerospace industry method patented in 1984 by Ateliers de la Rive, the maker of the Vitus 979 Duralinox.
>>> Icons of cycling: the first Shimano STI gear shift system
In its catalogue Vitus pointed out that bonding has no influence on the properties of the alloys forming the joint, unlike in welding or brazing. It also claimed a "degree of shock absorbing elasticity" and said its frame was 30 per cent lighter than its equivalent in steel. Producing a bonded frame in large quantities was also easier and kept manufacturing costs down.
>>> Vitus Bikes' 2016 cyclocross range goes single ring
Vitus changed hands several times from the mid-1990s onwards and is now resurgent under the stewardship of Chain Reaction Cycles, with Kelly as brand ambassador. However, you won't find a 979 in the 2015 line-up.
Thank you for reading 10 articles this month* Join now for unlimited access
Enjoy your first month for just £1 / $1 / €1
*Read 5 free articles per month without a subscription
Join now for unlimited access
Try first month for just £1 / $1 / €1
Simon Smythe is a hugely experienced cycling tech writer, who has been writing for Cycling Weekly since 2003. Until recently he was our senior tech writer. In his cycling career Simon has mostly focused on time trialling with a national medal, a few open wins and his club's 30-mile record in his palmares. These days he spends most of his time testing road bikes, or on a tandem doing the school run with his younger son.