HED Emporia GC3 Performance gravel wheelset review - strong, robust and made in the USA
A solid, dependable set of hoops but - no surprise - they are more expensive than those made in the Far East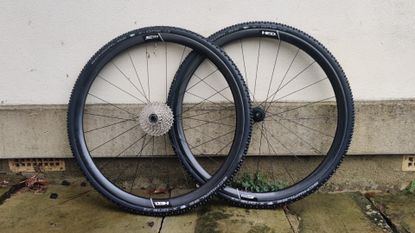 (Image credit: Joe Baker)
The HED Emporia GC3 Performance gravel wheels proved to be robust and well designed. The large internal rim width provided excellent support for the tire sidewalls and, despite being hammered across rock-hard frozen earth, the wheels stayed perfectly true for the duration of the test period - a testament to their handbuilt quality. These wheels are expensive, though, so those on a budget might wish to look elsewhere.
Reasons to buy
+

Handbuilt in the USA

+

Strong pair of wheels

+

Great rim profile

+
Why you can trust Cycling Weekly Our expert reviewers spend hours testing and comparing products and services so you can choose the best for you. Find out more about how we test.
HED has been a long standing player in the premium wheel market, with a history in revolutionary wheels handbuilt in the USA. So, when we got our hands on the HED Emporia GC3 Performance gravel wheelset, safe to say our expectations were set pretty high.
The GC3 Performance - although the entry level wheels - performed well on all sorts of terrain, putting up with all the tests we threw at them and stack up well against the best gravel bike wheels.
HED Emporia GC3 Performance: construction
HED's Emporia GC3 Performance wheelset is actually the entry level wheelset in the Emporia range. But just like the top flite Pro wheelset, the Performance benefits from the exact same 30mm rim depth and the same handbuilt treatment of its pricier big brother.
HED has gone for a pretty wide 26mm internal rim width and a 31mm external rim width. The internal profile is hookless for improved impact resistance and it's tubeless ready too. HED says the wheelset is intended for tires anywhere between 32 and 55mm wide.
Tubeless rim tape and valves are supplied with the wheel, so you are all good to go straight out the box. Those rims are laced up with 24 double-butted J-bend Sapim spokes and to HED's own performance hubs .
The centre locking forged alloy hubs are attached to a four-pawl 27 tooth ratchet ring design, giving the wheels a 13.3 degree engagement - which is a little on the slower side for a set of gravel wheels.
For the weight weenies out there, HED say each rim weighs in at just 405 grams, with the total wheelset coming in at 1,545grams. However, on our scales of truth, the wheels weighed in at 723g for the front, and 868g for the rear, giving a total weight of 1,591g - so around 180 grams heavier than the claimed weight of the Emporia GC3 Pro wheelset.
The ride
The weather conditions at the time of testing were nothing short of glacial, with the coldest morning on test being a numbing -10°C / 14°F. For that reason I ended up opting for a pretty aggressive Schwalbe X-One Bite cyclocross tire. Although slightly on the narrow side, my hope was that I would be able to cut through the frosting of snow to find some lower down grip.
These tires in particular were pretty tough to get a good seal on. Luckily, I do have access to a tubeless specific floor pump - but even with this on hand, the Schwalbes still needed a bit of soapy water and about 70 PSI to finally be persuaded to seat properly.
That said, once on, the wide rims gave a really nice tire profile to the tires and a supportive feel when riding. During my test period, I indulged in a wide range of gravel, from snowy singletrack to rutted frozen tracks - as well as some more traditional gravel fire roads.
The rutted tracks in particular were a good test of wheel strength, and over my test period I found no deviation from a perfectly true wheel. So these are definitely tough enough!
The stainless steel bearings in the hubs felt great too, although any hub when brand new, at this price point, should feel pretty great out the box. Over my time with the wheels I didn't notice any deterioration to this quality either, which given the harsh conditions we have had here recently definitely bodes well.
Plus a trivial point - but one some people will love - the freehub pretty loud, too, which I'm personally all for!
One thing I did notice on these rims, purely from an aesthetic standpoint, is the manufacturing seam on the top of the rim profile. It does protrude slightly and for those who are quite 'particular', they may find it a little unsightly. It is only really noticeable up close, but on a $1,750.00 wheelset, it's something worth mentioning.
Value and conclusion
For a premium brand, the HED Emporia GC3 Performance wheels stand up against the competition about as expected. Retailing at $1,750.00, the Emporia Performance wheelset sit above some competitors like Hunt.
For comparison, Hunt's 42 Limitless gravel specific wheelset - with comparable rim specs and weight - retails for $1,570.00 / £1,249.00, which is a substantial saving. That said, though, when you consider handbuilt quality, and cutting edge brand heritage, these hoops are still worth a look!
Thank you for reading 10 articles this month* Join now for unlimited access
Enjoy your first month for just £1 / $1 / €1
*Read 5 free articles per month without a subscription
Join now for unlimited access
Try first month for just £1 / $1 / €1
I have loved riding my bike since the age of three years old. Racing is my motivation for riding, with more than five years' experience on the road, four of them international.
I love the outdoors and enjoy a multitude of disciplines including road, touring/bikepacking, cyclo-cross, gravel and mtb trail riding.
I've also been an avid tinkerer from a young age, getting my bike down to 5kg for a junior national hill climb win in 2018.
In the last three years I have worked part time in a bike shop alongside my riding, which has helped develop my bodging into slightly more proper mechanics...