Best fenders - mudguards - for gravel bikes 2023: top models we recommend
Want to extend the life of your components and ride in greater comfort? We've rounded up the best fenders / mudguards to protect both you and your gravel bike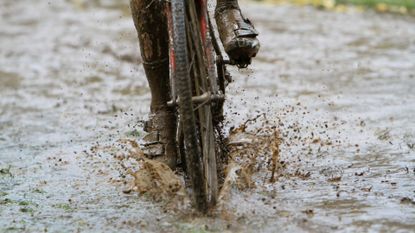 (Image credit: Future )
Get The Leadout Newsletter
The latest race content, interviews, features, reviews and expert buying guides, direct to your inbox!
Thank you for signing up to The Pick. You will receive a verification email shortly.
There was a problem. Please refresh the page and try again.
Fenders - or mudguards - are one of the best accessories you can add to your gravel bike. The ground might be hard and dusty when it hasn't rained for days, but those tracks can turn to a sloppy, muddy mess in the winter - and even much of the spring and autumn.
A good set of fenders/mudguards will do a lot to protect the vulnerable parts of your bike like the headset and drivetrain. If you're loaded up with a full complement of bikepacking bags - even if they are rated as waterproof - you'll be better served by not testing their capabilities. It only takes one night in a wet sleeping bag or drenched tent to be assured of the importance of keeping these things dry.
Showers pass but roads stay wet for a long time after rain, so you'll also be more comfortable if the worst of the spray is deflected from you. Heat is lost extremely quickly from wet clothes, but even if it's warm and wet, a mid-ride café stop is a more pleasant affair if you aren't caked from head to toe in silty water.
But it's not just as simple as buying any old guards. You need to make sure that you're getting something that will fit wide tires, has clearance for proper mud and that can cope with the rattling from unpaved tracks.
Best fenders/mudguards for gravel bikes
You can trust Cycling Weekly. Our team of experts put in hard miles testing cycling tech and will always share honest, unbiased advice to help you choose. Find out more about how we test.
Best overall
Specifications
Weight: 408g
Fitting: Velcro and / or rubberised straps
Reasons to buy
+
Universal fitting
+
Good coverage
+
Stays give good stability
Reasons to avoid
-
Fiddly mounting system which collects lots of dirt
-
Front guard hard to align and limit gap to forks
-
Velcro straps on front guard are difficult to tighten
The Speedrockers are German-fender experts SKS's offering for gravel riders who want a full length guard but don't have frame mounts for fixing.
Both the front and rear guards have stays so the guard can be long but remain stable on off-road trails. There's a two or three point fixing using rubberised or Velcro straps. The coverage and stability of the guards is good, although they're let down by the complicated fittings which attract a lot of dirt and can slip on the front.
Read more: SKS Speedrocker gravel fenders / mudguards full review
Best for value
Specifications
Weight: 500g
Fitting: MD-Fix (plastic strap and bolt)
Reasons to buy
+
Sturdy guard that can accommodate large volume tires
+
Price
Reasons to avoid
-
Time consuming and awkward to fit
-
Attachment points collect lots of dirt
Zefal's Shield G50s are a sturdy set of fenders that provide coverage for tires up to 50mm wide, great for those who like to run chunky off-road rubber as well as slicker tires on their gravel bikes. They provide good coverage for their length, as you can get them positioned nice and tight to your tire (allowing for mud clearance, of course). And all of this for a considerable amount less money than many other gravel guards.
The downside? They're heavier than many others but not massively so. Oh, and they're awkward to fit so make sure you have an assistant and a lot of patience.
Read more: Zefal Shield G50 gravel fenders / mudguards full review
Best for protection
Specifications
Weight: 220g (with fittings)
Fitting: o-rings (front), Velcro or zip ties (rear)
Reasons to buy
+
Keep the splatter off your face, bum and most your bike
+
Sturdy
+
Big tire clearance
+
Made from recycled and recyclable plastic
+
Easy fitting
Reasons to avoid
-
Lack of protection for feet
-
Need to buy Velcro straps for rear guard separately
Hailing from a mountain bike background, Mudhugger's Gravelhuggers are incredibly quiet, strong and stable guards for your gravel bike and have clearance for for up to 50mm / 2" tires. They make an excellent choice for those riders who like their riding mucky and rowdy.
Made from 100% recycled (and recyclable) plastic, the single piece moulded guards attach to your bike by o-rings and zip ties or reusable Velcro straps. They offer excellent protection to your face, body, bum and back and keep the worse of the muck off your bike too. They're not full length, though, so make sure you remember your overshoes.
Read more: Mudhugger Gravelhugger front and rear guards full review
Best for light front protection
Specifications
Weight: 20g
Fittings: Rubberised Velcro straps
Reasons to buy
+
Lightweight
+
Easy fitting
Reasons to avoid
-
Doesn't provide much protection
Ass Savers' Mudder Mini fender / mudguard is a low cost option that's extremely lightweight, discrete, stable while riding and is very easy to both fit and remove.
It takes up very little room, so you shouldn't have any problems getting it in between your tire and fork - Ass Savers suggest it fits tires from 32 to 55mm and any gravel/cross fork.
If you're looking for just enough protection to keep the worst of the road spray off your bum and lower headset bearing, then the Mudder Mini will cover you for this. But its small size means you're still going to end up somewhat filthy at the end of a mucky ride.
Read more: Ass Savers Mudder Mini fender / mudguard full review
Best for light rear protection
Specifications
Weight: 60g
Fitting: Velcro straps (provided)
Reasons to buy
+
Lightweight
+
Easy fitting
Reasons to avoid
-
Don't provide much protection
-
Rear Fendor Bendor may not be compatible with your bike
Ass Savers aim to make effective guards that are as discrete and lightweight as possible for those with a "if I must" attitude to mud protection. The Fendor Bendor Big rear guard is one of the largest rear guards in the range for gravel bikes and MTBs.
Weighing 60g the Fendor Bendor Big is certainly lightweight but remarkably stable with some well-designed creases and folds giving the thin polypropylene its shape and rigidity. Fitting is straightforward, the single Velcro strap means you can easily attach and remove from your bike. Do check compatibility with your frame and brakes though, it won't fit all bikes.
Coverage isn't as good as many of the other guards that are available, likely as a result of the gap between the guard and tire. But you can fold the Fendor Bendor up to stash in your pocket and there aren't (m)any other guards you can say that about.
Read more: Ass Savers Fendor Bendor Big rear gravel mudguard full review
Gravel fenders / mudguards: Things to think about
Tire clearance
The last thing you want is for your lovely plump tires to be worn down by an ill-fitting fender / mudguard. Although there are many benefits of wide tires, sometimes it's better to go for a slightly smaller option that won't rub on the 'guards.
Mud/branch clearance
Even if your tire isn't rubbing on the fenders / mudguards, when the conditions are particularly muddy - and if the clearance isn't capacious - you'll end up with a large amount of unwelcome resistance as the accumulating clag acts as a brake on your tire. In particularly muddy conditions, a narrower tire can be the better option, all things considered.
If you're riding through forests where there is a lot of tree debris on the floor, a more minimalist guard set up is safer than the classic full-length look. Fenders / mudguards that reach near to the floor can get jammed with branches that are flicked up by the wheels - which can have pretty disastrous consequences.
Toe overlap and bag clearance
Another pitfall to be aware of is clearance on the other side of the guards: i.e., how nicely they play with your bags and feet. On smaller frames especially, toe overlap with the front fender / mudguard and giant saddle bags fighting for position with the rear mudguard are real issues.
A more minimalist guard can help here, being smaller in size and being more flexible in their positioning. However, that does come at the expense of some protection from the spray, so there is a balance to be struck.
Bike and bag protection
Fenders / mudguards aren't just there for the rider, they also benefit your components. Keeping water away from your bearings, especially those in the headset, will reduce your risk of mechanical issues and make your parts last longer.
Although waterproof bike-packing bags are available, given how unpleasant a wet sleeping bag or drenched tent is, testing the limits of their water repulsion isn't in your best interests. Even a small guard goes a long way to keeping the worst of the water off.
Rider protection
A shower might pass quickly, but the roads and trails stay wet for a long time after the rain. Avoiding the resultant spray will have a massive effect on your comfort and, consequently, your ability to keep on riding.
Wet clothes suck away heat from your body, while the water also softens your skin making you more likely to suffer from chaffing. You could avoid this by wearing full waterproofs, but no matter how technical the fabric, it'll always be more clammy to wear one than not. A good set of guards goes a long way to circumventing these issues.
Frame protection
Fenders / mudguards that attach to the frame and fork of your bike are incredibly versatile. They are easy to take on and off and fit a wide range of different bikes. The downside is that in attaching to your frame, they run a very real risk of damaging your paintwork - and in extreme circumstances, even your frame.
To prevent this, it's worth getting yourself some helitape. This clear tape that is incredibly strong and won't be worn through by the straps of your guards. It's almost invisible when the guards are removed, so your frame will stay looking as pretty as ever.
Some brands will provide a form of this tape with their fenders / mudguards, but it is worth buying some extra, as you'll then be able to swap the fenders / mudguards between bikes - and also protect your frame where your bikepacking bags attach.
Get The Leadout Newsletter
The latest race content, interviews, features, reviews and expert buying guides, direct to your inbox!