Trek Madone SLR 9 Disc review
Cycling Weekly has shown that the Trek Madone is one of the fastest aero bikes available today, but has the update with discs made it even better? I certainly think so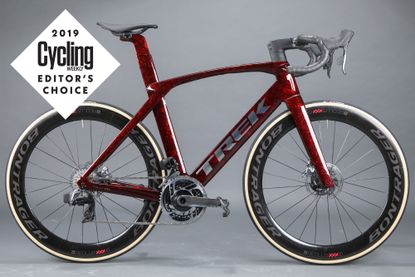 The Trek Madone SLR 9 Disc is a great bike – it feels like a technical masterpiece you can live with every day; of course you won't want to ride to work on it! The ride feels quality and it truly does want to take off. The added adjustable ISOSpeed is a great idea and the fact it doesn't hinder anything else, other than add a little bit of weight, is no bad thing. Great work Trek!
Reasons to buy
+

Ride quality

+

Performance

+

Comfort

+

Stiffness
You can trust Cycling Weekly. Our team of experts put in hard miles testing cycling tech and will always share honest, unbiased advice to help you choose. Find out more about how we test.
It is clearly one of the fastest bikes on the market, even a year since its launch. I really enjoyed my time with the Trek Madone and would happily have it back for more riding. Fast, capable, great handling and surprisingly comfortable for such an aggressive bike and that is why it is in for Editor's Choice again.
It's the year of the aero bike as Trek follows suit and launches an updated version of its wind-cheating machine, the Trek Madone SLR 9 Disc.
This is the sixth Madone iteration, the first being launched back in 2003, and although a lot of you might be crying out that it looks exactly like the fifth Trek Madone, launched in 2015, it has in fact received many updates despite that similar silhouette.
The main thing you see here is of course the disc brakes for the new Madone, but you'll have a rim-brake version to choose from if you so wish, something that other major brands have chosen to avoid. This is because the American brand believes the customer should have options and, truly, the jury is still out on disc brakes.
https://www.youtube.com/watch?v=_H2kJb7rIiM&t=265s
Although it follows the same silhouette of the last year's Madone, the new Trek Madone SLR utilises a new geometry fit. The new H1.5 shape is something that Trek says was asked for by the riders and was developed with the women's pro team, Trek-Drops. It means more riders can fit the Trek Madone SLR and with a choice of low or high-stack stems you should be able to get a similar fit to the older geo (H1 low, H2 high).
>>> Is women's specific geometry still relevant in 2018?
With this you get a new two-piece handlebar and stem that offers full cable integration but also versatility. The most impressive thing is that you can get a 5° tilt on the handlebar, something I've wanted to see on aero handlebars for a while now. Being two-piece means you can get the right stem length to match the right handlebar width, very important for all us fussy cyclists.
The bars are nicely shaped, the tops are comfortable and feel relatively stiff when out the saddle sprinting – overall a very nice design.
Riding the new Trek Madone SLR 9 Disc
Aerodynamics
What impressed me the most is how fast the bike feels. This is really tangible, even against the likes of the Specialized Tarmac that does in its own right feel lightning quick (and the older version of the Venge ViAS) that I have been riding recently. The bike just flies!
Cycling Weekly's in-house testing of the last model of the Madone found it to be the fastest bike aerodynamically, closely followed by the Specialized Venge ViAS, which has also now been updated for the better in 2018 if a little more dramatically than the Trek Madone.
Does the Madone still remain the fastest aero bike available? That is yet to be seen although, according to Trek, it is in fact faster than the previous version despite the inclusion of disc brakes. According to Trek, between 10 and 20 grams of drag has been saved when compared to last year's rim-brake bike but in the real world this is fairly negligible, representing a watt or two saving at most.
But what I want to know is why Trek hasn't used leverless thru-axles? I mean, it has taken care of every aspect of the bike but sticks a large lever on one side? I just don't get it.
Some of that quick nip will be down to the new wheels and tyres from Trek-owned Bontrager, which provides the Bontrager Aeolus XXX 6 tubeless-ready disc brake wheels and Bontrager R4 320 tyres that even sound fast as you're swooshing along.
Sadly, I haven't been uploading anything to Strava (I know, not on Strava didn't happen right?) but the Trek Madone SLR has felt effortless to ride and you can't help but cruise at 20mph without hinderance.
And the best thing is it doesn't come at the price of handling or comfort.
Comfort v stiffness
Straight out on the road you can tell the Madone is a racing bike. It is hard and fast, so if you are looking for a sofa to sit on, look elsewhere. That isn't to say it can't be a comfortable ride too.
As the Trek Madone SLR 9 Disc now comes with the IsoSpeed decoupler fitted to the top tube so that aerodynamics isn't compromised but ride quality can be improved, you can tune comfort levels to suit you, whether dictated by terrain, rider weight or rider preference.
This according to Trek also allows for the ride qualities of the frame to be the same across all the sizes.
I initially thought this would mean issues for the consumer: don't give people a choice because it surely creates more complications down the line; just make a bike that is compliant and stiff. How very wrong I was!
In its softest setting it yields 17 per cent more compliance than the older Madone and in the hardest setting it is 21 per cent stiffer. A damper has been added around the seatpost to help reduce rebound by around 13 per cent.
I've ridden the Trek Madone SLR 9 Disc in various IsoSpeed modes to discover what difference to the rear it would make. I learnt that I probably wouldn't ride in the stiffest setting as it was a little too harsh at the rear for me. At that point it was very similar to the likes of the Giant Propel in terms of rear-end feel – a little uncomfortable and I needed the odd out-of-the-saddle break.
Towards the middle and softest setting was my preferred mode and I could altogether forget I was riding such a racing machine, let alone an aero road bike that more often than not is too hard to ever be called comfortable.
To be frank about the bike's stiffness, I couldn't really tell that I was getting anything less from the bike in the softest setting, it still whipped up a storm no problem.
However, unlike the Giant it propelled me down descents like a dream. I didn't feel that chatter that stiff aero bikes can suffer from around the bends when pushed, whereby you are skipping across the surface of the tarmac instead of remaining planted and gripping firmly around the corners. It has enough compliance to hold the bends and offer up plenty of ride feel to keep you aware of what is going on underneath.
Weight
The Trek Madone SLR 9 Disc Weight-wise we're looking at around 1,000g for a 56cm frameset according to Trek and my size small 52cm complete is 7.5kg on our scales, which is competitive for an aero bike and is in large part thanks to the use of the high-end and much respected OCLV 700 carbon, the American brand's highest-grade carbon – although there are lighter aero bikes out there.
That 7.5kg weight isn't felt that much though, even on the climbs, and the bike feels light on its feet, which thanks to the performance and stiffness of the frame helps the bike's feel enormously.
There isn't much you could do to bring it down, I fear. Wheels of course could be replaced with lighter ones if that is what you are after; maybe sticking some lighter components on such as the saddle etc. But I don't think that's needed here. You get plenty of advantage from the aerodynamics so that you don't need to concern yourself too much with weight – but as I say there are lighter aero bikes on the market.
Trek has done an amazing job with the Trek Madone SLR 9 Disc. The American brand has just improved on that, even more, which can only mean I give it a 10/10 to match the £11,050 price tag.
Thank you for reading 20 articles this month* Join now for unlimited access
Enjoy your first month for just £1 / $1 / €1
*Read 5 free articles per month without a subscription
Join now for unlimited access
Try first month for just £1 / $1 / €1