Salsa Warbird C review: A gravel race bike for the people
The original gravel race bike is offering an experience few brands still do, is it right for you?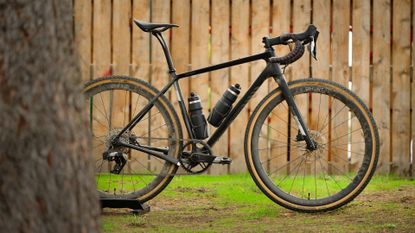 (Image credit: Josh Ross)
The Salsa Warbird was the original gravel race bike and four generations later, that concept hasn't changed much. While more modern designs are increasingly diverging towards either massive tyre clearance for rougher surfaces or aerodynamic designs that are closer to road bikes with extra clearance, the Salsa Warbird remains committed to simplicity. If you want a fast and fun ride on American style gravel, or road, with the capability to go seriously long distances, this is the right bike.
Reasons to buy
+

Mounting point everywhere

+

Class 5 VRS makes a noticeable difference

+

Round seat tube with dropper compatibility

+

Fender mounting (with optional kit)

+

Fun, racy, handling

+

Low standover height
Reasons to avoid
-

Black only frameset option

-

Full builds are more expensive than competition
You can trust Cycling Weekly. Our team of experts put in hard miles testing cycling tech and will always share honest, unbiased advice to help you choose. Find out more about how we test.
The Salsa Warbird is a bike with a story. Of course, all bikes have a story but most aren't exactly riveting. Often, it would be a perfect anecdote for an accounting or business class. The Salsa Warbird reads more like a story from a fast-riding friend who happens to build bikes. In this case, the name of that fast friend is Mike Riemer, one time Salsa marketing manager, and he's talking about himself as well as many from the Salsa team.
The story Riemer tells is that back in 2008, many of those involved in Salsa were racing bikes in early gravel races. Like everyone, the team was using cyclocross bikes and wondered if there was a better solution. The first-generation Salsa Warbird was a way to answer that question with a longer, lower, and more compliant bike.
Fifteen years later, those early lessons are still evident. Today, the Salsa Warbird is only available as a carbon frame and it's seen a number of updates but it's still long, low, and compliant as well as relatively simple. As modern gravel bikes continue to add distance between race bikes and adventure bikes, is a bike designed to see racing as an adventure still relevant? Could it still find a place in the best gravel bikes in a field of specialized choices? I spent time on a 2023 Salsa Warbird with a custom build, turning that question over in my mind. If you've had your eye on something a bit less complicated and wondered if it still made sense, keep reading to see if the Salsa Warbird is right for you.
Salsa Warbird C: Construction
In a business dominated by shiny new things and bikes that are out of date after two years, the 2023 Salsa Warbird is an absolute dinosaur. The last time the frame got an update was model year 2019, when the Warbird moved from the 2016 (or possibly older) v3 design to an updated v4 frameset. Along with that switch came the usual long list of significant updates. Among them, of course, was a weight reduction, but there were more significant changes as well.
In an unusual move, Salsa changed the Warbird's geometry in the switch from v3 to v4. It's hard to compare the two directly because Salsa also changed the size availability. While there had previously been a 55cm and a 53cm frame size, there is now a 54.5. As luck would have it, though, there's a 56 available in both frames. If you compare the two, what you see is an evolution that continues to follow what Salsa designers set out to do from the beginning.
This is a long-distance gravel race bike explicitly designed for American-style gravel races, and it continues to get longer and slacker. When Salsa made that change, the brand did what is now considered de rigueur and also shortened the stem to create what's generally called modern progressive gravel geometry. It borrows a page from mountain bike design and uses a slack fork with a long wheelbase for stability but keeps it feeling snappy with a short stem to speed up steering. Perhaps most interesting about this detail is that seemingly every new gravel bike in 2023 leans heavily into marketing this feature. The Warbird was doing it back in 2019 but, as it's always been for the Warbird, the discussion was more about keeping riders comfortable over a long day of racing.
The other significant design detail that the Warbird uses with rider comfort in mind is the v5 vibration reduction system. The current Warbird design uses version 2 of the VRS system but as before, it's relatively hard to see. There are no suspension pivots or anything of that nature, just seat stays that are oval and oriented vertically, as well as attached ahead of the seat tube and heavily bowed outwards. The design allows the carbon to flex and effectively shorten the rear triangle in only one direction. It's also paired with a steeply sloping top tube and plenty of exposure for the round 27.2 (dropper post compatible with a 1x build) seat tube.
It's worth noting for those who care about racks and fenders: the Warbird isn't really all that compatible because of the VRS system. While the specs say it is, and there are mounts down low near the bottom bracket and thru axle, there's nothing up top. Instead, Salsa has some optional adapters that look a lot like what you can find with aftermarket fender and rack systems. Though I'm sure it works, it's not exactly what you might expect in a bike that's listed as compatible.
Still, while the progressive geometry and rider comfort designs still seem fresh years after Salsa introduced them, the Warbird also has some details that are starting to look a bit out of date. Most people would hardly call this an issue, but the 1050-gram carbon frame and 520-gram (uncut with a loss of 47g after cutting) fork are specifically designed with dual wheel compatibility in mind. While back in 2019, 650b wheels were having a bit of a moment, that's largely faded. Today, the max 700c x 45mm tyre spec is nothing special and 650b compatibility is increasingly rare on gravel race bikes. The Warbird, though, still offers lots of adaptability.
If your gravel racing is a one-day affair, then 700c x 40mm is the standard, but if your races, or weekends, look a bit more gnarly, then grab yourself a set of 650b wheels. The max 650b tire size swells to a full two inches. Still a bit tame compared to modern gravel bikes like the Rodeo Labs Traildonkey 4.0 that offers space for up to a 2.4" 650b tire, but certainly capable. You can then pair the big volume tyres with a suspension fork if you really want to get radical as the geometry is suspension-corrected. For most people, though, the mounts will be of more use and you'll find three mounts on each fork blade, a bento box mount, two bottle cage mounts inside the main triangle (three for larger frames) and another bottle mount under the downtube. There's also internal routing through the fork for a Dynamo hub.
Image 1 of 2
Salsa Warbird C: The build
This Salsa Warbird is not an off-the-shelf build. While there are many like it, this one is mine, and as such it started with a frame. Since its humble start as a black frameset, it's been through a few iterations as I've tested it.
In terms of the groupset, it was initially the test mule for the latest version of SRAM Apex AXS setup in a 1x mullet format. If you were leaning towards a bikepacking or multi-day ultra-endurance race, this is the direction you might go, and it worked quite well for me, but I later swapped to a more common, and lighter, 1x XPLR setup. SRAM makes that swap easy with only a few pieces and in that guise, the bike was closest to what you can buy off-the-rack from Salsa. Apex AXS and Rival AXS are almost exactly the same aside from graphics. That means the setup was very similar to the Warbird C Rival XPLR eTap AXS build priced at $5,499 ($5,299 at time of writing). The only major difference is the addition of the SRAM Apex power meter upgrade.
Image 1 of 2
Well, very close in terms of groupset. The rest of my build is a different mix of pieces than you'd get directly from Salsa. One of the things that makes the Salsa Warbird somewhat unique, though not totally, in 2023 is the relatively limited integration. There's internal cable routing, but there's no integrated front end like you'd find on more and more competitors. That makes it easy to swap in the bars and stem you'd like without needing to reroute cable or bleed brakes.
For my build I went with finishing pieces from Cadex, Ergon and FSA in an effort to compliment the already present character of the frame. That started with an FSA VAS stem that uses an elastomer to dampen vibration without adding any meaningful movement. Aside from looking odd, and weighing a hefty 310 grams, the VAS stem with the race elastomer is virtually invisible except for the subtle vibration reduction. I also went with a 100mm stem length, thereby trading some steering speed and somewhat negating the progressive handling I spent some time discussing above. Personally, I like to stand to climb, and I find that short stems can get in the way. I also tend to be very adept at getting low and aero and going to work against the wind for long distances, which means I prefer an even longer position. In my 54.5 frame size, Salsa would have included an 80mm stem.
Aside from potentially changing the handling slightly, the FSA VAS stem also meant looking outside of FSA to complete the cockpit. The way the VAS stem works means that FSA requires a set of bars with no hole in the center. That means nothing designed for internal routing will work and, oddly, FSA doesn't make a matching set of handlebars. Instead, I chose a set of Cadex AR handlebars, which are, to put it lightly, a bit of bling. At a width of 40mm, the Cadex bars are only 162 grams. I'd say they counter the weight of the stem but more importantly, they are supremely comfortable. The tops are big with a subtle backsweep and the drops are shallow at only 115mm lower. The flare is also very subtle at only eight degrees with a three-degree outsweep. It's enough to satisfy the gravel style without affecting my preferred style of riding.
For the seatpost I again complimented the character of the Salsa Warbird by choosing the Ergon CF all-road carbon setback seatpost. The piece is about double the price of the Salsa Guide Carbon seatpost that would have otherwise come on the bike and at 241 grams it's only 40 grams lighter. However, it adds even more flex, and, therefore compliance, to the rear of the bike. Like the VAS stem, you almost can't feel it but it's there subtly doing its job. A nice bonus is that instead of setting the angle of the saddle at the top, you handle that down low where you loosen a bolt and slide the two pieces against each other. That means there's no guessing what angle you've got, and there's also no need to deal with angle if you want to adjust the position of the saddle. That alone is worth adding the Ergon post to every bike you can and in this case I've added a Cadex Amp saddle on top.
Image 1 of 3
For wheels I went with Hunt, twice over. The bike was initially using the Hunt Limitless 42 aero gravel race wheels. These are some of my favorite gravel wheels, and I tend to use them every chance I get. I only later changed them to test the Classified system with the Hunt Gravel Race wheels and that's how the bike is currently set up.
Although the Warbird is available with a standard SRAM or Shimano 2x setup, the current resting place for this build is the Hunt CGR wheels, with SRAM Apex AXS, and a Classified 2x system. To make the gearing work, I've added a Wolf Tooth 44 tooth front chainring along with a Classified 11-34 cassette. That matches the range of the original SRAM mullet build, but it's a 2x system perfect for fast riding. There's also a Wolf Tooth purple centerlock rotor lockring for a bit of color on a black bike.
Obviously, this is a rather custom build; however, in terms of price, it's lower than you would get going with a stock Salsa offering. To match useability, you'd want to look at the Salsa Warbird Force eTap AXS Wide build. Salsa prices that build at $7699 with a listed weight of 19 lb 12 oz / 8959 grams (56 cm frame). If you were to replicate my build, the pricing is lower and so is the weight. My build weighs in at 8570 grams and, although my frame is smaller at 54.5 cm, there's a larger weight differential than you'd get by only changing frame sizes. I prefer to weigh a bike ready to ride and included things like Rapha Brevet bar tape, Enve gravel bottle cages, and even my preferred K-edge outfront mount. I did leave off the 450-gram weight of the Look X-track pedals I'm currently running, but Salsa certainly doesn't include pedals either. The only downside here is that you do limit yourself to only a black frame. Why Salsa chooses not to offer the very lust-worthy Berry color, or even the hot pink from 2020, is beyond me.
Image 1 of 3
Salsa Warbird C: The ride
As the weather turns from sunny days and blue skies to gray skies and cloudy days, I've taken to my gravel bike with gusto. Gravel rides this summer were few and far between as I spent more time on fast road bikes with deep wheels. While you might not follow that pattern exactly, it's important to mention it because I want to set the tone for what I expect from a gravel bike. To be even more clear, I want a fast bike and that's what the Salsa Warbird is.
I live in Portland, Oregon, and the topography is that of a river city. People don't often think about that, but as a cyclist who doesn't drive to the ride, it's a fact of every ride. As I leave my house, I'm in a flat river valley. I also live near one of the main bike paths, and the two in combination mean that every gravel ride starts with miles of flat cement. It's also a test of any gravel bike. I like to move between the aerodynamically superior position of hands on the tops of the hoods, hands on the hoods, and hands in the drops, and I want the bike to feel like it's a willing partner. It's one of the reasons I like a longer stem but also, the Warbird passes these tests with flying colors.
While some gravel bikes feel sluggish on the road, the Warbird feels at home. I hesitate to call anything a quiver killer because a road bike is always faster, but this is the kind of bike you can ride all winter and start to wonder about. Even with 40mm gravel tires, the Warbird never feels sluggish. For all my swapping of parts, I haven't put road wheels on it, but I suspect if I did, I'd start to wonder even more about the potential for fewer bikes.
Depending on the path I take, it doesn't take long to reach the edge of the river valley. When I do, the climbs are stiff. When it's time to climb the Warbird, you will again question the need for a road bike. While the frame and fork weight won't match a dedicated climbing bike like the Specialized Aethos, the Salsa is no slouch at 1050 grams for the frame. Honestly, though, I don't make much of a bit of extra weight in a gravel bike anyway. The real trick of the Salsa Warbird is not that it's fairly light and a great partner for getting low and pushing against the wind but that it's compliant.
Image 1 of 3
The rear-end compliance serves double duty and adds both comfort and responsiveness. Obviously, compliance adds to the comfort over long distances, but appropriate tire pressures and good bar tape go a long way in that regard. The VRS system does more. In addition to the compliance, it adds a springiness to the rear that sucks up vibration on a gravel road but also makes the relatively short 430mm chainstays feel lively. It's there on a long, fast gravel descent, in partnership with the slack front end, quietly doing its thing to help you feel connected and in control, but it's also there on the uphill. If you've got the traction to stand and waste some watts sprinting for the county line at the top of the hill, that rear end has you covered.
While I understand that Salsa engineered "fun" through a combination of geometry tricks, it feels like a slight to look at it that way. The slack front end and long wheelbase slow down the bike, but there's a little more to the story. Overall, the wheelbase grew 8 cm for a 56 cm from the v3 design to the v4 design but the chainstay is the same length. That means the extra length is at the front of the bike. It also means the shorter rear end, with plenty of springy compliance, a forward shift of rider weight and a shorter stem (though not on mine) all conspire to speed up handling again. To me, though, it's irrelevant. It's the ride that matters, and this is a bike that is ready to party.
After years of testing and riding a variety of highly integrated road and gravel bikes, it's a joy to have less integration. Classic round bars feel very good in your hands and there's no reliance on a manufacturer's idea of a good out-front mount. I like K-edge mounts and while some manufacturers, like Enve, use K-edge, that's not the norm. Without the integration, it's up to me what I want to use. There's also no funky spacers and I left enough room for the Restrap Bumper Bar should I decide to load up the front of the bike for bikepacking.
In reality, I find myself enjoying the bike so much that I'm left to find annoyance with small cosmetic details. There's open cable ports in the downtube and no simple way to plug them. I also regularly mourn the lack of the pink frame offered in 2020. Even now, there's both a red and a purple, but neither is available as only a frameset. It's silly and largely mitigated with some Wolf Tooth detailing, but this kind of stuff matters, and when a bike is really good, it comes up.
Image 1 of 2
Salsa Warbird C: Value and conclusion
If I look at the numbers, the Warbird is ready for an update. It's been almost five years since there's been anything new besides builds and colors and you can see that reflected in some of the details. Open cable ports, low max tire clearance, and an emphasis on 650b compatibility for a gravel race bike aren't keeping with the times. There's also the fact that the Salsa Warbird is more conceptually all-around than we are seeing with the latest gravel race bikes. That last one is something Salsa might hold on to as an American gravel race bike with an eye on long-distance racing but it's certainly an open question.
Also, an open question, what could Salsa change about the Warbird that would make a new generation better? The allure of the Salsa Warbird is that it does what you want from a modern gravel bike without the kind of things that divide opinions. There's a gorgeous headtube badge that's certainly not aero, but which would you rather have? This is a bike that's fun to ride as hard as your legs can manage. It's got everything you need to load it down for multiple days of riding, but you can also leave it lean, and it'll handle road and fast gravel just as well.
The real problem with the Warbird isn't how long it's been since it saw an update; it's price. Actually, it's not the price of the frame but rather the price of the builds. I outlined a custom build with a slew of trick parts, and it still came in well under the Salsa pricing for a run-of-the-mill 2x build.
The odd thing about the Salsa Warbird pricing is the frame is very competitive. The latest Trek Checkpoint copied the concept of the Warbird and has a slightly higher frame price. The Ventum GS1 takes a more modern approach to gravel racing but is certainly a competitor and, again, the frame is more expensive. If you price a full build though, the Trek is now $1200 less and the Ventum is $1500 less. And then there's Canyon, which doesn't sell framesets but has a similar Grail CF build for $2000 less than Salsa.
I'm a big fan of the handling and ride feel that Salsa has pulled off with the Warbird. I also like the concept of an American bike designed for long and relatively smooth American-style gravel racing. If you like that, too, just make sure you go for the frameset build. You'll save a ton of money, and you can build exactly the bike you want. Just know that if you want color, you'll have to drop by the Wolftooth website.
Image 1 of 2
Salsa Warbird C Force eTap AXS Wide: Specs
Pricing: $7699 (frameset only: MSRP $2199 and currently on sale for $1999)
Sizes available: Seven options ranging from 49 cm to 61 cm
Frame: Warbird carbon
Fork: Waxwing carbon
Drivetrain: Sram Force eTap AXS 43-30T, 10/36T
Handlebars & Stem: Zoom DR-AL-199BTFOV, Zoom TDS-D507G, ±7 degrees
Saddle: WTB SL8 Medium Cromoly SL
Seatpost: Zoom SP-C255 Alloy -OR- Salsa Guide Carbon
Wheelset: DT Swiss 350 and Whisky No.9 GVL Carbon 700c rim
Tires: Teravail Cannonball 700c x 42 mm, tubeless compatible