What is a super compact chainset, and do you need one?
If you struggle on the hills and yearn for a granny ring then the new wave of low-ratio chainsets could be just what you need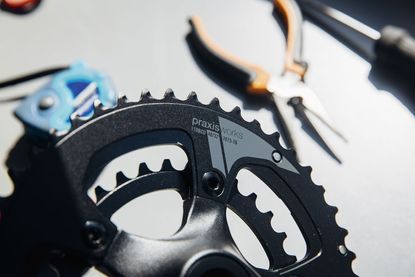 The super compact chainset, otherwise known as a sub compact chainset is the latest gearing system to gain traction — especially in the world of gravel or all-road cycling.
With even lower ratios than the original compact, which used a double 50/34 set-up, a super compact chainset runs 48/32 or even lower.
>>> Is the compact chainset dead?
Big names in original equipment manufacture such as FSA, Rotor, Praxis and White Industries, are launching new super compact chainsets and chainrings, which surely signals that there's a market beyond adventure riding for super-low ratios.
"Yes, 48/32 and 46/30 were for gravel bikes in the beginning," says Maurizio Bellin, general manager of FSA.
"Then we realised the huge request for this kind of chainring option for the road market also. We receive several requests every day via the website asking for more information about them."
>>> Adventure road and gravel bikes: a buyer's guide
The triple chainring, which was largely killed off when the compact arrived, still has an advantage over a standard compact with its granny ring, but Bellin suggests that with the advent of the super compact chainset the triple is definitely dead this time.
"48/32 is the new triple crankset, but lighter," he says.
For the moment the big three — Shimano, Campagnolo and SRAM — claim to have no plans for super compact chainsets.
>>> Are single-ring chainsets the future?
SRAM is standing by its '1x' single-ring set-up, but there are drawbacks, as Praxis distributor Rory Hitchens points out:
"You've got the simplicity of the single ring and the light weight, but the trouble with 1x is that you've got a cassette at the back with big jumps between ratios.
I think that's what the response [to the super compact] is about. People want lower gears but they want a tighter cassette at the back that offers arguably nicer shifting without the need for a long-cage rear mech."
Watch: Buyer's guide to groupsets
FSA has a super compact chainset called the SL-K Modular Adventure, it comes with either 48/32t or 46/30t chainrings. To accommodate the extra-small rings, FSA uses a bolt circle diameter of 90mm, rather than the more standard 110mm of Praxis Works's version.
>>> Watch: Four tips to nail any climb
Joseba Arizaga of Orbea, which has just launched the new Terra adventure bike range with FSA super compact as well as a SRAM Force1 1x groupset agrees:
"A 1x drivetrain in combination with 11-40 cassette means very big differences between cogs. Especially when climbing, sometimes there is a significant cadence pace variation once you shift to a harder or smoother cog."
SRAM has launched a 12-speed mountain bike groupset to overcome the problem of the gappy cassette, but in Bellin's opinion "a super compact is a good way to keep your 10-speed gruppo but still climb long-distance mountains."
It's indisputable that a lower gear benefits pretty much anybody who isn't a pro, but does a super compact offer a high enough gear?
"Don't forget that at a cadence of 90rpm, with a 48x11 gear combination, you are riding at 50kph," says Bellin, himself a former pro.
"I don't think even the 50/34 believers can ride at 50kph by themselves," Arizaga adds: "However, you could always increase cadence to 100rpm and develop 52kph or 105rpm and reach 55kph."
"I think 48/32 is probably the new scenario for Gran Fondo/endurance riders," Bellin concludes.
Our take
As Upgrade's Rory Hitchens says, super compact is an option that you can take or leave.
However, if you're looking for a closer-ratio cassette that can still get you up steep climbs then as far as options go, the super compact looks like a good one.
Thank you for reading 20 articles this month* Join now for unlimited access
Enjoy your first month for just £1 / $1 / €1
*Read 5 free articles per month without a subscription
Join now for unlimited access
Try first month for just £1 / $1 / €1