Specialized Crux Pro review - light, responsive and versatile
The performance-driven Crux Pro can work as gravel racer, cyclocross machine and even a capable road bike - but is it overpriced?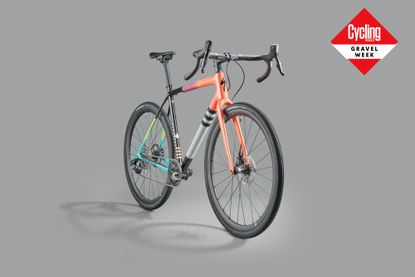 (Image credit: Future)
The Specialized Crux provides heaps of enjoyment. It's a light, fast and responsive. performance orientated gravel bike that still feels at home in a cyclocross race. However, it is expensive and the vibrations through the forks make it slightly uncomfortable for sustained periods of gravel riding. Overall it's an exceptionally lightweight bike, perfect for smooth compacted gravel roads but a little too fragile - and perhaps pricey - for more extreme off-road pursuits.
Reasons to buy
+

Extremely lightweight - A 56cm weighs 7.41kg

+

Stiff and nimble on the climbs
Reasons to avoid
-

Expensive in comparison to other gravel bikes on the market

-

Narrow forks feel a little fragile and allow vibrations through the bars
You can trust Cycling Weekly. Our team of experts put in hard miles testing cycling tech and will always share honest, unbiased advice to help you choose. Find out more about how we test.
The Specialized Crux Pro is a potential game changer when it comes to the debate regarding N+1 bikes.
Its wide ranging capabilities - and the subsequent freedom they offer you as a cyclist - can almost make you feel mischievous, a little like a child left alone in a sweet shop.
With a racing influenced fit, born from the Crux's cyclocross background, it challenges the need for separate bikes for gravel, road and cross. Thanks to its lightweight, performance-driven design it dances over the rough terrain like it's freshly laid tarmac - as some of the best gravel bikes do - whilst still being capable of climbing a mountain like the best road bikes.
Specialized Crux Pro - the construction
The Crux models are among the lightest gravel bikes in the world. To help achieve this the Pro uses some of the technology found on Specialized's featherweight road-focused S-Works Aethos, including its highest grade FACT (Functional Advanced Composite Technology) 12r carbon, which is used on the forks, while the frame uses the marginally lower grade FACT 10r. The result is a frame that weighs only 825 grams, which is staggeringly light for a gravel bike.
The Crux Pro comes with a set of 700 x 38mm Pathfinder Pro tires, however the frameset does have room for 47mm tires or 2.1" if you're using 650b wheels.
This clearance creates options, making the bike capable for a wide range of terrain. It also aids performance on muddy trails, helping to stop gunk from building up between the tires and frame by the forks and downtube.
As for the forks, visually they appear thin for a gravel bike. Measuring just 3cm wide at the half way point, I was concerned that they may feel a little fragile over some of the rougher terrain I was planning on riding.
Comparing the geometry of the Crux Pro to Specialized's Diverge Pro Carbon, which is an out and out gravel bike, makes for interesting reading.
Certainly the Crux appears designed with a racer in mind. In a size 56 the stack height is 578mm for the Crux, while the Diverge measures 610mm. The reach is 397mm compared to 392mm, while the Crux's 582mm top tube is 10mm longer. In theory this means that the Crux, with its lower height and longer reach, should deliver a more aggressive, aero position on the bike.
Another key point to note is bottom bracket height. The Crux is considerably higher at 286mm compared to 270mm for the Diverge. This extra clearance should help prevent pedal strikes.
Interestingly the Crux Pro's wheelbase, although slightly shorter than the Diverge at 1033mm compared to1042mm, is still pretty long for a bike with an undeniable racing DNA. While this should translate into plenty of stability, it did make me wonder if it would also make the Crux feel a little sluggish?
The Crux is equipped with SRAM's 12-speed Force XPLR eTap AXS groupset. It pairs a 40 tooth front chainring with a 10-44 cassette to deliver an expansive gear range that should be able to cope with most terrain. However, the frameset is compatible with a front derailleur should you prefer to run a 2x set-up.
The wheelset is Roval's Terra CL. Only 33mm deep these carbon fibre hoops have the ability to be set up as tubeless and can mount a range of tire widths from 28mm all the way to 47mm. Built using DT Swiss 350 hubs they have claimed weight of 1,408 grams for the pair, including tubeless rim tape and valves.
The tires are 38mm Pathfinder Pro 2BR, which like the rims are tubeless compatible, although they actually arrived with inner tubes fitted.
Mechanics will likely appreciate the Crux's relatively simple construction. A threaded bottom bracket as well as a standard bar and stem combination help with the ease of maintenance. A bike of this beauty deserves to be well looked after and with these design choices changing a bottom bracket or replacing a brake cable is a walk in the park compared to the likes of a press fit bottom bracket or integrated bar and stem system.
Likewise, due to SRAM housing the batteries on the rear derailleur itself, charging or replacing them is especially easy. There's also a SRAM app so you can keep an eye on battery levels so you are never caught out and stuck in your hardest gear.
Specialized Crux Pro - the ride
Certainly the speed the Crux can deliver is nothing short of breathtaking. The lightweight characteristics of the bike definitely steal the limelight, but there is far more to the Crux than this.
Unfortunately I'm not blessed with endless miles of smooth gravel tracks on my doorstep and so I do need to hop on the road for a little bit to get to the good stuff. Setting off in search of gravel, the Crux flew along, absorbing the lumps and bumps in the road, turning the pothole ridden surface into what felt like fresh tarmac. Even with a single chainring up front I was never struggling for gears thanks to the ten tooth sprocket at the bottom.
For a gravel bike the reach felt pretty long. On the road this meant I could tuck into a comfortable, aero position similar to one I'd use when racing.
As you head off road and onto the gravel the Crux really feels at home. The lightness of the bike makes it incredibly snappy out of the corners and over the lumps in the road. That FACT 10 carbon frame provides excellent stiffness, which is evident as you dance on the pedals out of the saddle up the climbs.
In essence the bike feels easy to ride. Much like on the indoor racing and training app Zwift when you use the featherweight boost , the Crux just takes off. The lightness translates to a responsive and agile ride. With the front and rear wheels so easy to lift navigating obstacles becomes a breeze.
The Pathfinder tires delivered a mixed ride depending on my route. With a smooth central section they provided excellent rolling resistance over hard packed gravel or tarmac roads. However with only a very small amount of sidewall tread as soon as I headed for anything remotely slippery they were left wanting for grip.
For those who routinely ride more aggressive gravel trails, a more robust, weather proof tire is likely to be more suitable - and the sheer number of the best gravel bike tires ensures there's plenty to chose from.
The Crux's high bottom bracket meant that clearance on rocky trials was impressive and there was no need to worry about striking the dirt with the pedal as I kept my feet moving through the corners.
Despite being a Shimano lover at heart, the SRAM Force eTap AXS groupset took me by surprise. Often when gears have such a range to cover it can be easy for them to jump and clunk between one another. Furthermore chain tension can sometimes be an issue. Racing down a bumpy descent the last thing you need is a chain to slip off.
Thankfully the SRAM drivechain performed exceptionally across testing. Not once was a gear skipped or chain slipped and the customisation provided by the AXS app helped me to personalise the setup. I also found the large shifters easy to use, even with gloves on.
On the roughest terrain and during steep descents the Crux did feel a little like a fish out of water. With a fairly low stack height my body mass was centred further over the front wheel than I would have liked. It also felt a tad uncomfortable, which might be attributed to the thin fork profile. Personally I felt the vibrations through the bars was exaggerated in comparison to other gravel bikes I have ridden and after a few hours playing around on the South Downs Way, in southern England, I finished the ride with a sore pair of hands, even with some very padded gloves on!
However, it's fair to say that this terrain, with its steep descents and rough ground, is likely to make most gravel bikes feel a little uncomfortable.
Value
At $8,200 / £7,900 the Crux is certainly not cheap and this price tag puts it into the more premium bracket of gravel bikes. However it's capable of handling a range of terrain and can easily perform double duty on the road or as a 'cross racer.
It also comes equipped with a top of the range set of carbon Roval wheels as well as SRAM's mid range electronic groupset, which means there is little you need to change, except for maybe a different pair of tires.
For several thousand dollars - or pounds - less you can get yourself a Ribble Gravel SL – Hero, equipped with the same SRAM Force XPLR eTap AXS groupset as well as a carbon wheelset as standard. However the Ribble does weigh in a claimed 9.63kg for a size medium, which is considerably heavier than the Crux. Whether this justifies the substantial price difference for what is a similar specification bike only you can decide.
Likewise for close to a couple of thousand less you can get yourself a SRAM Red XPLR eTap AXS equipped Canyon Grail CF SLX 9. At 8.22kg there is not a huge difference between the two in terms of weight, which does make the Crux seem overpriced.
Thank you for reading 20 articles this month* Join now for unlimited access
Enjoy your first month for just £1 / $1 / €1
*Read 5 free articles per month without a subscription
Join now for unlimited access
Try first month for just £1 / $1 / €1