Ribble Gravel SL Pro review - more for ultra-riding than a snappy racer
A curious combination of an aggressive riding position paired with bikepacking practicality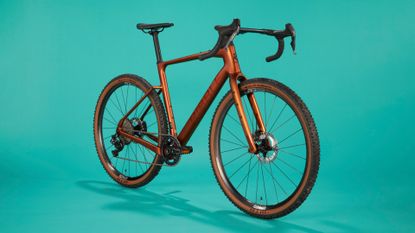 (Image credit: Future)
The Ribble Gravel SL Pro is an interesting elision between a nose-to-the-stem gravel racer and a rugged bikepacking adventure rig. If you like riding fast, are most comfortable in a long and low position - but still interested in keeping your options open for multi-day trips and other luggage-laden riding - then this could be a model for you. The components you get for the price make this an excellent value option - and even better considering you can customize the components at the point of purchase. Still, as a jack of all trades, it doesn't master any particular one.
Reasons to buy
+

Excellent value

+

Low weight

+

Aggressive front end for hard and fast riding

+

Huge range of mounting points
Reasons to avoid
-

Handling not as snappy as other gravel race bikes

-

Riding position too aggressive for more relaxed riding and touring
The simplicity of the Gravel SL Pro's name belies the true expanse of Ribble's drop-bar mixed-terrain range. Two platforms with very different geometries are offered - and each of those is available in no fewer than four different frame materials, with each model being subtly different itself.
The 'Gravel' I tested here is the burlier and more rugged platform, prioritizing stability and the ability to tackle gnarlier terrain. The other platform is the CGR - which stands for Cyclocross, Gravel, Road - and was one of the progenitors for what are now known as 'all-road' bikes.
The 'SL' denotes the frame material, carbon in this case, but there's also the choice of titanium, aluminum or steel - each having a slightly different geometry as a result. Finally the 'Pro', this relates to the level of spec, being the second highest that Ribble offers of its stock builds.
But - unlike most of even the best gravel bikes - Ribble also allows you to customize the spec, so you can economize in some areas, splash out in others, and get a bar width and stem length you're happy with from the start.
Ribble Gravel SL Pro: the frame
First off, the Gravel SL is quite a curiously equipped model. Some elements of the design are what you'd expect from a nose-to-the-stem racer, whilst others are more what you'd expect from an unabashed bikepacking expedition rig.
For instance, the frame is designed to accommodate completely internal cable routing - including a one-piece carbon handlebar - while the dropped seatstays, D-shaped seat post and overall impressively low weight (8.93kg) all point to a bike built for speed.
Yet the Gravel SL also packs many of the mounts we generally see on burlier, bikepacking models - and even some additional ones! Not only are there the usual two pairs of bottle bosses inside the frame, along with another set on the top tube and underside of the downtube, each fork leg also bears a triple set of bosses for cargo cages and extra luggage. In addition to that, there are the mounts for a set of mudguards/fenders and a rear rack for a pannier. The potential configurations are huge.
The same unexpected combinations extend to the geometry. Up front, the riding position is quite aggressive, with a head angle of 71.5 degrees and a stack of 561mm. This is a little steeper and more slammed than the Scott Addict Gravel, but a little slacker and more upright than the BMC Kaius. But it's worth noting that both the Scott and BMC are out-and-out gravel race bikes and are on the list of UCI approved framesets.
Suffice to say, all those examples are pretty aggressive. Usually, a burly bikepacking type build would have a slacker head angle and a higher stack - such as BMC's more rugged aluminum URS platform, which has a head angle of 70 degrees and a stack of 580mm.
But taking a look at the back of the Gravel SL, the geometry takes a departure from those two race-oriented gravel bikes and is much closer to that of the URS burly bikepacking model. Shorter chainstays make for a more agile feeling ride but are less stable when heavily loaded and, whilst a lower bottom bracket drop does help when railing it hard around the corners, a higher one helps reduce incidents of pedal strikes on rough terrain.
Taking a look at the numbers, the BMC Kaius has the shortest chainstays at 420mm, followed by the Scott Addict Gravel at 425, then the BMC URS at 430 - the Gravel SL actually comes in the longest at a 'planted' 435mm. Similarly for the BB drop, the Kaius is super low at 80mm, the Addict a little less so at 71, while the Gravel SL and the burly BMC URS come in the same at 69mm.
So, taken all together, it's a pretty unique combination Ribble has come up with in the Gravel SL. Just how it handles I'll be covering later. Before that, though, I'll run through the components.
Ribble Gravel SL Pro: the spec
Starting with the groupset, although Ribble does have its bike builder, you are limited to only customizing the bike with 1x options - a little curious again, as the frame has the capability to take a direct mount front derailleur, if required.
As such, this is a 1x11 configuration of Shimano's GRX Di2 groupset, which is - as ever - functionally utterly excellent. The shape of the lever hoods and the placement of brake levers' the pivot point makes braking from the hoods exceptional. The braking from the drops is also great, but more similar to what you get from other groupsets.
Sticking with the braking a little longer, the outright power and modulation are both excellent. I haven't tested it directly back-to-back against Shimano's latest 12-speed road drivetrains, but having used the latest Dura-Ace previously, I can attest that GRX Di2 is really very close.
The shifting was excellent as well. Perhaps not quite as smooth as the latest 'Hyperglide+' technology on 12-speed Dura-Ace and Ultegra, but still super quick and accurate. Plus, without there being a front derailleur to power in this setup, the battery life lasts for absolutely ages.
There are a few downsides of GRX Di2 in a 1x setup, though. The first is that you simply don't get much range from the 11-speed 11-42t cassette - it's easy to run out of gears on a moderate descent, and it's even easier to come up short on the climbs. Second, the jumps between the gears are quite large, meaning you can often find yourself stuck between two gears, one too hard and the other too easy.
The issues of range and large jumps are perennial for 1x drivetrains - but they are better mitigated in some groupsets than others. SRAM's 12-speed XPLR cassette goes from 10 to 44t, offering a wider spread of gears and smaller jumps. SRAM's 12-speed 10-52t cassette fully solves the issue of range - it offers more than most 2x setups, but the jumps are quite large.
Essentially, Shimano GRX Di2 in its 1x guise is a really great option if you don't live in an area with many hills. If your riding is more mountainous, you'd likely be better off with one of SRAM's offerings - as 2x is off the table for this bike from Ribble.
Coming to the wheels, my build had the Enve Foundation AG28 Gravel 650b - but you have the option of Zipp, Level (Ribble's in-house brand) and a variety of others. The tires were the WTB Sendero 650b, while the handlebars, seatpost and the rest of the finishing kit were all handled by Ribble's aforementioned brand, Level.
Ribble Gravel SL Pro: the ride
Though some elements of the Gravel SL Pro make for quite unusual combinations, I did very much enjoy my time riding this bike - but with the caveat that it's quite a specific use case which the bike is most optimized for. That said, the value for money is something that absolutely everybody can get on board with.
My first rides with the Gravel SL Pro were on flatish, quite hard-packed gravel. There were some tighter twistier sections, but also plenty of wide open doubletrack as well. The hills that there were either didn't get very steep, but dragged on for quite a bit, or were really very steep, but very short, so it was mainly momentum and a few big out-the-saddle pushes to get over.
On those trails, I had an excellent time. The front end felt planted, but still responsive, and I felt a reassuring degree of feedback and control when railing it through the corners. But in the sharpest turns I did feel like the rear end was a little disconnected, as if I was having to wait a little longer and work a little harder to snap it into line. Still, it was still great fun ragging it about.
The gearing was perfectly sufficient for that terrain, plus the low weight really helped with hard accelerations out of the corners and pushing that final bit over the top of the super steep ramps and banks. I really liked the WTB Sendero tires as well. They were a bit more aggressive than was really necessary - if I was racing I would have swapped them out for something more balanced - but having so much grip was a blast and I didn't mind the slightly slower speeds on the tarmac and tamer gravel sections.
Later, I took the bike on a 360km bikepacking loop through the Atlas mountains - and there I continued to appreciate the light weight from the majority carbon build. The high point of the ride was about 2,500 and the low point around 400m - with lots of climbing in between. So I had plenty of descents on which to test the braking, ranging from short sharp and steep to long and flowy. In every situation the Shimano's GRX Di2 groupset was excellent, with the shape of lever hoods and brake-lever pivots being stand-out elements.
But there were a couple of hitches - the biggest being the gearing. A 1:1 bottom ratio is fine for less hilly terrain (and when you're just going out on a short, hard and fast blast). But for longer days - and especially when bikepacking in more mountainous terrain - you really need at least one sprocket lower than a 1:1 ratio (preferably two!) but that's hard to come by.
A 38t chainring and a 10-50t 12-speed SRAM cassette would have been perfect. As it was, a 42t chainring and an 11-42t cassette was harder on my knees than it needed to be and meant that I had to push on some otherwise rideable terrain.
The second issue was that long rear end again. Although the bike was very stable on the long, flowing descents, on the more technical ones I felt like the rear wheel was getting hung up behind me as it clattered down the rocky terrain. Bikes with a shorter rear end don't soak up the bumps to any greater degree, but at least they don't have so much of an awkward 'see-sawing' action, with the rear axle tucked a little further underneath you.
Taking this all together, it means that the Gravel SL Pro is a bit hard to recommend to any one particular sort of rider. If you're all about racing and responsiveness, you'll probably be better off with one of the newest crop of UCI-approved, racing gravel bikes. If you're all about burliness and bikepacking, it doesn't make too much sense to go for such a performance oriented spec, with all Gravel SL Pro's carbon components and the - functionally excellent, but gearing limited - Shimano GRX Di2 groupset.
But although there might be more 'focused' models out there, the Gravel SL Pro was still a lot of fun to ride - on everything from evening blasts to bikepacking. Plus the sheer quantity of mounts and bosses means that you'll be leaving your options open for a broader range of riding down the line. Ribble's option to let you customize the spec is an excellent perk as well. So hopefully that sheds some light on what this bike is best for and who it would likely suit!
Ribble Gravel SL Pro: value
At $4,555.95 / £4,399.00, the components you get for the price is pretty incredible - but the biggest question is just what models to compare it to. The Canyon Grizl is probably the closest competitor, although the Grizl is more geared towards bikepacking and less the aggressive racing elements of the Ribble Gravel SL Pro. The Grizl is more expensive though, coming in at $4,999.00 / £4,499 for a similar build with Shimano GRX Di2 and carbon wheels.
If it's more the racing side of the Gravel SL Pro you're interested in, the Scott Addict Gravel and BMC Kaius are both more thoroughbred, speed-oriented options - but come in at $6,999.99 / £5,399.00 and $8,999 / £8,350.00, respectively, for a similar level spec.
Thank you for reading 10 articles this month* Join now for unlimited access
Enjoy your first month for just £1 / $1 / €1
*Read 5 free articles per month without a subscription
Join now for unlimited access
Try first month for just £1 / $1 / €1