Eight of the best bikepacking routes for UK summer adventures
We've teamed up with Komoot to detail some of the most stunning long distance routes the UK has to offer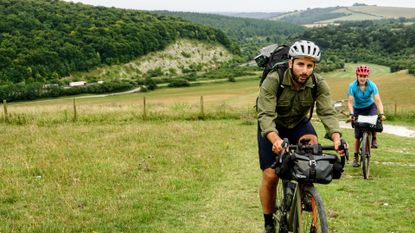 (Image credit: Katherine Moore)
Promotional feature with Komoot
Although it may not feel it, having spent the past year so close to home, the UK actually has some of the most varied and exciting riding going – albeit maybe it a little less sunny than you get in Italy or Spain.
We've put together a selection of routes from across the UK, which we think are the best examples of just how great British riding can be. To make them as accessible as possible, the start points are close to major population centres and train stations, but they quickly wind off deep into the countryside.
Some of the routes are quite long, but they shouldn't be thought of as all-or-nothing. These ones are perfect for splitting up into sections and doing parts as day trips, weekenders, or across a few separate holidays.
We have links off to Komoot which has the full details of all the routes, including information such as the best points to break the trails up, the proportion of paved versus gravel, and pictures of the most spectacular locations – with much else besides.
Although we give our recommendation for the type of bike we think best compliments the routes, you will be fine on both a gravel or mountain bike – or even a hybrid. They're all perfectly capable, just with strengths in different areas, gravel bikes being faster on the tarmac sections and mountain bikes more comfortable on rockier off-road sections.
1. The Trans-Cambrian Way
First on our list is the Trans Cambrian Way. This stretches from the English border at Knigthon right the way across the heart of Wales to the Irish Sea, right by Machynlleth.
It starts with a bit of a baptism of fire, with the first 15km being all uphill, off-road, and quite steep – but it's well worth it for the stunning scenery you quicky arrive at. One of our particular highlights is the Claerwen Reservoir, which you snake around on a gravely hillside track.
We actually filmed Cycling Weekly's first bikepacking adventure along this route, so that's well worth checking out if you're considering a trip.
Link to the Trans-Cambrian Way (opens in new tab) Komoot route
Distance: 175km | Elevation: 3,170m | Duration: 3–5 days | Bike recommendation: Burly gravel
2. Wales: North/South
This route was originally devised by The Racing Collective and features annual in the WalesDURO race. Of course, you can take this at your own pace and whenever you like – although May to September is when the trails are running at their best.
After the Snowdonia National Park, you pass through the Cambrian Mountains, the so called 'desert of Wales'. Not because they're particularly hot or dry – quite the contrary – but because they're deserted of people.
Link to the Wales: North/South (opens in new tab) Komoot route
Distance: 316km | Elevation: 5,420m | Duration: 4–7 days | Bike recommendation: Burly gravel
3. The South Downs Way
One of the oldest national trails – and perhaps the most famous – the South Downs Way is a real classic. We think it's best ridden from Winchester to Eastbourne, as that's the direction of the prevailing wind and the final drop towards the coast gives the most spectacular views.
Although perfectly possible to smash through it in a day, we think it's best enjoyed over two or three, giving you the chance to pop down off the ridgeline and into the picturesque villages nestled at the foot of the hills for pub lunch.
It's a brilliant choice for beginners as you're never far away from civilisation, should you run into a spot of bother. But that's not to say the route itself is any less of a challenge – the backloaded hills are just as tough as any, more remote, ones.
Link to the South Downs Way (opens in new tab) Komoot route
Distance: 165km | Elevation: 2,890m | Duration: 2–3 days | Bike recommendation: Gravel
4. King Alfred Way
Now onto one of the most recently created routes, launched by Cycling UK in 2020. This brand new route links up the South Downs, North Downs, The Thames Path and the Ridgeway to create a 350km circular route.
Although it technically starts and finishes at the seat of Anglo-Saxon power in the ancient city of Winchester, you can hope onto this route at any point, making it one of the most accessible options here.
Link to the King Alfred Way (opens in new tab) Komoot route
Distance: 354km | Elevation: 3,580m | Duration: 3–5 days | Bike recommendation: Gravel
5. West Country Way
Starting in Plymouth, the route winds its way through two National Park, Dartmoor and Exmoor on the way up to the coast at Minehead, where the Severn Estuary becomes the Bristol Channel.
One point that's worth noting is that Dartmoor is actually the only place you can legally wildcamp in England. So, if you're after an impromptu bivi under the stars, unconstrained by the confines of a campsite – this is the route for you.
Link to the West Country Way (opens in new tab) Komoot route
Distance: 195km | Elevation: 3,520m | Duration: 3–5 days | Bike recommendation: Burly Gravel
6. Second City Divide
At around 600km and nearly 10,000 meters of climbing, this is certainly a serious route. However, it is very accessible, with large train stations at either end – in Glasgow and Manchester – as well as many others in between. So, a prime option for breaking into small chunks and doing over multiple trips.
Unlike in England, the Scottish right-to-roam laws mean that wild camping is perfectly legal north of the border – well worth bearing in mind when it comes to working out where you want to stay.
Link to the Second City Divide (opens in new tab) Komoot route
Distance: 634km | Elevation: 9,590m | Duration: 8–17 days | Bike recommendation: Burly gravel
7. Capital Trail
Starting and finishing in Edinburgh, this circular route takes in the beautiful landscapes of the Scottish borders, from the Portobello Beach, to the Tweed Valley, and swinging back through the Pentland Hills.
Although this route is perfectly possible to do on a gravel bike, as it snakes past some of the best trail centres the UK has to offer, it almost seems remiss to not take full advantage. With that in mind, it could well be worth taking a few more days than you'd typically take for this length of route, to better sample the riding on offer.
Link to the Capital Way (opens in new tab) Komoot route
Distance: 243km | Elevation: 4,010m | Duration: 4–7 days | Bike recommendation: MTB
8. Great North Trail
This takes the premise of the Second City Divide and carries it to its logical conclusion – namely, Cape Wrath, the most north-westerly point in mainland Britain.
The first part is shared with the Pennine Bridleway, which is a wonderful route in its own right. But as you head further north through Scotland, some of the gravel does turn pretty chunky, so for these sections you might well be more comfortable on a mountain bike, if you have the choice.
Link to the Great North Trail (opens in new tab) Komoot route
Distance: 1,256km | Elevation: 18,000m | Duration: 15–33 days | Bike recommendation: MTB
We hope you've found this helpful for planning your next adventure!
Thank you for reading 10 articles this month* Join now for unlimited access
Enjoy your first month for just £1 / $1 / €1
*Read 5 free articles per month without a subscription
Join now for unlimited access
Try first month for just £1 / $1 / €1
Founded in 1891, Cycling Weekly and its team of expert journalists brings cyclists in-depth reviews, extensive coverage of both professional and domestic racing, as well as fitness advice and 'brew a cuppa and put your feet up' features. Cycling Weekly serves its audience across a range of platforms, from good old-fashioned print to online journalism, and video.