Cannondale Topstone 4 review - great frame; 'pragmatic' spec
An excellent ride and versatile frameset. It's a great value bike - but do consider whether the spec really meets your needs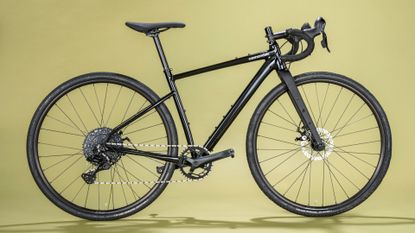 (Image credit: Future)
The Cannondale Topstone 4 is an excellent entry-level gravel bike, giving you the power and comfort you need across all kinds of different terrains. It might have some odd component brands, but this helps keep the price down and the availability high. The ride is comfortable and fun, but might be a bit sluggish on the road. The 'OutFront' geometry helps you stay in control on all surfaces.
Reasons to buy
+

Great value for the ride and performance it gives

+

Carbon fork

+

Great gearring range

+

Comfortable and fast across different surfaces
Reasons to avoid
-

Mechanical disc brakes

-

Not particularly speedy on the road
You can trust Cycling Weekly. Our team of experts put in hard miles testing cycling tech and will always share honest, unbiased advice to help you choose. Find out more about how we test.
Cannondale revamped its Topstone alloy gravel bikes. The cheapest version, the Topstone 4, comes with a full carbon fork, a 1x setup and enough mounting points to carry anything. It might be $1,325 / £1,100, but sadly this is now a reasonable price to pay for a solid, dependable bike.
The American bike company is known for its great alloy frames, and this now applies to its gravel bikes, as well as its famous CAAD road bikes. There are carbon frame options of the Topstone, such as the Cannondale Topstone Carbon 3 that we recently tested, but the alloy Topstone 4 is a great value option that stacks up well against the more expensive options that we rate as the best budget gravel bikes.
Cannondale Topstone 4: Construction
The first thing one notices about the Topstone 4 is how solid it looks. This is good, it's a gravel bike, designed for the rigours of trails and challenges away from the road, and it certainly looks the part. It is not a massively racy looking bike, built for comfort more than speed, and with a very relaxed riding position, although it does have dropped seat stays.
This is probably not your bike for a gravel race, then, but a gravel adventure, with mounting points all over the frame, ready for all kinds of baggage. The angles are kind to the beginner gravel rider, with the handlebars fitted in a very comfortable position at 31.8 degrees. It is quite an upright riding position, but then that is fine on a bike of this sort.
The SmartForm C2 Alloy frame is the same one found across all Topstone Alloys, although the top of the range models come with the "lightweight" version. This is not a light bike, weighing in at over 10kg, but that does not matter too much on a gravel bike, with the Topstone 4 feeling very stable over all kinds of terrain. The internal cable routing is smart, and makes it feel like a very modern object.
The next thing you notice on the bike is its 1x setup, which is actually microSHIFT Advent X; you might not have heard of the tiny (compared to a behemoth like Shimano) parts manufacturer, but its drivetrain is solid. Because it has just one chainring on the front, it has dinner plate-sized sprockets on the back - going up to 48 teeth. The lack of a small ring and front derailleur might be disconcerting to those used to road riding, but it does mean less maintenance on the horizon.
Apparently, Cannondale turned to microSHIFT due to supply chain issues during the pandemic, and the bike as a result does feel like it has been put together from whatever the American company could cobble together; alongside the microSHIFT drivetrain, the mechanical disc brakes are from Promax components. While these worked mostly fine, you will notice the stopping power difference between hydraulic and mechanical brakes, and we aren't as familiar with Promax as other component manufacturers.
Like all Cannondale Topstones, it comes with a full carbon fork through the brand's BallisTec subdivision, and it really helps dampen the vibrations you get over rough ground, while keeping some of the weight off. With the mounting points on them too, there isn't much to complain about there, and the tapered steerer tube adds to the precise feeling of the front of the bike.
This is combined with Cannondale's 'OutFront' steering geometry, which sees the front wheel further in front of the rider, for stability and confidence, like an old-school mountain bike. It also means you definitely will never get any kind of toe overlap with the front wheel. Cannondale says that this makes the steering 'light and agile', and I can definitely agree with that. This is a great example of tech trickled down from more expensive models.
The Topstone 4 comes with Cannondale's own GXD 1.0 wheels and Vittoria's Terreno Dry 35mm tires, which have enough tread to deal with just about anything. However, depending on location, you might get WTB's Riddler Comp 37mm tires, with a similar level of tread. I have to say, the tan walls look more fun than the boring old black ones I had on my test model. However, the grip was excellent. The bike can fit up to 45mm tires, but I do know some people that prefer to go even bigger, so this might hold some riders back.
The 35s on the bike I got coped with the trails near me, but if you wanted to feel more secure on muddier, less-grippy terrain, there is definitely that option.
Everything else on the bike is from Cannondale, with the handlebars, stem, saddle and seatpost all own-brand. One thing to note is that if you fancy it, you can swap out the Cannondale 4 seatpost for a 27.2mm dropper seatpost, as the frame is built to handle internally routed models.
Sadly, none of the Topstone Alloys come with Cannondale's integrated SmartSense radar and lights, powered by a single battery. Although you can add it as an extra on all the models. They do all come with a removable fender bridge, however, which is a bonus for those wet parts of the year.
Colorwise, it is worth noting that the Topstone 4 comes in two colors: the 'black magic' version which I had, or a rather charming 'alpine' version, which is essentially light blue. I know which one I would go for if I had the choice. It looks great with tan walls.
So, apart from the Promax mechanical disc brakes, everything seems to be comfortably punching above the relatively affordable price, and it definitely seems nice. What of the ride?
Cannondale Topstone 4: the ride
This is not a bad bike, and is clearly a great option should you wish to get into gravel riding; there is nothing hugely to dislike about it, and it really helps you get out there. I tested the bike over quite a few different circumstances, and it was comfortable across most of them.
However, it must be said, I did not enjoy riding this on the road that much. Obviously, that's part of the trade-off with it being so secure and fun off-road, but on tarmac, it felt quite sluggish and did not respond amazingly well to accelerations. The big knobbly tires meant it was difficult to feel speed on-road, and for those used to more responsive road bikes, the 'OutFront' steering made it feel a bit odd. Combined with the 1x drivetrain, and it feels a bit tricky to find the right gear to suit riding on flat roads.
That is, of course, not the primary purpose of the Topstone 4, although there are a lot of gravel rides in the UK where you will find yourself on the road a fair bit, sadly. Moving off road, though, the bike performed admirably on gravel and stone paths, as well as more rugged terrain.
I enjoyed the 1x drivetrain when trying to get up hills on trails, as it moved very smoothly, and the 'OutFront' steering made sure I felt firmly in control, even when the surface was reasonably loose or slippery. It felt like a bike designed for adventures, and the presence of the mounting points underlines this. Having not used the 48-tooth rear cog once on the road, its presence was welcome on some of the gnarlier climbs, especially given the weight of the bike.
I can't say that I noticed much difference from having mechanical rather than hydraulic disc brakes, and despite fears of what this would mean, I had no problems stopping on any kind of surface. The bars are nice and wide, and combined with the flared drops, allows for plenty of clearance over any baggage you might have. It doesn't feel too far forward at all, and is a very comfortable experience.
I took my Topstone out during the summer, on drier, dustier trails, but the presence of the space for mudguards on the front and back is welcome, and should prevent a rider from getting too muddy. The clearance is also great on the bottom, leaving you feeling rather high up on the bike.
Cannondale Topstone 4: value and conclusion
There is a lot to be lauded about the price of the Cannondale Topstone 4. It might be over $/£1,000 - just - sitting at $1,325 / £1,100, but that does not feel too outrageous a price in 2023. The parts might feel like they have been found from rummaging around in a bargain bin, but they work suitably well, and did not cause a problem for me on my ride. One might feel comfortable with bigger name brands, but there is not much to complain about the microSHIFT and Promax setup on this bike.
The carbon fork is great value, and the presence of trickle down tech from the higher-specced versions like the 'OutFront' steering makes it a compelling model. It's about the same price as the Triban GRVL 520, but being from Cannondale, is a bit more exciting, maybe.
For a beginner gravel bike, I'm not sure you can go too far wrong.
The Cannondale Topstone 4 is a great first gravel bike, with a solid frame to go with its components allowing for it to go practically anywhere. It would also be fantastic as a bikepacking option, with its plethora of mounting points, although I'm not sure I would want to spend too long commuting on it with the wheels and tires it comes with.
It is lots of fun to ride on all kinds of different terrain, and will handle tarmac, gravel, mud and pretty much anything in between.
Cannondale Topstone 4: specs
Frame: SmartForm C2 Alloy
Fork: BallisTec Full Carbon
Groupset: microSHIFT Advent X 10-speed
Gear ratios: 40T, 11-48T
Wheels: GXD 1.0
Tires: WTB Riddler Comp 37s
Brakes: Promax Render R mechanical disc
Bars: Cannondale 3
Stem: Cannondale 3
Saddle: Cannondale Stage CX
Seatpost: Cannondale 4 27.2mm
Sizes: XS, S, M, L, XL
Weight: 10.5kg
Thank you for reading 20 articles this month* Join now for unlimited access
Enjoy your first month for just £1 / $1 / €1
*Read 5 free articles per month without a subscription
Join now for unlimited access
Try first month for just £1 / $1 / €1