Assos Equipe RS Rain Jacket Targa review - robust and packable, a winning combination
The Assos Equipe RS is a lightweight, packable and highly breathable waterproof jacket that has stood the test of time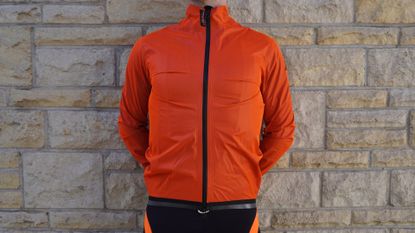 (Image credit: Anna Abram)
The design and performance of the Assos Equipe RS are up to the Swiss brand's usual extremely high standard. This is a well-fitting, comfortable jacket that's versatile enough to be worn at the outset of a ride, rather than only when the rain starts. Plus the two-way zip allows you to dump heat without becoming a parachute.
Reasons to buy
+

Great waterproofing

+

Highly breathable

+

Excellent fit

+

Hi-viz orange option

+

Packable
You can trust Cycling Weekly. Our team of experts put in hard miles testing cycling tech and will always share honest, unbiased advice to help you choose. Find out more about how we test.
The Assos Equipe RS Rain Jacket Targa is the Swiss brand's packable hardshell rain jacket. A versatile piece of kit, it can be used year round as a just-in-case extra layer against summer showers or paired with a thermal jersey for long steady slogs through persistent drizzle in the winter.
Although Assos has unquestionably earned its reputation for premium priced kit – an eye watering $550 / £395 set of bib tights is included within the winter range – this is typically balanced by the excellent fit and high quality fabrics which makes Assos kit some of the best for longevity on the market.
Plus, the cost of $400 / £290 places the Equipe RS Rain Jacket Targa at a price point which become significantly more crowded for the best waterproof cycling jackets in recent years. Although this is certainly still a sizeable sum – there are very good waterproof jackets available for les – against its direct competition, the Equipe RS Rain Jacket Targa doesn't stand out on price.
Assos Equipe RS Rain Jacket Targa: construction
This third iteration of Assos' Equipe RS Rain Jacket Targa is claimed to feature "a more durable black membrane" that's sandwiched in the middle of the 3L Schloss Tex material - according to Assos, this is a touch more watertight, and also adds increased durability.
The jacket also no longer includes rear pocket slots, as instead there's a two-way zip that can also be opened from the bottom upwards, giving you access to the contents of your jersey pockets.
Another highlight is the long reflective strip running up the back - this doesn't feature any stitches and so there are no points for water ingress at the back.
Assos Equipe RS Rain Jacket Targa: the ride
The set-in sleeves of the Equipe RS deliver a fit that is close but not restrictive, thanks to the stretch of the fabric. The "Schloss Tex" is also very quiet, a relief after the rustle that accompanies the slightest movement of some rain jackets, plus there's very little in the way of windflap when riding.
When we reviewed the previous iteration of this jacket, we found the two-way zup a little tricky to operate smoothly with one hand – especially if your fingers were sweaty or gloved (i.e. in 90 per cent of cycling scenarios).
Those issues have thankfully been resolved in this latest model, with the zipper simply gliding up and down its length, and being quite quick to fasten when first putting on the jacket. Being two-way, undoing the zip from the bottom provides bomb-proof access to your rear pockets and also helps with temperature regulation – without the jacket instantly resembling a parachut in form and function, as happens with a simple one-way zipper.
Instead of a wide, stretchy band around the wrist, the sleeves taper and simply finish, with a small sewn-in panel of (non-waterproof) soft, elastic fabric that doesn't seal them like a cuff would, allowing water in when they're facing forwards on the bike.
Generally, I prefer to layer the sleeves of a rain jacket over my gloves, so that the water runs down and off, rather than opening up the possibility of the water dripping into my gloves. But with this cuff design, I found that going 'cuffs over' with my gloves was the better option for dryer wrists – not ideal, though. An elasticated sleeve cuff would be an improvement.
That said, the fit of the jacket is spot on, the waterproofing, comfort and breathability of the Schloss Tex fabric can't be faulted: the Equipe RS can release the heat and sweat generated from a climbing session in the hills and then on the way back, when normal heart rate and power output are resumed, it's possible for clammy clothing underneath to actually dry out as you're riding, while maintaining a comfortable body temperature.
And the high-viz yet chic colour with a big reflective stripe up the back gets a big thumbs up from us.
As for its packability, this isn't the sort of jacket that you can scrunch up and fit inside of a closed fist. But it does still fit inside a jersey pocket – and when tightly rolled it's not even cumbersome. For me, I think it's a perfect balance. The jacket's material is robust and hardly shows any sign of wear. The longevity looks set to be much, much better than the more packable sort.
Assos Equipe RS Rain Jacket Targa: value and conclusion
Priced at $400 / £290 RRP, the Assos Equipe RS Rain Jacket Targa is certainly at the pricier end of jackets, but by no means is topping out the bracket – Castelli's Idro Pro 3, for example costs a whopping $499.99 / £410. Some riders will prefer the extreme packability of Castelli's offering, but others might see more value in a slightly bulkier jacket that is less prone to flapping and has a more robust feel to it.
At a more similar price point, Rapha's Brevet Gore-Tex Rain Jacket costs $360 / £265, but if you can afford it, I would very much recommend paying the extra for the Assos Equipe RS Rain Jacket Targa. Assos' zip is significantly easier to operate and the jacket feels nicer against your skin. The elasticated cuffs of the Rapha Brevet Gore-Tex Rain Jacket do admittedly perform a better job of weather-proofing – so it's not all in the Equipe RS Rain Jacket Targa's favour, though.
In all, the Assos Equipe RS Rain Jacket Targa is a great model, with an excellent fit, great breathability and a durable feeling fabric. It is expensive, but you can certainly see where that money is going. The only criticism to make is that the cuffs let in water more easily than a more typical elasticated design.
Thank you for reading 20 articles this month* Join now for unlimited access
Enjoy your first month for just £1 / $1 / €1
*Read 5 free articles per month without a subscription
Join now for unlimited access
Try first month for just £1 / $1 / €1