No more numbness: how to keep the sensation in your hands and feet in the cold
Riding through the winter can be a chilly affair. Once the temperature drops below about 10C, you need to gear your kit choices to keeping you warmer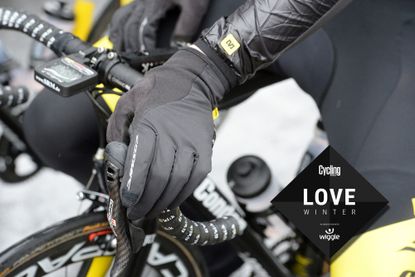 This article is part of Cycling Weekly's Love Winter week, guiding you through setting up your bike and yourself for riding through the winter months. There's plenty to enjoy about riding in winter, and we'll show you how to get the most out of it. For more Love Winter articles, click here.
Riding through the winter can be a chilly affair. Once the temperature drops below about 10 degrees, you need to gear your kit choices to keeping you warmer.
That's particularly true of your hands. Pushed out into the airflow and holding the handlebars, they're not moving much and can quickly get uncomfortably cold. If they get really numb, you might not be able to operate your controls or grip your bars effectively - a potential safety concern.
At your other extremity, your feet, the rush of cold air is often supplemented by damp thrown up from the road. And if it rains or snows, you're going to get a double dose of discomfort to both your hands and your feet.
So if you're going to ride in cold weather, what are your options to make it more comfortable?
Protect your hands
It's tempting to just go out and buy the thickest pair of gloves you can find. That might be part of the solution, particularly if you're riding at around zero degrees, but a thick pair of gloves can make using your shifters and brakes quite difficult.
It's important to look for technical features in winter cycling gloves. Most winter gloves will include plenty of insulation. That's usually supplemented by a breathable membrane that lets water vapour out if your hands get sweaty, but keeps cold air and rain out. There will usually be a Durable Water Repellent, or DWR, treatment to the gloves' outer surface, to help repel water and keep the membrane operating effectively.
You'll usually get a long cuff too, for plenty of overlap with your jersey to stop cold or wet from getting in there. It will often be closed with a velcro tab to ensure a close fit.
Still too cold? You can buy so-called lobster gloves. They wrap your fingers in pairs, so they keep warmer but you can still brake and shift. Thin liner gloves are also an option.
A good pair of winter gloves will probably be expensive, but well worth the investment.
Keep your feet warm and dry too
Heading down to your feet, you need to layer up here too to keep the cold away. Cycling shoes are designed to keep your feet cool in hot conditions - the opposite of what you need in winter.
A pair of thicker socks could help add some warmth, although if you're trying to squeeze them into tight summer shoes, they might stop your toes from moving around, making numbness worse.
So instead you should use overshoes to add a windproof, waterproof layer over your cycling shoes. Like gloves, there's a range of different weights available.A heavyweight neoprene pair will add warmth, although they might be a bit bulky.
It's surprising though how the wind- and waterproofing offered by even a thin pair of overshoes can help keep your toes comfortable.
If you're riding in the rain, a pair of waterproof socks is a good addition to your armoury too, to keep your feet that bit drier.
For ultimate weatherproofing, you might want to invest in a pair of winter cycling boots. They'll be windproof, waterproof, insulated and have a high ankle cuff to help keep out rain. A pair which fits two bolt mountain bike-style cleats and pedals will be easier to walk in on wet or frozen ground.
Keep your core warm
It's not just your extremities that you need to think about to keep them from getting numb. It's also important to keep your core warm. Your body will naturally keep the blood flowing round your head and torso if it's not warm enough, leaving your fingers and toes to fend for themselves. It's the reason why mountaineers can suffer from frostbite.
So make sure that you're wearing a warm, windproof, water resistant jacket. Like gloves, higher quality products will include a breathable windproof membrane at the front, to fend off wind. That's not so important at the rear, so many will have a back made of fleece fabric to stop you getting sweaty.
Layer up underneath. That means a quality long sleeved base-layer to start with. Merino is a good option for cold conditions although heavyweight synthetics will work too. You can add a long sleeved cycling jersey as a mid-layer too if your fingers and toes are still not warm.
Winter cycling tights will handle your lower half. They have a fleecy inner side to retain warmth, while more technical ones might have a DWR surface treatment, windproof front panels and maybe a waterproof membrane. Since your legs are doing all the work, they'll generate their own heat once you get moving, so you don't want to be too layered up here.
Your head can lose a lot of heat, so top that off with a thin winter cycling cap under your helmet, ideally covering your ears. A buff can help keep your neck warm too.
Keep yourself fed and watered
You also want to fuel up, eating and drinking as you ride, to keep your energy levels up. A little and often is best. Drinking enough as you ride is made easier if your fluids are a bit warmer, so it's worth investing in insulated water bottles. Fill them with warm water or energy drink before you set out and many will keep your drink pleasantly warm for up to four hours.
And they're definitely a good idea if it's so cold that your water is freezing in your uninsulated bottles.
Thank you for reading 20 articles this month* Join now for unlimited access
Enjoy your first month for just £1 / $1 / €1
*Read 5 free articles per month without a subscription
Join now for unlimited access
Try first month for just £1 / $1 / €1