SKS Bluemels Basic fenders / mudguards review – good, but the clue's in the name: they're pretty basic
The latest version of the classic SKS Bluemels design is fairly good at keeping you dry, but fiddly to install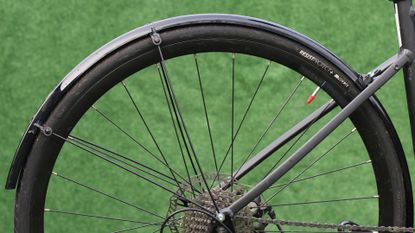 (Image credit: John Stevenson)
SKS Bluemels fenders / mudguards are modern classics, a design that's hardly changed in decades. They work, and they're durable, but they lack features you'll find on the best bike guards.
Reasons to buy
+

Stop you getting drenched when it rains

+

'None more black' good looks

+

Famously tough laminate construction

+

ASR break-away mountings for safety
Reasons to avoid
-

No mudflaps

-

Fiddly installation
You can trust Cycling Weekly. Our team of experts put in hard miles testing cycling tech and will always share honest, unbiased advice to help you choose. Find out more about how we test.
Riders who've previously shunned fenders / mudguards are often surprised at just how effective they are keeping you comfortable when it rains. You still get damp, but you don't get a constant flow of cold water from the road chilling you, so if you're dressed appropriately your clothes still have a chance of keeping you warm.
As the name suggests these are the most basic full-length fenders / mudguards in the range of German accessory maker SKS, and while they may lack a few bells and whistles of the very best bike fenders / mudguards you'll find elsewhere they still do the essential job of stopping you from getting rinsed in cold water when it rains.
SKS Bluemels Basic mudguards: construction
Like most SKS fenders / mudguards the main body is made of a sandwich of thin aluminium encased in plastic. It's tough and durable — you can practically tie a knot in it. The guard is held in place with steel stays that bolt to fender / mudguard eyes on your dropouts and clamp to the guard with drilled bolts. The package includes lots of nuts, washers and spacers so you should be able to fit them to just about any bike.
SKS sizes guards by their actual width. These are designated 35, which means they're suitable for tires up to 28mm wide, leaving you a few millimetres of clearance. I found there was room for a 30mm tire, but I wouldn't want to go any wider.
SKS Bluemels Basic mudguards: fitting
Fitting the Basic guards is fiddly. You fit the drilled bolts to the stays, bolt the stays and the guards to your frame and mess around with the positions of everything until you've got sensible, uniform clearance around your tires, the guards are straight and nothing rubs.
Complications include persuading the front guard to fit round a disc brake caliper, which I found needed a long bolt and lots of spacers, and the longest bolt supplied being only just long enough to fit my fork. The rear guard attaches to the seatstay bridge with a plastic clip which is cleverly designed to fit whether the bridge has a hole tangential to the wheel or aligned radially. However, it's quite thick; if you don't have much space between tire and bridge it might be bulky enough to stop the rear guard from fitting.
At the chainstay bridge you simply put a bolt through guard and bridge. It's an awkward spot, but that's not SKS' fault. Ratchet tools make working in this confined space much easier.
And then you have to trim the stays, for which you'll need your trusty hacksaw, or Dremel and cutting disc (eye protection is a must). Once they're trimmed, you pop on the rubber stay caps to stop yourself getting snagged on them.
This isn't a process you can do in a hurry. It's not mechanically difficult, but it's faffy and involves lots of easily-fumbled small parts. I lost one of the drilled bolts while fitting this set, but fortunately had a spare. It'd be nice if SKS threw in a couple of extras, just in case.
I've got to say they look good. The guards themselves are shiny and should stay looking good with a bit of reasonable care, and the matching black stays, black drilled bolts and black stay tips are all very stealthy. Very Spinal Tap, even if they don't go up to 11 on length.
SKS Bluemels Basic mudguards: the ride
Once you've installed the Basic mudguards they do a reasonably good job of keeping you dry. However, they're not as long as some, which means they don't reach toward the ground at the front or back, so you get spray from the front wheel on your feet and anyone following you gets more spray from the back wheel. To put some numbers on this, these guards are 120cm long at the rear and 69cm up front. SKS Longboards, the daddy of maximum coverage mudguards are 125cm and 95cm respectively.
As long as you don't try and cram too fat a tire under them they're rub-free. They may not be quite as rigid as all-aluminium mudguards, but they're certainly not problematically floppy.
You could argue that the lack of the mudflaps that extend other mudguards is an advantage because it means you can customise the Basics by adding your own, either making them yourself from sheets of rubber or adding a splash of colour with flaps from someone like Raw Mudflap.
A welcome safety feature is Automatic Stay Release (ASR) break-away mountings on the front guard. The stays are embedded in plastic and if something gets stuck in your front wheel the stays pull out so the mudguard doesn't get dragged into the wheel, jamming it and sending you over the bars.
SKS Bluemels Basic mudguards: value and conclusion
SKS Bluemels Basic fenders / mudguards do the job, but there are better options, even from SKS themselves. If you want maximum protection, then SKS' own Longboard guards reach nearer the ground at the front and rear to better control spray on your feet and riding companions. These guards on test are $69.99 / £42.00, Longboards are $56.99 / £43.00, so you'd buy those unless you prefer the admittedly tidier looks of the Basics.
Other rivals include Bontrager with their NCS fenders / mudguards that are longer and easier to fit, but more expensive at $69.99 / £49.99, and the Portland Design Works Full Metal Fenders which are absolutely brilliant — but $129.00 / £100.00 per pair.
SKS Bluemels Basic mudguards: specs
Weight: 476g as installed
Material: Plastic
Color: Black
Wheel size: 27.5" (650b), 28", 29 "
Tire width in inches: 0.8"-1.1"
Tire width in mm: 20-28 mm
Length front fender: 680 mm
Length rear fender: 1185 mm
Thank you for reading 20 articles this month* Join now for unlimited access
Enjoy your first month for just £1 / $1 / €1
*Read 5 free articles per month without a subscription
Join now for unlimited access
Try first month for just £1 / $1 / €1